After Kannaway, the first-ever multi-level marketing company that sells hemp, many companies have been popping around like weeds (pun intended) to take advantage of this opportunity.
HempWorx is no doubt one of the top CBD MLM companies today because its products are well-accepted by many customers.
But while many HempWorx reviews (like the ones above) claim that the HempWorx CBD products are life-changing, there are those who feel otherwise.
I scoured the Internet to find more HempWorx testimonials and true enough, I stumbled upon people bold enough to call HempWorx a scam.
If this is the case, are HempWorx distributors making a lot of money while the company is taking a lot of heat? And do the HempWorx products actually work?
Let's find out!
What is HempWorx
HempWorx is a multi-level marketing company founded by Josh and Jenna Zwagil.
For those of who're wondering why some HempWorx distributors are promoting the products of My Daily Choice, its because HempWorx is the CBD product line of MDC.
While My Daily Choice's flagship products are oral sprays, one of which is said to contain the highest grade of Deer Antler Velvet, HempWorx offers hemp-derived CBD products.
HempWorx distributors can make money by selling the HempWorx products and by recruiting other people to do the same.
Selling CDB Oils And Recruiting People Is Not Your Cup Of Tea? Check This Out Instead
HempWorx Products
HempWorx has a good range of CBD products that you can choose from. They even have pet products similar to what Nevetica offers.
However, HempWorx's most popular products are their CBD oils.
HempWorx sells both 500mg and 750mg Full Spectrum hemp oils that comes in cinnamon, peppermint, and natural flavors.
HempWorx also sells 500mg and 750mg THC-free CBD oils.
Related: How To Buy The Best CBD Oil With Your Budget
Other HempWorx CBD Products
Hemp-Infused Coffee – Coffee made of Arabica Beans that contains 5mg of Hemp-Derived CBD.
CBD Keto Coffee Creamers – Each creamer stick pack contains 5mg of Hemp Oil Extract and comes in three flavors – Hazelnut, Vanilla, and Mocha.
Renew Anti-Aging Cream – This cream may help your skin look younger, tighter, and brighter. Additionally, this product can help increase the longevity of skin cells and contains 80mg of Active Cannabidiol (CBD).
Revive Cream – Contains an exclusive blend of ingredients that hydrate and moisturize the skin. It contains 80mg of Cannabidiol (CBD) with infused with Collagen Retinol.
Relief Icy Pain Rub – Hempworx Relief helps to soothe and relax muscles. It contains 80mg of Active Cannabidiol (CBD) and infused with Emu Oil.
HempWorx for Pets – These products are said to activate the CB2 receptors for your furry friends. The 2.5mg HempWorx Dog Treats are beef flavored while the 250mg pet oil is bacon flavored.
Now, I know you want to learn how to make money as a HempWorx distributor but before that, let's discuss what does CBD and THC mean.
What Are CBD and THC
The terms "THC" (Tetrahydrocannabinol) and "CBD" (Cannabidiol) are two chemical compounds found in Cannabis plants such as Marijuana and Hemp.
These two chemical compounds are said to be the cause of the health benefits one can get from Cannabis plants. However, while both THC and CBD are said to offer the same health benefits, the former gets you "High" or intoxicated, while the latter doesn't.
This 4-minute video will help you better understand the key differences between THC vs CBD.
IS CBD Legal To Use
CBD MLM companies like HempWorx have been steadily gaining popularity since the legalization of hemp with the 2014 Farm Bill. Today, all hemp-derived CBD is legal in all the U.S.states since 2018.
CBD derived from hemp seed oil that has less than 0.3% THC by dry weight is federally legal. HempWorx products comply with these guidelines, thus, consuming them won't get you into trouble with authorities.
Do HempWorx CBD Products Work
It is important for customers to understand that while HempWorx CBD products are legal, they are not FDA approved and tested.
This means that the distributors of these CBD products cannot make claims that the products are intended to diagnose, treat, cure, or prevent any disease.
A 2018 TINA.org investigation has cataloged more than 100 instances in which HempWorx, or, its distributors made untrue statements.
No matter how many positive HempWorx reviews and testimonials are there, it doesn't mean that the products will do the same for you.
So to answer the question, HempWorx CBD products may or may not work for you. The best way to know for sure is to try it yourself.
HempWorx CBD Could Get You A Positive Drug Tests!
There have been instances when HempWorx products causes a person to get a positive drug result.
HempWorx addresses this issue by adding a "Drug Testing" warning on their website "hempworx.com".
After leaning these things, will you still consider using HempWorx CBD products? Do you know any other instances when people call HempWorx a scam?
Share your thoughts and opinions in the comment section below.
Related Post: Top CBD MLM Companies You Should Check Out!
Are HempWorx CBD Oils Special From Competitors?
HempWorx has poised itself as a leader in the CBD industry through various third-party lab tests "proving" the quality and purity of its products.
HempWorx has shown different lab results supporting its claims of being the producer of the purest and most potent CBD products.
But did you know that these certifications can be tampered and falsified?
Now, I am not saying that it is what HempWorx did falsify the results of their third-party testings. I am just saying that such anomalies are going on in the CBD industry.
Another selling point of HempWorx products its price.
Based on the comparison chart above prepared by cbdoilusers.com, you can see that the CBD Oil of HempWorx is reasonably priced compared to other CBD MLM companies such as Zilis, Prime My Body, and Kannaway.
However, this is only true among other MLM brands. HempWorx CBD products are still relatively expensive when compared to non-MLM brands, which brings us to the next topic of this HempWorx review.
Related: How To Buy The Best CBD Oil With Your Budget
Why Are MLM CBD Products Expensive
HempWorx is proudly touting how it pays huge commissions (up to 85% of revenue) to its affiliates.
So in a way, that's your answer!
It just means that up to 85% of the actual price people pay for HempWorx CBD products are being used to pay commissions – both to the selling affiliate and their "upline" or sponsors.
This is true not only with HempWorx but in almost all MLM companies, and this has some severe implications on how distributors do the business.
The Ugly Effects Of Expensive CBD Products
Other than the fact that selling overly expensive products is unfair to your customers, this practice can lead some affiliates to engage in unscrupulous behavior to earn higher commissions.
This is why some HempWorx distributors will use aggressive, pushy sales tactics to making outright untrue statements because the more products they can sell, the bigger the money they can pocket.
But let me make myself clear!
Not all HempWorx distributors are like this. And I am not saying that HempWorx is a scam.
Unfortunately, some HempWorx distributors are driven by greed and are willing to do whatever it takes to get more sales.
Furthermore, many HempWorx distributors are getting themselves involved in a pyramiding scheme tactics to get more people into their team. By recruiting more people, they can dispose of as many products as possible.
In the next section of this HempWorx review, let's take a closer look at the HempWorx business opportunity and discuss whether or not many people are making a steady income with this company.
HempWorx Business Opportunity – What You Should Know!
There are two ways you can make money with HempWorx, by selling HempWorx CBD products on your own or by recruiting people and building a sales team.
Retail Customer Commissions
This commission is paid weekly. HempWorx distributors get a 25% off on all products. So when you sell a product, you will earn the difference between the wholesale price and retail price.
Jump Start Bonuses
This commission is paid weekly and goes 10 levels deep. Your potential payout could go up to 85% base on the volume of the products you and your team sells.
Binary Team Commissions
This commission is paid monthly. You can earn up to 20% commission base on combined personal sales volume on your left leg and right leg.
Your monthly earning potential with HempWorx's Binary Team Commission is a staggering $1,000,000!
But don't get your hope too high, you are most likely not going to earn even a tenth of that, and I will tell you why in a moment.
Other ways to make money with HempWorx once you've managed to build a large sales team is as follows:
Leadership Check Matching –

You can earn 5% up to 30% every month up to 10 levels deep when you managed to recruit more people in your team.

Global Bonus Pool –

At the end of each month, HempWorx will take 2% of total revenue and divide it into the top-performing distributors.

Rank Incentives and Bonuses –

This is a one-time bonus where you will get $500 up to $100,000 by getting promoted to the higher ranks.

Other Bonuses –

Base on your rank and performance, you could qualify to get a brand new car, travel incentives, and cash bonuses.
Taking another look at the HempWorx compensation plan, there is no doubt that if you wish to make a lot of money with this company, you will have no choice but to recruit as many people as you can to join the company.
You can verify these information in the actual HempWorx compensation plan.
You can also watch the latest HempWorx compensation plan video below.
Base on the things above, do you think HempWorx is a scam and a pyramid scheme?
Do you think you can make a lot of money as a HempWorx distributor without recruiting people, just selling HempWorx CBD products on your own?
I would love to hear your thoughts in the comment section below
How I Earned A Six-Figure Income At Home Without Recruiting A Single Person. Yes, You Can Too!
Is HempWorx A Scam And Pyramid Scheme?
Just because HempWorx is an MLM company, it doesn't mean that it is a scam.
Many people have confused MLM with a Pyramid scheme. Some even believe that once a company is an MLM, it is automatically a pyramid scheme. A common misconception.
According to the FTC, there is a clear difference between multi-level marketing (MLM) and pyramid schemes.
Any MLM distributor has to follow a set of rules guided by the MLM companies which are in turn governed by the Federal Trade Commission (FTC).
For instance, HempWorx distributors need to focus on promoting the products instead of recruiting people into the business.
When Does An MLM Becomes A Pyramiding Scheme
Most compensation plans of MLM companies are geared towards rewarding distributors for their recruitment efforts more than the efforts for promoting the products.
I challenge you to name any legitimate MLM company that rewards its members better commissions by pushing products rather than recruiting people.
Because of this, many MLM distributors focus their efforts on recruitment, even using unscrupulous methods to get new members in their sales team.
This is why even a legitimate MLM company, if managed poorly, will be indicted in cases relating to a pyramid scheme like doTERRA, World Ventures, Herbalife, and AdvoCare.
The latter got in so much trouble with the authorities that the company was forced to change its compensation plan.
From multi-level marketing into single-level marketing, AdvoCare ended its MLM business model last July of 2019.
Do Many HempWorx Distributors Make Money
Unfortunately, more than 95% of people who join HempWorx ended up not making any money at all.
This is apparent in the latest HempWorx Income Disclosure.
But this doesn't mean that HempWorx is a scam. This is merely how MLM business is designed. As to why most people fails MLM, I will discuss next.
Why Most Distributors Don't Make A Decent Income With HempWorx
I have been in the MLM industry before.
These are the most common reasons why many distributors fail and quit in their MLM companies (like HempWorx) even before they can get back their initial investment.
#1 Not Enough Leads
When you join HempWorx, you will most probably be tasked to list 100 people from your social circle. People whom you think can benefit from the HempWorx products or may be interested in the business opportunity.
Maybe you even have 200 or 300 people on your list. But the fact is, not all of those people will buy your products. Not all people need CBD oil or a believer in these products.
So what happens after you have expanded your list of prospects and you still didn't make enough sales?
Will you start cold calling?

Do you start buying leads from unverified sources?

Facebook Marketing, maybe?
I will tell you right now, these old strategies don't work anymore. What you need is to learn how to get an unlimited supply of leads.
​And honestly, if you don't have proper guidance and training, you will not know how to prosper in this business, which leads me to the next point.
People Are Making Money Online Without Selling Nor Recruitment. This Is Their Secret!
#2 Poor Guidance and Training
Because companies like HempWorx rewards distributors who brings in more people to the company, leaders or sponsors are more inclined to focus on new recruitment than to coach and guide existing distributors.
Coaching and training existing distributors take a lot of time, and the efforts will be wasted if a distributor eventually decides to leave HempWorx.
It is one of the reasons why leaders or sponsors are often not fond of taking care of the existing distributors. If you are serious about becoming a HempWorx distributor, take a look at the person trying to recruit you.
See how that person manages his/her team, and do you think he will be able to show you the ropes properly.
#3 Lack Of Skills
Most people who become a distributor are not adept salespersons. Unfortunately, due to the nature of multi-level marketing, you will have no choice but to talk to people so you can make sales.
Selling and recruitment are skills that require time to practice, and most people cannot stomach tons of rejection when doing this business.
What's worst is that you'll have to face rejection from the people who are close to you. I have seen people lost a friend or worse, disowned by family members because of MLM.
Learn The Proper Skills And Get The Right Guidance For Your HempWorx Business Today!!!
#4 Bad Leaders Breed Bad Distributors
As the HempWorx compensation plan compensates more for the recruiting efforts, many leaders and distributors resort to questionable marketing tactics to recruit people into the business opportunity.
And, most of these strategies will be inherited by new distributors, and the legacy will continue.
For a distributor to be compliant to the rules set by the FTC, they have to focus on promoting the products rather than recruitment.
If an MLM company or its distributors are found to be using unscrupulous methods to recruit members, they can be seen as a pyramid scheme.
Important: DO NOT JOIN A TEAM THAT FOCUSES ON RECRUITMENT!
People Are Making Steady Income Online Without Recruitment. Here's The Secret!
#5 Wrong Mindset
Many aspiring distributors join HempWorx thinking that CBD oil is an easy sell. However, while CBD is well recognized for its health benefits, selling these products is not easy.
Worse, imagine selling expensive CBD products when people can buy similar yet MUCH CHEAPER ones on shelves and stores.
Yes, you can make money selling HempWorx CBD products, but it will not be easy, no matter how much your sponsor or the company sugarcoats it.
So, after knowing these things, do you still think that HempWorx is the business for you?
Then, let's find out how much does it cost to become a HempWorx distributor.
While You're Here: Check Out My #1 Online Business Recommendation
Cost To Join HempWorx
To become a HempWorx distributor (affiliate), you have to a one-time activation fee of $20 plus the purchase of products bundles (optional) that costs $39 – $599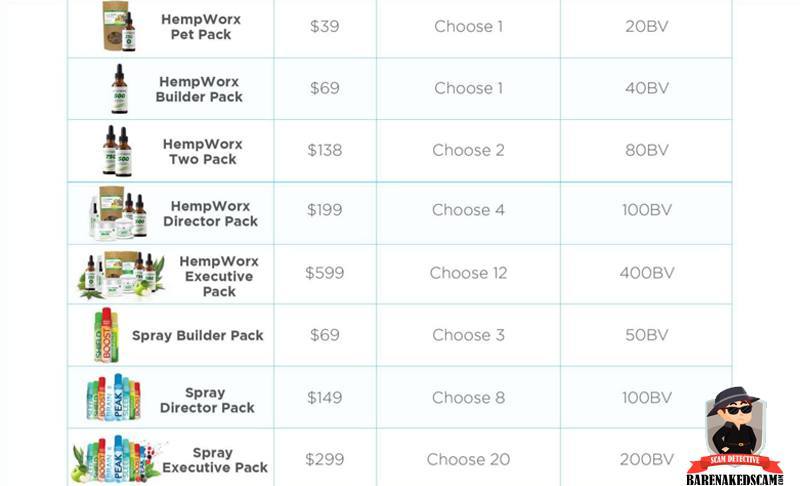 Should You Join HempWorx
That depends. I am in no position to tell you what to do with your time and hard-earned money. But if you would hear me out, here's what I thought.
If you have symptoms that CBD may be able to cure, then the obvious answer is to try the products. If it works, great!
And, if it doesn't, you can send the products back to HempWorx within 60 days to get a full refund (less shipping cost).
But be careful!!!
A common sales pitch from HempWorx distributors is this:
"We have a 60-day money-back empty bottle guarantee. Why not try it if you can get a refund by just sending back your empty bottle within 60 days?"
Sounds familiar?
The problem here is that I've seen many HempWorx users complaining that it was impossible to get a refund.
Nevertheless, the first step to joining the business opportunity is to believe that the products work.
Once the product worked for you, then you will have to learn how to overcome the challenges of MLM so you won't become a part of the majority (more than 95%) of distributors that fail.
A good place to start is to learn how to attract people to buy your CBD products and join the HempWorx business opportunity rather than you reaching out to them.
If that interests you, then check out this program used by the top affiliates of HempWorx.
It is also important to keep in mind that you should only engage in network marketing if selling and recruitment is something that you are passionate about. If not, then you should try to make money in something else.
HempWorx Business Alternative
If selling and recruiting people isn't something you are particularly fond of, then I might be bale to help you. I've been making money online for quite a while now and its not because of MLM.
Quite frankly, finding a legitimate business opportunity today that is compatible with your passion and interests is like finding a diamond in the rough.
It is embarrassing, but I've been scammed many times until I found the business program that changed my life forever. If you have the time, I would be honored if you read My Humble Story.
This business program I am talking about involves don't require you to to sell any products or recruit people to earn money. Yes!
If you want to learn more about how I made a six-figure income online, and how you can too, I would highly recommend that you check this out.
Related Post: Affiliate Marketing Vs. MLM – Which Is Better For You?
Final Words
Thank you for reading taking the time to read this HempWorx review. I hope that it had provided you with the answers that you were looking for.
If you find this review helpful, kindly share it with the people you know so they too would benefit from this information.
Meanwhile, if you want to discuss more of HempWorx, or if you have any proofs suggesting that HempWorx is scamming people, leave a comment below.
Before You Leave: Check Out My #1 Online Business Recommendation
Until here, and I wish you all the best in your future endeavors.
Your pal,
Jack
Jack is an experienced online marketer who has a passion for helping beginners succeed online. Read more about Jack: