Name: doTERRA
Website: www.doterra.com
Price: $35
Owners: David Stirling & Emily Wright
Bare Naked Scam rating: 1 Thumb Down
#1 Recommended Online Business Training with Proof: Click Here
What exactly is doTERRA?
---
Some people claim it is a Multilevel Marketing (MLM) company, others insist is a direct selling company, but most of all, people seem to either be completely engrossed in its products or are actively avoiding the company because they're worried about pyramid schemes.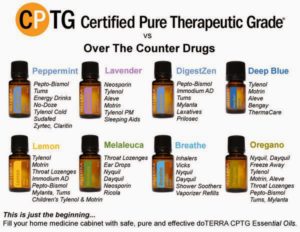 doTERRA provides a range of essential oils that they claim to be organic and pesticide free, similar to other MLM companies that focuses on essential oils, like Young Living.
doTERRA has trademarked the term Certified Pure Therapeutic Grade ("CPTG"), and just by looking at the term, you would have thought that doTERRA's products are of a higher grade, right? Many would also think that the US Food and Drug Administration ("FDA") has approved the CPTG.
Do not be fooled, the CPTG term is just a marketing tool for doTERRA, and the FDA certainly did not approve such certification. You can check out this article as well as how the FDA defines essential oils.
You see, there is no sort of grading or standard with essential oils. The rating Doterra advertises is something they created and they are the only company participating in. Having such eye-catching reassuring phrase do certainly give its customer the assurance and definitely help with the sales promotion, and with such "assurance" comes with a premium on its products.
But having the above said, the BIG question is "Is doTERRA a scam?". Let us find out…
Is doTERRA a scam?
---
Well, the short answer is no, but there are many factors that may link doTERRA to be a pyramid scheme. The meaning of pyramid scheme is well defined in the video below:
In general, MLM is legitimate, but it is how the business opportunity is marketed or being approached to its prospective distributors.
If you are ever approached by a doTERRA distributor who only talks about making money with the company rather than actually promoting the products, run far away, because that is the exact same thing that you will be doing to your friends and family should you join the business opportunity.
Also, if a doTERRA distributor ever claims that their essential oils cures illnesses, you should take their claims lightly.
Find out how thousands of people are making money at the comfort of their homes here!
Should you join doTERRA?
---
I leave the decision to you, but I will share my 2 cents with you.
When it comes to promoting essential oils, you have to first understand what it is and whether or not it is an essential item in the household. The reason why I mentioned "essential" is because it will determine the customer retention rate in your business.
Let's face the fact, most people who join the doTERRA opportunity are most likely interested in the compensation plan more than the product itself, and I have seen that happening in most of the MLM companies that I was involved in. One thing I am sure about is when doTERRA's distributors do not make money over a period of time, they will eventually leave.
Customer retention is one of the most difficult tasks. You can have 100 people joining you in the doTERRA business, but if you do not retain at least half of them, you can't create a sustainable business. By the way, the distributor retention rate for entire MLM industry is only 5%.
This means that out of 100 people you bring into the doTERRA business, only 5 will stay, and it is hard to even bring in 100 people in the first place.
Moreover, being in this business is all about sales. When you enter into the business opportunity without any sales experience, it is hard to survive. If you ever decide to join this opportunity, I would hope that you will find a great team that puts your interest ahead of theirs. Your team is one of the deciding factors of your success.
A Home Based Business based on YOUR PASSION, and requires NO SELLING. Get Started Here!
If you have a team who is willing to groom you to become a great salesperson, then the chances of you succeeding in the business are much higher than a person who doesn't have a good team. You personally have to put in the effort to learn how to sell as well. Rejection is inevitable, and you will face tonnes of it, in the process, you might even lose some of your close friends.
I personally think that essential oils are luxury items, and unless they can cure or prevent illnesses, I will not be overly excited about it.
The doTERRA Compensation Plan
---
Do take note that those income figures explained in the video above is on the "Best Case Scenario". In practice, it is extremely hard to make a few hundred bucks for the business opportunity, and thus the reason why 95% of the people leave the business opportunity.
A Home Based Business based on YOUR PASSION, and requires NO SELLING. Get Started Here!
Can You Make Money with doTERRA?
---
This is where it becomes a bit murky. Of course the potential is there to make money. The time and work put into making the sales is likely to pale in comparison to any normal hourly job.
Even if you are quite successful with your sales, the best success stories are people that sell to friends and family members at self-hosted buying parties.
When you compare the prices of doTERRA essential oils to many other reputable brands the price difference is astonishing. doTERRA essential oils range anywhere from three to ten times the price of other brands depending on the specific oil.
This can make the product difficult to sell or leave the distributor a feeling of guilt for selling high priced items to their loved ones. If you have a charismatic extroverted personality and don't care about the product you're selling, with persistence you could make some money by selling essential oils.
My Sincere Advice to You
---
Rather than promoting overpriced products to your friends and family to make money, there are better solutions.
Despite being more time consuming, going for further education to obtain skills that can be used over a lifetime to increase your wealth can be self-fulfilling.
This program is an Online business university that focuses on teaching students how to generate a passive income online.
Many people spend tens of thousands of dollars on receiving a good education and business degrees, but this program happily teaches people how to kick off their online businesses for free.
Whether you see Doterra as a scam or as a harmless direct selling company, it's clear there are better solutions to making money. Even if you are successful in making money through selling essential oils you will have to deal with moral implications of selling a product with unproven medical properties that's marked up to ten times higher than its competing brands.
The final decision is yours, and I believe you will make the right choice.
Thank you for your time to read this article. Please feel free to leave a comment below and I will be more than happy to discuss doTERRA with you. If you find this article helpful, please feel free to share it with your friends and family by clicking on the social media buttons (Facebook, Twitter, Google plus) below.
Your pal,
Jack