Is Herbalife a Scam? – An Unbiased Customer's Review
If you are here, I guess you wanted to know if the Herbalife business opportunity is a legitimate business.
If you don't know about Herbalife's past…
Herbalife has weathered through many obstacles, and the latest scandal in 2016 and early 2017 has put a huge dent in its business.
Yes. Herbalife has been called a pyramid scheme, and FactsAboutHerbalife.com have created a series of videos that explain why the company is considered a Pyramid Scheme in the past:
Hint: Before you jump to a conclusion about this review, I just wanted to say that I stand neutral in the current development of the Herbalife business. However, you just need to know the history, as well as the pitfalls, of the business before joining it.
The Federal Trade Commission (FTC) has gotten their hands on Herbalife, and has issued a $200 million fine, and an official order to restructure its business operations.
But, the question is, has the "punishment" have any effect on the company? Has the company changed its course to be compliant with the laws?
I'm not a lawyer or a judge, but I come from the point of view of a distributor, and I will share with you all the insights I have.
Just in case you are thinking of joining the business opportunity, this Herbalife review will provide you with the information you need to make an informed decision.
How I Fired M​​y Boss and Still Earn a Full-Time Income. Here's How You Can Too!
How Herbalife got into trouble in the first place…
In the past, Herbalife distributors spent thousands of dollars purchasing the products to be resold on the open market. Some even spent up to $70k in 5 years to purchase more products and more "training".
They were being promised the "American Dream" to retire at the young age without having to worry about money.
Herbalife was positioned as a business opportunity that can change lives.
In some instances, distributors use high-pressured sales tactics to lure people into the business, even students were not spared.
The problem with this is that Multi-Level Marketing (MLM) Companies like Herbalife that focuses on selling "the dream" instead of its products, are considered pyramid schemes.
Many complaints have been filed, and the FTC finally took action on the company in 2016.
Here's what you need to know about the law governing the MLM industry.
The Law Governing the MLM industry…
The FTC will prosecute MLM companies that:
Provides false or unsubstantiated income claims by the Company – Any MLM companies which flaunts false income claims for the purpose of luring unknowing victims to the business opportunity.
Provides false or unsubstantiated income claims by the Distributor(s) – Even when the MLM company is being complaint regarding the income claims, any distributors of the MLM company who flaunts false income claims could jeopardize the business operations of the company.
Has products with no retail value or real customers – It simply means that MLM companies and its distributors should focus on the promotion of the company's products rather than the recruitment drive. MLM companies that restrict the purchase of products only to its "distributors" (not real customers) could be deemed as a pyramid scheme as well.
Incentivize its distributors even when there is no product sales – Normally this happen when MLM companies charges a high premium on their products, education programs, SignUp fee, extravaganza, etc., and they use the "profits" to award distributors when they recruited a new distributor. Basically, when MLM companies do not reward its distributors when they made a product sales, but instead rewards them when they have built a team of distributors, the FTC will not be happy about it.
Source: www.ftc.gov
How I Fired M​​y Boss and Still Earn a Full-Time Income. Here's How You Can Too!
The Herbalife Business
So, now you know why Herbalife has been prosecuted in the past, let's focus on the present and the future of the company.
Now, let us understand what Herbalife is all about.
Herbalife has 4 product categories:
Weight Management
Basic and Targeted Nutrition
Energy and Fitness
Personal Care
Weight Management
Programs
3 main Weight Management Programs:
Quickstart Program – Consist of the 3 core Herbalife products – Formula 1, 2, and 3. This will support cellular nutrition; and Herbal Tea Concentrate
Advanced Program – Which includes all Quickstart program products plus "Total Control" tablets with caffeine that stimulates metabolism; "Cell-U-Loss" tablets to support fluid balance
Ultimate Program – Which includes all products in the Quickstart program and the Advanced program plus "Snack Defense" that help support blood sugar levels; "Aminogen" to break down proteins into peptides
Individual Products
Healthy Weight Enhancers:
Herbal Tea Concentrate – Improves Metabolism rate and helps you feel revitalized
Total Control – Stimulates metabolism and improves energy level
Prolessa Duo – Controls hunger and reduces fat. Can be added to the Herbalife Formula Shakes
Thermo-Bond – A fiber blend formulated with sodium choleate
Aminogen – Supports Protein Digestion
Cell-U-Loss – Helps you maintain a healthy PH level
Snack Defense – Supports blood sugar levels already within normal range
Protein Boosters:
Protein Drink Mix (Formula 1) – To satisfy your hunger and stay energized
Protein Snacks:
Roasted Soy Nuts
Beverage Mix
Protein Bar
Protein Bar Deluxe
Soup Mix
Basic and Targeted Nutrition
Digestive Health
Simply Probiotic – Promotes growth of friendly, beneficial bacteria
Herbal Aloe (Powder, Concentrate, Ready to drink) – Soothes the stomach; Supports healthy digestion; Relieves occasional indigestion; supports nutrient absorption and intestinal health
Active Fiber Complex – Promotes regularity and minimize bloating; Supports growth of friendly intestinal bacteria
Heart Health
Core Complex – A comprehensive heart health solution which includes daily packets of six soft gels (includes Herbalifeline, Tri-Shield, CoQ10 Plus and Plant Sterols)
Niteworks – Supports nitric oxide production and blood flow for the healthy function of the heart, brain and other organs
Herbalifeline – A high quality blend of Omega-3 fatty acids
CoQ10 Plus – provides energy to heart cells and supports the heart muscle
Mega Garlic Plus – Supports healthy circulation, heart health and healthy triglyceride and cholesterol levels already within a normal range
Tri-Shield – Supports cardiovascular health
Sleep and Relaxation
Sleep Now – Melatonin supports sound sleep
Relax Now – Jujube and passionflower helps cope with occasional stress and maintain a healthy mood
There are too many products in Herbalife and in order to keep this review short and to the point (about the business opportunity), I'll stop with the product outlay here.
For more information about the full range of products, you can check out Herbalife's product catalog here.
Start An Online Business Based on Your Passion?
My Personal Experience with the Products
I'll be honest with you, I was a Herbalife customer in the past, and if you want a total health solution, it will probably cost you thousands of dollars worth of products per month.
I do think that the products did make me healthier (my experience may differ from yours), but it cost a fortune.
If you are strapped for cash, I don't think Herbalife products will fit your budget.
How much does it cost to join Herbalife?
There are two ways to join Herbalife.
To join as a preferred customer – The concept of Herbalife's preferred customer is very simple. The more you purchase (for personal consumption) the more discount you'll get. There are 3 Preferred Member Discount levels. The Bronze Level will give you a 20% discount on most of the products, and you'll be able to move to the Silver Level once you've accumulated 500 points (each product is tagged with points) in consecutive 12 month period; The Silver Level will give you a 30% discount on most of the products, and you'll be able to move to the Gold Level once you've accumulated a purchase of 2,500 points in a consecutive 12 month period; The Gold Level will give you a 40% discount on most of the products.

All Preferred Customers will need to purchase a Membership Pack for $34.95 which consist of a welcome guide, important product literature, and samples of a variety of Herbalife products.

To join as a distributor (International Business Pack) – The concept is quite similar to that of the preferred customer, the more you sell, the more discount you get, and the more discount you get, you will have a larger profit margin. All distributors are entitled to a 25% discount on all products, and the maximum discount for a distributor is 50%.

All Distributors will need to purchase an International Business Pack (IBP) for $94.10 or a IBP Super Starter for $124.10. The IBP consist of 3-Day trial packs, a handy tote, Herbalife Books 1-4, and important product literature and sales aids, while the IBP Super Starter includes an additional sampling kit.
An Online Business that requires no selling and recruiting. Interested?
The Herbalife Compensation Plan
Why more than 95% of Herbalife's distributors fail?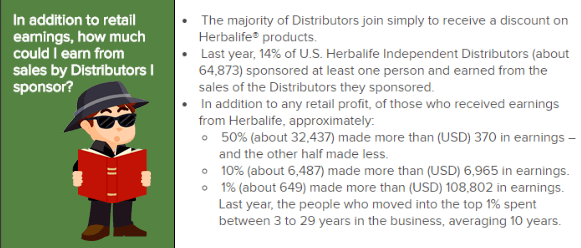 You'll probably see the above screenshot when you are in the process of joining Herbalife as a distributor.
Here's what you need to know…
86% of the distributors do not earn a single cent from Herbalife.
The company claims that the distributors are only interested to purchase the products for personal consumption at a higher discount rate than Preferred Customers.
Unfortunately, I think Herbalife's claim is not true. If a customer just wants to buy products for personal consumption, it would make more sense to be a preferred customer.
People join Herbalife as a distributor because they want to earn money from the company.
Now, of the 14% of the distributors who actually made money from the business opportunity, 50% of the group made less than $370, 40% of the group made less than $6,950, 9% of the group made more than $6,950, and only the 1% made more than $108,802.
Which simply means that more than 97% of the people who joined the Herbalife business do not make a substantial income. Here's why…
1. Lack of Leads
When you first join the business, you are taught to write down a list of individuals, in your social circle, who might be interested in the Herbalife products or the business opportunity.
Then, you are advised to call them and book an appointment with them.
The problem is, you'll probably have 100 or 200 people in your list.
And, only a small percentage of them will actually buy the products.
If you are lucky, you'll have 1 new distributor joining your team.
As we know, in order for any business to grow, it will need to have a constant flow of new prospects. So, if you have limited people on your list, your business will not grow.
What do you do next? Do you start canvassing on the streets? How about asking for referrals from the people on your list?
That's why I always advice new Herbalife distributors to start learning attraction marketing. A strategy that attracts an endless stream of prospects online.
That's the best way to grow a network marketing business in this day and age, in my opinion.
2. Lack of Training and Support
The type of training you get is super important!
It is not only about product training, you need to be groomed as a good salesperson, and you'll need to know where to source for new prospects.
Unfortunately, your training will depend very much on your sponsor (the person who introduces you to Herbalife).
And, most sponsors do not know what to do or how to educate their downlines.
Most sponsor knows just as much as the new joiners.
So, if you are serious about becoming successful with Herbalife, I would recommend that you do some due diligence on the team you are about to join.
Find out how they train their new joiners.
3. Following the Wrong Leader
Because of the high turnover rate of distributors, it would only make sense for leaders to focus on their personal product sales or recruitment.
The big problem is that, if the leaders don't focus on grooming their team of distributors, they will eventually leave the business.
So, to be successful, I would suggest that you follow a leader who would put your interest ahead of theirs (doing their best to make you succeed).
4. Fear of Rejection
Believe it or not, even when the products seem to "sell for itself", they don't.
Having tons of rejection is a norm in this business, and if you can't stomach them, you will eventually give up on the business opportunity.
So, if you are those people who take rejection personally, I would suggest that you stay away from this opportunity.
5. Weak Mentality
The fear of rejection, the fear of losing your friends (very common), the fear of approaching people, the logistical issues, money problems, there are just too many obstacles to overcome.
This business is not for the weak, it is for those people who will fight till the end to see the results.
There's too much negativity in this business opportunity and the only way to get through it is not to think or ponder.
If you let your emotions get the best of you, you will eventually quit.
Be sure that you've set your mind at the end goal before joining the business.
I Failed in MLM but succeeded with this. Click to learn more!
My Final Word
It seems that Herbalife is now compliant with the regulations.
However, this doesn't mean that you can make a lot of money from this business opportunity.
The company made it very clear now that it takes a lot of time and effort to earn an income from this opportunity.
And, nearly 86% of its distributors do not make a single cent from the company. So why join as a distributor in the first place, right? Shouldn't they join as a Preferred Customer instead? Food for thought.
Generally, 97% of the people who joins Herbalife as a distributor do not make a substantial income.
So, here's my take…
If you are interested in the Herbalife products, and you feel that the products made a difference to your life…
Then I would suggest that you join as a Preferred Customer, not a distributor.
But, if you think you have what it takes to become successful with this company…
Then, I highly suggest that you start learning attraction marketing before approaching this business. It will increase your chance of success dramatically.
What I recommend?
Just in case the Herbalife business opportunity is not what you are looking for, and you are open to other options, I would suggest that you check out this program.
This is the program that taught me and thousands of aspiring internet entrepreneurs to earn a substantial income online. You can read my humble story here.
Thank you very much for reading this review, and I wish you all the best in whatever decision you make.
If you think that this review is helpful, please help to share it! It might help others who are in need of this information.
And, if you wish to discuss more about Herbalife, please, feel free to leave a comment below.
Your pal,
Jack