Is InboxPays a Scam or Legit GPT Site?
I have been hearing a lot of rumors that InboxPays is scamming and not paying its members. Many users are taking their disappointments in the Internet.
However, while there are those who claim InboxPays is not paying them for their efforts, there are also those who sing praises for the company. 
Who is telling the truth?
So I decided to join the platform and share my experience with InboxPays to you.
By reading this brutally honest InboxPays review of 2019, you will know everything about this company.
Is InboxPays an excellent way to make money online or it's better to look for other alternatives?
Let's find out!
Review Summary
Name: InboxPays
Owner: A&A Marketing, Inc.
Cost to Join: Free
InboxPays Opportunity Rating:
InboxPays Platform Rating:
FOR ONLINE OPPORTUNITY SEEKERS
For your convenience, you can use the table below to navigate through the InboxPays review with ease.
What is InboxPays
InboxPays is a Get-Paid-To (GPT) site where you can earn extra cash by completing some online tasks.
Some of the most popular GPT sites that you might have heard of are PrizeRebel, Swagbucks, and Survey Junkie.
InboxPays is owned by A&A Marketing Inc and has been around since December of 2009.
How does InboxPays Work
Once you become a member of InboxPays…
You can hope to get paid just by reading emails, taking surveys, playing games, and completing exclusive offers.
You can also make cash from all your friends that you refer to the platform.
Click Here: Family-Man Quits His Job And Still Earns a Full-Time Income At Home. Here's How He Did It!
In terms of payments, InboxPays is unlike some GPT sites such as Bizrate and Nicequest that will pay you in gift cards.
This site will only pay its members in cash.
Joining InboxPays
Before you can hope to make money with InboxPays, you must first create an account just as I did.
It is free to join InboxPays.
They even promise you a $5 bonus upon completing signup. The good news is, I did get the $5 as you can see in the image below.
To join InboxPays, you have to go to "inboxpays.com" and complete a form. You will be required to provide your personal information and a valid email address.
However, I strongly suggest that you read the entirety of this InboxPays review before you do.
There are things you should know about InboxPays first before you join which I will discuss in details below.
Click Here: Family-Man Quits His Job And Still Earns a Full-Time Income At Home. Here's How He Did It!
How to Make Money with InboxPays
Once you complete the signup process, you will immediately be redirected to your account. Below are the different ways you can make money with InboxPays.
#1 Reading Emails
You will receive emails from InboxPays on the email address that you provided them.
However, these emails are actually Paid-To-Click (PTC) links from third party advertisers. You can earn between $0.02 and $0.5 by clicking these links.
#2 Completing Surveys and Offers
Depending on the length, you can earn between $0.50 to $1.50 by completing surveys with InboxPays. However, you can expect high compensation from cash offers.
One of the best cash offers I got will pay me $15 if I create an account with Aspiration.
Just like most of the legit GPT sites, cash offers with InboxPays promises the highest payments.
#3 Playing Games
The only game I found on InboxPays is the Spinning Wheel.
You will get two free spins upon joining InboxPays where you can earn between $0 to a few dollars.
I got $1 on my first spin like this guys but I got $0 on my second one. Some people have won more. You can get more spins by completing cash offers.
#4 Invite Friends
If you have friends that would enjoy doing the things above to make a few bucks, you can personally invite them to InboxPays.
Every person that you refer to the platform, you will earn 10% of their total cashouts.
Take note; you will only earn 10% from the amount they successfully got paid and not base on their current balance.
#5 Using Coupons
Well, this is not really a way to make money. But in case you are interested, you can print out coupons and use them to save a few bucks from affiliated stores and brands.
Getting Paid with InboxPays
InboxPays' only payout option is thru PayPal. So before you join, make sure you have a PayPal account.
Furthermore, you will need to earn at least $50 before you can request cashout and all payments will also be in multiples of $50.
In my case, I am nowhere that so I cannot expect to get paid. However, if you earned more than $50, say, $130.
You can only request payment for $100, and the remaining $30 will stay in your account until you manage to earn 50$ (or a multiple of 50) again.
InboxPays payments are processed on the 1st and 15th of each month.
While You're Here: Check Out My #1 Online Business Recommendation
The Ugly Truth about InboxPays
To better understand why people are saying InboxPays is a scam, let's take a look at the issues other users encountered with this site.
#1 Weird Payout Requirements
On most GPT sites, you are free to choose which tasks you want to complete to make money. Not the case in InboxPays.
In your $50 earnings…
The $25 must come from reading emails (clicking PTC links and watching ads) and the other $25 must come from completing cash offers (taking surveys and cash offers)
If you don't comply with this requirement, say you earn $100 but $90 of those all comes from cash offers and only $10 from reading emails…
YOU WON'T GET PAID!
#2 High Payout Threshold
In addition to the weird requirement above, InboxPays requires a minimum of $50 before you can request a payment.
This is considerably high when compared to most of the other GPT sites out there.
Besides, you also cannot expect to get 100% of your requested pay because InboxPays will pass out the transaction fee to you.
#3 Pay to Earn
In cash offers, InboxPays includes "Paid" trial offers where you have to pay to participate.
And because most of these paid trials promise a tempting amount of earnings, anyone would be tempted to reach out their pocket to participate.
The downside of these paid trials other than you paying money to earn money is that you have to make sure to cancel your subscription. Otherwise, monthly fees will be automatically deducted on your credit card.
Another more concerning thing about these paid offers is that many users experienced not getting credit for completing the paid tasks.
More on this below.
Click Here: Family-Man Quits His Job And Still Earns a Full-Time Income At Home. Here's How He Did It!
#4 Negative User Experiences
It is not uncommon for any website to earn a negative review from some people. There is no pleasing everybody, and not everyone can make money online.
That is a fact.
However, most customer reviews and feedbacks about InboxPays are bad.
Most complaints about InboxPays is that members are not being credited on their completed tasks.
To make the matter worse, some members were not credited for the paid offers they completed.
This is from another user who posted the same complaint on Better Business Bureau.
Besides not getting credited for task completion, many users also claim that InboxPays outright "DoesNotPays!" 
These ongoing issues are probably why more and more people claim that InboxPays is a scam.
On Trustpilot, InboxPays has a horrifying rating.
One of the most recent of these negative InboxPays reviews comes from a user who plans on taking legal actions against the company and the people behind it.
Is InboxPays a Scam
It is free to join InboxPays so calling it a scam would depend on how you personally define a scam.
When it comes to taking money from you, InboxPays doesn't do that because it is free to join, thus, not a scam. The company has also been around for a decade, so clearly, it abides the requirements to be considered legitimate.
But if you define a scam as making you believe into something that isn't true, like how InboxPays promises an easy way to make money online and a hassle-free cashout process…
Then I can understand why you will think it is a scam.
While You're Here: Check Out My #1 Online Business Recommendation
However…
I am not here to pass judgment on InboxPays as I haven't personally experienced the things above. My goal here is to present to you the truth about InboxPays.
I am nowhere near making the minimum $50 to request a payment because the cash offers are limited and I only receive 2-3 emails per day – most are paying me only cents.
So, based on the things I shared with you above, do you think InboxPays is a scam?
Feel free to share your thoughts in the Comment Section below.
Should You Join InboxPays
Although I didn't tag InboxPays as an outright scam…
I would not recommend this opportunity to make money. The risks are too high, and your potential earnings are too low.
Stay away from InboxPays because you are likely not getting paid for your efforts. You might even lose money thru participation in paid trial offers.
My Humble Advice
Just like most GPT sites, you cannot expect to earn a full-time income with InboxPays. Not to mention the many issues that you are likely to experience as I have discussed above.
But if you have your heart set into making money by completing cash offers and taking surveys…
I recommend that you try PrizeRebel instead. You may not earn a full-time income, but PrizeRebel has more positive reviews from its users.
On the other hand, if what you are looking for is a way to make a full-time income at home, then I can recommend an online business program for you.
InboxPays Alternative
The business program I am talking about involves affiliate marketing and has already changed the lives of many ordinary people just like you.
Many of the people who started this online business is now earning a full-time income at home; some of them were even able to quit their jobs and enjoy an early retirement.
It could happen to you too!
But the best part of this business program? You can get started today for free!
Final Words
Thank you for taking the time to read this InboxPays review. I sincerely hope that this has been useful to help you decide on whether InboxPays is a scam.
If you think this can help other people too, kindly share this to them.
Meanwhile, if you have anything to contribute to this article or you want to share any information about InboxPays, you can utilize the Comment Section below.
Before You Leave: Check Out My #1 Online Business Recommendation
Until here and I wish you the best in the future.
Your pal,
Jay
FREE COACHING PROGRAM
TURN YOUR PASSION INTO A SIX FIGURE ONLINE BUSINESS
Finally! A Proven Step-by-step Method To Earn A Six Figure Income Online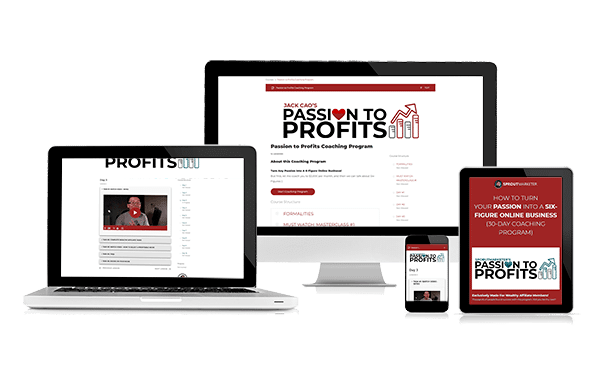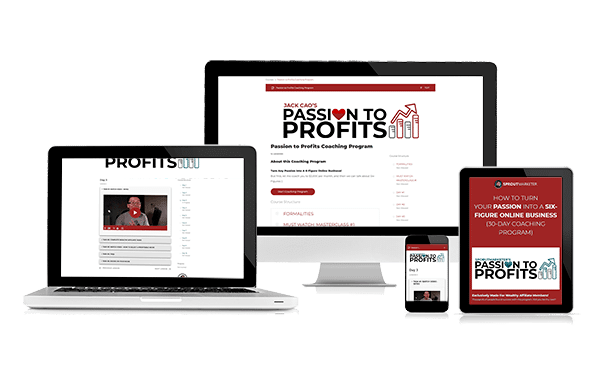 Claim Your Free 10 Day Passion to Profits Course…