Is Nicequest Legit? – A Brutally Honest Review
Did you come here because you want to know is Nicequest legit?
Nicequest is a new survey site where you can earn rewards by sharing your opinions. The platform is getting a lot of popularity recently due to its unique rewards system with additional bells and whistles.
But is Nicequest legit? 
Will it be worthy to participate in its surveys?
How much can you expect to earn with Nicequest?
These questions and more shall be answered in this brutally honest Nicequest review.
Review Summary
Name: Nicequest
Owner: Netquest
Price: Free to Join
Nicequest Platform Rating:
FOR ONLINE BUSINESS OPPORTUNITY SEEKERS
Before we dive into this quest, let me make it clear that I am not affiliated with Nicequest. I also have no intention of ruining this company's reputation.
I merely wish to share with you everything you should know before you take part with Nicequest – the good, the bad, and the ugly.
Now I understand that my opinions might be different from yours so at any point of this Nicequest review you feel like you should share your own thoughts…
You are welcome to do so in the Comment Section at the bottom of this article.
What is Nicequest
Nicequest is a paid survey site where you can get rewards by merely participating in different surveys.
The Nicequest official website does not reveal much when it comes to the company and the people behind it.
However, during my research for this review, I found out that a company called Netquest is behind Nicequest.
Netquest is primarily market research and survey company. It is founded in Barcelona, Spain, and is recognized as a tech-driven company built on a robust and engaged panel with a strict quality standard (ISO 26362).
Base on the "WhoIs" result below, it appears that the domain for Nicequest "nicequest.com" was registered in October of 2007.
Who Can Join Nicequest
Anyone who is at least 14 years old can join Nicequest. However, you must come from one of the countries where Nicequest offers its services.
You will also need to provide a valid email account because you will be required to verify your email once you join in.
But all of these won't matter unless you get an invitation to join into the platform.
How To Join Nicequest
Unfortunately, Nicequest is an exclusive community. This means that you can only join the platform and participate in its surveys if you get an invitation.
Invitations can be obtained through specific campaigns that Nicequest launches on different websites and social networks.
For your benefit, I will reveal how you can get an invitation to Nicequest in a moment.
Cost to Join Nicequest
If you get an invitation to Nicequest, you can proceed to become a part of their exclusive community without worrying about any membership fees.
Can You Make Money Online with Nicequest
If you want to know more about Nicequest because you are hoping you can easily make money online with this platform, then you are mistaken.
Nicequest will not pay you nor any of its member cash for participating in their surveys.
What you will earn are Shells (Nicequest's official currency) which you can use to purchase items within the platform.
The items are called Gifts, and there are plenty for you to choose from. You can use the Shells to purchase gift cards (now phased out) and other items.
Related: Nicequest Is Not The Opportunity You Are Looking For? Try This!
Good Things About Nicequest
Nicequest may not pay you real money, but there are good things about this paid survey site that I would like to highlight.
#1 Trustworthy Paid Survey Site
There are many legit GPT and paid survey sites today, and Nicequest is among the most trustworthy to begin with.
This has something to do with Nicequest's invitation-only policy to maintain the quality of surveys and provide the best experience to its users.
To learn the reason behind the Nicequest invitation-only policy, continue reading below.
#2 Free to Join
It is free to join and use the Nicequest platform to earn Shells. Although this is not new for paid survey sites…
What is noteworthy about Nicequest is that they will also handle the delivery and shipping of all the items you purchased within their platform.
#3 You Can Earn Gifts
By participating in different surveys base on your location and other qualifications set by Nicequest…
You will have a chance to earn Shells which you can use to purchase an item or gift within the platform. There are many gifts for you to choose from.
Just take a look at the image below.
#4 Win Mega Prizes
Another great thing about Nicequest is the monthly raffle draws.
Once you complete a survey, you will be able to participate in a raffle using the Shells you earned. But instead of winning money like in other GPT sites, you will receive lucrative products.
Nicequest's mega prizes are some of the latest product releases of Apple, Samsung, Sony, Walmart, Nike, Amazon, and other well-known companies.
#5 Extend Help Via Charities
I am a believer that all people are kind by nature and that we want to help the ones in need. But more often than not, our circumstances prevent us from doing so.
Fortunately, with Nicequest, you can help people by donations without reaching down your pocket. You can donate the Shells you earn to the various charities all over the globe.
#6 Updated and Helpful Blogs
Nicequest has a team of bloggers that regularly provides new contents and updates about the platform.
Base on my observation, there is at least one new entry on the Nicequest blogs per month, and the contents are available in six languages – English, German, French, Italian, Spanish and Portuguese.
View the Nicequest blog here.
#7 Mobile App
If you are always on the go and rarely sits at home facing your computer…
You can still participate in Nicequest surveys by installing the Nicequest app in your phone and mobile devices.
You Might Be Interested In: How to Quit Your Job and Still Earn a Full-Time Income Online 
What I Don't Like About Nicequest
After I shared the good things about Nicequest, it's time to look at the bad and ugly side of this platform.
#1 Invitation-Only Survey Site
You will have no chance to join Nicequest if you don't get an invitation. I did promise you tips on how to get an invitation for Nicequest, right?
#2 Selected Countries and Territories Only
You may be able to donate to charities all over the world, but you cannot do so unless you live in countries that Nicequest currently offers its services.
While I am writing this Nicequest review, you can only participate in surveys if you currently reside in the following countries:
#3 You Cannot Earn Money
Yes, that right. Just in case you miss it, Nicequest will not pay you money for participating in its surveys.
What you will earn are Shells which you can then use to purchase the items or gifts they have. You can choose from nine different categories on which you want to spend your Shells on.
#4 Very Few Survey Offers
In addition to not getting paid with cash, you might also find yourself waiting too long before you can get that Yoga ball you have been dreaming about.
Base on user experiences, you can only participate in 1-2 surveys per week – if you are lucky.
This means that it will take time before you can accumulate enough Shells to purchase the gift that you like.
#5 User Complaints
Other than getting a faulty gift, one of the most frowned upon development by customers with Nicequest is when the platform decided to phase out the gift cards.
At the moment I am writing this Nicequest review, purchasing gift cards using Shells is no longer an option.
While You're Still Here: Check Out My #1 Online Business Recommendation
Is Nicequest Legit?
Yes, Nicequest is among the legit GPT sites today.
However, I will understand if some people will call it a scam because you won't be getting paid with real cash.
All you can get in participating with Nicequest surveys are Shells which you can then use to purchase items on within the platform.
Should You Join Nicequest?
That depends. Although Nicequest is not a scam, I cannot recommend it if you are looking for legit ways to make money online.
Not only will you not earn cash with Nicequest…
But the number of surveys you can participate in are very few that it will take a long time before you can actually collect enough Shells to get any rewards.
Click Here: Nicequest Is Not The Opportunity You Are Looking For? Try This!
My Two Cents
I am not a fan of participating in paid surveys and completing tasks in GPT sites because it cannot provide you a full-time income. 
I feel that there are plenty of other opportunities out there that are more worthy of your time and commitment.
Is Nicequest legit? Yes, I have no doubts that it is. But it is unreasonably hard to join and earn any rewards. 
I understand why the company feels that the invitation-only policy will help maintain the quality of their market research, and I have nothing against it.
But if you are someone who is currently looking for a stable source of income at home, you might want to check out these online business opportunities instead.
Meanwhile, if you have your heart set into paid survey sites, I recommend that you take a look at PrizeRebel instead.
Similar to Nicequest, you can join for free, but you will have far better chances to make money online and earn rewards for your efforts.
Before You Leave: Check Out My #1 Online Business Recommendation
Final Words
Thank you for taking the time to read this Nicequest review. Feel free to share this if you think this is helpful.
Meanwhile, if you have any question about this paid survey site or, there are some valuable pieces of information you want to share concerning Nicequest, please feel free to utilize the Comment Section below.
Until here and whether you join Nicequest or consider other alternatives, I wish you all the best in the future.
Your pal,
Jay
FREE COACHING PROGRAM
TURN YOUR PASSION INTO A SIX FIGURE ONLINE BUSINESS
Finally! A Proven Step-by-step Method To Earn A Six Figure Income Online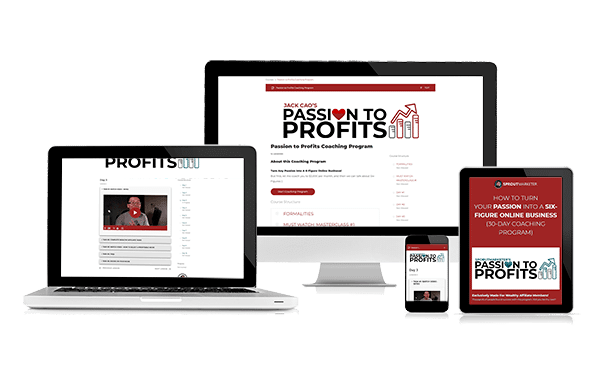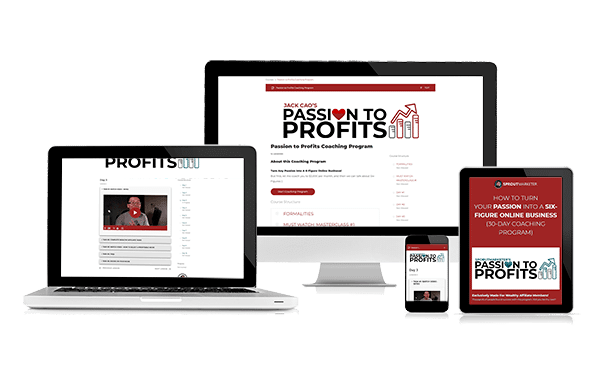 Claim Your Free 10 Day Passion to Profits Course…