Survey Junkie Is A Scam? – Truth Revealed In This Survey Junkie Review
Making money online thru paid survey sites is a common thing today. You might have heard about Survey Junkie, and you want to try this paid survey site but, you are worried that Survey Junkie is a scam.
If that's the case, then you are in the right place. I did a thorough research about Survey Junkie and today; I will share with you everything I know.
But before anything else…
Let me make it clear that I am not affiliated with Survey Junkie nor am I promoting this platform.
Therefore, what you can expect in return for spending your precious time on this page is a 100% truthful and brutally honest Survey Junkie review. Fair deal?
The sole purpose of this Survey Junkie review is to provide you with a good insight on whether Survey Junkie is a scam or a wise investment of your extra time.
Let's jump right in…
Survey Junkie Review Summary
Owner: Blue Media Ventures
Price: Free to Join
Recommended? No
Income Opportunity Rating:
What is Survey Junkie?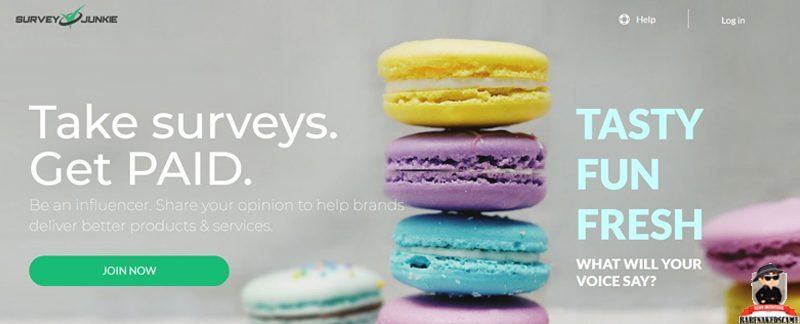 Survey Junkey is an online paid survey site that gives ordinary people (like you and me) a chance to make money from their opinions.
Survey Junkie was launched way back in 2005 in Glendale, California. This paid survey site has been operating successfully for more than a decade, and it has over 7M members at the time of this review.
On their official website, Survey Junkie does not disclose their company structure, but further research revealed that this platform is operating under the umbrella of Blue Media Ventures.
While the other well-known competitors of Survey Junkie such as PrizeRebel and Swagbucks provides their members with multiple ways to earn rewards…
Survey Junkie remains 100% focused on surveys. However, you can make extra money by referring new people to join Survey Junkie, but that's it.
Click Here: My #1 Online Business Recommendation
How to Join Survey Junkie?
You can take part in paid surveys using this platform by merely completing a sign-up process.
Survey Junkie's sign up process is simple and straightforward. You only need to provide your email address, necessary personal information such as your zip code, date of birth, and gender.
You can join Survey Junkie as long as you are 13 years old or above, and a resident of the United States, Canada, or Australia.
How to Make Money with Survey Junkie
There are two different ways you can make money with Survey Junkie. You can either earn points by completing surveys, or you can refer new people into the platform.
Survey Junkie will reward you with points every time you complete a survey. Similar paid survey sites such as Ipsos i-Say and MySurvey do the same.
You can then choose to convert the points you earn to cash or gift cards later on.
However…
As a new member, you can get easy freebie points with Survey Junkie just by completing the sign-up process and updating your personal profile.
Survey Junkie Sign Up Process
Just sign up on their website, and fill the required information as I have mentioned above.
Once the registration is done, a confirmation link will be sent to your email.
Open that link, and you will be redirected to Survey Junkie's website and be rewarded with 25 easy points.
Survey Junkie Personal Profile
When you have successfully signed up, you need to answer some personal questions about yourself among other things.
Survey Junkie will use your answers to decide which surveys you qualify for. Completing this process, you will earn another 50 easy points.
The points conversion system is pretty straightforward: 100 points = $1.
This means, within the few minutes of joining Survey Junkie, you immediately earn 75 points which translate to $0.75.
How to Realistically Earn a Full-Time Passive Income From Home Using Your Passion. Click Here!
How to Get Paid with Survey Junkie?
You can redeem your Survey Junkie points and convert it to cash (or gift check) once you have at least 1000 points, which is equivalent to $10.
Many people favor Survey Junkie among other legit paid survey sites today because it provides several methods to cash out your earnings.
With Survey Junkie, you can get paid thru
PayPal;
Direct bank transfer (Dwolla) or;
Gift Check.
How much can you actually earn with Survey Junkie
On average, surveys on Survey Junkie would pay you between 10 – 300 points. That's a 0.01 cents up to about $3 per survey.
Another crucial thing that highly determines the amount that you can earn with Survey Junkie is the number of surveys you are qualified to participate.
You can also boost your earnings by referring lots of people into joining Survey Junkie.
Learn How to Earn a Full-Time Passive Income From Home with this Step-By-Step Online Business Training. Click Here!
What I Like about Survey Junkie?
On this part of my Survey Junkie review, allow me to highlight the things I like about this paid survey site.
Honesty
Survey Junkie is honest about how much you can earn by completing their surveys. "You will NOT get rich by taking surveys," they say on their website.
I like that in a company. They didn't make any unrealistic promises, and instead, they make sure you are aware of what you are getting into.
Many paid survey sites today lures people to join their platform using fake earning potentials and hypes but not Survey Junkie.
Free to Join
Just like most of the other paid survey sites, it is totally free to get started with Survey Junkie. You can even earn bonus points once you completed the sign-up process and updated your profile.
Decent Survey Offers
Surveys commonly reward 10-300 points depending on how long you could finish it and the kind of survey that you participated in.
The total points that you can get and the estimated time that it will take to complete the survey are made clear. You will also get the exact amount of points if you manage to complete the survey.
If you tried to complete the survey offer, but you did not qualify, Survey Junkie will still reward you with 3 points for your efforts.
Click Here: My #1 Online Business Recommendation
Referral Program
If you are eager to accumulate your points, you have the option to do so through Survey Junkie's referral program.
You will be rewarded with points every time you refer new people, and they decide to sign up with Survey Junkie.
But even though you can earn points using their referral program, Survey Junkie puts more emphasis on their surveys.
Low Minimum Cashout Requirement
Unlike some other paid survey sites on the market, Survey Junkie has a low minimum threshold to cash out.
While other research platforms require that you have at least $20 or more to cash out, you only have to rack up $10 worth of points (1000 points) with Survey Junkie.
This shouldn't take you more than two months to accomplish. Some members even experienced to do this in a month or less.
A+ Rating on BBB
I don't know how much faith you have in the Better Bureau of Business ratings but Survey Junkie has an A+ rating with BBB.
What I Don't Like about Survey Junkie
On the flip side, these are the major concerns I have with Survey Junkie.
Limited Numbers of Surveys
A major complaint on most survey sites is that they don't offer a lot of surveys for members and Survey Junkie is not an exception here.
You can get about two to three surveys in a week if you're fortunate, but averagely, you'd get at least one survey every week.
So for instance, you get so fortunate and get invited to one $1 survey per week. Doing rough Math, that only amounts to $4 in a month. But if you are okay with that, then this is not a concern for you to worry.
Survey Accounts Randomly Closed
Many Survey Junkie users have reported that their account was randomly closed. No reasons and warning were given to them. And the points that they have accumulated were all gone.
Although I have witnessed a lot of survey platforms having this same issue, this is something you might want to consider if you are keen to become part of the Survey Junkie community.
No one would want their efforts to go to waste without a proper reason.
Perhaps this is one of the reasons why there are people that claim Survey Junkie is a scam.
What do you think? Let me hear your thoughts in the Comment Section below.
Many Surveys will deem you Unqualified
Survey Junkie's survey offers will be sent into your dashboard and email. You will complete that survey only to find out that you are not qualified to take some of these offers.
This is one of my major concerns with this platform. And even if Survey Junkey rewards you with a small number of points, it is still time-wasting.
It is a common problem on paid survey platforms, and that is one reason why I don't recommend paid survey sites as a source of steady income.
If you are really a fan of paid survey sites, then take a look at PrizeRebel, InboxDollars or Swagbucks instead. You will have a higher chance of your efforts to be appropriately compensated.
Limited Availability
Although registration into Survey Junkie is free, their services are restricted to some certain countries and territories.
;
<img 
Survey Junkie only accepts members from the United States, Canada, and Australia. If you're not from the countries above, then I'm sorry, you can't be a part of Survey Junkie.
Try other legit paid survey sites instead.
You Will Not Earn Much
Survey Junkie tells you this up front. Surveys are limited as it is based on your demographics and some other personal requirements.
This means, your earning potential is minimal or, worst case scenario, you won't earn at all. If you are looking for a means to make a full-time income at home or online…
Paid survey sites are definitely not the right direction for you.
I humbly recommend that you take a look at the Affiliate Marketing program instead.
Survey Junkie Pros and Cons
PROS
Proven and tested legit paid survey site
Free To Join
Survey Junkie is easy to use
Flexible payment options
Low cashout requirement
Negative feedbacks from other users
CONS
There are several drawbacks with the Survey Junkie
Limited option to earn (just surveys and referrals)
Questionable closure of accounts
A limited number of surveys
Survey Junkie sends surveys that you are not qualified
Available in the United States, Canada, and Australia only
Small earning potential
No mobile app
Is Survey Junkie a Scam?
I wouldn't say that Survey Junkie is a scam. It is a verified online paid survey site that has been around since 2005.
You can also find plenty of people who testified about getting paid for completing surveys in Survey Junkie.
That being said, we've also received negative feedbacks from Survey Junkie users who have read this review. (see comments below)
So if you're planning to spend your time hoping to make a few bucks in this site, we advise that you do more research and proceed with caution.
​A Better Alternative To Earn Full-Time Income At Home
My Sincere Advice to You
With paid survey sites like Survey Junkie, you can only hope to make a few extra bucks a month for your effort.
You won't be able to get rich enough (not in a thousand years) to buy yourself a Ducati with the money you earn from Survey Junkie so you should have realistic expectations.
If you want to have a full-time and stable source of income, I suggest that you build your own online business. It doesn't matter if you don't know how to start.
This program will help you to start and grow your online business.
The best part?
We can help you get started for FREE! Just drop your email below.
Click Here: Facts About Paid Survey Sites They Don't Want You To Know
Final Words
Thank you for taking the time to read this Survey Junkie review. I hope that I've provided you with sufficient information to make an informed decision.
If you found this review helpful, please share it! It might help someone who is looking for this information.
What do you think about Survey Junkie and paid survey sites in general?
Do you believe Survey Junkie is a scam?
Let me hear your thoughts in the Comment Section below. Until next time and I wish you all the success in the future.
Your pal,
Jay