Tap2Earn Review – Payment Proofs And Testimonials Exposed!
You're probably reading this Tap2Earn review because you've seen a lot of people saying good things about it on social media sites and YouTube.
Some are even showing their payment proofs, and now, you want to make sure if you can indeed make $500 today with Tap2Earn.
Well, first let me congratulate you on doing your due diligence.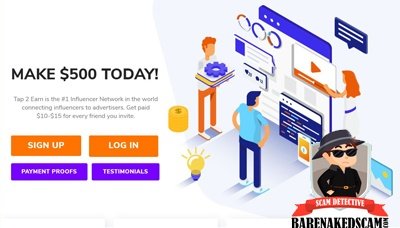 If you had joined Tap2Earn, you might have ended up wasting your time and even lose some money.
I know, I know… I'm making such huge allegations against this company, so let me show you the proofs.
Shall we get started?
Review Summary
Website: tap2earn.co
Founders: Unknown
Price to Join Opportunity: Free
Recommended? No, because there are too many red flags about Tap2Earn which I will all discuss in this review. May I suggest that you check this out instead.
Overall Business Opportunity Rating:
Quick Summary: The first thing that got me interested to learn more about Tap2Earn is the fact that there are many people who are saying good things about this company.
But the weird thing is that most of them can't actually show real Tap2Earn payment proofs.
The other thing that invites people about Tap2Earn is its free to join.  So I created an account in the site. However, I was appalled with my findings…
What is Tap2Earn?
Tap2Earn presents itself as "the #1 Influencer Network" in the world whose goal is to connect people who are looking to make extra cash online to companies and corporations.
The platform works the same way to Get-Paid-To (GPT) sites where you'll be paid by completing wall tasks, offers, surveys, and referring the site to other people.
Making money with Tap2Earn seems simple enough that you can easily see a lot of people touting their awesome experience with the platform.
But after I joined this site, here are every single ugly thing about Tap2Earn that I found.
The Ugly Truth about Tap2Earn
1. Fake company history and background
On the Tap2Earn website, the company claims to have started operation way back in 2015 in Amsterdam, Netherlands.
However, if you do a "whois" search, which reveals crucial info about a site like when it was created, it appears that the domain "tap2earn.co" has only been registered in September of 2019.
It also says that it was registered in Canada (CA) and not in the Netherlands.
Tap2Earn also claims of being mentioned by Forbes as the "#1 Influencer Earning Network" in 2016 and has "partnered with more than 300 companies" in 2017 to bring you the top offers on task wall.
However, there is no record that Forbes did mention Tap2Earn, nor the company can present solid proofs that they did partner with more than 300 companies.
But that didn't end there. (Oh, we're far from over)
2. Contact info and Tap2Earn email don't work
I want to give Tap2Earn a chance to defend itself regarding the red flags I found about the company, so I decided to contact them.
But when I click the "contact us" on the member's FAQ page, it didn't work.
So I tried if the company's provided email address only to find out that it actually didn't exist.
There are plenty of free tools on the Internet you can use to verify if an email address exists, and here's what I found when I look up "[email protected]."
Well, a company that gives you no clear means to contact them might not bother you. But what about a company that appears to have no way of paying you?
3. Tap2Earn don't make money from ads
The company claims to pay you using "ad-spend revenue and sponsorship products."
However, you won't find a single ad in your Tap2Earn dashboard. Not. A. Single. One.
After learning this, I remembered another platform I reviewed a few months back that also claims to be the #1 Influencer Network – RainMoney.
It turns out that Tap2Earn not only makes the same claims to RainMoney but is even using the same explanation of "how it works," word for word.
It is then safe to assume that Tap2Earn is part of the scam platforms by the same people behind RainMoney, CloutPay, and Viral Market.
These sites had been victimizing countless innocent people who merely want to earn a couple of bucks online.
Furthermore, companies usually look for recognized and established places to advertise their brand because they don't want their reputation to be tarnished.
During this Tap2Earn review, this site is only months old, making it the least candidate among advertising companies.
No wonder Tap2Earn can't show proof about their "300 partner companies."
But what about the payment proofs and testimonials that you can find on other Tap2Earn reviews, right? Well…
4. Tap2Earn payment proofs and video testimonials are fake!
Let's start with the video testimonials on the Tap2Earn website.
This guy who claims to be Austin and has just "posted his link on his Facebook feed" is actually a Fiverr actor.
He is known as "Mastermind2009," or you can look him up using "fiverr.com/mastermind2009."
The other guy who's supposed to be Sam and "vouched" that Tap2Earn is the "best site to earn money from" is a Fiverr actor too.
He is commonly known as "Mulder68," and you can look him up using "fiverr.com/mulder68."
However, what about the Tap2Earn payment proofs, right? The ones like these?
Well, I'd say they are just images sent by the people behind Tap2Earn to each other and slap a Tap2Earn watermark or graphics on them.
But a more solid proof that these payment proofs are fake is by looking at the date.
Like I discussed above, Tap2Earn has only been around since September of 2019, yet the dates on these payment proofs go back to as early as May and July of 2019.
The same thing is pointed out by someone on Twitter was I was looking for Tap2Earn reviews on the Internet.
This person explained how can be Tap2Earn paying members in June when the platform only started operation in September?
Now, I don't know about you, but I wouldn't think of joining platforms such as Tap2Earn that uses fake success stories, fake testimonials, and fake payment proofs to make themselves seem credible and trustworthy.
This kind of dirty tactic is a common MO used by sketchy and shady business opportunities such as 3 Step Method, Second Income Center, Lucrosa, and 
5. Fake account manager
January of 2020, Tap2Earn posted on its Facebook page that the company hired a new account manager named Jess.
However, Jess's image is a stock photo used by other websites.
Therefore, we can assume that the girl in the picture has no affiliations with Tap2Earn, nor is she really an account manager.
Making claims that they hired another account manager is another effort of Tap2Earn to appear credible and legitimate.
6. You won't get paid; might even lose money
The worst part of joining Tap2Earn is not only the fact that you won't get paid, but there is also a possibility that you will lose money in the process.
While you will "earn" $25 upon signing up, you can never really withdraw this money.
Tap2Earn claims that before you can request any payout, you must first have 5 referrals, 5 completed wall tasks, and 20 clicks on the links you share on your social media.
But what the company didn't tell you is that some tasks will require you to subscribe to a product or services using your credit card. There are even tasks that you need to pay money to complete!
And even if you do complete the specified requirements above, you will still not get paid like all the other members of Tap2Earn.
But you might wonder, what about the real people who says good things about Tap2Earn on Facebook, Twitter, Instagram, YouTube and even on TikTok?
Well, those people didn't really get paid.
They are saying good things about Tap2Earn because the company made them do it as "requirements" to get paid, and yes, they lied!
7. Tap2Earn is using you to make money
Tap2Earn obviously doesn't make money from ads since there are literally zero ads on the site.
It makes money by selling the personal information you provided when you join the site to third parties. It also makes money from different pay-per-click programs it is affiliated with.
The people behind the company gets paid whenever you and its other members click any offers on the site.
The truth is, Tap2Earn by no means, is not a platform to help you make money online. 
Instead, it's a platform that uses you and takes advantage of other innocent people to make money for themselves.
Is Tap2Earn a Scam?
As you can probably guess, based on the overall tone of this Tap2Earn review, I do believe that Tap2Earn is a scam.
No one made money with this site, and every testimonial you may have and will read about it are likely to be fake.
Now, I want to clarify that everything I shared here is all based on my research and on what I know.
And if you want to share your thoughts about Tap2Earn, you can leave a comment below. But refrain from unnecessary hostility so we can have a healthy discussion.
Conclusion
As much as I don't want to damage the reputation of Tap2Earn, exposing the truth about this income opportunity is the moral thing to do.
I would strongly advise that you stay away from Tap2Earn based on the things I discussed above.
If you want to make money completing surveys and offers, then there's plenty of legitimate GPT sites worth checking out. (This one is my personal favorite GPT site)
However, just keep in mind that you can never earn a decent income with paid survey sites, and I explained why in the video below.
Nevertheless, you know what your current priorities are, and the final say on how you want to make money is in your hands.
But if what you're looking for is a legitimate way to make money online that could potentially get you out of the rat race…
Then I highly recommend that you check out this program.
It is the same program that turned me from a nobody to somebody online, and it allowed me to earn not just a part-time but a full-time income from home.
I've shared my early income proof here: 2015, 2016, 2017.
Thank you for taking the time to read this Tap2Earn review. If you find this review useful, kindly share this with the people you know.
And if you have further questions about Tap2Earn, or you have information that you want to share about this company, feel free to use the comments section below.
Until here and whatever path you take towards your financial goals, I wish you all the success.
Your friend,
Jack