Immediate Edge Scam Exposed With Proofs
If you are planning to join this company but is having second thoughts since you've heard rumors that Immediate Edge is a scam…
Then this article is for you!
Since the likes of USI-Tech, online trading scam companies have been rampant. Among the latest ones are FX Trading and Bittrain. I believe that Immediate Edge is no different.
But rather than trying to convince you that Immediate Edge is a scam, I will present all the facts in this review, and will let you decide for yourself.
Let's get started.
Review Summary
Name: Immediate Edge
Owner: Edwin James? (unverified)
Price: $250 up
Income Opportunity Rating:
What is Immediate Edge?
Have you seen this advertisement on Facebook? The same video is what you can see in the Immediate Edge official website, "getimmediateedge.com"
Immediate Edge, aka Immediate Edge App, presents itself as an online trading software that can supposedly make you a whopping $950 – $2,200 daily, without fail!
Company History And Owners
In the Immediate Edge website, not much is revealed about the company whereabouts and the personalities behind it.
A guy named Edwin James claims to be one of the owners of Immediate Edge. However, there are no records of a certain Edwin James in the online trading industry.
How Does Immediate Edge Work?
Despite you having no prior experience and knowledge about online trading, don't fret because Immediate Edge promises to do all the winning trades for you – with the help of an automated state-of-the-art crypto robot.
You simply have to create an account, and the company will take care of the rest. You can earn $950 today, tomorrow and forever!
Ah if only making money online is that easy. Unfortunately, we live in a real world and not in a fantasy land that the creators of Immediate Edge wants us to believe.
Click Here: Making Money Online Is Not Easy. But Many People Were Able To Succeed. Here's Their Secret!
The Ugly Truth Of Immediate Edge
In this section of my Immediate Edge review, I will lay out the proofs why I believe Immediate Edge is a scam.
#1 Unrealistic Claims
Zero Risk, Immediate Rewards, 98.9% Success Rate – all standard lines of online scammers.
Other online trading scams like Lucrosa and FX Trading uses the same hypes and hollow promises.
Anyone who knows what is online trading will see that these are pure BS. There is no way for any trading algorithm or robot (today) to provide such stellar results. 
And if there is, would you think the developers will share them to the public, rather than keeping it to themselves or selling in in the black market for billions?
You can share your thoughts in the Comment Section below.
Furthermore…
There will always be risks in the world of online trading. Whether in Forex, stocks, or cryptocurrency. It is what fuels these trades.
#2 Inconsistencies
One of the red flags I've seen in the Immediate Edge website is the inconsistencies in their statements. Especially how they lure you in making you believe that it is free to use their platform and make money.
Don't get me wrong; it is free to register to the site. But to gain access to the trading bot, you need to deposit at least $250. Again, just like Lucrosa.
Also in his video, the fictitious Edwin James guarantees that there are zero risks with Immediate Edge. But the statements at the lower portion of their website says otherwise.
One sentence states that "our software's (Immediate Edge App) past performance does not necessarily predict future results; therefore, you should not speculate with capital that you cannot afford to lose."
Another says "Immediate Edge does not accept any liability for loss or damage as a result of reliance on the information contained within this website; this includes education material, price quotes and charts, and analysis."
The latter is hilarious because it is basically Immediate Edge admitting that nothing they say on their site can be trusted.
Click Here: Making Money Online Is Not Easy. But Many People Were Able To Succeed. Here's Their Secret!
#3 No Track Record
How can an online trading site that is just made an appearance in February of 2019 promise its users a daily income of $950 To $2200? 
The company has no trading records in Forex and crypto trading.
Even the most legit and tested online platforms that have been around for years cannot promise that.
#4 Lack Of Transparency
Other than the obvious fake identity of the owner, Immediate Edge didn't reveal any information about the company and the people behind it.
This is a common MO of online scammers. Anonymity ensures that they can get out safely when things go south.
Moreover, the company doesn't even give precise information on how its sophisticated trading bot came to be, how it works, and what are the type of assets are traded.
I know, I know. 
But what about all those people in the Immediate Edge website, claiming they are earning a shitload of money because of this app?
While You're Here: Check Out My #1 Online Business Recommendation
#5 Fake Testimonials
Another clear giveaway that Immediate Edge is a scam is the fake user testimonials on its website.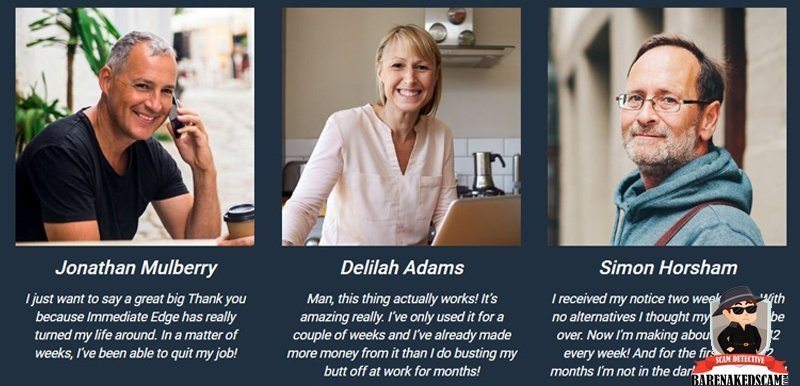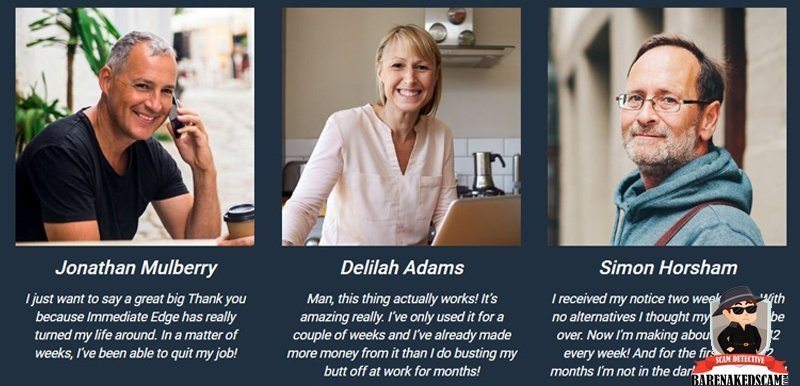 If you try to Google any of those people, you won't find any social media account and any links that prove those people exist. The images look like stock photos, and they are all made up identities, much like Edwin James.
This is not a new thing, though. Scam sites tend to use fake testimonials all the time. See our review on Second Income Center and other online scams.
But I would like to hear your thoughts. Is Immediate Edge a scam for you too? Or do you think otherwise?
#6 Immediate Edge Limited Slots
Immediate Edge makes you believe that they are only taking a limited number of people. This is one of the classic lies online scammers say to get you to signup.
Oh no, only one more spot remains? You should take it now, right? Who knows you could really make at least $950 a day!
Well, all you need is to refresh the page and voila, more slots for you.
Is Immediate Edge A Scam?
Having reviewed hundreds of various business opportunities, my opinion stands that Immediate Edge is a scam.
Another fake online trading site that targets new online traders for their hard-earned money by promising them easy ways to make money online.
But if you think otherwise and you have anything to say regarding the legitimacy of Immediate Edge, share your thoughts in the Comment Section below.
Click Here: Making Money Online Is Not Easy. But Many People Were Able To Succeed. Here's Their Secret!
My Humble Advice
If all these time you have been itching to join Immediate Edge because you believe that this is a guaranteed Get-Rich-Quick program, then you are mistaken.
Again, I believe that Immediate Edge is a scam, a very risky site that is likely to take advantage of you and other unsuspecting victims.
Immediate Edge Best Business Alternative
I wouldn't recommend that you invest anything in Immediate Edge. I do however know of an excellent alternative business program that is worth your time and hard-earned money.
This is a business program that could provide you the same things that Immediate Edge promise. Pay your mortgage, buy a brand new car, go on vacations, and even quit your 9-5 job!
The program I am talking about involves affiliate marketing, and in my opinion, this business is far less risky than online trading. Here's why.
And unlike Immediate Edge, this program already has a solid track record and has helped thousands of people make a full-time income at home.
Take this guy, for example. He quit his job and still makes a living at home.
If you do it right, the same thing could happen to you too!
Final Words
Thank you for taking the time to read this Immediate Edge review. I hope that you find the answers that you were looking for.
Will you help me spread the word that Immediate Edge is a scam so that other people won't fall victim to this horrible scam?
Feel free to share this on the social sites below.
Before You Leave: Check Out My #1 Online Business Recommendation
Until here, and I wish you all the success in your future endeavors.
Best,
Jay