Is It Worth Selling Gold Canyon Candles?
Are you trying to figure out if it's worth selling Gold Canyon candles? It could be that this company interests you, but you are wondering if this is actually an excellent business opportunity.
Or perhaps, you just wanted to know if Gold Canyon is a scam and whether its scented products are a worthy investment.
If you seek the answers to these questions, then this Gold Canyon review is for you.
Review Summary
Name: Gold Canyon
Founders: Karen and Curt Waisath
Cost To Join: $29.95 (monthly) plus Starter Kit
Gold Canyon Candles Business Opportunity Rating:
Gold Canyon Candles Product Rating:
FOR GOLD CANYON EXECUTIVES
FOR ONLINE OPPORTUNITY SEEKERS
When it comes to the quality of the products, some people find GC candles to be amazing.



Meanwhile, some aren't happy with Gold Canyon candles.
If you want to sell Gold Canyon candles, I suggest you make sure that more people love these products than the ones that don't.
While You're Here: Check Out My #1 Online Business Recommendation
In this Gold Canyon review, I will also discuss how you can make money with this company and what are the challenges you are going to face when selling Gold Canyon Candles.
Sounds fair? Let's get started.
What is Gold Canyon
The Gold Canyon candle company, aka Gold Canyon International, LLC, is a multi-level marketing company that sells candles and other scented products.
Other top candle MLM companies in the same niche are Jewelry In Candles and Partylite.
The Gold Canyon's main website is "goldcanyon.com." However, other domains like the "www.goldcanyoncandle.com" and "www.goldencandle.ca" are also owned by the company.
There isn't any information about the personalities behind the company on its official websites but I found out that Gold Canyon was founded by the couple Karen and Curt Waisath.
Some sources say that the Gold Canyon candles company was officially launched in 1997, but its website was created as early as 1995.
Gold Canyon Products
Gold Canyon's flagship product is its line of scented candles. The company also sells scented wax melts, candle holders, pillows and other home decors.
Cost To Join Gold Canyon
There are two ways to become a member of the Gold Canyon company. You can either become Preferred Customer or a Gold Canyon Executive.
Preferred Customer – $29.95 (monthly)​​​​​
Preferred Customers enjoys a 15% discount on all products among other perks.
Gold Canyon Executive – $29.95 (monthly) plus Starter Kit
Executives enjoy a 25% discount on products and will have the opportunity to build a business with Gold Canyon candles.
How To Make Money Selling Gold Canyon Candles
Just like any typical MLM company, you can make money with Gold Canyon by direct selling and recruitment.
As a Gold Canyon Executive, you will earn 25% on each product, including online purchases from your automated website.
You will also earn up to 10% of all the sales by the people under you. And when you continue to sell more products and grow your team, you will advance in rank and will be able to unlock more bonuses and incentives.
Another thing you can earn as a GC Executive are Gold Dollars. You can use Gold Dollars to purchase products from Gold Canyon.
Click Here: People Are Making Money At Home Without Selling And Recruitment. Here's How You Can Do It Too!
What Other People Say About Gold Canyon Products
The Golden Canyon candles company has an A+ Rating in the Better Business Bureau and was accredited since 2015.
The company has zero complaints; however, it also didn't have any reviews as I am writing this article.
So I took a look around, and it appears that most people are happy with the Gold Canyon products.



The company also has an active Facebook Page where you can interact and share experiences with other Gold Canyon members and users.
All in all, this is good news for anyone who is planning on using or selling Gold Canyon Candles.
But wait!
Before you jump from your seat and host a Golden Canyon candle party…
There are crucial things that you need to know about this company, which I will discuss in the next section of this Gold Canyon review.
Click Here: People Are Making Money At Home Without Selling And Recruitment. Here's How You Can Do It Too!
What You Need To Know About Gold Canyon Candles
#1 Contains Toxic Substances
Gold Canyon candles and other products are made of paraffin – food-grade paraffin to be exact.
This substance is a health hazard when burned or melted and could possibly cause cancer.
Furthermore, Gold Canyon products contain a proprietary blend that the company didn't reveal.
For example, the blends used in the Gold Canyon candles scent could be as dangerous as the fragrances used in the cosmetics.
#2 Selling Gold Canyon Candles is Hard
Scented candles and wax melts aren't exactly a popular niche in MLM simply because there are only a few people who think of the product as a daily need.
Unlike health and wellness products, selling scented candles has a much lesser market. Fact is, not many people are compelled to buy these type of products.
#3 Product Availability
On top of selling a product that isn't a necessity, you will have trouble making enough profits with Gold Canyon because people can buy your products from other sources, such as Amazon.
I mean this is good news for customers but look at it in the perspective of a Gold Canyon Executive.
It is no wonder that some distributors quit probably because they cannot find enough customers to buy from them.
#4 MLM Has A Low Success Rate
More than 95% of the people who joins an MLM business do not make money at all.
Although MLM is not a scam, per se, the business model will work only for the few. MLM is not for everyone, and besides, many obstacles and challenges are standing in your way towards success.
On the next section of this Gold Canyon review, I will discuss why the majority of people fails in a business such as Gold Canyon.
Why Most People Don't Make Money In MLM Like Gold Canyon
#1 Not Enough Leads
The first challenge you need to overcome if you wish to make a living selling Gold Canyon candles is how to get endless customers.
You will need to sell tons of products to make a decent income and truth be told; not many people will need and want to buy scented candles. Your friends and family might purchase your products at first just to support you.
But if you want a sustainable business, they aren't the type of people you should be targeting. Once your family and friends stop buying your products, to whom will you be selling your Gold Canyon candles?
#2 Joining With The Wrong Mindset
Okay, here's the ugly truth of network marketing and MLM.
No matter what your sponsor says, how assuring the company promises are, and how good your products might be, making money in this industry will not be easy.
If you are excited to join Gold Canyon because you think this is where you can make easy money, then you are mistaken.
#3 Lack Of Skills
Many people fail to make money in MLM because they do not possess the skills to do so.
To make money and succeed in an MLM business, you will need to master the skills of selling and recruitment. These skills aren't learned overnight.
You will have to go out there and stomach tons of rejections. For most people, getting NO for an answer over and over again is a bitter pill to swallow.
You will also need to invest time and money on training programs that will enhance your skill as a Gold Canyon Executive.
Do you think you have what it take to succeed selling Gold Canyon candles? Do you think Gold Canyon is an excellent business opportunity?
Share your thoughts in the Comment Section below.
If Selling Gold Canyon Candles Is Not For You, Try This!
Is Gold Canyon Candles Company a Scam
There might be some challenges in making money selling Gold Canyon candles, but this company is not a scam.
The Gold Canyon candle company is a legit MLM that has been around for more than two decades, and it has a great product line.
Many people also shared their delight with the Gold Canyon candles, and yes, it is possible to make money with this company.
My Humble Advice
If you are really keen to start selling Gold Canyon candles, I suggest that you try their products first. It would be hard to convince other people to buy your products when you haven't tested them yourself.
And when it comes to the necessary skills to succeed in MLM, starting with the Attraction Marketing is the best thing to do.
Attraction Marketing is a powerful strategy that will teach you how to triple your product sales. It will also help you find an endless supply of customers and prospects that are right for your business.
Become a successful Gold Canyon Executive by learning the Attraction Marketing here.
Gold Canyon Business Alternative
If you don't want to sell products and recruit people, then I have a more suitable business program for you.
It involves affiliate marketing, and many people are already making a full-time income using this program. Yes, these are also ordinary people like me and you!
Now, many of them were able to quit their 9-5 jobs and enjoy early retirement. Wouldn't you like that?
Well, if you do it right, this could happen to you too! And the best part about this program that I am talking about?
You can start today for free!
Final Words
Thank you for taking the time to read this Gold Canyon Candles review. I hope that this has been a good source of information for you on whether selling Gold Canyon Candles products is worth your time and investment.
If you think this is useful, kindly share this to the people you know.
Meanwhile, should you be interested in making profits out of the things you love to do online, there's a sign up form below for a FREE online course.
Before You Leave: Check Out My #1 Online Business Recommendation
Until here, and I wish you all the success in your future endeavors.
Best,
Jay
FREE COACHING PROGRAM
TURN YOUR PASSION INTO A SIX FIGURE ONLINE BUSINESS
Finally! A Proven Step-by-step Method To Earn A Six Figure Income Online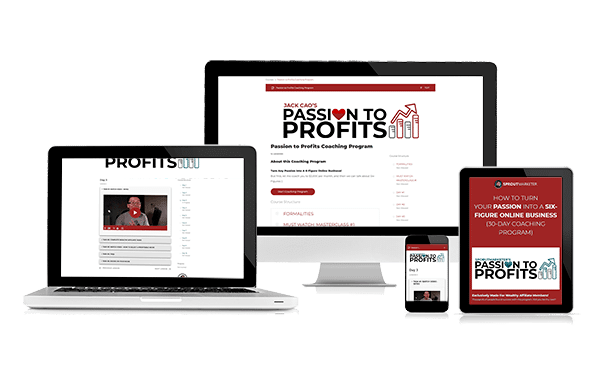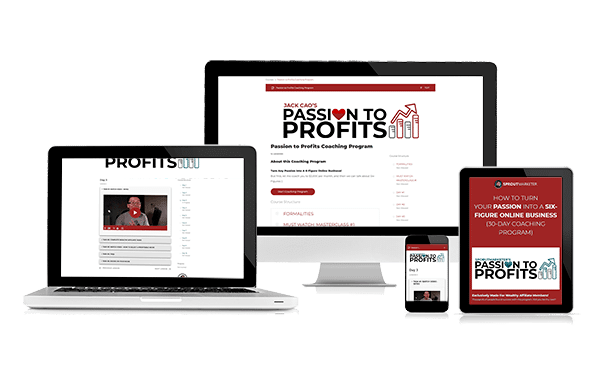 Claim Your Free 10 Day Passion to Profits Course…