If you came here to learn if Daily Income Method is a scam – rest assured that it is not.
However, I feel that there are crucial things that you need to know about Daily Income Method before joining in.
And although it is not my place to tell you what to do, this program is risky for beginners, and I would not recommend it. But do not take my word for it until you're at the bottom of this page.
Once you finish reading this Daily Income Method review, you will have sufficient information to decide on whether this program is for you.
Lets' get started.
Review Summary
Name: Daily Income Method(aka Instant Payment Method)
Owner: Mack Zidan aka Mack Mills aka Mack Millions
Price: $97/year plus upsells
Daily Income Method Business Opportunity Rating:
Daily Income Method Product Rating:
FOR ONLINE OPPORTUNITY SEEKERS
What Is Daily Income Method
The Daily Income Method (dailyincomemethod.com) is an automated marketing system created by Mack Mills.
It is important to note that the Daily Income Method (DIM) is not a standalone program to make money.
Mack designed it as a sales funnel that effectively promotes other businesses that he is affiliated with.
Some of the other business opportunities that were promoted by Mack using this system are myEcon, MCA, and The Fearless Momma.
I also found out that Mack was also an affiliate of Digital Altitude, another business opportunity that was shut down by FTC in 2018.
How Does Daily Income Method Work
Mack claims that Daily Income Method, or "Mack System" as some people call it, will work for you 24/7. The Daily Income Method will handle all the selling and marketing of your business, on complete auto-pilot.
But the main focus of Daily Income Method is getting paid traffic. Mack will share with you his recommended sites where you can pay to get traffic for your business.
Furthermore, Mack says that the other tools included in this system will teach you how to make easy money online monthly, weekly, and even daily!
These include live training sessions about Facebook advertising, marketing strategies, promotional materials, banners, and more.
While You're Here: Check Out My #1 Online Business Recommendation
Who is Mack Mills
Mack Mills is a well-known Internet marketer.
He personally claims to have achieved multiple success and earned millions of dollars in this industry using his system.
With his latest project, he showed that he is making too many $250 effortlessly.
Mack Mills also goes with different aliases such as Mack Zidan and Mack Millions.But before you grab your credit card and join Daily Income Method, I found allegations saying that Mack Mills is not what he claims to be.
On this post, one person claims that Mack is a con artist that uses the internet to scam people.
And on this thread, someone publicly called out Mack Zidan as a "big-time scammer."


Unfortunately…
I didn't find any substantial evidence that supports these claims.
So if you have any relevant information about Mack or the Daily Income Method scam rumors, you can share it to our readers in the Comment Section below.
While You're Here: Check Out My #1 Online Business Recommendation
Update in Daily Income Method
As I am writing this Daily Income Method review, I found out that DIM is now called the Instant Payment Method. As for the reason why Mack decided to change the name of his automated marketing system, no one knows.
But when you go to "dailyincomemethod.com," you will be redirected to the Instant Payment Method (IPM) sales page.
It is basically DIM but with a brand new name and an updated price. While the Daily Income Method used to cost $27/month…
The IPM will cost you $197/year and offers a limited-time $100 discount at the moment.
The Ugly Truth About Daily Income Method
The first thing found fishy about the Daily Income Method is the obvious hypes on the sales video. Mack Mills goes on and on about how he makes easy money online using this system.
However, the truth is making money online is not easy.
You will have to learn different skills, and it will definitely take time.
If you are new to Internet marketing, chances are you won't be making money on your first day, the first week and even during the first few months.
Heck, there isn't even a guarantee that you can make money within your first year!
It all depends on how quickly you learn the ropes, how you implement the things you learn, and if there is someone to guide you.
Another thing I dislike about the Daily Income Method is it relies on paid traffic strategy or PPC (Pay Per Click).
Getting involved with a PPC strategy to get leads can be very risky and is also costly.
Related: How To Get Traffic For Your Business Without Spending A Dime
Is Daily Income Method A Scam
As I have mentioned at the start of this Daily Income Method review, I believe that it is not a scam. I had reviewed a lot of scams for this site.
In fact in the last week alone I've done a review of Zarfund and Lucrosa, both of which are obvious online scams.
The Daily Income Method or as it is now called, the Instant Payment Method is legitimate program that will provide you with some useful tools to promote your business.
But as to whether you will get your money's worth for joining DIM or not, read the next section to find out.
On the other hand, do you think Daily Income Method is a scam? You can share your thoughts in the Comment Section below.
Click Here: Family-Man Quits His Job Yet Still Earns A Full-Time Income While At Home. Learn How He Did It Here!
Should You Join Daily Income Method
One reason why I do not recommend the Daily Income Method is that it is not a standalone program to make money online.
Other than paying a monthly fee to access Mack Zidan's system, you will still need to find a business that you want to promote and pay a separate membership fee.
Also, the training materials that come with the Daily Income Method is not that comprehensive that a complete beginner will most likely find scratching his head.
You are better off looking at other training programs similar to the Daily Income Method but will teach you everything you need on how to make money online.
Not just how to get paid traffic but also how to get endless leads for free!
Take a look at this program, for example.
It is free to get started, and you will have an option to either upgrade your membership or stick to the free trial.
Before You Leave: Check Out My #1 Online Business Recommendation
My Humble Advice
Thanks to the Internet, there are many different ways to make money online today. You can try affiliate marketing, eCommerce (Amazon or Shopify), and online trading.
But if you want my advice, there is one online business program in particular that I can highly recommend. It involves affiliate marketing, similar to the Daily Income Method, but with far less risk.
In fact, most people who joined this program is now making a full-time income at home; some of them were able to quit their jobs and enjoy early retirement.
And again, the best part about this program? You can get started for free!
Final Words
Thank you for taking the time to read this Daily Method Income review.
I sincerely hope that you now have enough information on whether the Daily Income Method is a scam or a worthy investment.
If you find this useful, kindly share this article to the people you know.
On the other hand, if you have any information or further questions related to the Daily Income Method by Mack Zidan, you can use the Comment Section below.
And should you be interested, there is a link below for a free online course that will teach you how to make money by doing the things that you love.
Until here and I wish you the best in the future.
Your pal,
Jay
FREE COACHING PROGRAM
TURN YOUR PASSION INTO A SIX FIGURE ONLINE BUSINESS
Finally! A Proven Step-by-step Method To Earn A Six Figure Income Online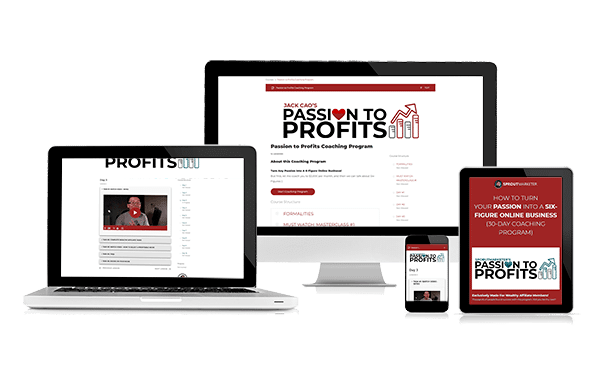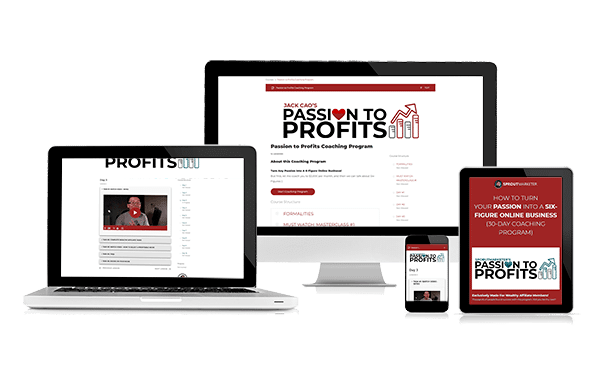 Claim Your Free 10 Day Passion to Profits Course…