Could MCA Scam You? – Don't be fooled by shinny objects!
Every vehicle owner needs some kind of roadside assistance.
Be it your car break down, you get locked out, or something else.
When these things happen, you need professional assistance, and that's where Motor Club America comes in.
<img alt='MCA-Scam-Review' width='300′ height='129′ title='MCA-Scam-Review' data-id='8036′ src='//barenakedscam.com/wp-content/uploads/2018/05/MCA-Scam-Review-300×129.png' style="width: 100%;">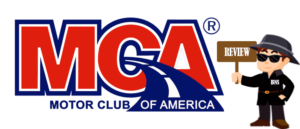 The company has provided this kind of service since 1926. That's almost 100 years of history behind the company, which gives credibility to MCA.
There are lots of people claiming this is an absolute scam, while others swear by the legitimacy of the program.
In this MCA review, you'll understand:
Why people call MCA a scam;
Why its associates fail; and
Whether or not MCA is a good opportunity for you.
My personal conclusion is that MCA is not a scam, but there are things that you should to know before joining the company.
How I Quit My Job and Still Earn a Full-Time Income Online. My Humble Story! 
Many People Claims MCA a Scam – Is it really?
1. Misleading advertisements
Nearly everyone promoting MCA flashes shiny objects to lure people seeking extra money online.
Unfortunately, people don't know what they're getting into and don't really know what MCA is.
All they know is that if they send people to their "affiliate link," they'll earn money.
And, this creates a spiral of new associates promoting MCA incorrectly.
The right way to promote MCA is to sell the roadside services, before promoting the business opportunity.
Not the other way around.
2. Close ties to a pyramid scheme
MCA is a Multi-Level Marketing (MLM) Company, and sometimes, it can be misunderstood as a pyramid scheme.
MLM companies leverages on their associates' social network to "get the word out", instead of the traditional advertising method.
This method requires its associates to promote the company's products or services, and recruit people who are interested in selling the same as well.
The more people an associate recruits, the higher the rank an associate can attain in the company.
This is a legitimate structure, until its associates focus on promoting the business opportunity instead of the products and services.
Here's what the Federal Trade Commission says about pyramid schemes (If you wish to skip this long explanation, watch the video below):
What is Motor Club of America (MCA)?
MCA was founded in 1926 by William W. Green.
It was later sold to Truckers Voice in Court (TVC) Marketing, which was founded by Virgil Coffee, the father of Glenn Coffee who is the former Secretary of State of Oklahoma.
MCA provides roadside assistance through direct sales.
These services are similar to the services offered by AAA.
The only difference is MCA pays its associates for recruiting their friends and family into the business opportunity.
MCA Service Reviews
As with any business, there are people who have positive experiences and people who have negative experiences.
It's impossible for a company to please everyone.
While some people will have nothing but positive experiences, there will be people who get let down by the company.
Unfortunately, the only way for you to know if the MCA services are a perfect fit for you, is to try the services yourself.
<imgsrc='https://barenakedscam.com/wp-content/uploads/2018/05/MCA-roadside-service-1024×576.png' alt='MCA-roadside-service' width='1024′ height='576'>MCA does have a refund policy, but you can only get a 100% of your money back if the refund request was made within 3 days of signing up, and 50% if the request was made within 30 days.
You definitely do not have sufficient time (the refund period) to try the full range of services, but you can only experience the service when something happens to your car.
So, to help you out, I've consolidated a list of positive and negative reviews so that you can decide if MCA is worth your money…
Positive Reviews
Negative Reviews
Many of the competitors have limits on their services.
For example, AAA has a five-mile towing limit to reach the nearest service station.
These limits make MCA appear to be a better choice for people who would utilize the services more often.
I hope this will help you out in determining if MCA is the right roadside service for you.
The Truth Most Associates won't tell you…
I am sure you are enticed by the hype from MCA associates where they flaunt flashy objects to get you to contact them on Facebook. Advertisements like this…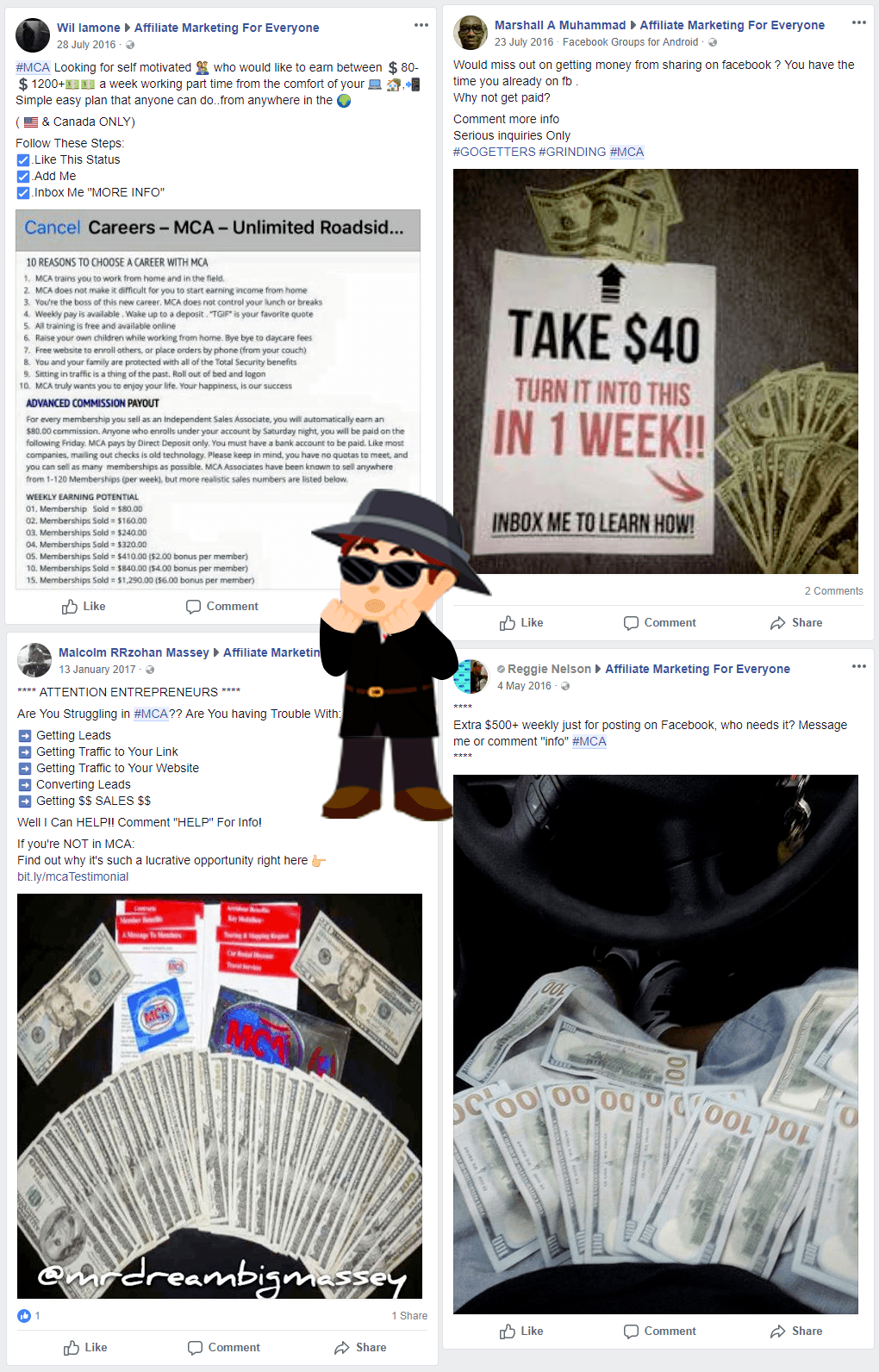 <imgsrc='https://barenakedscam.com/wp-content/uploads/2018/05/MCA-Ads.png' alt="This is how MCA scam you!" width='1020′ height='1592'>I mean, who wouldn't like the idea of working from home and without the worry of money.
Most are led to believe that all they need to do is to share a bunch of advertisements (whether through Facebook or giving out flyers), and they will make money.
But, here's what most associates won't tell you prior to joining the business…
You will need to spend a lot of time working on the business in order to make a substantial amount of money.
Most associates will tell you that it takes only a few hours a day to run the business, and you can do it part time.
But in fact, to make good money, you'd probably need to work 40 hours a week (like a full-time job).
For most of us, we already have a full-time job, and we'd probably have a family, and working at MCA full-time is just not possible.
More than just posting ads, you need to speak to people, and get them to sign up to MCA through your affiliate link.
And, you'd have to follow up with those who didn't sign up with you.
Then, you'll constantly need to listen in to the training provided by the leaders of your group to grow your business.
Honestly, it is almost impossible to earn a decent income doing this part-time.
I found an interesting video which I think it is worth watching… if you are looking to join MCA as an associate:
How I Quit My Job and Still Earn a Full-Time Income Online. My Humble Story! 
The MCA Business Opportunity – How Does it Work?
Many people join MCA as associates when they see ads to earn money quickly.
When people become associates, they are given affiliate links to give to family, friends and other potential customers to sign up.
When someone uses the link to sign up, the associate gets money from the company.
There is no cost to become an associate for MCA and it is not clear whether there are minimum sales required to maintain associate status.
Once someone becomes an associate, there are four ways to get paid.
1. Direct commission
Direct commission comes from referrals for new customers. Each new customer coming through the affiliate link will earn the associate a $80.
2. Passive commission
When an associate's referral sign up new members, the associate earns passive commission. First generation referrals earn $80. Second generation referrals earn $6.
3. Volume income
Volume income pays extra when an associate reaches a minimum number of referrals per week. This is structured as follows:
1-5 referrals per week = $80 per person
5-9 referrals per week = $82 per person
10-14 referrals per week = $84 per person
15-19 referrals per week = $86 per person
20-29 referrals per week = $88 per person
30+ referrals per week = $90 per person
4. Residual income
Finally, associates earn 66₵ in monthly commission for every customer who pays their recurring bill.
Why do the Majority of MCA Associates Fail?
Many associates make it look so damn easy to earn money from the company, but the fact is far from advertised.
The following income disclaimer is found on the MCA's website:
<imgsrc='https://barenakedscam.com/wp-content/uploads/2018/05/MCA-Income-disclosure.png' alt='MCA-Income-disclosure' width='614′ height='1126'>It is quite obvious that a typical MCA associate will not earn much or anything for this opportunity.
But, this doesn't mean that MCA is a scam.
Here are some reasons that I think is the cause of the high failure rate:
1. Decentralized Training
Because of the company's structure, there is no centralized training for its associates upon joining the company.
Instead, new associates tend to rely on their sponsors for support.
Unfortunately, there are only a handful of successful associates, and finding one to coach you is like finding a needle in a haystack.
This creates a situation described as "the blind leading the blind".
So, if you intend to be successful with MCA, I would recommend that you start learning from real experts in the network marketing industry.
2. Lack of support
Because of the decentralized training and the lack of support from sponsors, new associates have no real support.
This means they have no one to turn to when they have questions or concerns or just need someone to encourage them in the process.
I know very well that no matter how great an opportunity is, if there's insufficient support for the new members, failure is almost guaranteed.
So, if you intend to join the MCA, it is best that you do some due diligence on the people whom you are about to follow.
Because following the right leader is important for your success.
Instead of following the wrong leaders in MCA, it might interest you to know that you can get real support from top leaders in the industry.
3. Wrong mindset
Since MCA is focused on direct sales, it takes a specific mindset to be successful.
Unfortunately, people who become associates don't always have the right mindset.
They see ads that say they'll earn money quickly. But, when they don't see results, they quit.
Worst of all, people who join MCA is conditioned to think making money with MCA is easy.
They thought that by doing what most people do (flaunting cash on Facebook) will get them into the high life.
 But, that's never the case.
People who actually earn money from MCA are the ones who go against all odds to make things happen.
4. Over-saturation
With so many people posting on Facebook, it sort of becomes a clique.
And as people invite their friends and family, a geographic region is likely to be full of people who are already members.
As a result, the market can become over-saturated.
This prevents people from having access to new recruits.
Eventually, income plateaus and then starts to drop off because there aren't new people coming in.
5. Unable to Face rejection
Being in this opportunity would mean that you are basically as salesperson for MCA.
Rejection is inevitable in this business, even when selling the MCA services to your own family members and close friends.
Many associates took rejections personally and could cause fiction in relationships.
People who can't stomach this kind of rejection are not suitable to be in this business.
A business opportunity that turns your passion into profits (No selling required). Interested?
My Sincere Advice to You
I hope I have given you sufficient information to make an informed decision.
Don't just join the business because of the hype.
Instead, join the business because you simply believe that the MCA services adds value to the people who owns a car.
If you are already in MCA, don't start flaunting cash and all the shiny object to get people to sign up, because most of the time, this strategy doesn't work.
It will lead to people calling MCA a scam, and relationships can be destroyed if you played this wrongly.
So, with that, if you are still headstrong with this business opportunity, I hope that you will start learning attraction marketing before marketing the MCA services.
If MCA is Not the Business for you…
If you think that MCA is not the business opportunity you are looking for, and you wish to know if there's other legitimate opportunities out there.
Then, please allow me to introduce you to this program.
This is the program that taught me how to start and scale my online business to six figures. 
And, it is the reason that got me out of the rat race. Here's my humble story since the beginning.
Thank you so much for reading this review!
If you think this review has helped, please share it with others who needs this information.
And, if you'd like to discuss more about MCA, please, feel free to leave a comment in the comment section below.
Your pal,
Jack