Yoonla Evolve Review – My Predictions Are Right!
A lot of things have happened to Yoonla since its launching in 2016. Yoonla re-branded as Yoonla Evolve (as it progresses into phase 2 in 2018), and now it is called Yoonla Academy. On the site, this is what it says…
In my previous Yoonla review, I predicted that Reno Van Boven will start charging hundreds of dollars for its training program. And now, my prediction is right!
Back in 2016, Yoonla is an automated sales platform that pays $2 to $4 per lead (if you send someone to Yoonla).
To earn money from Yoonla in 2016, you have to be an affiliate.
And, to become an affiliate,  you have to purchase some Internet marketing tools through their affiliate links.
Yoonla earns money as people signs up to those tools, and that's how Yoonla is able to pay its affiliates.
Now, Yoonla has several training programs of its own (3 active ones and 1 in the midst of launching in late 2019). 
It is not surprising that one more expensive than the other. We will talk more about those training programs below.
Review Summary
Name: Yoonla Academy aka;Yoonla.com, Yoonla Foundation, Yoonla Evolve
Founder: Reno Van Boven
Cost To Join: $3 plus upsells to $497
Yoonla Business Opportunity Rating:
Yoonla Product Rating:
How Yoonla Has Evolved
Yoonla has changed its name several times. It started as Yoonla Foundation, then became Yoonla Evolve, and now it is called Yoonla Academy. 
However, I must point out that while Yoonla may have evolved and undergone noticeable changes, its promise is still the same.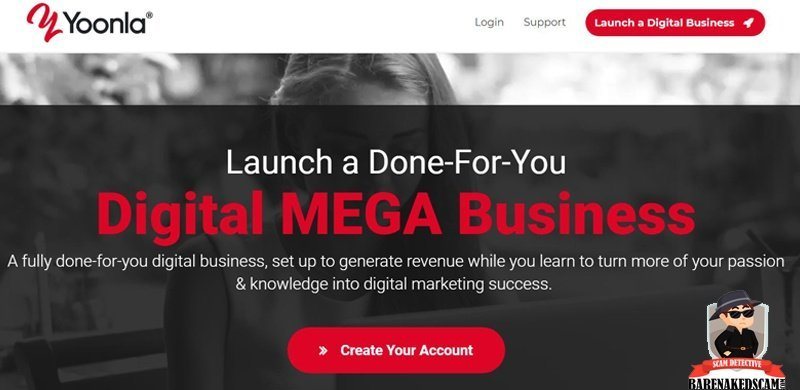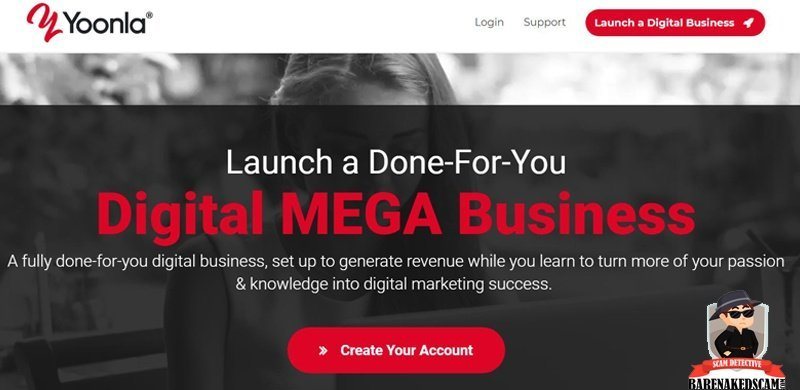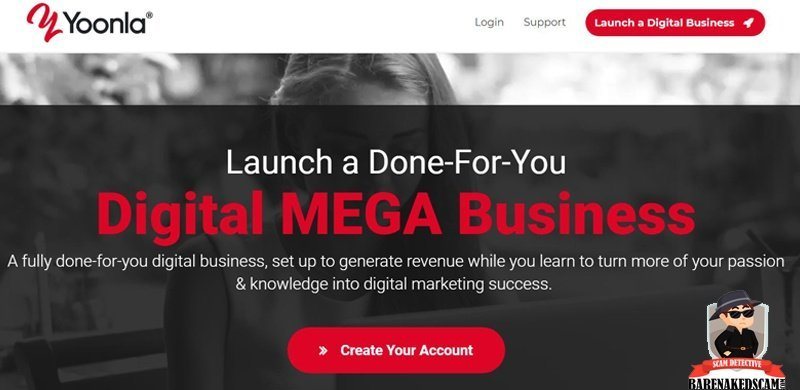 Yoonla's focus is on a done-for-you system that will help you earn money "easily".
And for the sake of doing this in-depth insider Yoonla review, I went ahead to join the Digital Business Mega.
I was told that it was free to join, but I later discovered I had to pay $3. I went ahead anyway.
So if you are interested in what the new Yoonla has to offer, let's dive right in!
What is Yoonla Academy?
Yoonla Academy, aka Yoonla.com, Yoonla Evolve, and Yoonla Foundation, claims to be a fully done-for-you system set up to help you make money easily.
But, the question is, is it really that easy? We'll talk more about this later.
You could say that Yoonla is designed for a total newbie in this industry.
Reno Van Boven is the CEO and the founder of the Yoonla Academy. He is said to be a veteran Internet marketer, entrepreneur, and business owner.
How To Join Yoonla Academy
As I am writing this updated Yoonla review, there are currently three membership options to choose from so you could join Yoonla. 
The Digital Business Startup (free), Digital Business Mega Starter, and Digital Business Mega Premium.
Reno mentioned a fourth membership option called the Digital Mega Business Ultimate which is expected to launch in the late part 2019.
While You're Here: Check Out My #1 Online Business Recommendation
Yoonla Academy Membership Programs
#1 Yoonla Digital Business Startup
Free to join but all slots are taken at this time.
The Digital Business Startup is not a done-for-you system. You will have to build and set up your business manually yourself.
This means that you need to handle the lead generation, writing contents, setting up funnels, etc.
#2 Yoonla Digital Business Mega Starter
This is a 1-revenue stream done-for-you business that will cost you $3 to register.
You will get three videos on how to set up your digital business and access to other tools and materials. You will earn commissions from your referrals should they join Yoonla Academy too.
#3 Yoonla Digital Business Mega Premium
This will provide you with six revenue streams, and you can potentially earn up to $1995 in commission per referral, according to Reno. Upgrading to this product also upgrades your affiliate status to a Yoonla Re-seller.
But much like how I've paid $3 for the DBM Starter when it should only be $1 as advertised, there are some inconsistencies in how much the DBM Premium really costs.
On some pages of Yoonla.com, it says that this membership program costs $497.
However, inside my Yoonla account dashboard, it says that it only cost $197 to upgrade to premium.
Which is it?
If there are Yoonla affiliates who could enlighten our readers and me about the pricing, I would be forever grateful. 
Click Here:Earned A Full-Time Income Online As A Complete Beginner – Read My Full Story
Yoonla Affiliate Program
Yoonla Academy operates in a two-tier CPA affiliate program (Cost Per Action). This is also how the old version of Yoonla does business.
Yoonla will pay you whenever someone registers to any of Yoonla's three membership options using your affiliate link. 
Then Yoonla will pay you again once your referrals upgrade their memberships or subscribe to any programs that Yoonla promotes.
Affiliate Programs Promoted By Yoonla Academy
Yoonla promotes third-party affiliate programs where they make money from.
And as a Yoonla affiliate, you will also earn recurring commissions every time your referrals subscribe to these programs too.
#1 Kartra
Kartra is a website that helps you build an email list, create campaigns, and make sales funnels. This program also helps automate many other aspects of your business, and it provides analytics to help you understand your data and more. 
To become a Yoonla Affiliate, you need to subscribe to any of the following Kartra membership plans.
Note: Kartra currently offers a 14-day trial for $1.
#2 Wix
The second third-party program that Yoonla promotes is Wix. Wix is a website builder and hosting platform.
They are known online for helping people how to build clean and beautiful websites with their drag and drop tool, – kind of similar to Thrive Architect.
Below are the membership plans for Wix.
#3 ClickMagick
Clickmagick will help you track and optimize your marketing strategies. This program will show how much you convert and how you can boost your conversions.
Note: ClickMagick currently offers a 14-Day " FREE" trial on their product.
How Much Can You Earn From The New Yoonla Academy?
The Yoonla affiliate program pays a CPA commission on the front end starter memberships plus a 40% commission on product payments generated by your referrals.
Moreover, Yoonla's JV affiliate program pays a CPA commission (per member) to you on your affiliate's member referrals, on the 2nd tier.
Should You Upgrade To Premium
Once you upgrade your Yoonla Digital Business Mega Starter membership to Premium, you will receive the Reseller license. 
Resellers can earn up to 80% commission on every sale generated inside the Yoonla Mega product funnel. This revenue stream is on top of your done-for-you digital mega business.
You will also receive exclusive access to a private Facebook group where you can connect directly with Reno for tips and advice on how to get the kind of results that you desire.
Now, based on these things, you could say that making money online with Yoonla is very easy.
But wait!
Well, before you start counting how much can you earn from the new Yoonla Academy, I must stop you right here. 
Because the fact is, in this business, nothing can be completely "done-for-you."
While You're Here: Check Out My #1 Online Business Recommendation
Yes, Yoonla has evolved, but the same issues I've pointed out before are still my ongoing concerns with this program today.
The Ugly Truth About Yoonla
Typically, Yoonla's done-for-you system is designed in a way for people to promote Yoonla and Yoonla affiliate products only. 
The process of how you join Yoonla will be the same process your prospects will go through because that is how the system is set.
On the bright side, this is a good start for digital business beginners because they will not need to think about the backend stuff like creating offers, videos, understanding copywriting, creating products, etc. 
The done-for-you system takes away all the hard work of the beginner and allows them to focus on driving traffic (sending people to the automated system).
Sounds really good and efficient, right?
But there's a downside!
Yoonla's done-for-you system is similar to the Total Funnel System, Internet Lifestyle Pros or the VSN Cash System.
And I've never seen a done-for-you system that lasts a very long time. Read the next sections of this Yoonla Academy review to find out why.
#1 Not A Sustainable Business Model
The people who joined early in this business may achieve some kind of success because the funnel is fresh. 
But as time passes and more and more people started to promote the same exact funnel, it gets old and is ineffective. Chances are you will have trouble converting leads to sales.
And when a done-for-you system has passed and is not popular anymore, your business will cease. The same thing will happen in case Yoonla, for some reason, decided to close down. 
Again, this could work at the start, but it is not a good long term strategy on how you can make a living online.
#2 Pay To Play System
This kind of funnel is "pay to play." 
This means that you've got to pay money to join this program and subscribe to the different affiliate products to earn money. The same way that the person who recommended you earned theirs.
An example is for you to make money as a Yoonla affiliate, you will have to subscribe to the affiliate programs like Kartra, Wix, and Clickmagick. These programs aren't free and come with monthly or yearly fees.
#3 Limited Income Revenues
There is no flexibility in the products you can promote. You can only hope to earn money by promoting Yoonla or Yoonla affiliate products.
There is no room for you to make money with your passion or interests because all your income will come from revenues set by Yoonla.
Click Here: Make A Six-Figure Income At Home With My Passion And Interests! – Read My Story Here
#4 Relies On Paid Traffic
In a done-for-you system like Yoonla, you won't learn much traffic generation except buying leads.
Because usually, these kinds of programs will not ask you to do free traffic like starting a blog or YouTube channel. They will ask you to pay for leads because that's the fastest way to earn money
You won't learn how to set up funnels, Internet Marketing, or anything that could help you in the future should you decide to transition your online business.
Not to mention that buying leads is costly and could quickly put you under if you don't know what you are doing.
Is Yoonla Academy A Scam
No, Yoonla is not a scam.
This business may have some flaws and issues, but this is a legitimate business, and it is good to see that Yoonla has evolved and may it continue to do so for the benefit of its affiliates.
Who Is Yoonla For
That depends. While it is not my place to tell you what to do with your time and money, I could help you come up with a decision by showing you the Yoonla Academy pros and cons list.
Yoonla Pros and Cons
Pros
A decent business opportunity of digital business newbies
You can make money with Yoonla
Cons
Pay to play system
Included training is very basic
You cannot promote other products that you like
It depends heavily on paid traffic methods to get leads
Yoonla could be expensive, especially for a beginner
No sales funnel originality as other Yoonla affiliates has similar ones
Related: I Was Able To Make A Six-Figure Income At Home With My Passion And Interests! – Read My Story Here
Yoonla Academy Best Business Alternative
If at this point, you realized that Yoonla Academy is not a suitable business for you, then I can recommend another business program that might be up your alley.
This business program also involves affiliate marketing. 
But unlike Yoonla, you can promote any products in the niche you like. This program will also teach you the basics of digital marketing like how to build a website, how to monetize your page, and how to get organic (free) leads!
The business program I am talking about has already changed the lives of many ordinary people just like you, and to both digital business veterans and newbies alike.
Many people who joined this program have made a six-figure income at home while others were finally able to quit their 9 – 5 jobs. I am one of those people!
I would be honored if you find the time to read My Humble Story. And I could coach you so the same thing could happen to you too!
And the best part? You can start today for free!
Final Words
Thank you for taking the time to read this updated Yoonla review. I hope that this has been useful for you to determine if Yoonla is a suitable business for you.
If this has been helpful, kindly share this with the people you know so they too could benefit from this information.
On the other hand, if you are looking for a legitimate way to make money online with your hobbies and interest, then I could help you with that.
At the end of this article on how Yoonla has evolved and how much can you earn from the new Yoonla system is a signup form for a FREE online course that will teach you how to turn your passion into profits.
Before You Leave: Check Out My #1 Online Business Recommendation
Until here and whatever path you choose towards financial freedom, I wish you all the best in your future endeavors.
Your pal,
Jack