Guaranteed Sign Ups System Scam – Do not be fooled!!!
Name:  Guaranteed Sign Ups System
Website:  guaranteedsignupssystem.com
Price: $49 + $50/mth
Owner: Jeremy Rush
Bare Naked Scam rating: 4 Thumbs Down
#1 Recommended Online Business Training with Proof: Click Here
Guaranteed Sign Ups System is officially closed. Read on to find out more about Zukul and Jeremy Rush…
Guaranteed Sign Ups System Scam?
---
Do you think there is a possibility that you will make money immediately by signing up with the Guaranteed Sign Ups System? That is what Jeremy Rush, the owner of the program, wants you to think.
In his initial sales video, he guarantees you that if you sign up with the program, you will get 3 Guaranteed Sign Ups under you, in other words, you are guaranteed to make 3 sales. Sound convincing?
I guess if you are really new to the make money online industry, you would have fallen to this program. One piece of advise is that if you think something is too good to be true, it probably is. In this review, I am going to share with you everything you need to know about the Guaranteed Sign Ups System so that you can make an informed decision.
In my years of experience in this industry, I have never seen any program that guarantees profit, and delivers. Most of the time, I see people like you and me, believing in some gurus, but end up losing lots of money. The same situation lies in this program.
In my personal opinion, I think the Guaranteed Sign Ups System is a borderline scam because it resembles a pyramid scheme. If you do not know what a pyramid scheme is, Wikipedia has done a great job explaining in this simple picture:
So now you know what a pyramid scheme is, let us take a look at the sales video of Guaranteed Sign Ups System below. Please share your views at the comments section below if you think this program correlates to a pyramid scheme:
I believe there will be many people who would disagree with me, but I have seen many of these programs floating around and died down after a few years. You can check out a similar product called 5 Minute Mogul here, it started in 2013, but RIP in 2015. Many people lost their money to this scam.
Why do I say it is a borderline scam?
---
Technically, the Guaranteed Sign Ups System does not provide any product or service to you. You are actually paying $49 for a third party service provider to drive traffic for you. So where exactly is the product?
Right after you pay for the traffic, you will be introduced to another program call "Zukul" where you have to pay another $50 per month for the Signup fee. Zukul is another program created by Jeremy Rush, which provides online marketing tool suite (like Auto-Responder, Landing Page Creator, etc – I will talk more on the tools below) to its users. To sum it up, Guaranteed Sign Ups System is the forerunner for Zukul, and Zukul is the ultimate product.
If you are new to the online marketing industry, would you know what to do with those Online Marketing Tools? I bet you don't. Although Zukul has a training program that teaches you how to use those tools, but how do you apply it in terms of marketing? It is like having a machine gun, but without bullets or a target. You can have all the best online marketing tools in the world, but if you do not know how to utilize them, it is pointless.
I am sure Zukul teaches you how to promote the Guaranteed Sign Ups System, but just imagine everyone is using the same technique and the same strategy taught by the program, how would you stand out from crowd and make extraordinary income?
Jeremy Rush paints the perfect picture that once you are signed up with the program, you will never need to do anything to grow the business because the "Traffic Centre" would have done the job for you.
Let me ask you this question, do you think every one of the Guaranteed Sign Ups System members will forever remain as a paying member? The downright truth is that if members do not see the value of this product, which I believe it will be, the cancelling rate will be very high. Given the fact that the core products of Zukul is the marketing tools, many new joiners wouldn't know how to use them and would not see the value of the membership.
What is in Zukul?
---
Facebook Ninja Pro – A Spam Machine
Based on your experience with Facebook, on what occassions will you actually purchase a product immeditely through Facebook? What are the chances that you will click on a banner like the one below? Also, if you see your friends or family posting such banner on a daily basis, wouldn't you think that it is a spam? Just take a look at Facebook's spam policy and consider whether you would still want to use the "Facebook Ninja Pro". If I were you, I rather not use that because I risk having my Facebook account closed.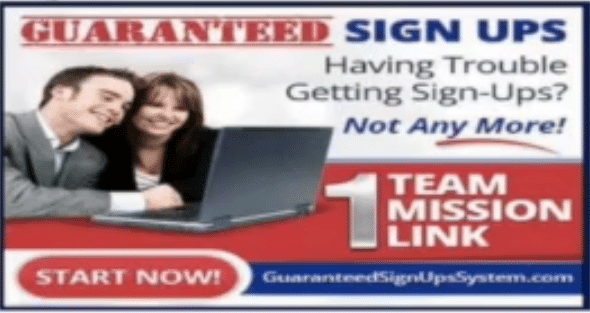 Landing Page Creator
I have seen many other low quality programs providing these kind of landing page creator service. It restricts you to the template that they offer, and you can't customise much. Zukul, similar to other low quality programs, will always tell you that those templates that they offer have been tried and tested, and it is sure to work. In fact, if you do not know what elements compose a successful Landing Page, it is unlikely that your landing page will be successful.
I would highly suggest that you learn the basics of online marketing here, and try this landing page tool (the same tool that I personally use), where you can customize practically anything.
Blogging Tool
Why bother using a restrictive blogging platform when you have content management system (CMS) like wordpress and wix. The Zukul blogging system restricts you to the few templates and I am certain that you will feel frustrated when you want to customize your blog.
My Sincere Advice to You
---
If you are totally new to making money online, I would highly suggest that you avoid this program because you will not gain much knowledge, and you may not see the value of the marketing tools. You need to get your basics right on Online Marketing. You may check out this program if you want to learn the fundamentals on Online Marketing.
I'll be honest with you, if I turn this review to a positive one and starting promoting it, I would actually make good commissions from it, however, the very existence of this website is to prevent you from falling into these programs, and direct you to those that I truly believe will look after your interest.
As always, I invite you to share your views on Guaranteed Sign Ups System by leaving a comment below. If you find my article useful, please help to share it with your friends and family by clicking on the social media buttons (Facebook, Twitter, Google Plus) below.
Your pal,
Jack