Automated Wealth Network – Is it a scam?
Name:  Automated Wealth NetworkWebsite:  www.automatedwealthnetwork.comPrice: $50.97/mth + purchase of offersOwners: Tim Chesonis and Michael Cocan
Bare Naked Scam rating: 3 Thumbs Down
#1 Recommended Online Business Training with Proof: Click Here
If something is too good to be true, it probably is. This is the case with Automated Wealth Network where it assuredly declares that you can make money with the Automated Wealth Network for FREE.
As you know, nothing is free in life, there must be a catch to it, and in this article I will share with you what Automated Wealth Network really is.
Automated Wealth Network, founded by Tim Chesonis and Michael Cocan, is basically an automated sales funnel that will take you through a series products and offers.
Note that I said SALES, and yes you will need to purchase something! But wait, didn't Tim promised that you can get started for free?
Though being a member of the Automated Wealth Network is free, when you first step into your member's area, you will notice that everything is locked. Your first step will be to watch a long tailed video by Tim whom will introduce you to a program called My Cash Freebies.
My Cash Freebies is basically a marketplace for BIG companies to place their ads.
In order to unlock the next tab in Automated Wealth Network, you need to get 1 Credit in My Cash Freeies by purchasing offers through an ad. As you go through the Automated Wealth Network's sales funnel, you will realize that a step at a time, you will be introduced to tasks where it will lead you to present your credit card for payment.
Ah!!! So that's the catch…
If you truly want to Make Money Online, I highly suggest that you check out a Tried and Tested Training Course (Tested by myself). Click here Now!
Is Tim trying to confuse you with Incentive Marketing?
In the first video you ever see in AWN, Tim explains that this "Opportunity" is not Affiliate Marketing, Multi-Level Marketing (MLM) or Network Marketing, it is called "Incentive Marketing".
Incentive Marketing as explained by Tim is an opportunity based on promoting advertisements of big brands and fortune 500 companies in an advertising network.
These BIG companies pays commission (incentives) to marketers who refer new customers to trial a product or service from them.
To me, this "Incentive Marketing" thing is exactly what Affiliate Marketing is.
How do you make money in Automated Wealth Network?
I am pretty sure you are more excited in this section of the article then the rest.
Well, let me get into this quickly and you can decide whether to join Automated Wealth Network.
Your first $30 commission is when you refer someone into AWN and they earn 1 credit in My Cash Freebies (Meaning, your referral will have to buy something in My Cash Freebies to make that 1 credit).
Sounds really simple, but it is NOT.
My first question to you is where are you going to find your referral? Yes, there are training within AWN but my next question is does it really work? I will share with you the teachings of AWN below.
As your referral goes through the same sales funnel of AWN as you did, they will be introduced to a program called "Power Lead System".
This is a program that provides services like Lead Capture pages, Google Hangout Pages, Video Sales Pages, Link tracking and video post cards.
Well these tools sounds great, but it is limited to promoting only Power Lead System (I know it because I've tried it).
In this separate review, I will share with you what Power Lead System is.
If your referral sign up to Power Lead System for $27/mth, you will NOT make a $20/mth commission unless you signup with Power Lead System as a Customer ($27/mth) AND as an Affiliate ($23.97/mth).
In total, you have to pay $50.97/mth to get commissions from Power Lead System.
Surprised by how much you need to pay in order to make money with Automated Wealth Network?
Let me tell you that with the amount you need to pay with AWN or even lesser, you can get a 100 times better training platform and a better opportunity. Just check out the link below:
Check out My #1 Recommended Online Training Platform and Opportunity. Click here!
What does Automated Wealth Network teach you?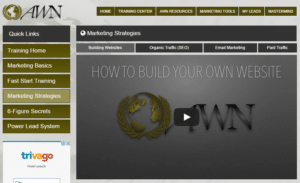 The training that Automated Wealth Network provides are very mild basics.
When you go through the courses, you will probably learn stuff like how AWN work and how you need to get things started.
It also teaches you all the basics like setting up a website, setting up Facebook and Twitter account, but all these information can easily be found on youtube or anywhere else online.
The potential of you making money with AWN boils down to how many people you can introduce to AWN (In the internet marketing terms it is called driving traffic).
The more traffic to drive to AWN, the chances of you making money is higher.
Just a food for thought, say you are making a lot of money with AWN, if one day AWN is taken down or closed for some reason, what will happen to you?
Will you be able to apply the training you learnt from AWN and build up from scratch a sustainable business on your own? I don't think so.
You see, the training is not there to teach you how to build a business. It only teaches you the things that you need to know that will make AWN work.
If you truly want to learn the time tested way to make money online and not depending on any system, you need to check this out.
My Sincere Advice to You
I have been in the Internet Marketing business for years and I know how to differentiate a good program from a bad one.
Automated Wealth Network is not typically bad, but I know that it is lacking in areas like the training and support.
In general, Automated Wealth Network is just a Sales Funnel for My Cash Freebies and Power Lead System, nothing more.
If you truly want to learn the basics and advanced techniques to be a successful online marketer, I would suggest that you check out this program, because it is the place that lead me to my success in Internet Marketing.
If one day, I loss all my income generating businesses and need to start from scratch, I can confidently tell you that I can re-build all of them, it is only a matter of time.
This confidence is gained through the teachings of the course that I recommended to you. Moreover, you will be taught to build a business based on your passion. So take my advice and let me know if you have any questions.
Drop me a comment below if you have any questions or you would like to share your thoughts on Automated Wealth Network.
If you find my article useful, feel free to click on the Social Media buttons (facebook, twitter, google plus) to share it with you love ones.
Your pal,
Jack