Is Digital Altitude Scam? – The Ugly Truth (Caught Red Handed)
Name:  Digital Altitude
Website:  www.digitalaltitude.co
Price: $39 + Many upsells
Owner(s): Michael Force
Income Opportunity rating: 1 / 5 Stars
#1 Recommended Online Business Training with Proof: Click Here
Update 8 February 2018: Federal Trade Commission (FTC) halts Digital Altitude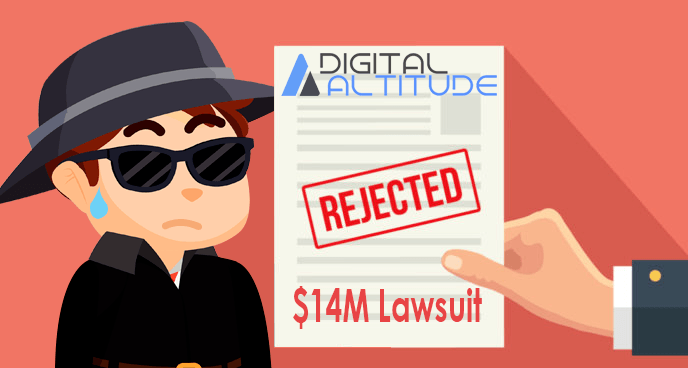 Following to an announcement from the FTC, Digital Altitude is forced to halt their operations, and I think this could be the beginning of the end of Digital Altitude.
Many Digital Altitude members I've come across has been singing praises for the program, but the fact is that they have "invested" heavily into the program which inherently forces them to "go all out" to find new recruits, so that they can earn back whatever that they have "invested".
Unfortunately, more than 90% of the people who were sold to the idea of becoming "rich" in 90 days, and have spent thousands of dollars on the multi-tiered products of DA, didn't earn a substantial income. That caught the eye of the Government.
Since the Government has its interest on Digital Altitude, I'm wondering what the fate would be for other similar Online Business Programs like "My Online Business Empire (MOBE)" and "Six Figure Mentors".
A while ago, the Digital Altitude owner, Micheal Force, was being sued by Matt Lloyd of MOBE for a copyright infringement (reproduction) of the Digital Assets.
It's unfortunate that DA has to face another uphill battle with the giants.
See why Digital Altitude Members are Jumping ship to this Program
Is Digital Altitude Scam? – My Interesting findings
---
Well, there has been so much hype surrounding this company, and many marketers have claimed that they have made a ton of money in a short span of time.
I saw in one of the review site claiming that he has made $1,312.84 in 7 days, and $17.071.67 in his first month following the Digital Altitude's step-by-step system.
Let me explain to you, why you, as a novice, will not be able to achieve the same result.
I'm not being pessimistic, but realistic.
A little history about Digital Altitude and its founder, Michael Force, who was once a top leader of another program called Carbon Copy Pro or Pro U.
When Carbon Copy Pro's profits dipped into the red zone, and changed its business model to be know as Six Figure Mentors now, Michael Force was forced to change his path as well.
There is a complaint lodge against him for his work ethic.
Michael Force was also a one of the leader of Empower Network, another dying MLM company which is known to use unscrupulous techniques to woo new subscribers.
Even more, he was the "personal coach" of a known scam called Mobile Money Code. You can find more information here.
If I guess correctly, Michael Force was also one of the top leaders in My Top Tier Business (MTTB), being that many training materials in Digital Altitude are identical to MTTB. I will discuss more with you below.
Having such a bad rep in the Online Marketing Industry, you would be curious what kind of product he can developed.
No doubt he has made a lot of money doing what he did, but whether or not it is ethical, is another tale to tell.
Alright, enough about Michael Force. Lets focus on Digital Altitude.
Digital Altitude uses Training Materials from other programs?
---
Digital Altitude system is identical to Six Figure Mentors and My Top Tier Business.
In fact, most of the training materials in Digital Altitude are a spun off from My Top Tier Business. Lets take a look:
As I went through the training materials in Digital Altitude, I thought I saw these presentation slides in some other programs before.
That is when I remember, My Top Tier Business uses those as well. I've done an in depth review of MTTB back in 2014. Here is the MTTB's review if you are interested to find out.
I guess this is what they call "Caught Red Handed".
Why Digital Altitude is a spin off from MTTB?
---
Like Six Figure Mentors and MTTB, each step of the system, you will hit a roadblock.
You are supposed to schedule a call with your "Mentor" before you can proceed further.
For a novice, this may be a good experience as you know someone is there to help you, but for experienced marketers like myself, it gets irritating.
After getting more in depth with the Digital Altitude's system, I realize one very important thing;
DIGITAL ALTITUDE AND MTTB ARE EXACTLY THE SAME!
The video presentation and slides from both programs are presented by none other than Michael Force.
If you have been in the online business space like I do, and you've tried and tested a ton of programs, you would probably find some programs using one another's materials.
If you don't believe me, check this out:
Michael Force reuses the videos and materials from MTTB, and incorporated them into Digital Altitude.
Step 1 to 6 from Digital Altitude
Step 1 to 6 from MTTB
You will see Michael Force in all the videos:
This program has led me and more than a thousand people make a Life Changing income online. Find out how you can too!
The only difference between Digital Altitude and MTTB is its "Top Tier" products. By top tier, it means VERY EXPENSIVE product.
MTTB has its own top tier products called My Online Business Empire (MOBE), while Digital Altitude has its product range, Aspire, Base, Rise, Ascend, Peak and Apex.
The prices of the top tier products reaches 5 figures. MTTB's most expensive product hits $15,000, while Digital Altitude's Apex hits $27,997.
If I guess correctly, I believe the training videos in MOBE are exactly the same as Digital Altitude's range of products.
PLEASE NOTE: Any digital marketing training that has an upscale five figure fees is absurd.
I mean, the cost of MOBE and Apex is almost a year of a person's salary. The cost can almost cover for a graduate's tuition fee. Does it make sense?
The very reason people want to learn more about Internet Marketing is because they want to make more money. Do you think that Digital Altitude has your interest in mind?
An Online Internet Marketing Training Program that truly puts Your Interest First. Find out more!
Why can't you achieve the same Result as other Marketers?
---
I am not being pessimistic here, but the claims from other Digital Altitude Marketers got my blood boiling.
Honestly, after personally going through the training, hitting roadblocks one after another, I still couldn't get a glimpse of the actionable items that will bring me closer to my goals.
All I get are some general knowledge about internet marketing. Each time I give a call to my "Mentor", she will lead me to upgrade my membership, and the cost of each upgrade escalates.
By the time you complete all the upgrade, you would have burnt a big hole in your pocket. It decreases your net worth tremendously.
Those marketers who claimed to have made money in a short span of time are those who have past experience on Internet Marketing. Their success with Digital Altitude has no correlation to the lessons taught in the program.
I am wondering whether they have actually taken the time to go through those video training themselves.
This Training Program Genuinely wants YOU to Succeed. Find out how you can Succeed!
My Sincere Advice to You
---
As you can see, Michael Force is reusing content from another program to market it as his own.
This shows much about his work ethic and integrity. Would you want to learn from someone like that?
Also, the prices of Digital Altitude's products are way out of anyone's budget. At some point, you will be asked to get a loan from somewhere else to fund the product purchase.
This is something that I will never recommend anyone to do.
The Cost for starting an online business is supposed to be low due to its nature. I have started my online business with a cost of $19.
Over the years, my total cost accumulates to a few hundred dollars but my profits accumulates to 5 figures.
This is how an online business is supposed to work. Not the other way round.
If you are interested to get started with an Online Business, the way I did, I would suggest that you check out this program.
I hope this review puts you into perspective. You are free to decide if you would like to join Digital Altitude.
If you would like to discuss more about Digital Altitude, you may leave a comment below at the comment section. If you find this review useful, please, help to share it with your family and friends by clicking on the social media buttons.
Always love to help keep the Online Business Industry safe.
Your pal,
Jack