Internet Lifestyle Pros Review – A holy grail to make money online?
How do I put this?
Internet Lifestyle Pros is simply the rebirth of the Automated Wealth Network.
Of course, Tim Chesonis, the founder of both the Internet Lifestyle Pros and Automated Wealth Network has done away with the idea of a "Free" make money online opportunity.
Now, he mentioned it up front in the Internet Lifestyle Pros that it is going to cost you some money in order for you to earn money.
This is a good thing, because this is the truth.
Unlike in the Automated Wealth Network where he claimed that it is an absolutely free program to join, when it is actually not.
So, I've been following Tim Chesonis for quite a while now, and I've done a detailed review of his past program called the Automated Wealth Network Review.
Coming across Internet Lifestyle Pros, I've found some similarities with his past program, as well as some interesting finds that I'll like to share with you in this Internet Lifestyle Pros review.
This will interest you if you want to know how:
This program works
You can actually earn money from it
Much you have to pay
Well this "Sales Funnel" convert
Easy it is to set up
Before we dive right into the review, I have some important disclaimer to make…
How I Fired M​​y Boss and Still Earn a Full-Time Income. Here's How You Can Too!
Important Disclaimer
The first thing I want you to know is that I actually paid for the Internet Lifestyle Pros Membership to gain access to it.
There's no refund for the Membership, so I hope you can appreciate what I am doing for you here.
Also, I'm in no way trying to get you to join ILP or the other programs it recommends.
I am not associated with the ILP and I don't promote it.
This is pure information that will help you decide if Internet Lifestyle Pro is a suitable program for you.
Another disclaimer is that if you think ILP is not a suitable program for you, I do promote other programs as well.
I just want to be upfront with you so that you know this is not a bait and switch kinda review.
Now, the formality is done, and I do apologize for this long disclaimer, I just thought that it is super important for you to know.
What is Internet Lifestyle Pros all about?
Like Automated Wealth Network, it is the gatekeeper or a sales funnel (that's what advanced marketers will call it) for Power Lead System.
Power Lead System is basically a Network Marketing Company that provides Internet Marketing tools and training for its users.
The tools include an autoresponder service, Landing Page builder, sales funnel builder, floating capture forms and video postcards.
Basically, the Internet Lifestyle Pros isn't a product by itself, it is simply an automated sales funnel that will lead you to become a member of Power Lead System.
It has some basic marketing training and some other training that will help you set up your entire ILP sales funnel.
One of the steps include joining Power Lead System as a member.
For $4.99 per month…
You'll be able to utilize the Internet Lifestyle Pros sales funnel to recruit people into the Power Lead System.
You are not purchasing any product or service, but you are paying for an automated recruiting platform.
I don't know what you think about this, but I personally feel that it is more of a pyramid scheme (because it lacks in retail value).
Have a read on what the Federal Trade Commission (FTC) has to say, and let me know what you think about this by leaving a comment in the comment section below.
I may be wrong, but this is just my opinion, let me know what you think.
What is included in the Internet Lifestyle Pros Membership?
The Internet Lifestyle Pros is broken down into 3 parts.
System Setup
Affiliate Tools
FREE Training
Part #1: System Setup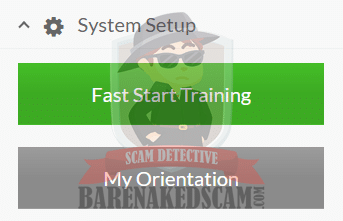 Step 1: Plug in your PLS Affiliate ID
This is the place where you plug in your affiliate IDs in the ILP system.
When you join Power Lead System, you are given a unique ID.
You need to plug in that ID into the ILP system before you start promoting the ILP.
Otherwise, you will not earn the affiliate commissions when someone signs up to the Power Lead System through your ILP link.
Step 2: Connect Your Autoresponder
The next thing you need to do is to connect your ILP to an autoresponder service.
You can use the Power Lead System autoresponder or you can choose to set up an account with a 3rd party autoresponder service like Aweber or Getresponse.
Take note that if you sign up an account with Aweber or GetResponse through the system, Internet Lifestyle Pros will earn an affiliate commission.
Step 3: Buy Traffic
Now, with all the things set up properly, the only thing left for you to focus on is Traffic.
Where do you get traffic? You buy it from "The Click Agency" or the "ILP Traffic"
The average cost per click is $1, and as you buy a bigger traffic package, the cost per click gets cheaper.
Now, I know that many people will feel super excited about this, and they will just pay for the traffic package and think that the money will start rolling in.
Unfortunately, it is usually not the case.
I was one of the naive people who thinks that making money online is super easy.
You have a system and you buy traffic and money start rolling in.
Before the traffic package even get started, I was already daydreaming about the money that I will be making and how I'm going to spend it.
But, the dream was far from reality.
The leads were coming in, but none were converted. I lost thousands of dollars on traffic packages like this.
So, never assume that any system or program is a holy grail.
Part #2: Affiliate Tools
My Marketing Links
This is the place where you can grab your affiliate links.
There are 2 lead capture pages that you can select.
I'm sure you have seen either one of it:
When someone signs up through either one of the capture pages, they will be led through the same path as you did.
My Marketing Banners
At the moment, there is only one Banner Ad to choose from in different sizes.
My Swipe Copy
If you are totally new to online marketing, but you want to know what to include in your autoresponder email series, you can copy and paste the 10 day email swipes they provide to you.
From my personal experience, whenever I try using a standard email swipe, the opt out rate or unsubscribe rate is usually high.
The reason is simple, the email swipe is created for the masses.
And, most people will see it as a promotional email than an email that brings value.
Fast Traffic
This section is the same as the "Buy Traffic" in the system setup.
Part #3: FREE Training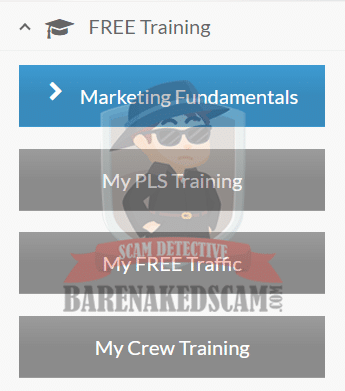 One thing that I always advise aspiring online entrepreneurs is that they should never rely on a system or a program to help them earn money online.
The reason is simple.
What if that system or program goes away tomorrow?
Then you'll be back to square.
This happens time and time again, and I see too many people falling victim to this.
Look at Automated Wealth Network and The Alchemy System. Both programs are fairly similar to Internet Lifestyle Pros because they are automated sales funnel created by the same creators, but they are now gone.
If you are interested in what The Alchemy System is, you can watch this video:
Interestingly, this person reviewing The Alchemy System is now promoting other programs.
Which led me to think, why didn't this person follow Tim into the Internet Lifestyle Pros.
New Flash: Why Tim's past program was shut down?
News Flash: The Alchemy System was a sales funnel that leads people into a program called Digital Altitude. Digital Altitude was forced to shut down by the Federal Trade Commissions (FTC) for running a pyramid scheme.
Now, that's probably the reason why The Alchemy System was closed and Tim needs to find a new shiny object to promote.
You see, there is a high chance of Tim, closing down Internet Lifestyle Pros (his past track record has shown).
Also, the programs the Tim promotes isn't one of the best.
What's in the Training?
Now, instead of banging on Tim's past programs, I'll give this a fair review…
Let's dive into the training and see if the lessons really do help you become an independent internet marketer.
What I mean is, does this program teach you how to earn money out of the opportunity itself.
Does it give you the knowledge to build a business where you can promote just about any products online.
Marketing Fundamentals
There are 6 modules in total, and they are simply training videos made for members of The Alchemy System.
Tim is just reusing it for the ILP.
I'll say that Tim has done quite a good job explaining the fundamentals of Internet Marketing.
But, it isn't enough for you to stand on your feet. These are information that can easily be online for free.
My PLS Training
Needless to say, this training is geared towards helping you promote Power Lead System.
You will not gain any knowledge that will help you promote any other products online.
My FREE Traffic
This is the section that is most beneficial to helping you become an independent internet marketer.
However, it is still not enough.
You see, I came from humble beginnings as well, so I know exactly what beginners need.
A step by step guide that will pinpoint the tasks to do that will eventually lead someone to become independent.
Unfortunately, these are videos that show you what is working and what is not. This is not a step-by-step training program.
Don't get me wrong, these are great training videos, but not for the right audience.
My Sincere Advice to You
I'll give credit that money can be made by promoting the Internet Lifestyle Pros.
However, you should never rely on a system or a program to help you generate money.
I've seen it too often that members become victims when a program or a system gets shut down.
This happens with Tim Chesonis' other programs like Automated Wealth Network and The Alchemy System.
I am not sure when Tim Chesonis will take Internet Lifestyle Pros down, but it is just a matter of time.
And, I am not exactly a fan of the end-product of the sales funnel, which is the Power Lead System.
If you want to know in-depth information, you can read the Power Lead System review.
What I recommend you do?
If you are serious about learning the ropes of Internet Marketing, here are the top 5 courses that I recommend.
If you ask for my personal opinion, I would say that the best of the bunch is Wealthy Affiliate.
Because, it is the program that eventually got me to fire my boss and earn a living online. You can read my story here.
Thank you so much for reading this review!
I hope it has given you sufficient information to make an informed decision.
Please feel free to challenge my thoughts on Internet Lifestyle Pros, but keep it civil, alright?
Also, if you found this review helpful, please share it! It might help others who needs this information.
Thank you so much once again, and I wish you all the best in whatever decision you make.
Your pal,
Jack