GoFounders / OnPassive Scam Review – Truth Exposed!
So, most likely someone has introduced you to GoFounders or OnPassive and you are having second thoughts about the program, so you found this review.
I must congratulate you because you've done something 90% of the people won't do, which is to research about a program before joining.
Many people, especially its affiliates, describes it to be a lucrative and fantastic marketing automation platform that will be the source of "never-ending wealth."
But as amazing as it sounds, there are also plenty of other voices (individuals and credible review websites) that says OnPassive is nothing more than a pyramid scheme and a scam!
Who is telling the truth?
Is this a legit business opportunity?
Is GoFounders / OnPassive a scam?
These questions and more will be answered in this GoFounder / OnPassive review. 
Review Summary
Name: OnPassive aka GoFounders
Owner: Ash Mufareh
Price: $97 one-time + $25 – $500 (monthly free)
Recommended?No
Income Opportunity Rating:
What is OnPassive?
OnPassive (onpassive.com) appears to be an MLM company which is interestingly being promoted by another website called GoFounders (gofounders.net).
OnPassive seems to belong in the Internet advertising niche where they help you generate traffic from within site itself to all the other members of the program.
Company and Founder
On its official website, you will not fail to notice the OnPassive seems to be on its pre-launch state.
However, I found an article which appears to be promoting the same company only; this was released almost a year ago during the time I was writing this OnPassive review.
I was a little surprised to see OnPassive still in its launching phase when its almost a year, and even when it already has "over 23,000 members" as it says on its website!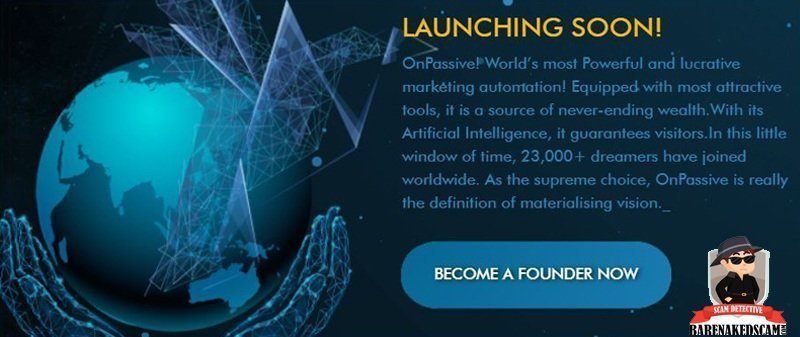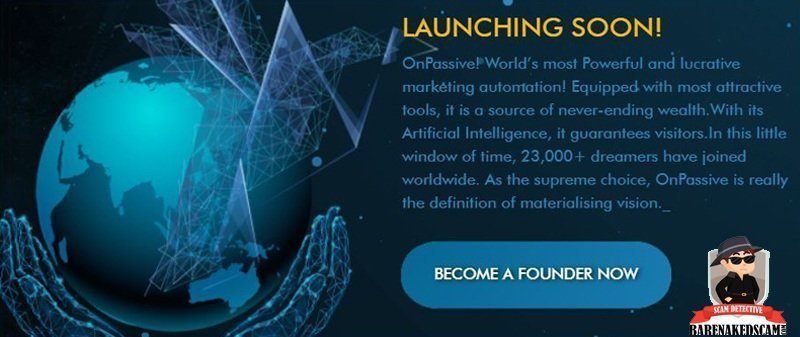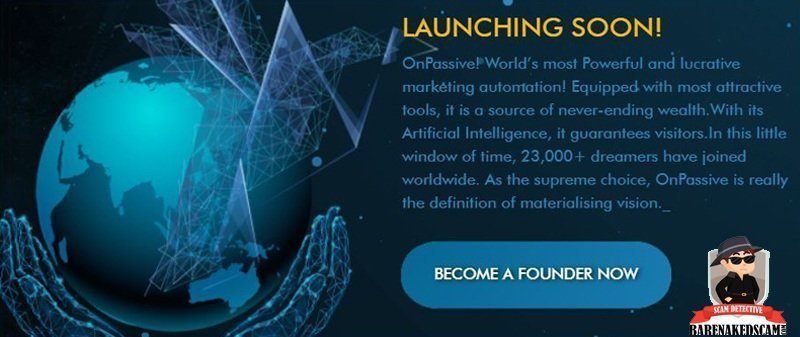 GoFounders / OnPassive Products
Neither OnPassive nor GoFounders' website provides any information about the company background, its owners, contact numbers, and other whereabouts.
But by doing more in-depth research, I was able to confirm that OnPassive, aka GoFounders' creator, is none other than Ash Mufareh.
Ash is a veteran Internet marketer and has a long history in the industry; most of them involve sketchy investment schemes and controversial business opportunities. But more about Ash in a moment.
With the help of WhoIs, I learn that OnPassive's official website "onpassive.com" is relatively new.
The same goes for GoFounders' official web​​​​​​​​site. , "gofounders.com".
Other than what is in this OnPassive review, not much information is available about OnPassive.
Perhaps this is a marketing strategy to stir the curiosity of other people and urge them to join the platform. Maybe it isn't, only Ash and his team know.
Click Here: Learn How To Build A 6-Figure Online Business Within 12 Months!
How To Make Money with OnPassive
Because GoFounders / OnPassive is trying so hard to squeeze into the MLM industry, I thought that it offers the same ways to make money as traditional MLM businesses do.
However, it appears that direct selling is out with OnPassive. The company offers no tangible products (YET) to sell. So say goodbye to your hopes of earning profits.
The only way you can earn money with OnPassive is by recruiting new people to join the company by selling the company's affiliate membership itself.
Not. A. Good. Sign. At. All!
A company that appears to be using the MLM business model, paying members to recruit people but without any products to sell is the FTC's definition of a pyramid scheme.
GoFounders / OnPassive Compensation Plan
Once you become an affiliate of OnPassive, you will have a chance to recruit people and build your team.
Your income will be determined by the type of tier you decide to enroll in OnPassive's 3 x 10 matrix MLM compensation plan.
There are four different tiers, and on each of them are different earning potential. These are the $25, $125, $250 and $500 matrix tiers.
As matrix positions are filled, commissions are paid out. Each position is filled through direct and indirect sponsorship of OnPassive affiliates, who must also buy positions in one or more of the 4 matrix tiers.
You will get paid a recurring monthly commission on each of these matrices as long as the OnPassive affiliates below you pay the required monthly fee.
To learn more about OnPassive's comp plan, watch this video.
How To Become an OnPassive Affiliate?
As I am writing this OnPassive review, you will have to pay a $97 membership fee along with the $25 – $500 monthly payment for the different matrix position.
But for now, since the company is still yet to launch, it seems that you only have to pay the $97 to get yourself a slot.
You can get started with OnPassive by completing the signup form in the GoFounders website.
Related: My #1 Online Business Recommendation
Things I Love About GoFounders / OnPassive
Having reviewed plenty of different business opportunities, it's hard for me to spot something that impresses me with OnPassive.
I feel that there are too many red flags about this company that you should be wary about. I also think that the idea behind providing Internet marketers an efficient way to generate traffic to their business is not new.
In fact, I could suggest a different proven and tested program that would do the same for a fraction of the cost.
But for the sake of being fair, there is one thing I like about OnPassive.
#1 Membership Refund
Base on a YouTube review posted by one of the aspiring-to-be-founder of OnPassive published on April 8 of 2019…
It appears that the company keeps its word on issuing a refund should you feel that there is indeed a GoFounders / OnPassive scam going on.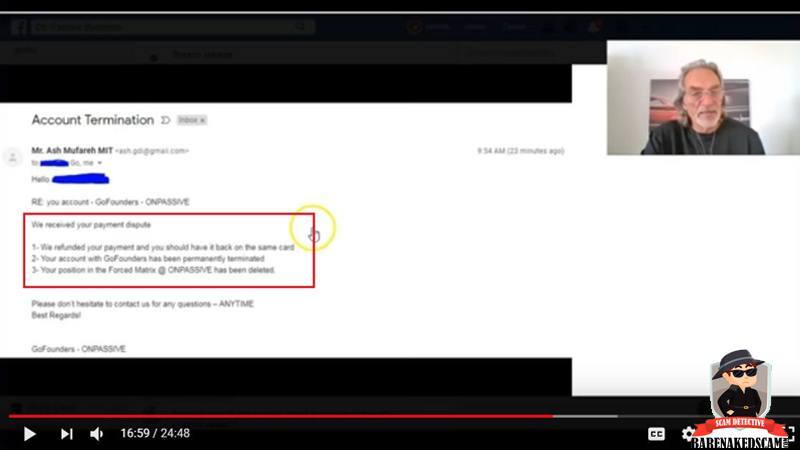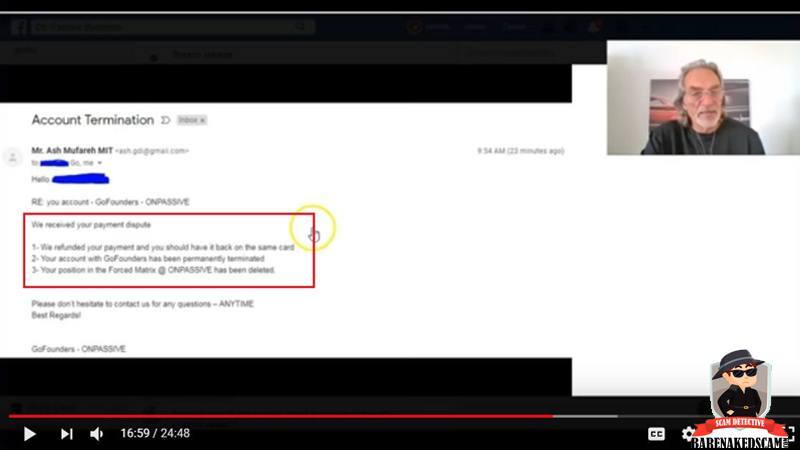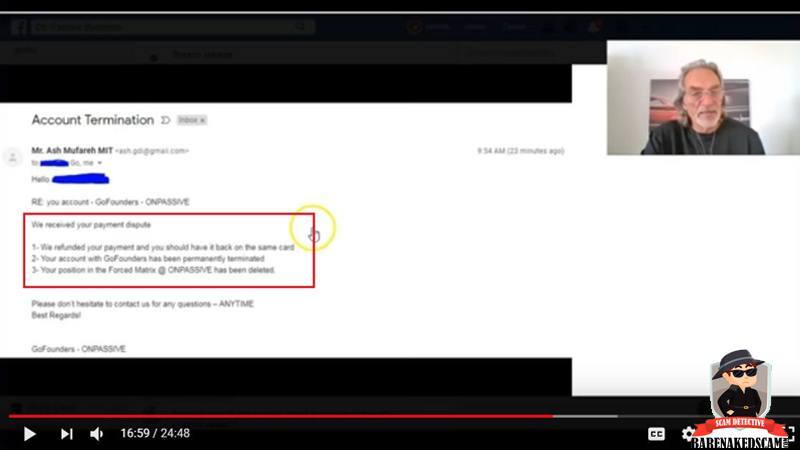 My Concerns About GoFounders / OnPassive
On the other hand, these are my concerns about this company.
#1 Never Ending Pre-Launch?
OnPassive's launch date is long overdue. Why?
During my research while writing this review, I stumbled upon founding members (including this man) who are already expressing their concerns and anxiety about the direction of the company.
If you join OnPassive as a GoFounders now, you will share the same fate to that of more than 23,000 other members – still waiting for the promise of OnPassive's official launch.
But on the flip side…
Another GoFounder of OnPassive named Vernon Hale recently published a webinar in June 2019. 
Yes, OnPassive has still not launched yet. But seeing some of its founding members remains active is a good sign. 
Still, as to when will OnPassive really become a reality, nobody knows.
#2 Founder's Bad Record
Ash Mufareh, OnPassive's CEO, was previously involved in other similar sketchy investment schemes. Are you familiar with PayDiamond, AshMax, and TelexFree?
These companies are a few of Ash Mufareh previous involvements.
Now I am not saying that OnPassive is another Ponzi scheme by the same person, but you cannot deny that the facts points in that direction.
If there are affiliates of OnPassive who happens to read this, we would very much appreciate your side of things.
Please feel free to utilize the Comment Section below.
#3 Likely a Pyramid Scheme
The type of business practice OnPassive teaches its affiliates is usually the one that ends up getting shut down by the FTC.
Without any product to sell, you are forced to recruit new people into the program to earn money, and that itself is again, a definition of a pyramid scheme.
Do you think the rumored GoFounders / OnPassive scams are true?
While You're Here: Check Out My #1 Online Business Recommendation
#4 Founder Pulling Out Plug Soon?
There have been rumors recently that OnPassive's Ash Mufareh is pulling the plug of his creation.
Rumor has it that in a particular "Founder's Private Meeting" held around the last week of April 2019, Ash told his members that he is going to take an indefinite leave.
Well, that sucks for more than 23,000 affiliates out there who have been waiting all this time for the promised platform which is supposed to be the source of their "never-ending wealth" to officially launch.
With the current development, OnPassive may remain an idea, from the beginning until the end.
But as I am writing this review, both OnPassive and GoFounders' website are still active so things might turn around for the better.
I hope it will.
After all, plenty of people had already paid $97 each.
Should You Join GoFounders / OnPassive?
As promising as the idea behind this company, I cannot recommend this company at the moment.
Seeing that it is still on its launching phase, I feel that there is too much information that is still not available about OnPassive.
I wouldn't call OnPassive an outright scam but there are too many issues that I would say this is a risky investment.
But what about you? Do you think GoFounders is a scam? Share your thoughts in the Comment Section below.
Is there a GoFounders (OnPassive) Scam Going On?
OnPassive does not offer any products for you to sell other than the affiliate membership itself.
There are talks about advertising tools and land pages told by its affiliates but I cannot find enough proof to support their claims. Maybe it is true, maybe it isn't.
Related: If OnPassive is NOT The Opportunity You Are Looking For? Try This!
My Humble Advice To You
Regarding OnPassive, my advice is that be careful with this kind of business operation. With all the red flags that I mentioned above, chances are you might be getting yourself into a pyramid scheme without your knowledge.
A notable example on this kind of scam would be College Power aka FanBox aka Empowr.
Remember, you might get back the money you lost, but losing your integrity among your family and friends is an entirely different story.
Again, I am not saying that OnPassive is an outright scam (for now). But only time will tell, if ever it would launch.
GoFounders Business Alternative
There are plenty of other online business opportunities that can take you towards your financial goal.
Whether you merely wish a part-time income to pay some bills or you are set to earn 6-figures or more in the next few months, all you need to do is take a look around.
For instance, you can take a look at Affiliate Marketing, eCommerce, or Online Trading business.
However, always make sure that you do proper research about a business opportunity so you can avoid investing your time and money into a scam.
I also suggest that you check this OnPassive review from time to time as I will be continually updating this should new information about GoFounders / OnPassive scams arise.
Before You Leave: Check Out My #1 Online Business Recommendation
Final Words
Thank you for taking the time to read this GoFounders / OnPassive review for 2019. I sincerely wish that you found the answers that you were looking for.
If you think this article could help other people make an educated decision on whether OnPassive is worth their time and money, kindly share this to them.
Meanwhile, if you have more valuable information about an ongoing GoFounders / OnPassive scams that are going on or any information at all about this company that I haven't include here…
You can share it to our readers in the Comment Section below.
Remember, in choosing a business opportunity towards financial independence…
Never forget to ask your heart of it is something you are truly passionate about. Until next time and I wish you the best in the future.
Your pal,
Jay