Bellame Review – Crucial Facts You Should Know Before Joining
You're probably here because someone has introduced you to Bellame and told you that it is a good way to make money whether you're looking for a side gig or full-time hustle.
Well, regardless of how you come across Bellame, let me commend you for doing your due diligence first before investing anything.
I'm sure you wouldn't want to waste your time, effort, and money into a business opportunity that turns out to be a scam.
So in this Bellame review, we'll mainly be discussing the company products, the legitimacy of this business, and the overall profitability of this opportunity.
Shall we get started?
Discover: How to Quit Your Job and Still Earn a Full-Time Income From Home
Review Summary
Website: bellame.com
Founders: Melissa and Scott Thompson in 2016
Price to Join Opportunity: $19.19 – $400 plus monthly product orders
Recommended? Only if you've had a good experience with the products and making money by selling and recruiting is your passion. Otherwise, you may want to check this out instead.
Overall Business Opportunity Rating: 2 / 5 Stars
Quick Summary: The first thing you need to do before becoming a Bellame Independent Partner is to try the products and see if they works. You can't expect to convince other people to buy the products that you don't use and truly believe in.
And even if let's say the products work for you, earning a decent income in Bellame won't be easy. You need to be comfortable in the sales environment and you must have the skills to build a large sales team.
But even then, most people fail to make money with Bellame and I will discuss why below.
Nevertheless, whether you decide to join Bellame, or start another business based in your passion and interests, here are some training materials to help you out…
What is Bellame all about?
Bellame is a Multi-level Marketing (MLM) company that operates in the beauty and personal care niches like BeautyCounter, MaskCara, Arbonne, and Mary Kay.
The company was founded by real-life couple Melissa and Scott Thompson in 2016.
On the Bellame website, Melissa is said to be a veteran in the direct sales industry.
I dug a little deeper and found that she was indeed involved in companies like Stella and Dot, AVON, and Shaklee before.
Meanwhile, Scott was the founder and current CEO of Astoria Company (2010), which was recognized #119 on the Inc. 5000 for 2015.
I took the time to discuss the lead personalities of Bellame because MLM is a harsh industry where competition is very high, and many companies don't survive their early years.
Having someone like Melissa and Scott at the helm of Bellame gives you confidence that leadership-wise, the company is headed by skilled and experienced individuals that know what they are doing and that this company is in for the long haul.
I'm sure you wouldn't want to invest your time and money in a company that won't be around next year, right?
But the founders' impressive reputation aside, other crucial things directly affect your chance to become financially successful in Bellame.
The first thing on the list is the quality and sell-ability of the company products.
What exactly are the Bellame Products?
Bellame sells beauty and personal care products that are said to be "ultra-luxurious products packed with powerhouse, clinical-grade ingredients – minus harsh chemicals like parabens and phthalates."
During this Bellame review, these are the current products of the company in retail prices.
Luxe Lip Liner – $21.00
Luxe Color Palettes – $68
The Artistry Brush Collection – $199
Moisturizing Lipstick – $28
Moisturizing Lipgloss – $27
Lip Lacquer – $27
Baobab Body Wash – $27
Baobab Body Moisturizer – $27
Dream Luxe Sleeping Mask – $78
Acqua Lumiere Hydrating Cleanser – $48
Hydrating Eye Cream – $68
Hydrating Moisturizer – $78
Malachite Hydrating Serum – $88
Now, I know these products look top of the line and are said to be "backed by science."
However, upon closer examination…
I found out that these products contains questionable ingredients that could harm your skin and even cause serious health issues…
Bellame Products contain Harmful Substances?
Bellame will supposedly launch its skincare line soon, and these products are said to contain Malachite.
Malachite is a copper-enriched gemstone used in beauty routines by the ancient Egyptians.
​
Now, while Bellame claims to "take pride in thoroughly researched, science-backed ingredients," I have my doubts about Malachite.
For starters, one study shows that copper, which is highly present in Malachite among with other heavy metals, is linked to the development of breast cancer in Egyptian females.
Furthermore, copper is also linked to developing Wilson's disease, a genetic disorder that causes liver and brain damage.
Well, I'm sure Bellame (with all the resources they have) already known these things before they decided to use Malachite on their upcoming skincare products.
But why the company thinks it's safe to use the said ingredient is beyond me.
Aside from the upcoming skincare line, Malachite is already the active ingredient of Bellame Hydrating Serum.
Furthermore, some people are also worried about these substances that are present on Bellame products:
Silica – Might cause skin irritation to some people. Also, crystalline silica is said to cause lung inflammation, silicosis, and can cause cancer. So make sure that what's used in your cosmetic is hydrated or amorphous silica.
Titanium Dioxide – "Possibly carcinogenic" when inhaled in powdered cosmetics.
Fragrance or Parfum – Can cause several health risks such as irritate the skin, have toxic hormonal effects, and may even cause cancer.
Now, I wasn't able to check the ingredients of all the Bellame products, so it would be wise that you verify the ingredients on the product you want to use for your own safety.
And as a distributor of this company or "Partner," it is your responsibility to inform your customers about any potential allergens or harmful chemicals included in these products.
Bellame Business Opportunity – Costs $19.19 only?
If you've had a good experience with the Bellame products, the company gives you a chance to make money by becoming a "Partner" and sell the products to other people.
To become a partner, you'll have to purchase a Bellame starter kit.
Digital Starter Kit ($19.19) – With this starter kit, you'll get access to the following:
Up to 40% savings on personal orders
Personal Bellame Boutique Site
No sales minimums to stay active in your 1st year
No monthly fees
Full access to the training portal & support page
Now, here's the deal.
While the $19.19 enrollment fee looks really good and affordable considering you're starting a business, I'm guessing you'll need to shell more than that if you're serious about making money with Bellame.
If you're planning to join Bellame for business, it only makes sense that you purchase either the Business Influencer Kit or the CEO kit because they come with products that you can use for yourself or sell to other people.
The Business Influencer Kit will cost you $200, and the CEO Kit costs $400, and the difference between the two is the value of products included in them.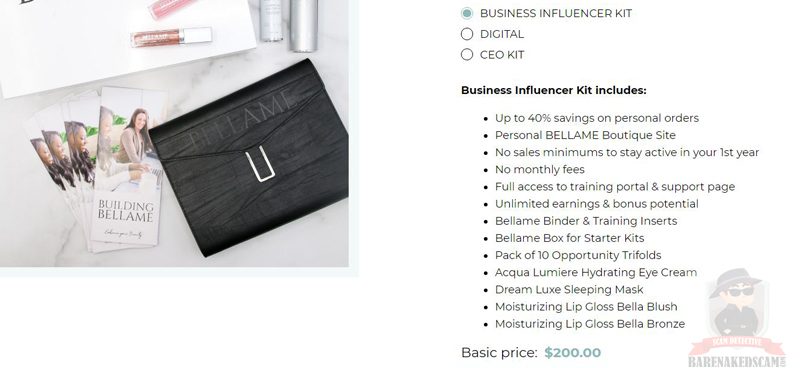 A $12.95 shipping fee will also be added except for the Digital Starter Kit. But is it worth it?
Compensation Plan
While Bellame gives the impression that you can make money as a Partner in multiple ways, the truth is your income will only come from selling products and recruiting people.
So to avoid unnecessary jargon and complicated terms, I will simply summarize your income potential by selling the products and in recruitment, aka "duplication."
Bellame Retail Commissions
As a Partner, you will get discounts on all Bellame products. Therefore, every time you sell a product personally or through your Bellame Boutique site, you'll earn profits.
You can earn from 25% up to 40% in your retail sales based on your current rank.
Partner: 25%
Senior Partner: +5% bonus (30% retail commission rate)
Executive Partner: +10% bonus (35% retail commission rate)
Director and above: +15% bonus (40% retail commission rate)
You'll achieve higher ranks by hitting monthly product sales requirements and by building a sales team.
Furthermore, you can also earn recurring commissions from customers who subscribed to the monthly Bellame autoship program or Beauty Passport Customers.
You'll earn 20-35% of the price paid by your customers.
Bellame Business Building Commissions (Recruitment)
You can receive 4-10% of all the personal sales made by Bellame Partners that you personally recruited into the company.
Your commissions will be based on the total amount of your personal sales (product orders placed by you) each month.
4% – $100 worth of Personal Sales
5% – $1,000 – $1,999 worth of Personal Sales
10% – $2,000+ worth of Personal Sales
Aside from earning commissions from your recruits, you can also earn residual commissions from the sales of the recruits of your recruits.
Bellame pays the residual commissions using a Unilevel compensation structure.
In a Unilevel, all your recruited Partners will be placed on your Level 1.
Then all the recruits of your Level 1 Partners will be placed on Level 2. Recruits of your Level 2 will be placed on Level 3, and so on.
Bellame will pay you commissions down to three generations.
A generation is defined when a Director ranked Partner is found within any level of your Unilevel organization.
A Partner needs to generate at least 500PV per month, has 4 personally recruited Partners and at least 3,000 Group Sales to become a Director.
Your potential income is as follows:
6% commission on all the sales of your team until the first Director or higher rank
3% on all the sales of the Partners below the first Director until the second Director
2% until the third Director is found
And once you achieve the rank of Platinum Executive Director, you'll earn an Infinity Bonus of 0.25% on the total sales volume of your team.
So while you will not be paid directly whenever you recruit someone to join the company, it's imperative to build a large team of Partners if you want to make a decent income in this business.
Therefore, Recruitment, aka "duplication" or "building a sales team" is what the Bellame business opportunity is all about.
And if selling cosmetics and recruiting people to make money is not something you are passionate about, then I'm afraid this business opportunity is not suitable for you.
Furthermore, only "active" Partners are qualified to earn commissions. And to remain active, you must personally place at least $300 worth of products every three months.
This is contrary to what the company claims that "there is no minimum sales required in your first year" and "no monthly fees."
Well, technically these aren't fees per se, but what use is your membership of you can't earn commissions? Therefore, you'll have no choice but to place a monthly product order.
That's an added overhead cost of $100 product orders (on average) per month.
Are People Making Money with Bellame?
Unfortunately, during this Bellame review, only the company knows how many of its Partners are making money.
Bellame didn't provide any income disclosure statement on its website, nor are there any statements given by the founders regarding the financial achievement of the members.
Although if you think about it, if many of the Bellame Partners are making a decent income with this business opportunity…
Don't you think Bellame is touting the numbers already?
Is Bellame a Scam? A Pyramid Scheme?
While I may have expressed some concerns about its products and business model, I believe that Bellame is a legitimate MLM company.
Bellame is not a scam because it offers real and tangible products to the customers.
While you may find people that are disappointed with the Bellame products, some also expressed their genuine delight.
And as far as I know, there is not a single product in the world that everyone loves, so a couple of negative Bellame product reviews is pretty normal.
Bellame is also not a pyramid scheme because your commissions on this company are all based on product sales rather than recruitment.
In a pyramid scheme, your income will only come from recruiting people, whereas, in Bellame, you can earn money (although not much) even without recruiting someone.
Nevertheless, it's almost impossible to make a decent income with Bellame without recruitment.
Now, these are my opinions. If you have anything to contribute to this matter, feel free to use the comments section below.
But please refrain from unnecessary hostility and disrespectful comments so we can have a healthy discussion.
Making A Full-Time Income From Home Without Selling And Recruitment Is Possible! Here's How
Verdict – Should You Join Bellame?
Well, the very first thing you have to consider before joining Bellame is if the products work for you.
You will basically become a salesperson for this company, so it doesn't make sense to join if you don't believe in the products.
I'm sure you don't want to lie to your customers just to make money.
And let's say the Bellame products did work for you, the next thing to consider is if you are comfortable in making money by selling and recruiting every day.
If yes, then I suggest that you take a look at this training program that allowed the top network marketers to overcome the challenges of MLM, including how to find the right people and a steady supply of prospects using the Internet.
But if you realized that joining Bellame is not how you want to make money, but you're still looking for a way to generate an income…
Then I highly recommend that you check out this program.
It is the same program that turned me from a nobody to somebody online, and it allowed me to earn a full-time income from home without selling or recruiting.
In all fairness, I know how these sounds too good to be true, so I shared my early income proof here: 2015, 2016, 2017.
Anyways, thank you for taking the time to read this Bellame review. I hope that I've provided you enough information to decide whether or not it is the income opportunity that you're hoping for.
If you find this review useful, kindly share this with the people you know.
And if you have further questions about this Bellame, feel free to use the comments section below.
Until here and whichever direction you choose towards your financial goals, I wish you all the best in the future.
Your friend,
Jack