Young Living Scam? – Detailed Young Living Review
If you are sick of typing "Young Living scam" in your browser only to find yourself reading one-sided Young Living reviews, then this is just for you.
I have personally bought an essential oil set from Young Living and I will share my family's experience with the products.
I will also discuss the most recent updates about the company. One of them is that Young Living is being sued by one of its members in the US, accusing the company as a pyramiding scheme.
Once you are done reading this brutally honest Young Living review, I guarantee that you will learn:
The truth about Young Living essential oils and its "Seed to Seal" stamp,
Proofs that Young Living essential oil cures diseases and finally;
If this is a business opportunity for you.
Review Summary
Name: Young Living
Founder: Dr. Gary Young
Cost to Join: $150 – $170
Young Living Business Opportunity Rating:
Young Living Essential Oils Rating:
Short Video Review
Feel free to navigate to the sections of this Young Living review with the table below. Otherwise, read it the entirety of ti and don't miss out on anything about Young Living.
What Is Young Living
Young Living is a multi-level marketing company based in Lehi, Utah. 
The company was founded by Dr. Gary Young and has started its operation way back in 1993.
Yes, Young Living has been in the MLM industry for almost three decades.
At the moment…
Mary Young is currently the CEO of Young Living following the death of Gary in May of 2018.
The company manufactures and sells its brand of essential oils. Young Living also provides the average Jane and Joe an opportunity to generate a source of income.
Young Living Products
As I am writing this Young Living review, the company offers a wide range of products, including their newest line of CBD oils. 
However, Young Living has been known worldwide because of their essential oils.
The box of essentials I bought contains Copaiba essential oil, Lavender, Lemon, Peppermint, Thieves and others as you can see above.
However, Young Living is also selling more kinds of essential oils. On their website, you can buy other essential oils such as:
Basil, Black Peppermint, Cedarwood, Cinnamon Bark, Eucalyptus, Frankincense, Lime, Lemongrass, Myrrh, Orange, Oregano, Tea Tree, Wintergreen and others.
If you are new to essential oils, you can read our article on how to buy essential oils for beginners.
Should You Use Young Living Products
Now, to better understand why many people are saying that Young Living is a scam, let's take a closer look at the company products first. 
Young Living held their products with high regards because of the Seed to Seal stamp that was on its bottles.
Does the Seed to Seal mean Young Living products are one of the best essential oils in the market?
The Secret Behind the Seed To Seal Stamp
The Seed to Seal is Young Living's own form of guarantee that you are getting the highest quality of essential oils.
Yes, just like doTERRA's CPTG stamp.
However…
Young Living products are actually not certified organic by USDA, and they are not FDA approved
It appears that the Seed to Seal is merely Young Living's own standard in the production of their products. The "Seal to Seal" stamp, just like the CPTG, adds little to no meaning to the actual quality of Young Living essential oils.
So before you buy any of Young Living products, here are the "essential" things you should know before buying essential oils.
#1 Quality
The first thing to consider when buying essential oil is the quality of the product. Are Young Living products of high quality?
Let's find out.
#1.1 GC/MS Tests
While essential oil standards are not yet regulated, specific quality tests for these kinds of products are recognized throughout the world.
One of which is the GC/MS (Gas Chromatography/Mass Spectrometry) testing. This test reveals important details about the quality and composition of essential oil.
Companies that are confident about the purity and quality of their essential oils will provide you these test results.
The question is, do Young Living so the same? If not, why?
Young Living GC/MS Test Result
As I was writing this Young Living review, I stumbled upon a blog from one of Young Living's own distributor. This person proved that Young Living is selling adulterated essential oils on their products. 
To quote directly from her post, the GC/MS report on one of Young Living essential oils is:
"The sample has been adulterated with synthetic cinnamaldehyde, indicated by the presence of phenylpentadienal isomers. Synthetic linalool may also have been added." (source)
Now, I am a customer of YL as well. And I am concerned for me and my family's well being. 
If some of you out there have alternative proofs that Young Living essential oils passes the GC/MS test, please share it in the comments section.
#1.2 Bottle Container
Young Living essential oils come in dark colored bottles. This is to preserve the quality of the product.
Essential oils should only be stored in glass bottles because it will react with plastic.
Moreover, essential oils are reactive to light so they must be stored in cool places inside a dark brown, amber, or dark blue bottles.
As i have mentioned earlier, essential oils from Young Living are all kept in this kind of bottle.
#1.3 Characteristics
High-quality essential oils have distinct characteristics that you cannot find on the inferior products.
For example, high-quality essential oils should not feel thick and greasy, nor should it leave an oily sensation when it dries.
If Young Living essential oils are as good as they are advertised, they should perform well on these tests.
Here are some more tips on what to look for when buying essential oils.
#2 Brand
Although the brand of the essential oil is not a complete tell-tale sign for its quality, it is crucial to conduct proper research about the company you are getting your product from.
In the case of Young Living, you can take some time to learn about:
Young Livings essential oil manufacturing and quality standards;
Gas Chromatography (GC) and Mass Spectrometry (MS) testing;
The ingredients and types of equipment used and more.
Anything about the company you are planning to buy your essential oils from plays an important role in determining the quality of product you can expect to get.
#3 Price
While we are used to believing that paying extra always gets us a better quality product, this is not true in the case of Young Living essential oils.
During my research, I found three other reputable brands that sell the same quality of essential oils to Young Living, but at a fraction of the cost.
I have reasons to believe that the ridiculously high price of Young Living products has nothing to do with its superior quality.
In an MLM company like Young Living…
The products are typically expensive to offer tempting profits to its distributors and to support the Young Living MLM compensation plan.
So does this means that there is indeed a Young Living scam going on?
I will reveal my findings in the next sections of this Young Living review.
How To Make Money With Young Living
When you join Young Living, you can make money by selling the company products.
However, because Young Living is an MLM company, you will also get paid by recruiting other people to join Young Living too.
Retailing Young Living Essential Oils
When you enroll in Young Living's Essential Rewards (ER) program, you will be able to earn 24% profits for each product you sell.
Say you sell a $100 bottle of essential oil; you get the $24 as profits.
Recruitment Commissions With Young Living
Every time you recruit someone to join Young Living, you will be paid $25 direct referral commission.
You can also earn up to 8% for all the sales of all the people under your group.
Depending on your rank, you can also qualify for exclusive bonuses, incentives, and other perks as detailed in the Young Living Compensation Plan.
Unfortunately…
You will need to maintain a monthly product order volume to renew your membership status.
This means that if you didn't manage to sell any products for the month, you would have to reach down your pocket and purchase more products to continue earning commissions.
On paper,  the Young Living compensation plan looks good. But can you actually make money with this company?
Click Here: People Are Quitting Their Jobs To Make A Full-Time Income At Home. Here's How You Can Do It Too!
Can You Make Money With Young Living
Technically, yes. Young Living can be a source of your additional income.
However, if you are looking to make a full-time income with this company, then that is entirely a different thing. One that would require a longer discussion so you should continue reading this Young Living review.
But for now, please take a look at the image of Young Living's recent income disclosure below.
As you can see on Young Living's recent income disclosure…
More than 95% of Young Living distributors are not making a decent monthly income.
This is not an uncommon issue in an MLM business, and I will tell you why.
Why More Than 95% Of People Fail In MLM
I have nothing against Young Living.
But as you can see in the company's income disclosure, a vast majority of the people who joined Young Living ended up not making money at all.
This is probably where most of the Young Living scam complaints came from.
#1 Expensive Products
When you take a product from Young Living and compare it with similar essential oils from non-MLM brands, the price difference is absurd.
Young Living products are ridiculously more expensive than the other products of the same quality and quantity.
This could discourage many people from buying from you and choosing the much cheaper alternatives instead.
#2 Product Exclusivity
You might think that selling expensive products is a tough job. Then how much more when people can actually buy your products online?
Young Living products, unlike other MLM products, can be bought in online outlets and store shelves. This means that people don't need to contact distributors like you when they want to buy Young Living products.
Isn't this supposedly one of the advantages of joining an MLM company?
You thought that by joining Young Living, you are almost guaranteed to make sales because when people need your products, they will have no choice but to contact you.
Such a thing is not the case with Young Living.
#3 Not Enough Leads
You need people to sell your products to or recruit into the company. Sure, you can target your friends, families, and neighbors at first.
But what happens after then?
Cold calls? 
Chatting with strangers?
Giving flyers and brochures in public places?
I've been there and I will tell you , the traditional way of network marketing does not work anymore!
Besides, to succeed in an MLM business, what you need is to build the right people for your business.
People that have the same mindset with you. People that are willing to build a business with you and I bet your family and friends are not those people.
#4 Joining With The Wrong Mentality
Do not quit your job! Young Living, no matter how your sponsor sugar coats it, is not an easy way to make money.
In fact, while many people are already not making money with Young Living, there are those that even lose money just trying to meet their monthly PV quotas.
On the flip side…
I know some people may argue that the majority of Young Living distributors weren't earning money because they are only after the product discounts and not the business side. Well, that could also be true.
So I leave it up to you to decide.
I merely provided you with the most common challenges that you have to face should you wish to become a Young Living distributor for its business opportunity.
To learn more why more than 95% of distributors fail in MLM, click here.
Click Here: People Are Quitting Their Jobs To Make A Full-Time Income At Home. Here's How You Can Do It Too!
Becoming A Young Living Distributor
To become a Young Living distributor, you need to purchase a Premium Starter Kit.
The price ranges from $150 – $170, but the most popular one will cost you $165.
With this Starter Kit, you will get:
A Desert Mist™ Diffuser, Thieves® Vitality™ 5-ml, Lavender 5-ml, Peppermint Vitality™ 5-ml, and other premium essential oils.
You will also get some sample products, product guide, training, and marketing resources.
Can Young Living Essential Oil Cure Diseases
When you will be approached by Young Living Distributors claiming that their essential oils can cure diabetes, hypertension, cancer, insomnia, heart disease, post-traumatic stress disorder (PTSD), dementia, Ebola or other illnesses…
Take it with a grain of salt.
The FDA already issued a warning letter to Young Living regarding this matter.
Here's the official statement of the FDA that will make you wonder, is there a Young Living essential oil scam going on?
While You're Here: Check Out My #1 Online Business Recommendation
Is Young Living A Scam
During the time I am writing this Young Living review, I found no substantial evidence that there is indeed a Young Living scam going on.Young Living is a legit MLM company with decent essential oil products, just like doTERRA.
However, I did find some red flags that could link Young Living to how a pyramid scheme operates.
Two of those are the heavy emphasis on recruitment and the costly monthly maintenance.
On that note, here's how to spot a pyramid scheme from miles away.
Furthermore, you might meet some Young Living distributors that claim their essential oils can cure illnesses or promote good health. As I have mentioned earlier, the FDA does not approve any of these claims.
I believe these people are misinformed and joined the company for the wrong reasons.
And if there is indeed a Young Living essential oil scam going on, I believe it is coming from this misinformed distributors and not by the company itself.
Is Young Living a scam in your opinion?
Should You Join Young Living
Only you can answer this question.
However, remember that multi-level marketing businesses like Young Living are not for everyone.
Before becoming a Young Living distributor, you should ask yourself why would you join an MLM business.
Did you have a pleasant experience with the products and you want to get discounts on Young Living essential oils?
Is it because your sponsor told you that this is a way to get rich quickly?
Or is it because selling and building a team of like-minded people is your passion?
There could be many other reasons why you want to join Young Living, but it is crucial that you become a Young Living distributor for the right purposes.
Join with the wrong reasons and the wrong mindset, and in a few months, you will be among the many people who spread the Young Living scam rumors on the Internet.
Young Living Lawsuit
Young Living was sued by one of its distributors in Texas last April of 2019!
The plaintiff accused Young Living as a "cult-like pyramid scheme". 
The plaintiff Julie O'Shaughnessy, a former Young Living distributor, then go into details how it is impossible to make money with Young Living unless you turn into a recruiting machine.
The following words are used by Julie to describe the Young Living compensation plan:
"This is not a system designed to sell product to those outside the pyramid. Rather, the entire system is designed for one purpose: to recruit new Members to grow the illegal pyramid."
What do you think? Is Young Living a scam?
Protect Yourself From Young Living Scams
Though Young Living is not a scam per se, there might be some distributors who are operating and promoting the business in a "scammy" manner.
Here are some things to look out for to avoid being a victim of a Young Living scam.
Young Living essential oils are not FDA approved and are not scientifically proven to cure diseases.
Young Living is not a way to earn easy money, nor it is a Get-Rich-Quick program.
When you become a distributor for Young Living, you will need to sell products and recruit lots of people if you hope to make money.
Beware of people trying to recruit you to Young Living saying otherwise.
It's either they are misinformed about the company and its products, or, they are intentionally lying to you so they can make money.
Related: If Young Living Is NOT The Business Opportunity You Are Looking For, Try This Instead!
My Humble Advice
I am not going to argue whether Young Living products can be useful to people. It is possible for a product to provide health benefits even if it is not FDA approved. Like Vicks vapor rub, for example.
One thing is sure, though.
Young Living essential oils may have been a miracle oil to other people, but there is no guarantee that it will work the same wonders to you (or your family). That's what it means to be not FDA approved.
And before I end this Young Living review, sharing my advice could help you make an educated decision on whether you should join Young Living or not.
First
If you want to join Young Living because you want a discount on the products, that's not a bad idea.
However, there are cheaper essential oils you can buy with the same quality.
For example, if you only need one essential oil, say, Thieves, I shared where you can get cheaper alternatives in the video at the beginning of this article.
Or you can click here.
Second
You can make money with Young Living but it will not be easy.
So do not quit your job hoping to earn a full-time income with this company.
People who join MLM companies like Young Living usually do it to get product discounts or as a part-time gig for additional source of income.
And for you to actually make money with Young Living, you have to learn how to sell your products and recruit people. If you do nothing, you will get nothing.
But first, make sure that selling and recruiting people is something that you wanted to do. Otherwise, it will not work, and you are joining the wrong business opportunity.
This is one reason why people fail to make money online and offline.
Third
If you are set into becoming a Young Living distributor, then you must learn Attraction Marketing.
This is a powerful marketing strategy for MLMers that will allow you to double or triple your monthly product sales.
Attraction Marketing will also teach you how to get a seemingly endless supply of prospects, the kind of people that are right for your business, ready to buy your products or eager to join your team.
If you are excited about Attraction Marketing, you can get started here.
Fourth
There are other alternative business opportunities to make money if you feel that joining Young Living or an MLM business is not for you.
For instance, I can recommend an online business program where you can make money without selling products or recruiting people.
This online business program involves affiliate marketing and has already changed the lives of ordinary people just like you.
It allowed them to make a full-time income (or more) at home, to the point that some of them are able to quit their 9-5 jobs and enjoy an early retirement.
It could happen to you too!
But perhaps the best part about this online business program?
You can get started for free!
Final Words
Thank you for taking the time to read this Young Living review.
I hope this has been useful in providing you with enough information about the Young Living scam rumors, Young Living products and its business opportunities.
Kindly share this if you think this would help other people too.
Meanwhile, if you have anything to say about Young Living and its products, you can use the Comment Section below.
You may also voice out your opinions about anything on this article.
Before You Leave: Check Out My #1 Online Business Recommendation
As I end, I will leave you this success blueprint to help you in your future endeavors. Until here and I wish you all the success in the future.
Your pal,
Jack
FREE COACHING PROGRAM
TURN YOUR PASSION INTO A SIX FIGURE ONLINE BUSINESS
Finally! A Proven Step-by-step Method To Earn A Six Figure Income Online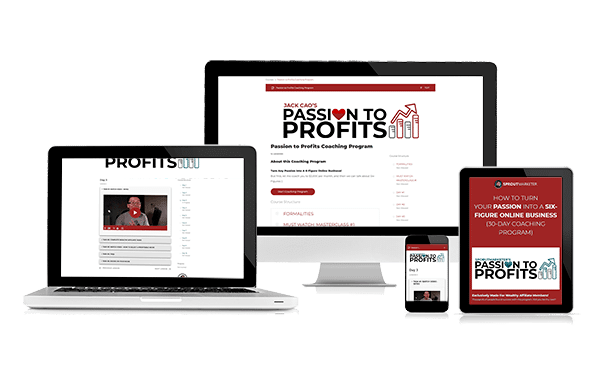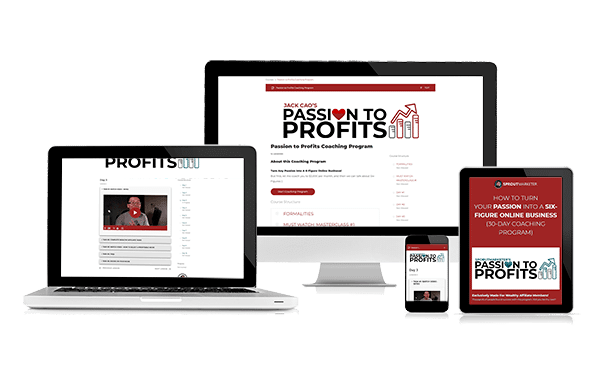 Claim Your Free 10 Day Passion to Profits Course…