Due to the legalization of Hemp in most of the states in the U.S., we see hundreds of companies flocking to the market to grab a piece of the pie, and Changing The Future Outcome (CTFO) is one of them.
In this Changing The Future Outcome review, we are going to discuss about the effectiveness of CBD Oil and whether or not joining the business opportunity is a good idea.
Do not be confused because there is another Multi-Level Marketing (MLM) company with the same acronym, CTFO.
This is not a coincidence.
Chew The Fat Off, the other MLM company with the same acronym, was founded by the same founder of Changing The Future Outcome. His name is Stuart Finger.
Here's the Chew The Fat Off review, if you are looking for it.
Stuart Finger has a track record in the MLM industry that dated back to 1996.
Before CTFO, he founded another MLM company called GBG.
It seems that the entire GBG team has now migrated to CTFO.
What an interesting story.
The Price of CTFO's CBD Oil as compared to its peers…
Now, like I've mentioned above, CTFO is not the only CBD Oil seller on the market, there are so many other similar companies like, Kannaway, Prime My Body, Zilis, Bocannaco, Hemp Herbals, Dose of Nature, and HempWorx.
So, where do CTFO stand?
I don't see CTFO in the list prepared by cbdoilusers.com, an authority website in the CBD market, but for a good reason, I'll share with you below: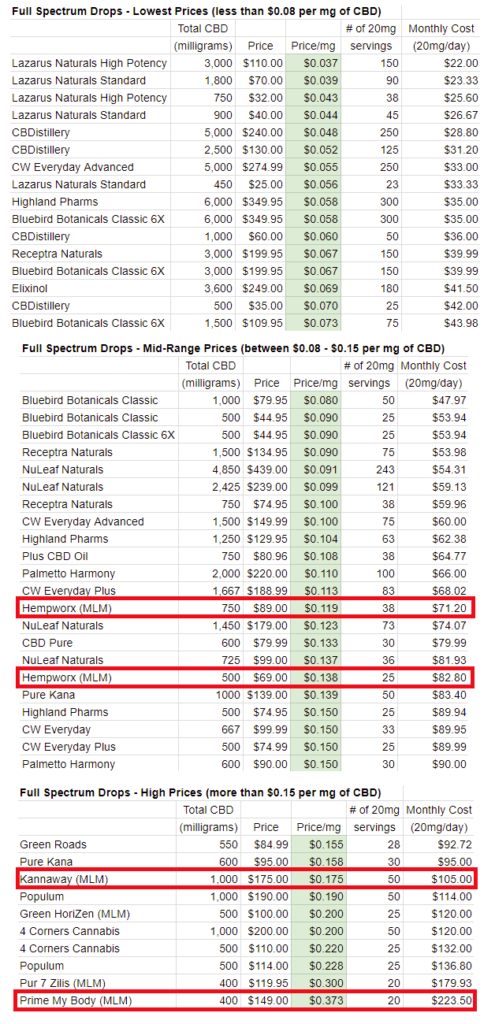 Judging the price provided by CTFO on its website, we can determine that CTFO is selling one of the cheapest CBD Oil as compared to its peers.
Here's the price list for CTFO:
Hang on a minute!
Before you run towards CTFO, you must know that the price is not the determining factor.
It's the Purity that counts…
It is the extraction method and the purity of the CBD Oil that counts.
On CTFO's website, you can find this information:
But, every other company out there selling CBD Oil are claiming that their Oil is the purest without providing any proof.
Almost everyone of them claimed that their CBD Oil is made in the U.S.A. and it has no THC.
There's been a rising trend of people comparing the products of HempWorx and CTFO, so let's put them in the spotlight.
Both the CBD oils of HempWorx and CTFO are lab tested by third party laboratories, but I've found something amiss interesting from my observation.
The Myth About 3rd Party Lab Test Result
This video puts you into perspective that lab test results can be bought, and it is good that you know what you are getting into.
But hey, don't get me wrong, I don't believe CTFO falsify their lab test results, I am just sharing with you that there is such a thing happening in the industry.
Now, let's focus on HempWorx and CTFO.
HempWorx's products are lab tested by a 3rd party laboratory called "Proverde Laboratories", while CTFO has tested their products with several laboratories.
First, CTFO products were lab tested by "Precision Analytic Testing LLC".
Precision Analytic Testing LLC is a new CBD Analytic Testing Lab set up by NutraFuels, Inc. Here's the lab test results.
Further to the above, a top distributor from CTFO informed me that the company no longer uses Precision Analytic Testing LLC for lab testing…
Probably because of the conflict of interest…
So now, CTFO uses a 3rd Party laboratory called EVIO Labs, which is an ISO Accredited Lab (ISO Accreditation # 97164). Here's the results.
CTFO v.s. HempWorx
Now, comparing both HempWorx and CTFO, why is it that both parties have such a high CBD content, yet there is such a big difference in the price?
HempWorx sells 750mg of CBD Oil at $89, while CTFO sells the same amount of CBD Oil at $69.97.
Clearly there is a huge gap between the price, and my concern when I first wrote this review (prior to CTFO having their product lab tested), was that there may be some issues with the quality of the product.
Here's the interesting thing that sets CTFO apart...
I found that the reason CTFO products were marketed at such a low price is because the management team (the founders) do not draw executive compensation (salary) from the company.
They based their salary much like any other associates of the company (they earn from the compensation plan just like any associates), which is a commendable thing!
You see, in most network marketing companies, the people at the top (the founders and the management team), will usually draw salary from the company (even without making any sales themselves as they depend on their distributors)…
That's why the products have to be sold at a premium price.
Now, the founders of CTFO are not drawing any executive salary from the company…
And, that's why the company is able to pass those "supposed salaries" as savings to their consumers.
Even if you compare the price of CTFO's CBD Oils against other competitors which are not network marketing companies…
CTFO still top the list of being one of the cheapest in the market (without sacrificing the quality).
For your information, I am not an advocate or an associate of CTFO.
I am just sharing the information that I've gathered, and I hope that it can help you make the right decision.
Now, if you are interested about the CTFO business opportunity…
Because, the product kinda sells for itself, right?
Here's what you need to know…
CTFO Review – Should You Join CTFO as a Distributor?
I'll be honest with you, though you think that the products are super beneficial for everyone, especially the people around you, and you think that everyone else will have the same epiphany as you when they are first introduced to CTFO, then you might be in for a shock.
The truth is, not everyone will think like you. Even when the products are so amazing, you'll be surprised that people will still say "NO".
That's unless the person has a serious medical condition that no medicine can cure, then they will resort to try every possible solution.
The reasons for people to shunt away an amazing product are very simple.
"People don't like to be sold" and "People hate to change".
To get people to buy CBD Oil, it is either they will buy it at their own will, or the salesperson is just so convincing that they have to buy it.
Which leads me to this question, "Do you want to be a salesperson?"
Let me know what your answer at the comment section at the end of this review.
What does it take to succeed with CTFO?
Being a salesperson, especially when you don't have any experience, it would mean that you'll have to face a ton of rejection, on top of that, most of the rejection will come from people whom you are close with.
And, this will come as a consequence as it puts a strain on your relationship with the person who rejected you.
I've seen too many cases where the relationship gets destroyed as a result of the business opportunity.
Moreover, it takes more than just the ability to overcome and stomach a ton of rejections to become successful.
You'll need to…
Find a good mentor and leader to guide you to become a great salesperson
Find an endless stream of new prospects – This is really possible if you learn the art of attraction marketing
Stay positive throughout, even when you don't see any extraordinary results in your first year
Be extremely hard working
Live and breath CTFO, which means that whenever, wherever, or whomever you meet, you'll talk about CTFO
Unfortunately, the majority of the people who joined CTFO didn't become successful, in fact, more than 95% of them failed.
Because, they lack in one of the five conditions I've mentioned above.
This is the overall statistic of network marketing companies in the same industry.
Want to be the Top 5% Associates of CTFO? Here's How You Can Do it!
Why CTFO could be considered a Pyramid Scheme?
Now this is a touchy topic, and CTFO distributors will start defending against this.
Hold on there, take a chill pill.
I'm not saying CTFO is a pyramid scheme.
Before I say anything further, let us understand what a pyramid scheme is.
Over emphasis on recruitment instead of promoting the products could be seen as a pyramid scheme.
In general, CTFO is definitely a legitimate business, however, if the management team do have the control over the actions of their distributors, and if the distributors start focusing on the recruitment drive (instead of promoting the products), the company may be dragged into legal charges related to pyramid scheme.
Good examples of this, and I see it too often on Facebook, are distributors promoting the "business opportunity" and making "false claims of the medical benefits".

Literally, hundreds of distributors are doing this on Facebook every day.
It is either they are not properly educated, or they are simply ignorant to the fact that they are running a recruitment scheme or making false claims.
So if you are a CTFO distributor, please make sure that you are not making the same mistakes.
CBD Oil could cure diseases, but...
Yes, CBD Oil "could" cure diseases, but it is not FDA (Food Drug Administration) approved yet, which means that even if CBD Oil does cure diseases, you can't make claims that it does. Complicated, right?
So, don't go running around telling everybody that CBD Oil will cure diseases. You are violating the terms of the business, and you are violating the law.
Now, if you are ready to become a CTFO distributor, let's talk money…
Grow Your CTFO Business with Attraction Marketing!
How much can you make with CTFO?
One thing I absolutely like about the CTFO compensation plan is that anyone can be an associate.
You don't need to buy the products or pay for the membership fee.
It's totally free for people who wants to earn a 20% commission on each product sold.
Plus, you get to participate in the other 3 compensation plan:
Unilevel Pay
Regenerating Matrix Pay
Infinity Bonus Pay
1. Unilevel Pay
This compensation is rather unique in the sense that there is no limit to the number of 1st level recruits.
Normally, a compensation plan (from other MLM companies) will have a left and a right leg.
The pay out volume is counted based on the weaker leg.
And, there is a limit to the number of 1st level recruits you can have. A typical MLM setup will look like this:
However, in the case of CTFO, there's no limit to the number of 1st level recruits.
As long as you recommend someone to join CTFO, they will be your 1st level recruit.
And, when your 1st level recruits recommends someone to join CTFO, they will be your 2nd level recruits
This spans all the way to 5 levels deep.
Here is the CTFO's Unilevel Compensation plan: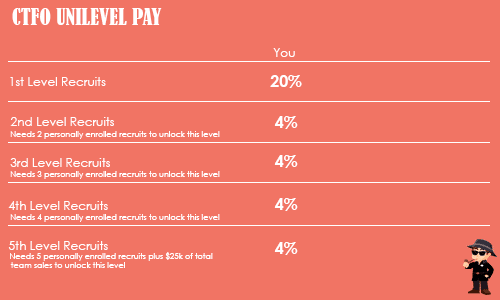 2. Regenerating Matrix Pay
Here's where things become interesting…
On the first level, there's a maximum of 3 personally enrolled recruits.
Since the first level only qualifies 3 enrolled recruits, you'll have a maximum of 9 recruits on your second level.
Your third level will have a maximum of 27 spots (3 to the power of 3).
Your fourth level will have a maximum of 81 spots.
It goes all the way down 21 levels…
Which means that you can have a maximum of 10460353203 recruits in your entire organization.
Referring to the description on the left of the image below, the 1st to 5th level of recruits, you'll get a 1% commission on top of the Unilevel Pay.
You'll earn an addition of 10% commission on top of the Unilevel Pay on the 6th and 7th level recruits.
And, from the 8th to the 21st level recruits, you'll earn a 1% commission on top of the Unilevel pay.
The second part of the equation (refer to the right of the above image).
You'll have to personally enroll 5 people to qualify for all levels of commission in the Regenerating Matrix Pay.
If you refer 1 person only, you'll earn a 25% of the commission from the 1st to 7th level.
If you refer 2 people, you'll earn a 50% of the commission from the 1st to 7th level.
3 personally enrolled people will earn you a 100% of the commission from the 1st to 7th level.
4 personally enrolled people will unlock the 8th to 14th level commission.
And, 5 personally enrolled people will unlock the full 21 levels of commission.
The Regenerating Matrix Pay comes with one extra feature…
Profit Sharing Positions
To put it simply, if you've personally enrolled 4 people and above, those recruits will be placed directly under you (on your 1st level), which expands your potential earnings tremendously.
3. Infinity Bonus Pay
Well, this is quite difficult to explain, so if you want to understand more about the Infinity Bonus Pay, you can check out the CTFO full compensation plan here.
Stop Wasting Your Time and Money Chasing Dead Beat Prospects and Leads! Here's how you take your CTFO business to the next level!
What is CBD (Cannabidiol)?
In case you are still doing your research about CBD, let me help you out here…
There's really a lot to learn about the Cannabis Plant, but all you should be learning now is the CBD and the THC, which are both compounds of a Cannabis Plant.
There are basically 120+ compounds that can be found in the Cannabis Plant and the predominant compound is the THC, followed by the CBD as the second most prominent compound.
To simply put it, while there are medical benefits of THC, it will get you "high", and that's why THC is not legalized.
On the other hand, CBD has other medical benefits as well, but it does not have the psychoactive effect of the THC.
Here's a video that might interest you on the extraction method for CBD.
THC will always be present in the CBD (after extraction), but as long as the THC content is lower than 0.3%, the CBD product is legally approved in the U.S..
What are the benefits of the CBD?
Since the legalization of CBD, more and more medical practitioners are stepping up to speak of the benefits of the CBD…
You've probably seen the same video on CTFO, but keep in mind that the doctors in the video are not a part of CTFO.
So, here's a list of benefits of the CBD:
Anti-inflammatory
Relieves Nausea
Promote Cardiovascular Health
Helps fight cancer
Anxiety disorders
Possibly treat seizures and other neurological disorders
So, if you ask me, I'll say that the CBD is going to be a game changer in the medical world.
However, this doesn't mean that the CTFO Business Opportunity is suitable for you as we have discussed above.
If the CTFO Business Opportunity is not suitable for you, then this may interest you!
My Sincere Advice to You
The quality of the products from CTFO and the business opportunity checks out.
CTFO's CBD Oil is one of the cheapest on the market with the same purity level...
And, it doesn't cost a dime for you to become an associate.
In my opinion, this could be one of the best business opportunities for people who wants to earn some extra cash.
However, if you are only selling to and recruiting people within your own social circle (your friends and family members), you may be barking up the wrong tree.
You'll probably be facing a ton of rejection from people you know...
And, you'll most likely run out of leads to contact. This is one of the biggest challenges of all CTFO associates.
So, if you really want to be successful with CTFO, I recommend that you learn how to do attraction marketing.
It is a way (a strategy) for you to attract and recruit like-minded people who will grow your CTFO business organization.
What if you are not interested in selling CBD Oils...
But, you are still looking for a way to earn money online?
If you fit this profile, I would suggest that you check out this program.
This is the program that taught me how to earn $5k to $10k per month online.
The best part is, you can turn any of your passion into a real business.

I highly recommend that you check out this program if you are serious about building a successful online business.
Thank you so much for reading this review!
If you find this review helpful, please, share it by clicking on the social media buttons (Facebook, Twitter, Google Plus).
If you wish to discuss more about CTFO, please, feel free to leave a comment below.
Your pal,
Jack