Hemp Herbals Review – Best CBD Products on the Market?
In this Hemp Herbals review, I am going to disclose everything you need to know about the company and its business opportunity.
Is Hemp Herbals a scam or a legit opportunity to make money, you will find out in the next few minutes.
Hemp Herbals Review Summary
Name: Hemp Herbals
Founders: Paula Scarcella, Ben Scarcella, and Alexandria Brighton
Price: Free Membership
​
Business Opportunity Rating:
Product Rating:
FOR HEMP HERBALS CONSULTANTS
FOR OPPORTUNITY SEEKERS
What is Hemp Herbals?
Hemp Herbals is a brand under the umbrella of Heart & Body Naturals (HB Naturals).
In addition to CBD Oils, HB Naturals promotes a wide range of products including Superfoods, Personal Care, Bio Minerals, Coffee, Weight Loss and many more.
They even have Pet products for sale!
HB Naturals, the Company
Heart & Body Naturals was founded in 2012. It is a family owned debt-free global company based in Kentucky.
They have more than 200+ products including the CBD Oils today.
The company's motto is "Make A Living While Having A Life". Similar to other MLM companies, HB Naturals also offers a generous incentive plan to its members.
The Founders
Heart & Body Naturals, the company behind Hemp Herbals was founded by Paula Scarcella, Ben Scarcella, and Alexandria Brighton.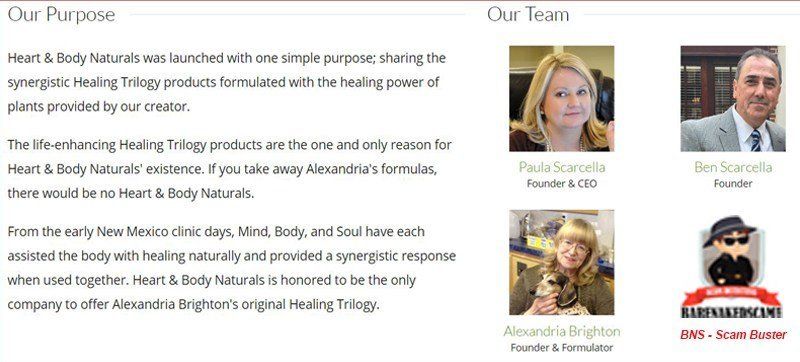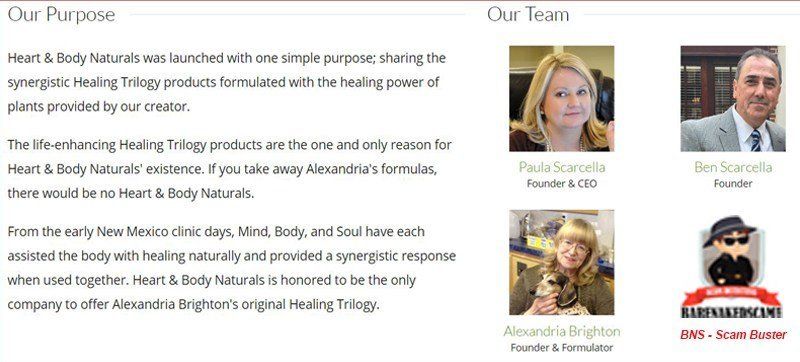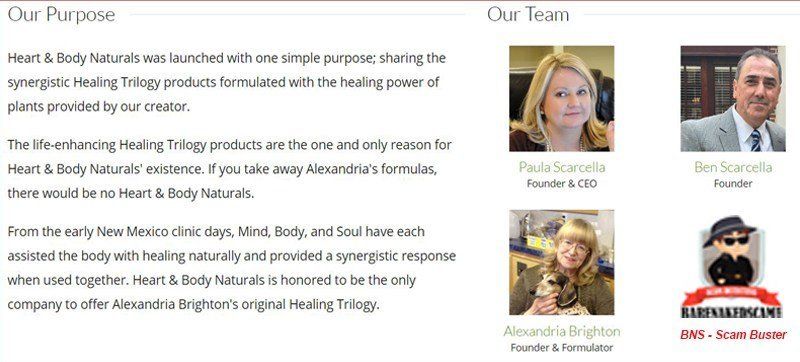 For those of you who haven't heard of Alexandria Brighton…
Alexandria Brighton is the owner of the Brighton Institute of Botanical Studies and a distinguished international aromatherapy formulator.
Hemp Herbals Products
Hemp Herbals by HB Naturals are products that contain a full spectrum CBD oil using locally sourced hemp. The hemp were harvested and CO2-extracted in Kentucky.
HB Naturals proudly claims that their hemps are compliant with the FDA Farm Bill and grown 100% in accordance with the US Federal hemp regulations.
Trivia:
Hemp is a completely different herb from marijuana, but both belong to the Cannabis family.
You can learn more about the key differences between Hemp and Marijuana in this very short video.
Hemp Herbal products include a range of CBD oils (for you and your pets), CBD oil infused coffee, and more.
These are some of the best selling CBD products…
Entourage – A synergistic blend of eight phytocannabinoid producing plants for
Everyday – A pure and organic fresh full-spectrum CBD infused in organic Hemp Seed oil, Copaiba Essential Oil, Frankincense Essential Oil, and Peppermint Essential Oil.
Rise – A premium and 100% organic Arabica Coffee from Brazil with a rich, smooth flavor. Naturally low in acidity, RISE delivers THC-free water-soluble cannabinoids in every cup.
Hemp Seed Bath Bar – A hypoallergenic vegan soap with a luxurious blend of essential oils and botanical extracts. The base is derived from organic Palm, Coconut, Olive, and Palm Kernel oils.
4Paws – A farm fresh full-spectrum CBD oil for your PETS. 4Paws is rich in phytocannabinoids, terpenes, omega 3-6-9, flavonoids, and other nutrients.
To view Hemp Herbals' full product list, click here.
Apart from their products, most people have been searching for Hemp Herbals' reviews due to the fact that the company offers its members a generous incentive plan.
The Hemp Herbals Incentive Plan
Hemp Herbals offers an exciting opportunity that rewards its members with commission and incentives for referring and selling their products. You can also earn by sponsoring other people to do the same.
Hemp Herbals offer a FREE MEMBERSHIP to anyone interested to start doing business with the company.
You just have to complete a signup form in the HB Naturals official website. Once you complete this process, you can purchase Hemp Herbals products at a discounted price among other benefits. 
And, if you decide to become a registered member for Hemp Herbals, the company (HB Naturals) will provide your own free and personalized ShopHBN.com retail website.
You can use this website to promote Hemp Herbals products and start earning immediately.
Before we proceed to the detailed compensation plan of this Hemp Herbals review, let's familiarize these following technical terminologies first.
Hemp Herbals "Terms" to Know
CV – Commissionable Volume. This refers to the internet currency of Hemp Herbals that is attached to every product. Every time you purchase a product (either for personal consumption or to sell), you earn corresponding CV points which translates to commissions, incentives, and bonuses.
FSB – Fast Start Bonus. Rewards 20% of CV on wholesale orders
PSV – Personal Sales Volume. Points earned by personal product purchases and retail sales.
Active – A Hemp Herbals member who generate a minimum of 25 PSV in the last 31 days.
Auto-Delivery – A set of product reorders automatically processed on the exact date each month.
Consultant – A member who has completed a free online enrollment, 25 PV and at least one Active personally enrolled member.
Binary Genealogy – Consultants have only two front-line members under them, the Strong Leg and the Pay Leg (also called the left and right leg on other MLM companies who uses a binary genealogy). When the Consultant manages to recruit and enroll more people, the additional members are placed at levels below others under the sponsoring Consultant.
Pay Leg – The Binary leg with the least amount of volume. If you are unfamiliar with Binary and the different MLM compensation plans, this article will provide you everything that you need to know.
Now that you have a clear understanding as to what these terms signify, let's take a look on how you can make money with Hemp Herbals.
7 Ways to Earn with Hemp Herbals
Although the company claims to have 7 ways to earn as a consultants for Hemp Herbals, these earning potential actually falls under only 2 categories – Direct selling and Recruitment.
#1 Retailing
Earn 50% of the Commissionable Volume (CV) on retail orders placed on your free ShopHBN.com site.
#2 Fast Start Bonus
Earn up to 30% on wholesale orders of your Personally Enrolled Members (direct sponsors) during their first 90 days.
#3 Star Bonus
Earn an extra $1,300 bonus every month when you have 100 PV, four (4) 1st Generation with 100 PV, sixteen (16) 2nd Generation with 100 PV, and sixty-four (64) 3rd Generation with 100 PV.
#4 Matrix (Friday Payday)
Earn up to $1 for every 50 CV order placed by all the Hemp Herbal members under your team regardless of who enrolled them, as long as you have at least 25 PV.
#5 Binary (Instant-Pay Money)
Earn 4%, 8%, or 12%, depending on your PV every time there is an accumulated 200 CV in each of your respective binary legs.
#6 Match (Team Building Money)
Earn up to 50% check match of the Binary Commissions on Executive Consultants in your enrollment tree, up to 7 generations deep.
#7 Rank Advancement (Guaranteed Cash Money)
When your rank advance within Hemp Herbals compensation plan structure, you have the potential to earn up to $190,000 respective to your current rank.
Looking at the numbers above will surely get you "high" (no pun intended as CBD extracted from Hemp has no psychoactive effect).
However, pardon me for pulling you down in the meantime.
The Downright Truth About the Business Opportunity
One thing I must point out is that HB Naturals is very clear about their member's income potentials. In a PDF file provided by the HB Naturals, they clearly stated and I quote…
"Although the opportunity is unlimited, individual results will vary depending on market conditions, commitment levels, and sales skills of each participant."
This is Hemp Herbals Income Disclosure as of November 1, 2018.
Let me very clear at this point, I am not saying that this business opportunity can't be your ticket to financial independence.
And as much as I hate to disappoint you…
More than 95% of the Consultants fail, and there are some specific reasons like…
#1 Not Enough Prospects
The most basic requirement for any business to prosper is a steady supply of prospects or leads. The same goes for Hemp Herbals.
One of the main reason why Hemp Herbal Consultants fail is the lack of consistent leads or prospects. And in the case of Hemp Herbals, the hottest prospects you can ever hope for are people who need your products.
Now I don't know about you and where you come from but as for me, I would be lucky to have 1 among the 10 people I personally know who might want/need CBD products.
For this business to grow…
You need interested buyers. Finding people who might be interested to buy your CBD products seems to be a tall order to fill.
However, there is an alternative way to find an endless stream of highly targeted prospects.
If you are interested to become the next success story of Hemp Herbals, you should do yourself a favor and learn more about this program.
Earn a Full-Time Passive Income from Home without Recruitment? Learn more here.​
#2 Lack of Skills and Training
Another obstacle that stands between a Hemp Herbals consultants and their success is the lack of proper training and skills.
When someone new joins the business, most likely than not, they do not have any sales or marketing knowledge.
Which is why it is so important that they get proper training and support from their upline or sponsor.
However, most upline or sponsor I know are average people who do not have much sales or marketing knowledge as well.
They do not have the ability to lead a team and guide them to success, which leads to a situation where "the blind is leading the blind".
So, if you truly want success with Hemp Herbals, you need to either look for successful mentors in the company to coach and guide you, or you take success to your own hands by learning from top network marketers in the industry.
#3 Wrong Mindset
It is not a surprise that a vast number of consultants become a member of Hemp Herbals due to the hype and false promises by sponsors and coaches.
This brings us to another reason why most people fail.
If your main reason for joining Hemp Herbals is just to "make easy money", then honestly, there are many business opportunities out there that are much easier to succeed.
Success with Hemp Herbals require you to have the ability to persuade and sell, and this goes without saying that you have to stomach a ton of rejection.
Simply speaking, it is not an easy business, and it is definitely not meant for everyone.
If you go into this business with the simplistic mindset of just to "earn money", then more likely than not, you'll fail.
People who joins Hemp Herbals and succeed are the ones who enjoy talking about the Hemp Herbal products and can stand behind the products they sell.
It is the passion that drives a consultant to success amidst the adversities.
If Hemp Herbals is not the right business for you. Check this out.
You may also be interested to read:
Hemp Herbals Pros
Free Membership
Free Retailing Website
Generous Incentive Plan
Daily and Monthly Payout
Hemp Herbals Cons
Limited Leads
Not all country supports hemp products
MLM business platforms have a very low success rate
Is Hemp Herbals a Scam?
Now the biggest question you probably have, "Is Hemp Herbals a scam?"
I kept this crucial section so far down because there are so many things that I must discuss such as its products and the business opportunity that eventually, leads to this conclusion. 
So, to answer your question, No, Hemp Herbals is not a scam. (If you haven't read the above sections yet, I highly suggest that you do so.)
Hemp Herbals under the umbrella of HB Naturals is a legit opportunity with decent products that you can sell for profits.
You can also choose to sponsor new people into the company and manage a team of sales representatives. As your team grows, you can earn a cut of the commission whenever a product is sold in your team.
However, making money from Hemp Herbals is tough. I wouldn't recommend it to anyone as a steady source of income.
How to Earn a Full-Time Passive Income From Home? Check this out!
My Sincere Advice to You​
If you are planning to join Hemp Herbals for the sake of getting discounts from its products, then by all means go ahead.
HB Natural offers a free membership program to anyone and by completing this process, you can enjoy the discounts for your needed Hemp Herbal products.
But if want to join Hemp Herbals hoping to make a full-time income out of its incentive plan, then I would advice you to reconsider.
Do you think you are passionate enough and have the drive to promote the Hemp Herbal products?
If your answer is yes, then by all means, I wish you all the best and sincerely hope you will succeed, but if your answer is no, then I would suggest that you do not join as a consultant.
Here is the program that I recommend instead. It is the program that helped me and thousands of individuals find true success online.
And, it has allowed me to quit my full-time job, and still earn a full-time passive income from home.
Anyway, thank you for taking the time to read this Hemp Herbals review. I am hoping that you found the answers that you were looking for.
If you find this useful, kindly share this to the people you know who might need to read this too.
Until next time and I wish you all the success in the future.
Your pal,
Jack