Total Funnel System – Is it really free?
Name:  Total Funnel System
Website:  www.totalfunnelsystem.com
Price: $0
Owners: Jon Mroz
Bare Naked Scam rating: 3 Thumbs Down
#1 Recommended Online Business Training with Proof: Click Here
Is Total Funnel System Really Free? Hmmm…
---
Is it true that Total Funnel System is absolutely free? Can this be a real opportunity for you? If you are looking for the answers to those questions, you are in the right place because I am about to share the secrets of Total Funnel System with you…
Total Funnel System is a program developed by Jon Mroz who is a successful MLM Marketer.  The idea behind this program is to provide you with a sales funnel system that practically sell products for you on auto-pilot. It basically acts as a sales team for your online business. Sounds Good?
I will be very honest that I like the fact that Jon Mroz created a sales funnel system that do not benefit himself (just a guess) but the products sold within the Total Funnel System are not of the best quality.
Although there are no selling involved within  the Total Funnel System, the sales process is done on the websites of the recommended products. There are 6 recommended products namely Empower Network, My Lead System Pro, Pure Leverage, Aweber , IPas and My Cash Freebies, and out of all those products, 4 of them are not recommendable in my books. I will share with you the reasons below.
Build an Online Business Based on Your Passion here! Get Started Now!
Is Total Funnel System a Scam?
---
Technically, I wouldn't call it a scam because there is no upfront fee for joining the system.
But, in order for the entire sales funnel to work, you have to pay the membership fees to join all the recommended programs in the funnel.
Those programs are not cheap to join though. I will share the cost with you below.
The way Total Funnel System work is simple. You get people to join Total Funnel System for free, they go through the exact same process you have gone through and each time they pay to join the recommended products, you make a commission. Much like Affiliate Marketing.
I have no doubt that you can make money following the footsteps of Jon Mroz but be warned that there are no free lunch in this world.
The only program which is "free" to join in the Total Funnel System is My Cash Freebies which operates exactly like Zip Nada Zlich, other than that in order to make any commissions from any of the other recommended products, you have to be an active member in each of them. Which means you have to pay money every month to remain active.
What happens to the commission when you are not an active member in those programs? Your commission will flow up to the person who recommended you (your upline).
So, if you are ready to join Total Funnel System, let us dive into each of the recommended products to figure out the total cost.
I will not touch on My Cash Freebies as it operates exactly like Zip Nada Zlich (ZNZ). You can read ZNZ review here.
#1 Recommended Product – Empower Network (See my review here)
---
In my opinion, this is the worst product you can buy online. It is label the "Sexiest Scam online" on my site and in many others (see my review here). The main reasons are the cost of the program, quality of the information, Multi-Level Marketing scheme and the way it sells its additional products within the Empower Network. I was a part of Empower Network for a brief moment when I was still "Green" in the Online Marketing industry so I know what I am talking about.
In the fore front, Empower Network persuades you to sign up with them at a low cost of $25. Little do you know that once you have signed up with them, you will be coax to buy products one after another. You will probably not be able to get any education until you have spent at least a thousand dollars. The combined cost and running cost of Empower Network is $5,139.95 and $144.95/mth.
Worst of all, you will be called "wussies" if you do not "go all in" (which means buying all the products within Empower Network). I mean not everyone can afford to spend even a thousand dollars to get started with an opportunity and Empower Network is penalizing them for not being able to do that? That is just un-cool!
The main reason why I object Total Funnel System is because Empower Network is embedded into the program as a "must join" procedure. You must note that if you want to earn full commission from Empower Network, you have to "go all in", meaning If you have only purchased the $25 membership, and if anyone joins Empower Network with your affiliate link and buys all their products ($5,139.95), you will only be able to make a commission of $25.
#2 Recommended Product – Pure leverage (See my review here)
---
Some weeks ago I have done a review on this program. Though my negative views on Pure Leverage are minimal, I wouldn't recommend it to any one as an opportunity but a service provider.
Pure Leverage provides you with a series of marketing tool suite like auto-responders, lead capture pages, video email service and conference room. To be honest, Pure Leverage provides one of the cheapest marketing tool suite amongst its competitors. Though not the most user friendly platform, it performs fine.
Now to the part where Pure Leverage is presented as an opportunity. Imagine yourself as a beginner to the "make money online" industry, would you know what is an auto-responder? Lead Capture page? Conference room? If you do not know what those services are, do you think you should join the Pure Leverage to promote those services? I'll leave it up to you to decide.
There is a series of training modules which teaches you how to promote Pure Leverage but it cost close to a thousand dollars and a few hundred dollars of running cost ($144/mth) to obtain those knowledge. Remember, like Empower Network, you have to remain as an active member in each of the product within the program in order to earn full commission.
#3 Recommended Product – IPAS (Internet Prospect Acceleration System)
---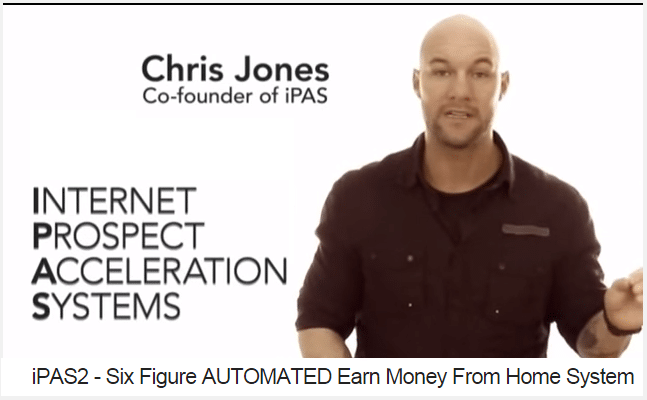 Like Total Funnel System, IPAS acts as a sales funnel that sells Empower Network products. The difference is you have to pay $47/mth to be a member of IPAS because there are a lot more information in the program than in Total Funnel System.
In addition, there is an upsell of IPAS phone sales team to help you close a deal with your prospects for $97/mth. I can't speak more of IPAS at this moment because I have not experience this program first hand, it would be unethical of me to do so.
But one thing I am pretty sure is that if you do not join Empower Network as a member, there is just no point of you being a member of IPAS. IPAS and Empower Network co-relates to each other.
#4 Recommended Product – My Lead System Pro (See my review here)
---
If you are already a MLM Marketer and are looking for a place to expand your knowledge on MLM Marketing, then My Lead System Pro (MLSP) may be the right place for you. However, the cost for joining this program is steep. Assuming you are purchasing all the products within the MLSP, it is going to cost you a one-time fee of $2,743.94 and a yearly running cost of $1,499.97.
Similarly to all the products mentioned above, you need to either be an active member or you need to purchase the a la carte one-time payment products to earn a commission from it.
I would suggest that if you are not a MLM Marketer, you should avoid being in the MLM industry altogether because:
the running cost for an MLM opportunity is high
you might be in the same MLM company but the education that you get differs from team to team
you might not be interested in the product you sell, but rather be interest in the idea of being successful
tons of hard work have to be put in but there's a high chance that you might not see result
Most of the time you need to be a great salesperson in order to succeed.
Discover how you can be successful with Affiliate Marketing
#5 Recommended Product – Aweber
---
This is the only product that I would recommend because I use this service personally. Similar to Pure Leverage, Aweber provides auto-responder service and landing pages. The difference is the user friendliness. Aweber is one of the most recognizable auto-responder in the world.
If you are a Internet Marketer, Aweber is the tool that you cannot live without. Check out the benefits of Aweber here.
My Sincere Advice to You
---
So if you really wish to partake into the Total Funnel System, you may need to pay $538/mth to earn a full commission. I am only talking about running cost, how about those one-time payment products? Note that you also need to spend the one-time fee in order to earn a commission on that product. Be prepared to spend approximately ten thousand or more to earn full commission on all the recommended programs above.
I am just being upfront with you on my opinion of Total Funnel System so that you can make an informed decision on whether to spend time and money .
To be honest, if you have that kind of money to spend, I would rather you invest in yourself and gain the knowledge you so require to build a successful online business based on your passion. It is so much rewarding to earn an income from the things that you are interested in or passionate about.
If you wish to learn more on how to build a successful online business, I suggest you check out my #1 recommended online business educational program. In there, it will show you what exactly you need to do and it provides step-by-step training so any one without any experience whatsoever will be able to build a successful business.
If you wish to share your experience or discuss on Total Funnel System, feel free to drop a comment below. If you feel that this review will help others, please help to share this by clicking on the social media buttons below.
Your pal,
Jack