VSN Cash System Scam – Could Viral Success Network Scam you?
Absolutely no experience required!
This is a super easy done-for-you online business that you can plug in to earn instant cash!
That's what this system all about!
Every one on YouTube is singing praises for this program, why don't you just join?
Congratulations for doing your homework, because you are about to find out if the VSN Cash System is just a big fat scam or if it actually lives up to its promises.
In this VSN Cash System Review, you'll also learn about the things that other affiliates hide from you.
How I Fired M​​y Boss and Still Earn a Full-Time Income. Here's How You Can Too!
What is Viral Success Network (VSN)?
Here's what you need to know about Desmond Akil Smith, the founder of Viral Success Network.
The Viral Success Network was founded in 2012. Desmond was using the VSN platform to promote Empower Network.
Empower Network was once a popular internet marketing training program, but it is bankrupt in 2017.
Desmond made quite a fortune with Empower Network, and he started his own internet marketing training program called "VSN Extreme" in 2013, but it eventually failed because of the lack of retail appeal. If you want to know more about the VSN Extreme, you can find out here.
Now, in 2018, Desmond makes a comeback with the VSN Cash System.
You can basically say that the VSN Cash System is the reboot of the Viral Success Network.
Desmond Akil Smith is a Solo Ad seller (1) at the core, and everything in VSN revolves around selling his Solo Ad Traffic packages.
What exactly is VSN Cash System?
Instead of me explaining to you the concept of the VSN Cash System, let me draw it out for you: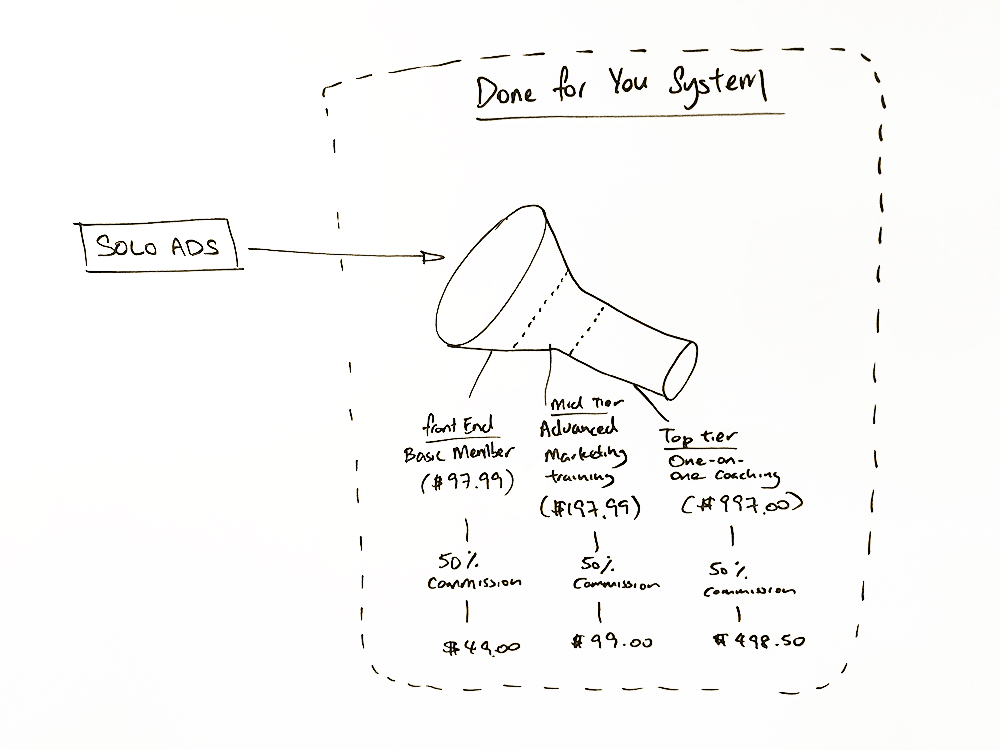 In order for you to earn money online, in any kind of opportunities, you need 2 elements:
Highly Targeted Traffic
High Converting Sales Funnel
And, it seems that this program has taken care of the elements. But, Wait!
Before you run frantically to join the program, here's what you need to know.
The majority of the people who joins the program lose more money than they make.
First, you are buying the "Training Program" that supposedly teach you how to make money online.
Then, with the lack of information about getting traffic from other sources, everything points to buying Solo ads (1) from the VSN Cash System.
Before you know it, you could be sinking in $500 to $1,000 into this program.
Yes, you could earn some return on investment, but most people do not earn more than they've invested.
How much does the VSN Cash System Cost?
Basic package – $97.99 (used to be $37.99 on May 2018, but the price increased 158% in just 1 month – Let's discuss more about the Price Shock below)
Advanced Affiliate Marketing Training – $197.99
One-on-one Coaching – $997.00
Traffic Packages:

50 Clicks – $50
100 Clicks – $100
200 Clicks – $200
500 Clicks – $500
1,000 Clicks – $1,000
VSN Cash System Scam – What's with the Price Shock?
In just a short period of time since its re-launch, the price of the VSN Cash System has increased from $37.99 to $97.99.
Normally, when a product increases its price, it is because something valuable is added to the product.
So, what exactly is added to the membership area that cause a 158% increase in the price?
The answer is "An hour and a half of e-commerce training".
Is it really worth a $60 increase? I'll let you decide after you read the next section.
What's in the E-Commerce Training?
Video Part 1 (31 minutes)
Find a product in AliExpress.com, set up a Facebook Fan Page just for the sake of selling that specific product.
The Product that Desmond chose in the video is a Rubber ball for pets, and he calls it "the Jibber Jabber":
Then, find pictures and videos related to the product from Aliexpress or YouTube.
Copy and post them on your Facebook Fan Page, just like this:
Next, link the Facebook Page to a Many Chat account (a Facebook Messenger Tool for Marketers).
Buy Facebook Advertisement for your Facebook Post.
Sell the product through Facebook Messenger (using the Many Chat Tool). And, that's it folks! It's that simple!
Well, I don't know about you, but this information can easily be found on YouTube.
The missing piece of this training, is the actual selling of the product.
Do you run a Facebook advertisement and expect money to come? That's quite unlikely.
If you ever run a Facebook Ad without any proper marketing knowledge and experience, you will most definitely fail (lose money).
I am not trying to be a wet blanket, but this is the cold hard truth coming from somebody who lost thousands of dollars on Facebook Ads in the past.
You would have expected that more can be found on the next video, so let's see…
Video Part 2 (81 Minutes)
In this video, you'll learn how to set up a Shopify store, and connect it to a Shopify App called "Dropified".
Here's what you need to know, Desmond Smith will earn a commission if you actually pay money to set up a Shopify store and a Dropified Account.
Nothing bad about this, it is Affiliate Marketing, I just thought you should know.
Now, let's continue with the training.
In the first video, Desmond walks you through the setup phase for his new project "The Jibber Jabber".
This video will expand onto that project.
He shows you how he buys a domain name called thefunpet.com from GoDaddy, and connect it to Shopify as well as Dropified.
The idea is to sell the "Jibber Jabber" on Shopify.
Something interesting happens in this video.
How Desmond derives a Price for the "Jibber Jabber"?
The Rubber Ball for Pets retails at $2.10 to $3.64 per piece on Aliexpress, and Desmond put the price of the product at $14.79 on his Shopify store.
Clearly, he is just plugging a figure from thin air.
If he would have done a little research on amazon, he would have seen the same product retailing at $6.59.
I mean, who would buy an overpriced Rubber Ball? Will you?
I guess Desmond's target market are people who fail to do research, and we very well know that people are getting savvier these days.
In my opinion, if somebody were to conduct a training, I would have expected that the training will go all the way to the point where the business makes its first sale.
But just take a look at this…
Learn from a Failed Example
Do me a favor, could you search thefunpet.com on your web browser (this is the website which Desmond bought). I am sure you will see this:
As of the date of this review (June 2018), thefunpet.com uses a blank template shopify store that means nothing.
Plus, if you search the Facebook Fan Page that Desmond has talked about "My Jibber Jabber", you'll find that there's no development at all.
I am not sure if Desmond will take these digital footprints down, or will he actually do something about it to prove me wrong.
But honestly, the training doesn't teach you anything other than setting up accounts with multiple platforms.
What I think about the VSN E-Commerce Training?
In my opinion, this is a poor training at best.
All you do is set up different platform accounts, and post videos and images which don't even belong to you.
You wouldn't actually know how to make money from E-Commerce.
Clearly, the Facebook Fan Page and the Shopify Store didn't earn a cent.
Now that you know what the training is about, what do you think of the "New Addition" to the VSN Cash System?
Do you think it is worth the extra $60?
Share your thoughts with me in the comment section below.
Now, let's dive into the core training programs in the VSN Cash System.
The VSN Cash System Basic Package
On top of the E-commerce training we've just talked about, you'll learn about Affiliate Marketing and how you can promote the VSN Cash System.
Learning the basics (beginner) – You will learn what the VSN Cash System is all about and how you can make money from it
Why Affiliate Marketing (beginner) – Understand what is affiliate marketing, and how it applies to the VSN Cash System
Info Marketing + Affiliate Marketing – Get connected to people by providing useful information, and then promote your affiliate products. That's the basis of Affiliate Marketing
Activate Your Affiliate Account (VSN Affiliate) – To earn commission from VSN, you have to activate your affiliate account
Promote Your Link (VSN Affiliate) Beginner – As a VSN Affiliate, you will be provided with a unique affiliate link. When people click on your affiliate link and joins the VSN Cash System, you'll earn a commission
Affiliate Forwarding with Godaddy (Advanced) – Teaches you how to buy a domain name from Godaddy (Desmond will earn a commission when you purchase a domain name through his link). With that domain name (like "yourwebsitename.com), you can redirect it to your affiliate link. To put it simply, when someone clicks on your domain name (yourwebsitename.com), that person will land on your VSN Cash System affiliate link
Fast Traffic to Your Page (very easy) – Buy a Solo Ad Traffic package from the VSN Cash System
Facebook Friend Script (Advanced) – How to get your Facebook friends to join the VSN Cash System. A basic script that won't get you anywhere.
Nothing Special in my opinion…
Again, there's really nothing special about this training.
Most information can be found freely on the internet. There's not even a step-by-step training to show you how to be successful with this program.
You see, I've reviewed hundreds of training programs over the years, and the ones that create the most success stories are the ones that instill a good working habit for its members.
Unfortunately, this training program is geared towards selling the VSN Traffic Package to its members.
The VSN Advanced Affiliate Marketing Training
Be prepared to add at least another $133 per month to your business expense.
Here's what you will learn with the Advanced Marketing Training:
Set up your Sales Funnel with Click Funnels ($97 per month for the basic plan)
Link it to Aweber, an autoresponder service ($19 per month for the basic plan)
Track your traffic and sales conversion through Click Magick ($17 per month for the basic plan)
Every step that you take, Desmond Smith will earn money.
If you sign up with Click Funnels through the link in the VSN Cash System, Desmond will earn 40% commission of whatever you paid for the service.
Aweber pays a 30% commission to its affiliates, and Click Magick pays a 35% commission.
A big part of this advanced training is the set up and linkage of accounts through the 3 platforms mentioned above.
You can find little marketing knowledge on how to actually structure your sales funnel, how to create your own video sales letter, etc.
I bet that you can't put together a high converting sales funnel with this training.
Because, there's really a lot of elements of a high converting sales funnel that this training fail to touch on.
My Sincere Advice to You
There are many people claiming that this is an awesome program to join, but they fail to mention this…
You will be sinking in a lot of money on the training programs, the internet marketing tools, Facebook Advertisements, and the traffic packages.
If you trust this program thoroughly, you'll probably be sinking in thousands of dollars up front with a few hundred dollars worth of monthly business expense.
The big question is, what do you get out of this if you fail? Will you become a better internet marketer? I guess not.
You see, I've reviewed hundreds of Internet Marketing Training programs over the years.
Programs that genuinely want you to succeed will teach you how to be an independent internet marketer.
Which means that you do not need to rely on someone else to drive traffic or make a sale for you.
Unfortunately, this program is geared towards people who are looking to make "fast money".
And, this "Fast Money" concept will most definitely cost you a fortune.
What I recommend…
If you are interested to know, there are a bunch of training programs I recommend for beginners (click to read review):
These are the programs that are genuinely there to help beginners succeed.
I've personally gone through hours and hours of training and I find them beneficial.
But in my opinion, the best out of the bunch is Wealthy Affiliate. It is the program that helped me eventually get out of the rat race.
You can read my humble story here.
Thank you so much reading this review, and I hope that you will make the right decision.
If you have some questions for me, please leave them in the comment section below.
Also, if you found this review helpful, please share it! You might be helping someone who is in need of this information.
Your pal,
Jack