Strong Future International Scam Finally Revealed!
The Strong Future International, aka SFI, is a veteran name in the online business industry. But recently, I am hearing a lot of rumors about Strong Future International being called a scam.
So what is the truth about these rumors? 
Should you join SFI or look for other alternatives instead? 
Can you make money with this company?
These questions and more shall be answered in this SFI review.
Review Summary
Name: Strong Future International aka Strong Future Income aka SFI
Owner: Gery Carson
Price: Free To Join
Recommended? Yes, but check this out too.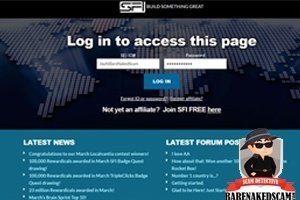 Income Opportunity Rating:
What is SFI?
SFI (Strong Future International) Marketing Group aka SFI or SFIMG, is an online business platform that was initially launched in 1998.
It is an online business opportunity that combines eCommerce, Affiliate Marketing, and MLM.
In its official website, SFI claims that when it started, the company only has one product sold in the United States. What product that is, SFI didn't specify.Today, SFI has more than 10,000 products and services that they are promoting in more than 190 countries around the world.
About the Company and Founder
SFI is the brainchild of Gery Carson; SFI President, CEO, and founder. 
Gery is a direct mailing and Internet marketing veteran with more than two decades of experience in the industry.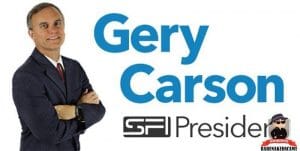 He was featured in various entrepreneur shows and magazines such as the "Money Maker's Monthly," "Upline," "Opportunity World Magazine," as well as in numerous books and inspirational videos.
In 1998, Gery's reputation began to shot off the roof by creating Strong Future International, which is known as Strong Future Income during that time.
SFI's headquarters are located in 620 N 48th St # 104, Lincoln, Nebraska, USA. You can learn more about every tiny detail of SFI, including the company's history here.
SFI Products and Services
SFI is one of the properties in something called the Zing Network. The other Zing Network brands are TripleClicks, Localvantia, Eager Zebra Games, Rewardical and Astro Auctions.
All the products and services you can find in any of these brands are affiliated with SFI.
How to Quit Your Job and Still Earn A Full-Time Passive Income From Home With Your Passion Or Interest. Click Here!
SFI Compensation Plan
The SFI compensation plan is a little tricky to understand with its complex point systems and commission structure. So I will avoid the jargon and present it in layman's terms.
However, I will also provide a direct link below so you can check out the technicalities and qualifications to be eligible for each earning programs.
Technicalities aside, there are three ways you can make money with SFI. These are through Affiliate Marketing, eCommerce, and MLM business models.
eCommerce
SFI has different online stores under the ZING NETWORK where they are selling their products.
By becoming an SFI member, you can earn money by selling and promoting SFI products in any of the Zing Network properties such as Rewardical or Localvantia. 
In addition to SFI products, you can also create your store and sell your own products in TripleClicks.
Learn more about how to start your eCommerce business.
Affiliate Marketing
If you don't want to sell products, you can simply promote and advertise SFI using your affiliate link or banner link.
Whenever customers purchase any SFI products using your affiliate link, you will earn a percentage from the total amount of the merchandise they are buying.
Learn how to become a successful Affiliate Marketer.
Multi-Level Marketing
The SFI MLM program is where the real money is. By recruiting more people to join the company, you will earn lifetime commissions from all their current and future earnings within SFI – up to seven levels deep.
Whether your directly sponsored SFI member/affiliate earns thru selling products or by building their own downlines as well, you will earn up to 50% in commissions. You will also get the chance to participate in SFI's Executive Pool my meeting some qualifications.
The MLM earning program is where I heard a lot of complaints about SFI affiliate scams going on. But is that true? More of that in a moment.This is the actual SFI compensation plan should you wish to learn more. Meanwhile, you can learn how to become successful with MLM and Network Marketing here.
How Much Can You Earn with SFI?
On the contrary to what most SFI affiliates are saying, there is no guarantee on how much money you can make with SFI. The company even emphasized this on their Disclaimer page.
Therefore, if you think that SFI is an easy way to make money online, you are mistaken.
However, SFI is kind enough to provide an Earnings Calculator so you will be able to know exactly how much can you expect to earn base on your activities.
How To Join SFI?
It is free to join and become an affiliate of SFI. You just have to go to their website and complete a signup form.
However, you will need to regularly meet specific monthly quotas to qualify in its compensation plan.
Either you sponsor new people every month or keep making sales to do so. In case you fail on both, you will have no choice but to reach down your pocket and purchase products from the company to qualify.
Good Things About Strong Future International
The SFI have some noteworthy attributes that I would like to mention on this review. These are:
#1 Solid Company Track Record
SFI is now in its 20th year. Surviving this long in the Internet Marketing industry is no small feat. This clearly means that some things are really going well inside the company that has proven to work for years.
Besides, SFI also maintains an A+ Rating in the Better Business Bureau.
#2 Dun and Bradstreet Member
SFI's parent company, Carson Services, Inc., is now in its 33rd year of business and is registered with Dun and Bradstreet.
#3 Company Transparency
I always admire a company that is transparent to the public, especially when it comes to its compensation plan and the people behind it.
SFI put a good effort in educating the public about what the company is, how it came to be, who are the people behind it, and how you can make money with SFI.
Strong Future International even presents a straightforward statement revealing how much you can expect to earn as one of its affiliates.
#4 Many Ways To Earn
Strong Future International provides its members and affiliates in different ways to make money online.
Depending on your preferences, you can generate an income using SFI thru eCommerce, Affiliate Marketing, or by recruiting people to the company.
My Concerns About Strong Future International
On the other hand, these are the things that you might want to put into consideration before you become an SFI affiliate.
#1 Company Name Change
I have mentioned at the beginning of this SFI review that the reason I decided to write this is that I saw several people claiming that there is indeed a Strong Future International scam going on.
So when I started my research, I discovered that this company used to call themselves as Six Figure Income back in 2014. I tried to look for the reason for this name change in the company's About Us page, but I found nothing.
Now I am particular about this matter because some pointed out the reason behind this is to avoid authorities.
Unfortunately, I did not find enough information about this matter, so if you are interested in joining SFI, this is one thing you might want to ask them to clear some issues.
If ever that there is an SFI affiliate who happens to read this, we would also like to hear your side. Feel free to utilize the Comment Section below.
#2 Pay To Play Business Model
Although you can join SFI for free, it isn't that hard to realize that you cannot make money on SFI unless you spend money first.
Unless you possess the skills to sell tons of products or recruit massive people to join the company…
You might have to spend your own money to keep up with the minimum requirements to retain your membership level and take part in SFI's compensation plan.
#3 Complex Compensation Plan
Talking about the company's compensation plan, I feel that the company should put more effort into making it as simple as possible. I spend a lot of time trying to figure everything out and yet I'm still confused.
I feel that it is too gimmicky and complicated that new members will have a hard time trying to figure out what they need to do.
#4 Overpriced Products
If you check out the products sold in TripleClicks, you will find out that most of them are ridiculously overpriced compared to the similar products in malls and supermarkets.
Anyone, even an expert online entrepreneur with a degree in sales would have a hard time convincing people to buy these products when they can buy much cheaper and even better ones someplace else.
#5 Heavy Emphasis on Recruitment
It is not surprising why many SFI affiliates prefer recruiting people with selling products because it is too hard to make sales.
This is why many affiliates are putting most of their efforts into recruiting people, and this is a dangerous practice for an online business.
The FTC clearly states that whenever your income depends on the number of people you recruit instead of the products you sell, then you are involved in a pyramid scheme.
I am not saying that SFI is a pyramid scheme. I am merely pointing out a scenario where it could be one.
Is SFI a Scam?
The answer to this question has something to do with how you define a scam.
For instance, if a scam for you is one company takes your money and gives you nothing in return, then SFI is not a scam since you can join for free.
However, if a scam for you has more profound meaning than that, say, not being given a chance to get the things as you are promised, then SFI might be a scam.
SFI promises that you can earn money, even generate a 6-figures income for free just by using their platform when, in fact, that isn't entirely true.
There are a lot of inconsistencies in SFI's statement about how much can you earn with its program.
On one side, the company makes it look like this could be your ticket to financial independence. On the other, it says that they cannot guarantee that you make any money at all.
Should You Join SFI?
That depends on your current priorities right now. If you have some time to spare and experiment if SFI could work for you, then go ahead and give it a try.
It's free to join so you have nothing to lose in terms of money. Just be careful not being caught in upsells though.
Meanwhile, if you are open to considering turning your passion or interest into an online business, then I highly recommend that you check out this program.
It is the program that has taught me and thousands of individuals with no knowledge or experience to become successful online. Here's my success story and income proof.
Thank you for taking the time to read this SFI review. I hope that this review had been useful to you.
If you found this article useful, please feel free to share it with others so that they can benefit too.
Also, if you wish to share your thoughts or opinions, please feel free to leave a comment below.
Until next time and as usual, I wish you all the best in the future.
Your pal,
Jay