Smart Crowd Review – 8 Things You Don't Know
On this Smart Crowd review, I will share with you if joining Smart Crowd is worth your time and how much can you earn with this company.
And what better way to give you the latest inside information about Smart Crowd than to become a member myself.
Base on my experience, I will discuss eight crucial things that you should know first before joining the Smart Crowd platform.
Review Summary
Name: Smart Crowd
Owner: Lionbridge Technologies, Inc.
Cost To Join:  Free
Smart Crowd Business Opportunity Rating:
WHAT I RECOMMEND: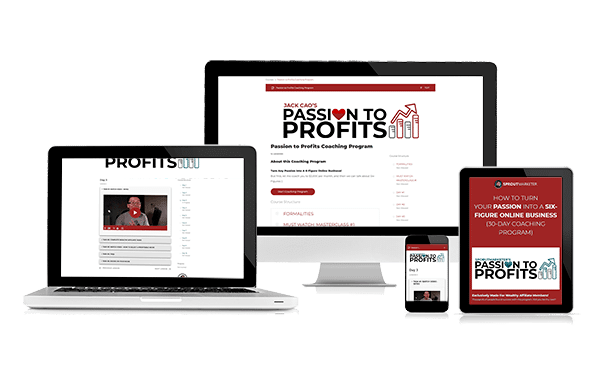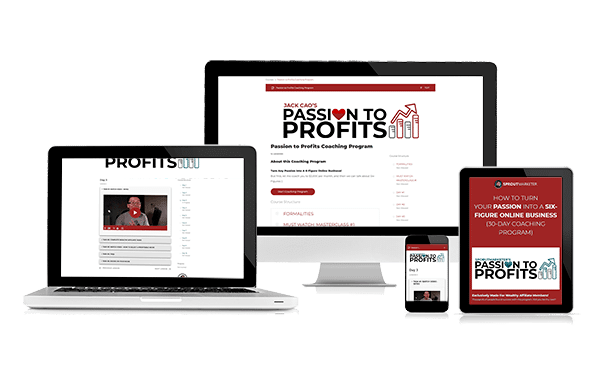 Turn Any Passion or Interest Into a Six-Figure Online Business
Smart Crowd is part of the Lionbridge data collection division. For those who are unfamiliar…
Lionbridge is an international company that provides work from home opportunities for over 20 years and has an A+ rating with the Better Business Bureau.
But let me make it clear that this review is specifically about Lionbridge Smart Crowd, not Lionbridge Technologies itself. That being said…
Can you make money with Lionbridge Smart Crowd? 
Could this be a source of a full-time income?
These questions and more shall be answered on this Smart Crowd review.
#1 What is Smart Crowd
Smart Crowd is a division of Lionbridge that hires freelancers for third party companies that they are affiliated with. 
Smart Crowd acts as the middleman between companies and freelancers/entrepreneurs in the same way how Clickworker and Be The Boss Network.
This is also the same how the legitimate GPT sites operates.
Note: Smart Crowd was previously known as Virtual Bee way back in 2001. 
#2 How To Make Money With Smart Crowd
As part of the Lionbridge data collection division, Smart Crowd tied up with some of the largest companies in the world for market research on how they can make their products and services better.
When you become a member of Smart Crowd, you will receive different online tasks base on your qualifications from third-party companies.
Completing these tasks will earn you cash, a little cash.
Man Earns A Six-Figure Income At Home After He Quit His Job. Here's His Secret!
#3 What Companies Are Affiliated With Smart Crowd
According to the Smart Crowd website (thesmartcrowd.lionbridge.com)…
The company is said to be working with Adobe, Canon, Caterpillar, CBS Interactive, Cisco, Dell, Expedia, Golden Living, and Google while I am writing this Smart Crowd review.
They also have tie-ups with HP, LRN, Microsoft, Motorola, Nokia, Pearson, Pfizer, Philips, Porsche, PTC, RIM, Rolls Royce, Samsung, Skillsoft, and the US Department of Justice.
However, many people are saying that joining Smart Crowd isn't worth your time at all. Find out why in the next sections of this Smart Crowd review.
#4 Skills Required To Join Smart Crowd
There are no specific skills or academic qualification required for you to join Smart Crowd. 
As long as you are efficient with a computer, have a stable internet connection, and at least 18 years of age, you can sign up to earn cash with Smart Crowd.
In general, the type of work that Smart Crowd provides can be divided into three categories. These are:
Data Services – These tasks involve typing, digitalizing data, cleanings, and updating data.
Global Testing – This task involves testing new products (software, games, mobile apps, etc.) from companies who want to make sure there are no glitches before its launching. A similar platform that offers the same is UserTesting.
Language Services – Include translating a website, reviews, videos, etc. into different languages.
Do you think you have what it takes to complete these tasks?
Then let's discuss how to join Smart Crowd.
Man Earns A Six-Figure Income At Home After He Quit His Job. Here's His Secret!
#5 Joining Lionbridge Smart Crowd
It doesn't cost anything to join Smart Crowd.
All you have to do is go to Smart Crowd website and click JOIN NOW for free.
However, you will need a valid email account to start. You will also be required to complete a signup form where you will have to provide your personal information such as these things below.
After that, you will receive an email to verify your account. 
You will then be asked to complete a series of skills evaluation test so Smart Crowd can determine the best jobs and tasks that are compatible for you.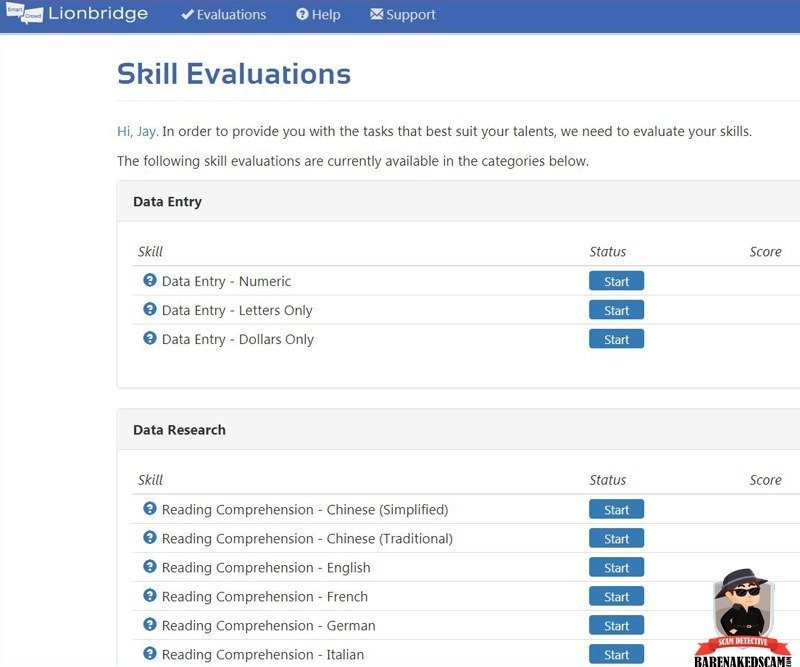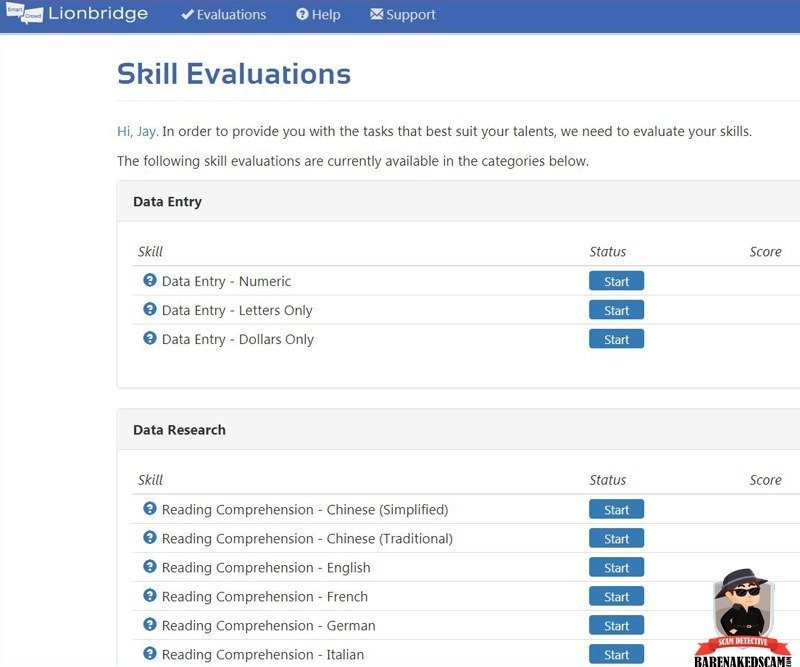 I take the first test (Data Entry Numeric), which requires me to type in 160 characters like the one in the image.
Once your evaluation is done, you will have to wait for Smart Crowd to assign a task for you.
Unfortunately, the amount of tasks you will get depends on your evaluation performance, your current residence, and the personal data that you provided.
This is where many Smart Crowd complaints came from. Some are even calling Smart Crowd a scam.
Apparently, many members are having a hard time getting even a single task in weeks, leading to little or no income at all! But more on this in a moment.
#6 How Much Can You Earn
When it comes to your potential income, the pay will differ depending on the task that you complete. It also depends on the length of the task and the company that provides it.
You will not be paid per hour, but per task that you complete.
On average, Smart Crowd tasks pays as low as $5 to $30. The more tasks you complete, the more cash you earn. And most tasks usually requires at least 30 minutes to complete, some could consume several hours of the day.
Also, take note that you are not employed directly by the Smart Crowd. You are a freelancer or independent contractor, like in GPT sites.
Smart Crowd pays process payments "ONCE" a month per account, and PayPal is one of the go-to options.
Earn A Full-Time Income At Home With The Same Amount Of Time You Put To Smart Crowd. Here's How!
#7 Is Smart Crowd a scam
Lionbridge Smart Crowd is not a scam. This is a 100% legitimate platform where you can make money online.
But does this mean that you should invest your time on Smart Crowd?
#8 Should You Join Smart Crowd
Smart Crown might be legitimate, but when you are looking for a way to earn a full-time income, you might be disappointed with Smart Crowd.
Because third party companies are looking for a specific group of people, you might not get a lot of online tasks with Smart Crowd to earn enough money.
This is also one of the many issues with GPT sites.
On the bright side, joining Smart Crown means you have total control of your time and schedule. You can work anytime and anywhere as long as you have a computer and an Internet connection.
You could make Smart Crowd your part-time source of income while you go to work or manage your business.
Or you could outright find an alternative opportunity where you could earn a full-time income while you stay at home.
Nevertheless, it is not my place to tell you what to do with your time.
To help you make an informed decision on whether or not you should join Smart Crowd, check out my pros and cons list below.
Earn A Full-Time Income At Home With The Same Amount Of Time You Put To Smart Crowd. Here's How!
Smart Crowd Pros and Cons
PROS
Free to join
Time flexibility
No skill requirement
CONS
Hassle evaluation tests when you start
Income potential is meager
You won't always have a task/work
While You're Here: Check Out My #1 Online Business Recommendation
My Humble Advice
It is possible to make money online with Smart Crowd.
However, your income potential will be meager, and therefore, you shouldn't consider this as a source of full-time income.
There is also no guarantee of regular tasks with Smart Crowd, and there may be months when you only get 2-3 tasks. How are you planning to pay your bills then?
If you are really keen on joining Smart Crowd, I suggest that you join similar online opportunities too, like GPT sites such as PrizeRebel.
That way, when you have no task in Smart Crowd, you can still earn a few bucks elsewhere.
But what if what you're looking for is a way to make a full-time income at home?
Smart Crowd Best Alternative
Well, if you are willing to spend an ample amount of time each day completing online tasks that pay you cents…
Why not start your own online business and make money base on your passion and interests?
Turn Your Passion Into A Six-Figure Income Online Business! Here's How You Do It!
I know of an online business program from which many ordinary people, even complete beginners, were able to earn a six-figure income. Much like this guy!
This program involves affiliate marketing, and the best part is, you will be guided and mentored adequately by people who successfully made money with this program.
If this interests you, you could start today for free!
Before You Leave: Check Out My #1 Online Business Recommendation
Final Words
Thank you for taking the time to read this Smart Crowd review. I hope that this has been useful to you.
If you feel that this could help other people too, kindly share this with them.
Meanwhile, if you want to discuss more about Smart Crowd, drop a comment below.
Until here, and I wish you all the best in your future endeavors. 
Best,
Jay
FREE COACHING PROGRAM
TURN YOUR PASSION INTO A SIX FIGURE ONLINE BUSINESS
Finally! A Proven Step-by-step Method To Earn A Six Figure Income Online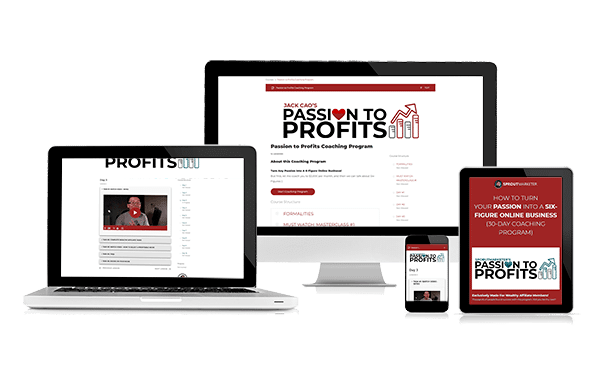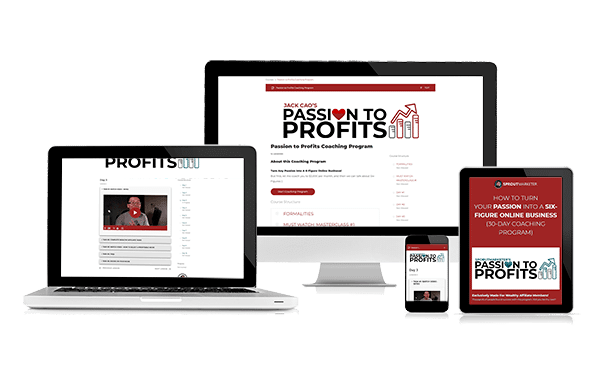 Claim Your Free 10 Day Passion to Profits Course…