Rewarding Ways Review – My Personal Experience with the Platform
I'm guessing you found Rewarding Ways as you're looking for a way to earn extra cash online, but you're worried that it is a scam and you'll just end up wasting your time and effort.
I've been there, and to be honest, I'm no stranger to the disappointment of completing various tasks only not to get paid in the end.
So in this Rewarding Ways review, I'll share with you my actual experience on this site so you'll know exactly what to expect when you join too.
But I'll be upfront, you can't expect to earn a reliable income from this platform. I'll explain why in this video…
In case you are looking for a reliable part-time income source that could possibly replace your full-time job, then I'll highly suggest that you check this out.
Nevertheless, let's find out what Rewarding Ways has to offer…
Review Summary
Website: rewardingways.com
Owner: 99 Venture LTD
Price to Join Opportunity: Free to Join
Recommended? No, because you might just end up wasting your time. You may want to check this out instead.
Overall Income Opportunity Rating:
Quick Summary: Depending on where you live, you might not find this site worthy of your time. While it is free to join Rewarding Ways, you might also not earn any money because there is a high chance that you'll only get disqualified from the surveys and offers in the end. 
Completing surveys and offers are the best paying tasks on this site but in my case, I didn't earn anything else other than the $0.20 signup bonus,  and I'll discuss all the details below.
But here's the deal.  Even if say, you do qualify for the tasks, you can never expect to earn a reliable income from Rewarding Ways because you're mostly only getting paid with pennies and there's also no guarantee that you'll get tasks every day.
Nevertheless, Rewarding Ways is a legitimate site and there are also people who have managed to earn a few extra bucks while spending time on this platform.
What is Rewarding Ways all about?
Rewarding Ways is a Get Paid To (GPT) site owned by 99 Venture LTD, the same company that owns other GPT sites SuperPay.me and Offernation.
A GPT site is a platform where you will "Get Paid To" complete various online tasks, the most common of which is completing surveys.
Aside from paid surveys, Rewarding Ways will also pay you money for completing paid offers such as product/service trials and installing apps. You can also earn by clicking ads, watching videos, and referring new people to the platform.
Now, you might be wondering, how can Rewarding Ways pay you money when you joined for free? Isn't this all too good to be true?
Well, how it works is that Third-party companies hire Rewarding Ways to provide them with valuable data on how their products and services appeal to consumers.
Rewarding Ways will then allow average people like you and me to join their site to be the source of that valuable data. 
Every time you complete a survey, an offer, or any task, the third party company that provides that task will pay Rewarding Ways, and Rewarding Ways will share some of that fee with you.
That's why you can earn money from GPT sites even if you joined for free.
There is a misconception that if an opportunity is free to join, it is automatically a scam. As I already explained to you, that isn't always the case, especially with legitimate GPT sites.
Rewarding Ways also partnered with other GPT sites to provide you with more additional income sources. 
So don't be confused when you click a task, and you will be required to sign up to a different GPT site like Your-Survey and asked to complete a survey there.
In some ways, this side of Rewarding Ways is similar to how some "sketchy" GPT sites like Survey Voices, Gold Opinions, Click 4 Surveys, and Get Cash For Survey operates.
Is Rewarding Ways Legit?
There's plenty of proof on the Internet that Rewarding Ways is not a scam. 
This site pays it users regularly, and in the platform itself, Rewarding Ways publicly shows the account names of the users that gets paid.
Although, I wasn't able to verify if these people are indeed real users.
But what stands out for me about Rewarding Ways is that you can request payment even if you only earn $1, unlike the similar platforms (including my favorite GPT site) where the minimum cashout threshold is usually $10.
I snipped the image above from one of the user review on YouTube. The amount is only $0.98 because of the 2% PayPal transaction fee but it really does appear that this site pays its members.
Rewarding Ways has also been around since 2010, and I don't know how much faith you have in Trust Pilot, but 93% of the Rewarding Ways reviews you can find there up to date are positive.
Of course, some users found their Rewarding Ways experience not so rewarding, which I will discuss in a moment.
And despite it being a legit GPT site, you got to keep in mind that this is not a reliable source of income, and there is no guarantee that you will earn money every day.
In fact, you might not even earn anything at all!
How do I know? Let me show you…
My "Not so Rewarding" Experience with Rewarding Ways!
There are various ways to make money with Rewarding Ways, and I'll go through each of them for you.
1. Paid Surveys
This is the most common way to earn from a few cents to sometimes a whole dollar with Rewarding Ways.
Some surveys can be completed as quickly as 5 minutes, while others may last for over 40 minutes.
In most cases, the time it takes for you to complete the survey directly reflects the amount you earn.
One good thing about Rewarding Ways is that it has a lot of survey partners, so there's quite a lot of surveys you can find. 
I get 6 surveys on my first day, which sounds very good, right?
Imagine getting paid $0.50 on each of them, that's already $3 on my first day on surveys alone.
I was so excited only to find out later that I didn't qualify in all of them!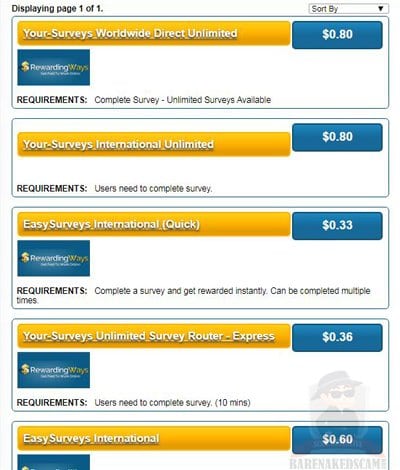 Even after I went through the hassle of providing every information that they asked for.
All I got for my efforts are messages like "no more survey" even if I haven't competed one yet, "survey is not available in your country," or the "survey didn't match" for me.
But who knows, you might get lucky and qualify for a lot of surveys. That is also possible.
​
After all, Rewarding Ways made it clear that your current location, gender, or age, directly affects your chance to qualify for surveys and offers.
I also tried to come back in a later time hoping I would get another set of surveys but to no avail.
So on my first day, I didn't earn anything with paid surveys in Rewarding Ways.
Learn How to Realistically Earn a Full-Time Passive Income From Home. Click Here!
2. Taking Offers
On the tab that says "Offer Walls," you'll find various offers from third-party companies like OfferToro, Acorn, etc.
​
Most of these offers are free, but others may require a small payment or your credit card information, so make sure to check the exact conditions before you take any of them.
The amount you can earn through the Offer Walls varies from one offer to another. Some will also reward you in cash while others are in points.
The offer I clicked from OfferToro promised to give me 15 points. You might think that's a lot, but in reality, 15 points merely translate to $0.15.
And when I started to complete the offer, the page won't load, no matter how many times I refreshed it.  I haven't been able to verify if its just me or others also have this problem.
I tried clicking another offer, but it says it's not available in my location. 
So, no luck in making a few bucks with offers too.
3. Referrals
Another income source in this site is by inviting people to join Rewarding Ways, also known as referrals.
To earn referral rewards even from someone you don't know, you just have to share your referral link on your social media accounts.
When someone joins Rewarding Ways using your link, that person will become your referral, and you'll earn 25% from each individual earnings of your referrals as long as they remain active in the platform.
To be honest, I didn't bother sharing my link out there based on my experience with the paid surveys and offers above.
I feel that there are other better GPT sites out there that might be more worthy of your time.
4. Clicking Ads and Watching Videos
There are said to be paid ads that you can click on Rewarding Ways. Users say that some of them are just plain texts, and you'll just have to type in CAPTCHA, while others are short videos.
I haven't found any clickable ads, but when I click on one of the videos, I got this:
5. Promo Codes
Rewarding Ways has an active community on both Facebook and Twitter. 
Every now and then, the company is said to publish promo codes, and you'll earn a couple of cents if you redeem them.
At the time I was writing this Rewarding Ways review, there are no promo codes available to redeem yet.
6. $1,000 Cash Contest
Rewarding Ways runs a cash contest every 3 months, where the top 20 members based on earnings will get a prize. The total prize pool is $1000.
The first price will be $350 for the person who makes the most money on the platform. The remaining $650 will be shared with the remaining 19 where higher ranks get bigger shares, and the bottom 10 will get $10 each.
Obviously, based on my first-day experience with Rewarding Ways, where I manage to earn a whopping zero dollars after spending hours in the platform, being part of the top 20 is just a dream for me.
It would have been fine even if I don't get in the top 20 or even in the top 100, as long as Rewarding Ways will do a better job to make sure that I will qualify for the surveys and offers assigned to me and actually get paid for my time.
Won't you agree?
Now, I want to make it clear that these are all based on my experience and I'm in no way saying that you will suffer the same fate as me when you join Rewarding Ways.
I am merely showing you one of the possibilities, okay? And if you have any thoughts on this matter, feel free to leave a comment below.
Who can join Rewarding Ways?
Anyone of age 18+ all over the world can become a member of this GPT site for free.
However, there can be a huge difference in the number of surveys and offers that you'll get and qualify depending on the country you live in.
To join, you have to go to the Rewarding Ways website, provide a valid email account, and complete a signup form.
Once you verified your account with the email you provided, you'll earn a $0.20 bonus in your account.
Needless to say, the $0.20 bonus is the only highlight in my Rewarding Ways experience.
Rewarding Ways Payout Options
Members of this site have the option to can cash out their earnings using PayPal, Skrill, Tipalti, Bitcoin, or with Amazon Gift Cards. 
But while you can cash out for as little as $1, there will be transaction fees that you'll have to shoulder.
Paypal & Skrill – 2% fee
Tipalti – $1 Flat Fee
Bitcoin – 5% Fee
You also have to earn a minimum of $40 to cash out in Bitcoin.
My Two Cents – Should You Join Rewarding Ways?
I believe that the answer to this question depends on a few things, and that includes your personal goals of joining this platform.
On one side, Rewarding Ways is a legitimate GPT site, and it offers multiple ways for you to earn some extra cash online, especially if you're currently living in a country where there are plenty of surveys and offers for you to participate in.
This site is also among the few I know that provide fast payout and low cash out threshold to its members that if you earned at least $1 today, you'd have that money in your pocket tomorrow.
But on the flip side, you can never expect to earn a full-time income with Rewarding Ways.
And even if you get a lot of offers and surveys, you are basically trading your valuable time for cents. 
Remember, you'll never get back the time you invest in making cents, so why not use it to earn a full-time income? Does it sound appealing to you?
If Rewarding Ways is not the income opportunity you're hoping for…
If at this point you've realized that you'd rather not get involved with Rewarding Ways due to the reasons above, but you are still looking for other ways to earn money…
Then I highly suggest that you check out this program.
It's the same program that has taught thousands of individuals how to earn a full-time passive income from home even as complete beginners. Here's my success story with the program.
Thank you for taking the time to read this Rewarding Ways review. I sincerely hope that this has helped you decide on whether or not it is worth joining this GPT site.
If this review helped, please share it with other people you know so they too can benefit from this information.
And, if you'd like to share your opinion about Rewarding Ways, feel free to leave a comment below.
Until here, I wish you all the best in whichever path you choose towards your financial goals.
Your friend,
Jack