Is OfferNation Legit? – Can You Really Make Money Online Free?
So, you've come across OfferNation as you're looking for ways to earn extra cash online, and now, you want to make sure that it isn't a scam.
As you might already know, OfferNation claims to offer you an "easy" way to make money online for free!
But does it actually live to its promises, and is Offernation a legit opportunity?
Well, I joined the site, and in this review, we'll mainly be discussing its legitimacy, your income potential, and whether or not joining OfferNation is worth your time.
That being said, let me be completely honest with you. You can't expect to earn a lot of money in Offernation and here's why…
And if what you're looking for is a reliable part-time income source that could possibly replace your full-time job one day, then I'll highly suggest that you check this out.
Anyways, let's find out what OfferNation has to offer…
Review Summary
Website: offernation.com
Owner: 99 Venture LTD
Price to Join Opportunity: Free to Join
Recommended? No, because you might just end up wasting your time. You may want to check this out instead.
Overall Income Opportunity Rating:
Quick Summary: Your current location highly affects your potential income when you join OfferNation. If you're living outside the US or the UK, there is a good chance that you'll have trouble getting any surveys and offers that you'll hardly make any money.
But even if let's say you do get a lot of tasks to complete, you should know that you're only getting paid with pennies. There is also no guarantee that you will get a regular number of surveys and offers each day so you cannot expect a reliable source of income from OfferNation.
Nevertheless, you can join this site for free but whether or not its worth your time is what we will discuss below…
What is OfferNation?
OfferNation is a Get-Paid-To (GPT) site owned by UK-based company 99 Ventures. 99 Ventures also own a couple of other GPT sites like Superpay.me and Rewarding Ways.
But what is a GPT site?
A Get-Paid -To or GPT site like Offernation is a platform where you can join for free, and "get paid to" perform various online tasks.
The most common of these tasks are completing surveys, taking offers and deals, watching videos, clicking ads, and even playing games! 
You'll also earn money every time someone joins OfferNation through your referral and when that person completes tasks on the site as well.
Now, how does OfferNation generates revenue to pay you when you joined the site for free? Here's how it works.
Third-party companies hire OfferNation for research data on their products and services from real consumers.
OfferNation will then allow average consumers like you to join the site for free to gather research data.
The tasks like the surveys and offers you complete are all provided by third-party companies, and when you complete a task, OfferNation gets paid. 
Then, a small part of the fee earned by OfferNation will be used to pay you, which is why you can earn money from this site even if you joined for free.
And on top of the tasks provided by third-party companies, OfferNation also offers surveys from other GPT sites like Your-Survey, Tap Surveys, and SurveyTime.
So don't be surprised if you will be taken to another GPT site member's page as you try to complete a task in OfferNation.
Now, this side of OfferNation is very similar to how "shady" GPT sites like Gold Opinions, Get Cash For Survey, and Take Survey For Cash.
Nevertheless, it is indeed possible to make money online for free with OfferNation.
How much can you earn with OfferNation?
On the Payment Proof page of OfferNation, it appears that users are earning between $1 to a little over $10. 
Although I'm pretty sure that to earn over $10 with this platform takes a lot of time, and I will discuss why in a moment.
OfferNation accepts members all over the world, which is evident by the actual payment proofs provided by other members.
However, your actual income potential with OfferNation has something to do with your current location.
While it's possible to earn a few bucks from this site every day, chances are if you're living somewhere outside the US, UK, Canada, or Australia…
You'll have trouble getting tasks to make money. Here's why…
How to Make Money Online with OfferNation?
Your three primary income sources in OfferNation will be through Paid Surveys, Offer Walls, and Referrals.
OfferNation Paid Surveys
As the name suggests, OfferNation will provide you with various surveys from which you can earn money from.
These surveys are either given by third-party companies or by another GPT site.
Right after I joined OfferNation, I immediately got 13 surveys that pay between $0.50 to $.080 each. Lucky me, right?
I was thinking from these 13 paid surveys alone, its safe to assume I'll earn at least $5, which is not bad.
However, my excitement was immediately replaced with disappointment in what happened next.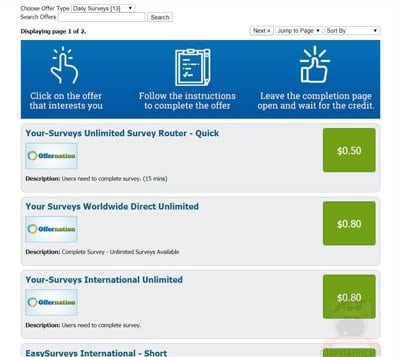 The first survey I clicked was Your-Survey that's supposed to pay me $0.80, but after I provided the information asked, it says there are no surveys available for me.
Well, at least I still got 12 more surveys I said, and it's not uncommon for this thing to happen in GPT sites.
However, as I clicked through the rest of the paid surveys…
Either "there are no surveys available," or the survey is "not available in my country," or the survey "didn't work out."
Long story short, I got rejected in all the 13 surveys I got on my OfferNation dashboard. ​
And after spending more than an hour trying to provide personal information on the said surveys, I ended up not getting even 1 cent for my time and effort. Nada!
In my opinion, OfferNation should do a better job in screening the surveys based on the information I provided when I joined the site, so things like this don't happen.
But so we're clear, I'm not saying that you'll experience the same issue when you join OfferNation, okay? I'm just saying, based on my personal experience, it is a possibility.
Offer Walls
In the Offer Walls section of the dashboard, you'll find various offers, ads, and deals from companies like Peanutlabs, OfferToro, Adgate, Acorn, etc.
I heard that watching video offers is one of the easiest ways to make money with OfferNation, so I did that. However…
I browsed through the rest of the offers, and while I still got disqualified in most of them, I'm guessing its because of where I live, I finally found one that worked.
I earned 2 points after completing an offer for about 10 minutes from Tap Research.
​
However, as I checked the conversion of points to cash, I was appalled to know that 2 points merely translates to $0.02!
I completed that offer in about 10 minutes, so based on that rate, a few more of these offers, and I can earn $0.12 an hour. 
I know, not really the income you're hoping for. Well, at least this time, I got something for my time, right?
Referrals
You can also earn money in OfferNation by inviting people to join the platform.
When you join the site, you will be given a referral link that looks like this:
You can share this link on your social media accounts, or blog if you want, and every person that joins OfferNation using your link will become your "referrals."
Every time your referrals cash out or withdraw their earnings from OfferNation, you'll receive 25% of that amount.
But to be completely honest, I didn't share my referral link because based on my experience with OfferNation, I think there are better GPT sites out there that are more worthy of your time.
$1000 Contest
Every three months, a $1000 prize pool will be given to 20 top-earning users of OfferNation.
But this contest highly favors people who are living in countries where plenty of surveys and offers are available because then, you'll have a lot of ways to make money.
In my case, I didn't even earn $1 in one day with OfferNation, much more become part of the top 20.
But once again, I'm not saying you'll share the same fate with me should you join OfferNation. After all, the site made it clear when you join that your income potential will greatly depend on your current location, age, and gender, among other things.
And to be honest, I see nothing wrong with that since third-party companies that provide these surveys and tasks are after a specific target market, so it only makes sense that you won't always fit the bill.
However, what OfferNation should have done better, in my opinion, is to properly filter the surveys that they gave you so you won't end up wasting hours of your time completing surveys that disqualify you in the end.
But this is my opinion, and if you'd like to share yours too, you can leave a comment below.
OfferNation Payout Options, Good but..
One thing that really stands out for me about OfferNation is that the site provides convenient and fast payout options to its members.
You can withdraw your earnings from PayPal, Skrill, and Bitcoin. 
And unlike other GPT sites that requires you to earn at least $10 before you can request payment, OfferNation will let you withdraw your earnings for as low as $1!
Unlimited withdrawals are also allowed per day, which means, if you earn at least $1 in the morning, you can withdraw it. If you make another $1 in the afternoon, you can immediately withdraw it as well.
But all these things don't really matter if, like me, you can't get qualified for surveys and offers.
How to Join OfferNation?
Anyone of age 18+ all over the world can join OfferNation for free.
You just have to go to the OfferNation website, provide a valid email account, and personal details, and then you can start making money.
Also, right after your signup, you will be given a $0.25 as a bonus which means you'll only need $0.75 more to get your first cash out.
But as I have discussed in this OfferNation review, there can be a huge difference in the number of surveys and offers that you'll get and qualify depending on the country you live in.
Verdict – Should You Join OfferNation?
While it is really possible to make money online for free with OfferNation, I believe that this GPT site best suits people who are living in the US or UK or nearby territories.
If you're living somewhere in Asia like I am, there is a good chance that you won't qualify for any surveys, and you'll just be wasting your time.
And even if let's say that you do get a lot of offers and surveys, what really happens is that you're trading your valuable time to earn pennies.
I don't want to be cynical, but remember, time spent is time lost.
And if you're willing to spend time just to make pennies, why not use it to earn a full-time income?
Nevertheless, whether you find OfferNation worthy of your time and effort is up to you, but I believe you'll choose the path that's best for you.
​
If you've decided that OfferNation is not worthy of your time, but you are still looking for other ways to earn money online…
Then I highly suggest that you check out this program.
It's the same program that has taught thousands of individuals without any prior knowledge or experience to find success online. Here's my success story with the program.
Anyways, thank you for taking the time to read this OfferNation review. I sincerely hope that this has provided you the answers that you're looking for.
And if this review has been useful, please share it with other people you know so they too can benefit from this information.
Furthermore, if you'd like to share your thoughts or opinions on OfferNation, feel free to leave a comment below.
Until here and whichever path you choose towards your financial goals, I wish you all the best.
Your friend,
Jack