Is Get Cash for Survey a Scam? – Exposed!!!
Name:  Get Cash for Survey
Website:  www.getcashforsurveys.com
Price: $37 + Upsells
Owners: Gary Mitchell
Bare Naked Scam rating: 3 Thumbs Down
#1 Recommended Online Business Training with Proof: Click Here
Get Cash for Survey – An Overview
---
I'm pretty sure if you are looking at this review you are looking for a way to make money online and you want to find out whether Get Cash for Survey can be an alternative source of income for you. Sadly to say, this program is nothing but a place that houses several online survey companies.
Technically, there is nothing wrong with the setup of the program but when it charges $37 for the entrance fee when there are no value added services, it just doesn't make sense. Moreover, you will be coaxed to purchase products which you do not need. I will expose this to you later.
To me, Get Cash for Survey is just another program put together to exploit unknowing people like yourself. There is no actual value to this program, it merely exists to sell you other products. If you have purchased any products within Get Cash for Survey, the owners of the program will make a commission, by the way.
As for the Survey itself, I will be very honest with you, you will be spending a lot of precious time just to make several bucks. The time and effort wasted just for the few dollars do not cut it to be another income stream for you. You may be able to make a few hundred bucks a month doing the survey but it may take you up to 8 hours a day to achieve that result. Unless you are just taking these surveys for fun, I suggest you do not waste your precious time on those Surveys.
Can you really make money with surveys?
---
I am positive you can, but is it worth your time to do it? Most of these surveys are long and it takes probably 30 minutes to an hour to complete. You will probably make $5, or worst, you earn points in exchange for gifts.
If you are doing the survey for fun then by all means go ahead, but if you are someone who cannot afford to be wasting time or you are a sole breadwinner, then doing survey for cash is probably not a good option for you.
Check Out My Secret to Make Money Online
An Overview of the program and its panel of Online Survey Companies
While some survey companies offer many surveys for you to complete, some restrict the amount of Surveys you can do in a month. You must be wary that not all surveys will pay you, you have to do your own due diligence before you waste your time on the survey.
Basically, Get Cash for Survey consist of approximately 50 survey companies. No matter where you come from or what country you select, it is basically the same. See Below:
Just keep in mind that each survey that you complete, the owner of Get Cash for Survey will get a commission. So you are unknowingly wasting your time and effort for someone else.
Get Cash for Survey  – The Downsells & Upsells
---
The Downsells
You should be fimiliar with this page below:
Downsell 1: Right after you enter the "Discount Coupon Code", your price to enter the program will be slashed by half immediately from $74 right down to $37. A great deal? I guess not…
Downsell 2: If you tried to close the browser and you clicked on the "Stay on this page", your price will immediately be reduced to $27.
Downsell 3: Repeat the same step in "Downnsell 2" and your price will be reduced to $12. Ever wonder why they reduce the prices in such manner? It is because they want to make a quick buck from you.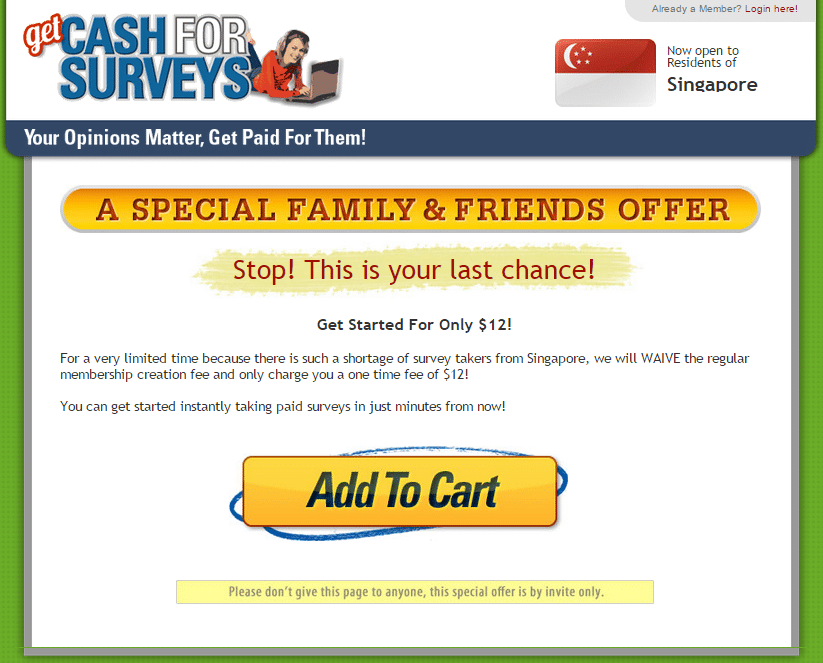 I'm sorry for being blunt in this review. I am not usually this blunt but when it comes to a program that doesn't make any sense it makes me a little fiery. I just want to ensure that your interest is protected.
The upsells
Here comes the upsells:
Upsell 1: E-Books
Right after your purchase into the program, you will be brought to this page:
$77 for 6 e-books? Let me show you what is the exact cost for each of these books.
Ebook 1: Blogging Professional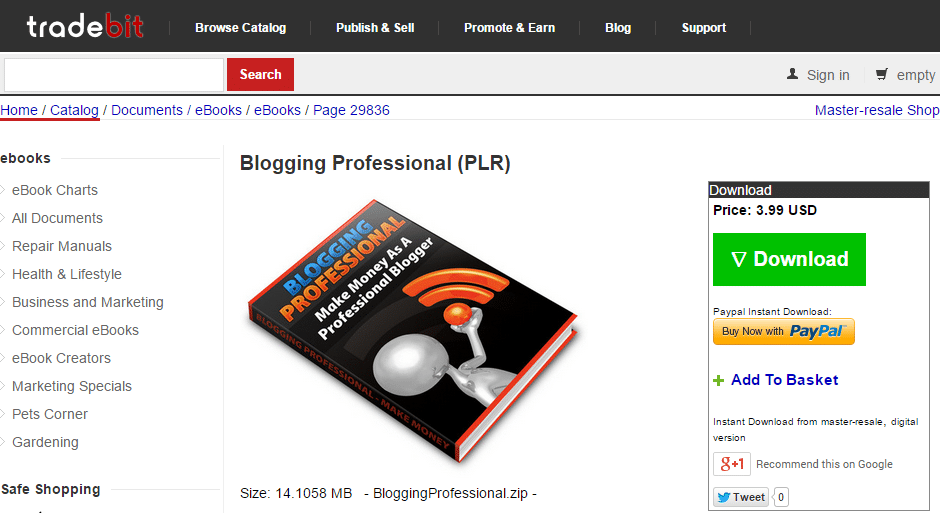 Ebook 2: Google Adwords & Adsense Made Easy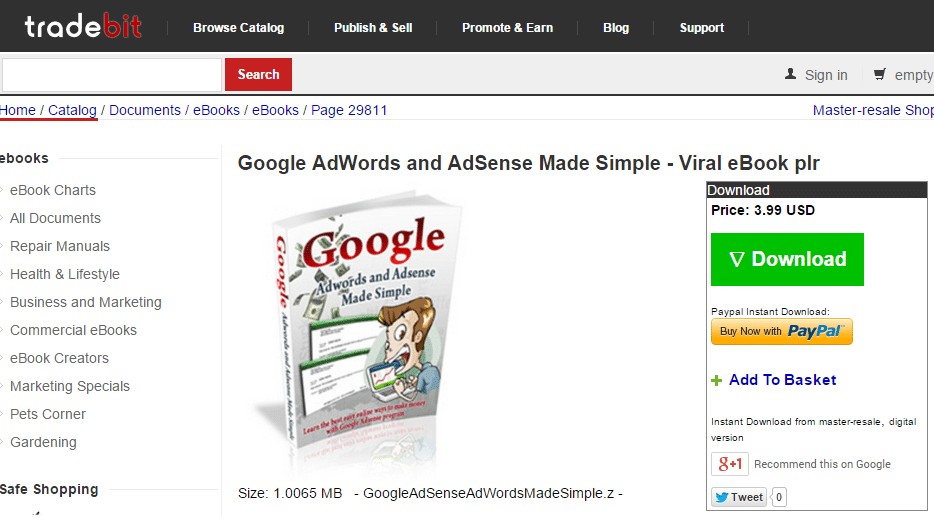 Ebook 3: Twitter Profits Unleased
You get the idea right? How cheap you can actually get the book for? All these ebooks are Private Label Right (PLR) products, in other words, these PLR books are written by someone who had given up their rights for a profit. Basically, anyone can buy these PLR ebooks and sell it to others.
If you are unfamiliar with PLR ebooks, let me tell you that most of them are of low-quality. The information in the ebooks are either outdated or do not produce any results.
But wait a minute, aren't you supposed to be doing surveys for money? Why is the program trying to sell you ebooks with no relation to your surveys. If you think this is unrelated, take a look at the second upsell.
Upsell 2: 7 Day Millionaire
Now, 7 Day Millionaire is a binary system trading platform. If you are not familiar with trading then let me tell you, you may lose all your money within seconds if you are really that unlucky, no joke!
I have been there and done that. I have past experience trading foreign exchange currencies and within minutes I lost between $3k to $4K. Though some might argue that foreign exchange and binary trading are different, I think they belong to the same family in terms of risk.
If you decide to take on the challenge to be a binary trader, you have to fund your initial account of $250. You must note that once your account has been funded, the owner of Get Cash for Survey will make a commission. 7 Day Millionaire is an affiliate program. If you are not sure what is an affiliate marketing click here.
I mean, where is the correlation between these upsell products? From making money doing surveys to Affiliate Marketing to Binary Trading, there is just no link to each other. It is like mixing trance music with pop and techno. It is just horrible!
Discover the world of Affiliate Marketing and learn how you can build a successful online business. Click here!
My Sincere Advice to You
---
Get Cash for Survey is like a mega store of survey websites. The owner of the program simply packaged a bunch of survey websites together with a bunch of upsell products and sells it to you. There is simply no value to the program, which is why I am totally against it (Normally, I would still give a small credit if there were some value to the program).
So, if Get Cash for Survey is not a good option than what is?
Well, if you are still looking for ways to make money online, I would suggest that you take a breather and educate yourself before you jump into action. Education is one of the criteria to be successful. Without proper education and guidance, most people will fail, give up hope and return to their day job. They do not discover the gem in the rough.
Stop looking for opportunities, create one for yourself. I would suggest that you take the same course as I did. This was the place that got me started. I am thankful for all the information and Knowledge given to me.
If you have any experience with Get Cash for Survey, do share your experience with me by leaving a comment below. Your comment helps people to better understand what exactly Get Cash for Survey is. If you find my article informative, please help to share it by clicking on the social media buttons below. Each share will help more people understand what this product is.
Your pal,
Jack