Mobile Money Code Scam – Greg Anderson clearly lying!!!
Name:  Mobile Money Code
Website:  www.mobilemoneycode.com
Price: $49 + Many upsells
Owner(s): Ronnie Montano
Bare Naked Scam rating: 3 Thumbs Down
#1 Recommended Online Business Training with Proof: Click Here
Mobile Money Code – Stripped Bare Naked!!!
---
Stop whatever you're doing right now, and pay very close attention because I am going to scam the hell out of you till your last single dime by the time you finish this video. This is the exact words Greg Anderson said in the Mobile Money Code introduction video. Literally! I'm serious! Lol! Ya right… I'm kidding! If he did that, he probably won't be making any money with Mobile Money Code.
But let me be very honest with you, if you trust what Greg Anderson is saying, you will lose a lot of money! You see, I am not those people who will categorize a product as scam based on its cover, I will buy the product and personally experience it before I pass my judgement and comment on the product.
The main reason I categorize Mobile Money Code as scam is because Greg Anderson clearly defines Mobile Money Code as a four click system that will generate money for you instantly in the introduction video. It is sad that so many people fall for this kind of trick. There is no such thing as a 4 click money generating system in this world, it is all but a marketing gimmick that entices you to purchase Mobile Money Code.
I have personally wasted 2 hours of my precious time going through the introduction video and the upsell videos that follows. The entire introduction video takes about an hour and it did not disclose any bit of information of what Mobile Money Code is all about. it simply features 3 "ordinary" person, Sandy, Paul and Jonathan who are Greg Anderson's "test subjects" to test on the Mobile Money Code System.
Discover the world of Internet Marketing and Learn how YOU can start YOUR OWN online business! Click here.
Greg Anderson simply asked Sandy, Paul and Jonathan to click on a few buttons and poof, money into the bank account within minutes. Unbelievable right? Exactly. Because none of it is true. Sandy, Paul and Jonathan are not "ordinary" people, they are professional actors hired to make you believe Mobile Money Code really work, but if fact it doesn't. Nowadays, it is so easy to hire an actor to act on whatever you want, probably pay a few hundred dollars and you are done for.
What you didn't know is that Greg Anderson is a professional actor as well. What? So who is the owner of Mobile Money Code? It is Ronnie Montana, the same owner of Tube Cash Code, e Mobile Code, Commission Cash Code and a few more. These products uses the same kind of marketing techniques (few click money generating system), same kind of scripts, only different actors.
Now let me dive right in to my experience with Mobile Money Code.
To Login to the Members Area – forces you to watch all upsell videos!!!
---
Right after you made your initial purchase, you will be slammed with a few up sell videos. What irritates me is that Greg Anderson forces you to watch through his video before he provide you with a link to either buy the upgrade or skip to the next video. Skipping to the next video forces you to sit through another long sales pitch again. OMG!!! I can't stand it.
Greg Anderson is selling you stuff like done for you businesses which basically are Private Label Rights (PLR) Products. Anyone on the internet can buy these PLR products at a low price and sell these products at a higher price. Most or probably all of these PLR products are either of low quality or outdated. These businesses are downright unethical to sell.
What's worse is that one of the link in the upsell video is broken. You can't proceed further into the member's area. So, guess what I did? I went straight into the members area by typing "mobilemoneycode.com/members" in my internet browser instead but to find that I do not have my username and password.
So for any of you who are facing the same trouble as me, I would suggest you follow the steps below. When you first made payment, you will receive a receipt from ClickBetter (a digital product market place). And then…..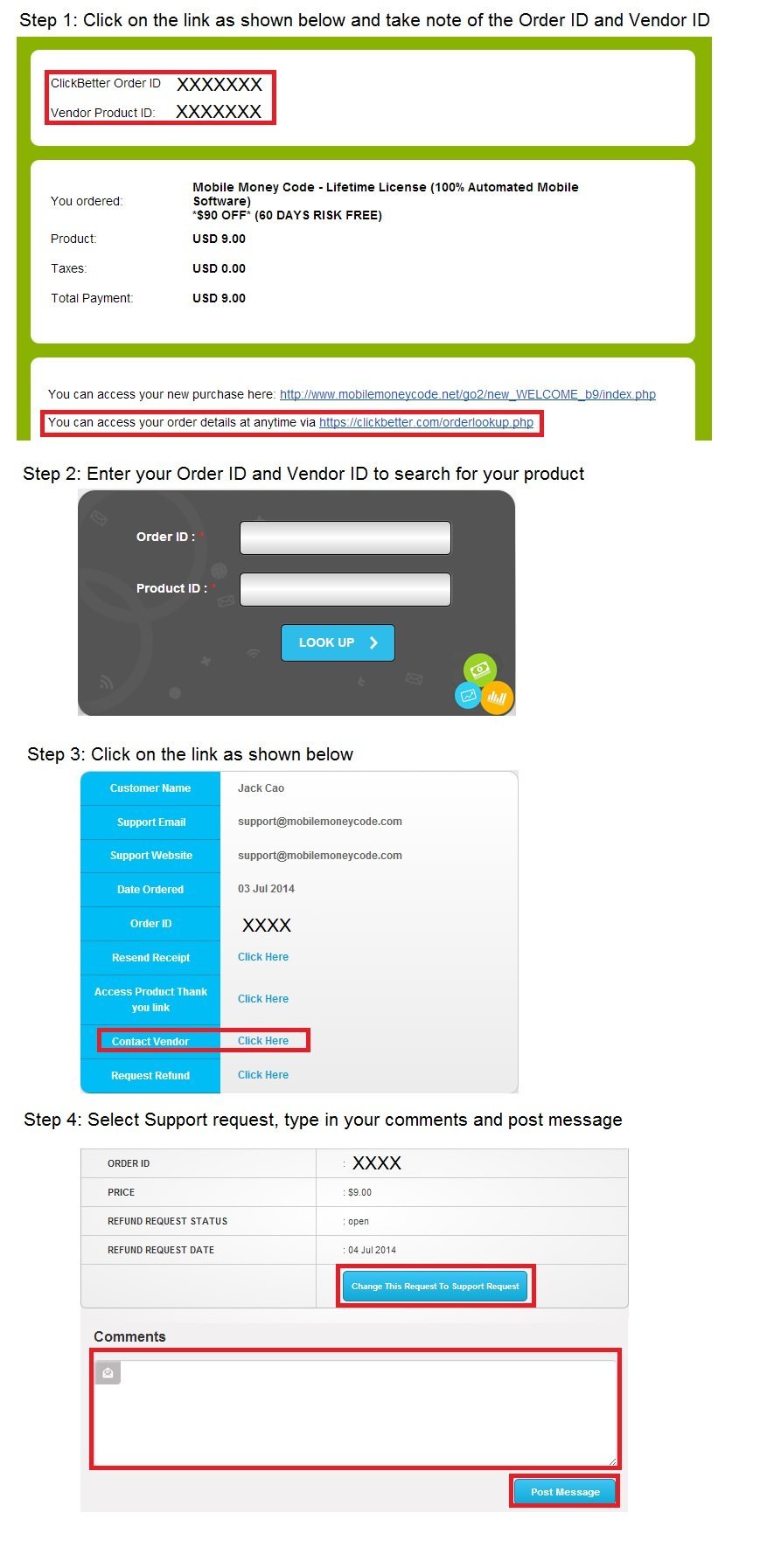 There's proven result that member of this community succeed evidently through building an online business!!! Check it out here.
Mobile Money Code – The Members Area
---
Just when you thought all the upsells were over, you will be slammed with even more upsells in the members area. Seriously?!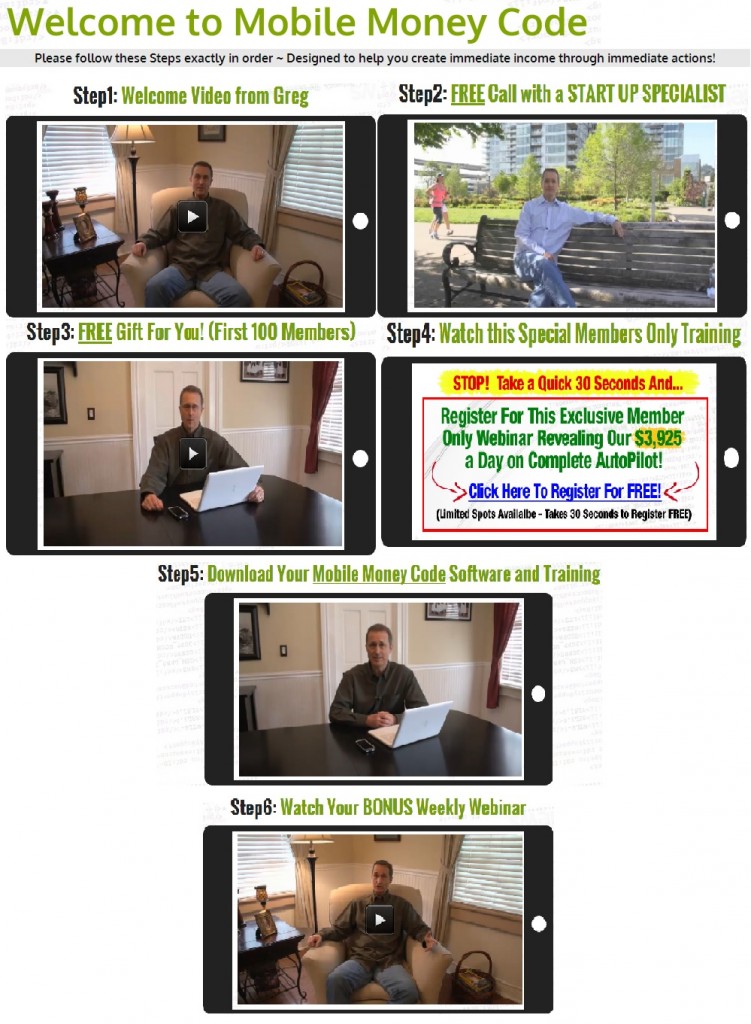 Step 1: The Welcome Video
In the welcome video, Greg Anderson tells you that you have to follow the step by step video to help ensure your success. He shares with you that he hired a bunch of super affiliate experts who is making at least 2 million dollars a year online to build the getting started videos. Do you believe this? The videos didn't even provide any useful information.
Step 2: Free Call with a Start up specialist
Apologies for not making this call because I had bad experiences with other programs that requires me to make a phone call to their start up specialist. My bad experience started when I was forced to purchase more products instead of learning anything. However, I can't comment if it will be the same with Mobile Money Code.
Step 3: Free Gift for you! (First 100 Members)
Seriously? After so long since Mobile Money Code launched, I am still the first 100 members? Ya I get it, Greg Anderson wants to make you feel exclusive, but he didn't realise that he is lying to you. Second of all, the "FREE" gift he is talking about, it not free, he is lying to you again. What he is selling you is a web hosting package which cost $89.70 for every 6 months, the free part comes after you purchase the web hosting service.
Step 4: Watch this Special Members only Training
OMG!!! Aren't you tired of the upsells already? Here's another one. It will lead you to another "guru" product called "Full Money System" that operates similarly to Mobile Money Code. Like Mobile Money Code, Full Money System flaunts its flashy cars, big house, etc, telling you that you can make mountains of money within the next few hours.
Beware of this, I hope you won't ever get sucked into these kind of shady products.
To summarize Mobile Money Code in a whole
---
I'll be very honest, I am really disappointed in this product because it attacks on beginners who have no clue on how to make money online. You see, I am in this industry for quite a while now and have been reviewing a lot of products, I know what works and what doesn't but if you are a beginner, you will definitely be sucked into all these programs and probably spend a few thousand dollars on them.
I was once a victim for these kind of products, I trusted so many gurus to realise that they are not looking out for my interest but instead pushing me to more products. So I am really disappoint in this product because it reminds me of the time I was being scammed.
I truly hope nobody will fall for these shady products and I sincerely hope that anyone who reads this review will not buy Mobile Money Code.
My advice to you
---
Do not buy Mobile Money Code! You can't gain much knowledge with it. You will probably spend more money than actually making any.
So where do you go from here? How do you really make money online? Let me share my secret with you on how I make mine. I would suggest that you read my #1 recommended online business course because this is the only place I know that genuinely want you to succeed. Many people have already started making honest money with the help of this course. It should be your turn now.
Your pal,
Jack