Big Commission Blueprint Review – Earn $1000 Daily?
There are multitudes of positive and negative Big Commission Blueprint reviews out there. Some people even claim that this program is a scam and a pyramid scheme!
The truth is, Big Commission Blueprint is not a scam. There are some useful things that you can learn from this program.
Nonetheless…
There are some things that you need to know about Big Commission Blueprint that would make you think twice about joining this business opportunity.
Here's what you can expect to learn on this review:
By reading this brutally honest Big Commission Blueprint review, you will find out for yourself if this program is worthy of your time and money.
I will also reveal how much can you really make with this program and how to earn it.
Review Summary
Name: Big Commission Blueprint
Owner: Dean Holland
Price: $19.95 – $4,997
Big Commission Blueprint Business Opportunity Rating:
Big Commission Blueprint Product Rating:
FOR ONLINE OPPORTUNITY SEEKERS
What is the Big Commission Blueprint
The Big Commission Blueprint (BCB) is an affiliate marketing course that will teach you how to make tons of money out of high-ticket products.
This program is created by Dean Holland.
Dean is the mastermind behind the Internet Profits LTD.
In fact, Dean's sales pitch for Big Commission Blueprint used to be in one of Internet Profits pages.
Now, the same 47-minute sales pitch is on its own domain "bcbsystem.com" but the old one is still active.
The Big Commission Blueprint system is said to help anyone, even complete beginners, to make $1000 daily and a five-digit income per month.
These are mouthwatering numbers. But how does it work?
Click Here: Man Quits His Job Yet Still Makes A Full-Time Income At Home. Here's How He Did It!
Big Commission Blueprint – Cost and What's Inside
All in all, the Big Commission Blueprint is consist of 11 different modules. These are video training materials.
However, you cannot get all the 11 modules at once. 
You have to buy different upsells in addition to the starter pack. Below are 11 different modules (5 different systems) that comes with Big Commission Blueprint, including the prices of each:
#1 Intro to Big Commission Blueprint – $19.95
This module covers the full explanation by Dean Holland himself about his system, how it works, why it works, and how you can make it work for you.
The training is centered on how to use freebies to collect leads and build your email list.
#2 Mind-Setting
The second module focus on planning your business, goal setting, and having a clear vision of what you want it to become using the Big Commission Blueprint.
You will be able to download a spreadsheet that is meant to help put things into numbers and dates.
#3 The Personal Income Blueprint
This training module brings into perspective the kind of life you want to live and how much money you need to make to make it a reality.
While You're Here: Check Out My #1 Online Business Recommendation
#4 Creating Your Big Commission Blueprint Affiliate Account
You will now create your BCB account. You can start promoting the program on the Internet using your website, blogs, or social media.
For every person that enrolls to Big Commission Blueprint using your affiliate link, you will earn $10. – to infinity.
However, if you hope to earn more, you need to upgrade your membership by purchasing the following upsells.
#5 Affiliate Club – $47/month
This is the first upsell of Big Commission Blueprint. This will cost you a recurring $47, but it comes with more tools that are supposed to help you promote and get more sales.
If you think paying $47 per month is a lot, then wait till you see the prices of the next upsells.
#6 Upgrade to iPro Platinum License Partner – $1,997 (one-time)
The iPro Platinum is the second upsell of BCB. It is a high-ticket program that comes with additional training materials and coaching sessions.
But the important thing to note is after you buy this…
You will be entitled to earn $1,000 for every person that you refer to BCB, who also decides to upgrade to iPro Platinum.
If you think $1,997 for a training program is too much, then you would be delighted to know that there are cheaper yet equally impressive alternatives out there.Take this beginner-friendly affiliate marketing program, for example.
#7 Upgrade to iPro Masters Membership – $4,997 (one-time)
This is the last upsell of Big Commission Blueprint, and it will cost you a whopping $4,997! This module comes with additional training and tools on how to be successful with affiliate marketing.
But if we are being honest in this Big Commission Blueprint review…
I bet the main reason why anyone would upgrade to this level is that it entitles you to earn lucrative commissions. For every person that signs up and upgrade to iPro Masters, you earn $2,500!
Then again, there are other similar affiliate marketing training programs out there that will teach you how to make money online for a fraction of this cost.
Click Here: This Guy Is Earning A Full-Time Income At Home Using An Affiliate Marketing Program He Started For Free!
I understand that one reason why some people call Big Commission Blueprint a scam is because of its pricey upsells.
Dean also made it appear on his sales video that you only need to pay $20 and you can earn $1,000 every day, which is at least $30,000 a month.
But in reality…
You have to reach deep in your pocket if you ever hope to get a comprehensive training course on affiliate marketing and earn a full-time income.
Do you think Dean intentionally lied and tricked people or this is merely an effective marketing strategy to promote his product?
You can share your thoughts in the Comment Section below.
Other BCB Training Modules
#8 Traffic and Lead Generation
This is one of the most important topics that you should learn if you want to succeed in affiliate marketing.
This module will teach you how to get free and paid traffic to your site.
You will learn which is better for your business at the moment and what are the advantages and disadvantages of using both.
#9 How To Make Your First Sale
Instructions and strategies used by Dean himself to make sales now passed to you.
#10 Taking Your Business To The Next Level
This module teaches you how to reinvest your income, bring more money, and take your business to the next level.
#11 Additional Bonuses, Strategies and Videos
There you have it. These are the entire 11 modules that you can get should you decide you join Big Commission Blueprint and purchase all the upsells.
Do you think these training materials are worth over $7,000? 
Is Big Commission Blueprint a scam for you?
Share your thoughts in the Comment Section below.
While You're Here: Check Out My #1 Online Business Recommendation
The Ugly Truth About Big Commission Blueprint
When Dean promises you to make $1,000 daily income, I guess he "forgot" to mention that you need to become an iPro Platinum member at least.
If you are just a basic member who paid the $19.95 plan, there is no way you can make that much money.
To be able to qualify for bigger commissions, you need to pay and buy the expensive upsells.
And even if you buy both the iPro upsells…
There is no guarantee that this system will work for you. Just because Dean said that this DFY (Done-For-You) system is proven and tested, it does not mean that it will bring you success.
Every individual result in affiliate marketing is different.
There are many factors to consider before someone can succeed in this business. There's choosing the right niche, promoting the best products, and effectively driving traffic to your business.
What worries me is that for a beginner to think that all he/she needs is to pay $7,000 and $1,000 will come in his account every day. That's not how affiliate marketing works.
The Big Commission Blueprint Facebook page is also inactive now.
Big Commission Blueprint Pros and Cons
On this part of my Big Commission Blueprint review, I will share my Pros and Cons list about this program.
PROS
Training modules that come with the $19.95 plan is value for money
Course created by a successful Internet marketer
30-day money back guarantee
CONS
Expensive upsells
Some training materials are too generic and lack content
Does not teach you how to build your website
Pay to play business program
Encourages paid traffic (costly and risky)
Is Big Commission Blueprint a Scam
As you can probably guess by the over all tone of this Big Commission Blueprint review, I do believe that this program is NOT a scam.
In fact, I even understand that you probably thought of the Big Commission Blueprint as the break you need so you can get out of your 9-5 job.
It may not be a scam but the price is just too high that I don't think this is suitable for affiliate marketing beginners.
Now, to be fair with Dean Holland and the Big Commission Blueprint, this program does have some merits, and it is possible for you to make money with it.
There is also a 30-Day Money Back Guarantee so you can try out this program and see if it works for you.
My Humble Advice
If you are really interested in making a living with affiliate marketing, my advice is you get started with a much cheaper course.
There are tons of affordable yet powerful programs out there.
Yes, they may not offer the same lucrative earning potential like Big Commission Blueprint. But the important thing is that you will learn the crucial skills on how to make money online.
I mean, earning $2,500 in a single sales is nuts! Who wouldn't want that? But it comes with too much risk and too high of an investment.
But hey this is my opinion. The final decision is still on your hands.
Should You Join Big Commission Blueprint
I believe that Big Commission Blueprint is the kind of program that suits advanced online marketers best.
Experienced marketers who already know the ins and outs of the business, what are the risks to take and have a better understanding of free and paid traffic. Can pay $7,000 out of their pockets, not to mention the additional cost of paid ads and other upkeep of your website.
Big Commission Blueprint Alternative
If you are new to affiliate marketing, I humbly suggest that you check out this alternative affiliate marketing program instead. This is the same program used by many to make money online.
It has also been proven to work by most people who used it. They are now earning a full-time income at home, and some of them were able to quit their jobs and enjoy early retirement.
Many of these people also started as affiliate marketing beginners, just like you!
But unlike Big Commission Blueprint, you will have to work hard with this program if you want to succeed. There are no fake promises of making easy money. It will all depend on your passion and the amount of work that you put in.
And the best part of this program? You can sign up today for free!
Final Words
Thank you for taking the time to read this Big Commission Blueprint review. I hope that I have provided you with the answers that you were looking for.
If you think this is useful, kindly share this to the people you know.
In that way, they too will be able to make an informed decision on whether the Big Commission Blueprint is a suitable business program for them.
Meanwhile…
If you have any more questions about BCB, any relevant information that you want to share to our readers, you can make use of the Comment Section below.
Before You Leave: Check Out My #1 Online Business Recommendation
Furthermore, should you be interested in a FREE online course that will teach you how to turn your passion into profits, there is a signup form at the end of this article.
Until here and I wish you all the best in the future.
Your pal,
Jay
FREE COACHING PROGRAM
TURN YOUR PASSION INTO A SIX FIGURE ONLINE BUSINESS
Finally! A Proven Step-by-step Method To Earn A Six Figure Income Online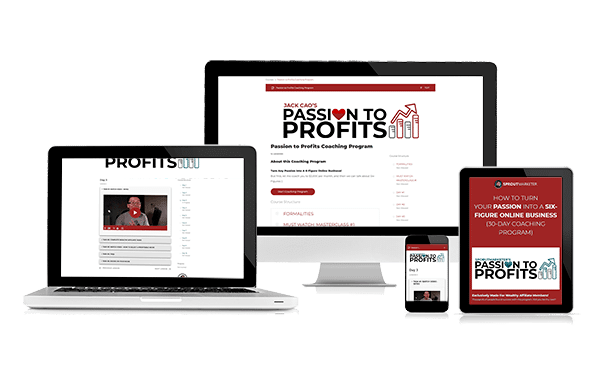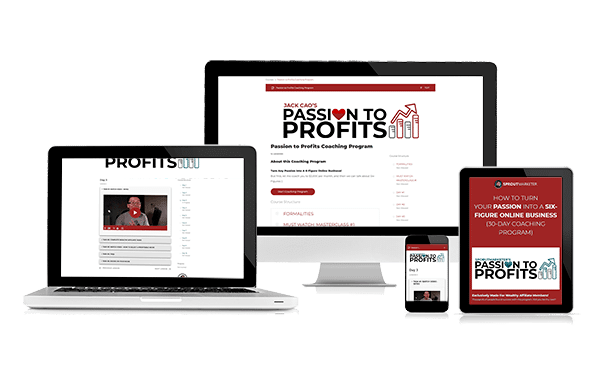 Claim Your Free 10 Day Passion to Profits Course…