Is Zyn Travel a Scam? – Is it Really Worth Joining?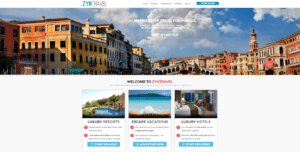 Name:  Zyn TravelWebsite:  zyndio.comPrice: $49.99, $199.99 or $499.99 +$19.99 (setup fee) + $12.99/mthOwners: Anthony Powell (Most Probably)
Income Opportunity rating: 2.5 / 5 Stars
#1 Recommended Online Business Training with Proof: Click Here
Zyn Travel is a Multi-Level Marketing (MLM) Company that provides travel booking service, just like other Travel MLM companies on the market like World Ventures and Paycation.
On the surface, it does look like a legitimate MLM Company.
Basically, to qualify for a legitimate MLM Company, the company must focus its efforts on promoting its products or services rather than on recruiting people.
I am sure you are approached by someone from Zyn Travel and that is why you have landed on this page.
Try to understand if that someone is promoting Zyn Travel's travel packages or if he/she is trying to recruit you into the opportunity.
If the focus is on the latter, you might want to re-consider joining Zyn Travel, because sooner or later the Federal Trade Commission (FTC) will catch up with this opportunity and close its operations due to a relation with a pyramid scheme.
When it comes to joining a MLM Company, it is good to know who the leaders are.
I mean, most legitimate MLM companies I know will present its owners and its leaders in the company's website.
However, there is no indication of who the owners of Zyn Travel are.
I have done an extensive research on the Zyn Travel and I realize that one of the top performing member or probably the owner of Zyn Travel is actually Anthony Powell.
If you follow Anthony Powell closely, you would know that he was one of the top distributors of Herbalife, and have jumped ship to Vemma in 2013 soon after Herbalife was implicated as a pyramid scheme.
Then in 2015, Vemma was forced to close its operations due to a link with yet again, a pyramid scheme. You can read the article here.
In 2013, Anthony Powell has made a commitment to bring Vemma from a hundred million company into a billion dollar company but it resulted in Vemma's closure. Check out the video below:
I am not saying that Anthony Powell is the main cause of Vemma's closure, I am just saying that there might be some flaws in Anthony Powell's method of recruiting.
Now that Anthony Powell is in Zyn Travel, lets see what happens.
If you are still interested to know how the Zyn Travel opportunity works, you can continue reading, however, if you do not want to be a part of Zyn Travel but you are still looking for a way to make money from home, you can check this out.
This Training Program has helped me and thousands of people make a Life Changing income online. Find out how you can too!
How does Zyn Travel work?
Now let us take a look at the Zyn Travel Compensation plan to determine if it is worth joining them:
Basically, you need to find 3 people whom you think are interested in the Zyn Travel opportunity.
It is said that Zyn Travel members save 85% on their travel packages (I will discuss this below), and practically everyone around you should be interested in the opportunity.
You would have thought that finding 3 is an easy task, but you will be shock to know how negative and skeptical people are when it comes to MLM opportunities.
There are 3 levels of memberships in the Zyn Travel opportunity.
The membership levels are Silver ($49.99), Gold ($199.99) and Platinum ($499.99), and there is a $19.99 for the setup fee and an additional $12.99/mth membership fee for each of the membership levels.
There are 12 positions to fill for each membership levels, 3 on the 1st tier, 9 on the 2nd tier.
If you purchase the Platinum Membership, you will get to fill the 36 positions (Basically combining the 12 positions for all the 3 membership levels), and if you purchase the Gold Membership, you will get the fill 24 positions.
It simply means that the higher the membership level you purchase, the more commissions you are entitled to get.
You must note that the commission figures said in the video above is talking about a perfect scenario where all the members under your organization purchase the Platinum membership.
Both you and I know that the chances of that happening is relatively low.
The video mentions that you earn $90 for each of the member you personally sponsor, in fact, if you sponsor a person who only bought a Silver Membership, you will earn $10 on the first tier and $2.50 on the second tier only.
One thing that I do not like about this compensation plan is that there is a limit to the amount of money you can make.
In the perfect scenario, the only recurring income you can make is the $1,350 on the Affiliate Cycle bonus plus a matching bonus.
There is no further room to grow. If my understanding is wrong please correct me.
Well, scrapping all the compensation plan talk, it all boils down to whether the Zyn Travel services actually benefits people.
Does Zyn Travel benefits its members?
Lets say you purchase the Platinum Membership and get a $750 travel voucher. This travel voucher will only help to give a discount to your travels bookings for around 16 – 30%.
Meaning that if you book 2 night hotel stay for $100 per night (total of $200), you can get an average discount of 20% by utilizing the $750 travel voucher, you basically pay $160 instead of $200. You will probably have to travel a few times in order to fully utilize the $750 travel voucher.
What I found alarming is that the price of the travel package deals are comparable to other travel booking websites like expedia.
So, what exactly is the point for booking a travel through Zyn Travel?
To pay $499.99 plus setup and monthly membership fee to obtain the $750 travel voucher? Is that really worth it? You can be the judge of it.
In my personal opinion, I feel that Zyn Travel's focus is not on selling travel packages but on recruiting.
You should re-consider if you have decided to join Zyn Travel.
Sooner or later, the FTC will catch up on the opportunity and all your effort and hard work (if you have started to make money from Zyn Travel) will be wasted.
Why 97% of Zyn Travel members fail?
It is said in the video above that your first task is to invite your friends and family to follow through a webinar that is hosted every week, and thereafter do a 3 way call with your sponsor to close the deal.
It sounds simple, but the fact is, because you rely on your sponsor to close the deal for you, your success or failure very much depend on your sponsor.
When you first enter the business opportunity, you are advised that you do not need to sell, but if you have recruited 3 people, don't you have to help your recruits sell the Zyn membership?
You will be surprised by how negative and skeptical people are on business opportunities.
Everyone wants to believe that they are smart enough to avoid your business opportunity because it is a scam, and if you give a reason for them to believe it is a scam, your have lost that prospect.
This kind of business opportunity promotion requires a lot of sales experience and skill, if you are totally new to selling and you do not have someone to guide you, you will most likely fail.
A Home Based Business Opportunity without recruitment and selling. Check it out here!
I have seen many cases of members joining Zyn Travel, but do not have any support from their sponsors, and eventually quit the business because they lack the proper support they deserve. So, when if you ever decide to join Zyn Travel, make sure you join the right team.
Another biggest problem faced by most Zyn Travel members is the lack of leads/prospects. When you first enter the Zyn Travel opportunity, you will be given this document:
They will ask you to list down the people who falls in any of the categories mentioned in the document (who are basically everyone you know).
Based on past experience, out of 100 people in your list, only 20 might be interested in the Zyn Travel opportunity, and out of the 20 people, 3 might possibly purchase a travel package through your website and if you are lucky enough, you get to recruit 1.
After expanding your list, who else can you prospect? Canvassing on the streets? Buying leads and doing cold calls?
My Sincere Advice to You
In my personal opinion, I feel that it is not worth your time and money on Zyn Travel.
If you like travelling, just book your tickets through legitimate sites like Expedia, I am sure the prices will not be anywhere far from booking through Zyn Travel. There is really no point spending money to join these Travel MLM companies just to save a few bucks.
Little do you know that you may be spending even more money joining the membership of the MLM company as compared to just buying a travel package from Expedia.
So with that said, if you are still looking for a way to make money from home, I would suggest that you check this out.
I have personally tried so many opportunities (from insurance to trading to MLM marketer) and none of the opportunities made me any sustainable income. It is only when I found this that has helped me achieve the level of success I desire.
I invite you to share your opinion and experience with me on Zyn Travel by leaving a comment below.
If you find my article helpful, please, help to share it with your friends and family by clicking on the social media buttons (Facebook, Twitter, Google Plus).
Your pal,
Jack