InboxDollars Review: 10 Things To Know Before Joining
We have always been critical about paid survey sites because most of them promises you to a high return for your time, but got nothing in return.
And no amount of reviews can justify the operations of a survey site because not everyone will have the same experience. A good experience with InboxDollars depends on the company's targeted demographics which they will never share.
So, in this InboxDollars review, we will discover if InboxDollars is a scam or a legitimate survey site, and if you can truly make a lot of money from it. Afterall, that's what you are here for, right?
1. Ways to make money from InboxDollars
There are a lot of ways to earn money in InboxDollars. The amount you make will depend on the difficulty level of the online tasks, how much time you devote daily, and whether or not you receive a constant flow of tasks.
Online Surveys
Various brands pay InboxDollars to obtain public opinion about their products and services giving insights that will help with critical business decisions.
The amount of money you make from taking surveys varies. It can range from 25 cents for a 22-minute survey or $1 for a 19-minute survey. As you participate in more surveys, you can earn a free scratch-off ticket which will give an additional opportunity to earn money.
Playing Games
It may be fun to play arcade and casino games while making money at the same time, but note that the rewards is extremely low.
If it is just for having fun, great! But, don't expect much or anything from playing. Your time is better spent on acquiring and selling items from games like World of Warcraft or Diablo 3.
Watching Videos
Earning money from watching videos was easier compared to surveys. You can get paid 1 to 2 cents per video. Most videos typically last less than 2 minutes. Topics of the videos are typically about news, entertainment, sports, cooking, etc.
Surfing the Web
You can earn rewards by simply doing random searches in their search engine. You can also have a chance to get additional rewards through their free online scratch-off ticket. It's quite an interesting way to make money. Here's how it works:
Printing Coupons
Print some coupons from their website and earn some extra cash. You can earn more when you redeem coupons while you shop online.
Shopping
You can earn cash back whenever you use InboxDollars to shop for brands like Best Buy, Walmart, eBay, and Home Depot. InboxDollars claims that you can earn from 1.5% to 15% worth of cashback while shopping on their platform.
Reading Emails
You can earn rewards by simply reading emails using the PaidEmail feature from your computer or smartphone.
You can earn virtual scratch-off cards in which you can win prizes. InboxDollars partnered with some of the large companies to let them advertise their products or services to potential customers.
If you sign up to email newsletters or join a loyalty program then you can increase your rewards.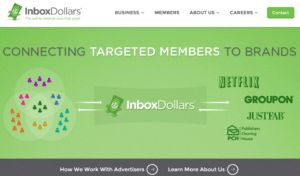 Name:  Inbox Dollars
Website:  www.inboxdollars.com
Price: $10 – $30
Owners: Daren Cotter
Bare Naked Scam rating: 1 Thumb Down
#1 Recommended Online Business Training with Proof: Click Here
---
To be honest, it is hard to say because I get very limited "Jobs/Surveys" in Inbox Dollars due to my geographical location, I guess this "opportunity" is more suited for people in US or Canada. But, there are other methods you can make money from Inbox Dollars other than the surveys which I will be sharing with you later.
When you first join Inbox Dollars, you are given a $5 credit but in order to cash out that credit, you have to earn at least $30. There are several tasks that you can do like taking a general profile survey, interest survey and household survey, this will bring you only to $6 in total credits.
Well, in order to determine if Inbox Dollars is a scam it boils down to the promise that they made, which is to pay its users. There are several people who get paid and I believe there are many who don't. It is really not that easy to get your first paycheck. I suggest that before you even take a step into Inbox Dollars, you should take your time to read its terms and conditions.
There are friends online who did not manage to get their first paycheck because they are not paid members. It seems that you need to be a paid member in order to get paid, which make no sense. There are also friends online who had a hard time being accepted to take part in surveys when he is so close to $30. So scam or not, you decide for yourself.
Is Inbox Dollars worth your time?
---
I would say that if you have lots of time on your hands and you have got nothing else better to do, then completing all these tasks in Inbox Dollars may just be right. But if you are like me who is focus on making real money online then you definitely won't have the time. Doing tasks in Inbox Dollars make you pennies (Just take a look at the picture below). Each survey you do only make you a few cents and it takes at least 15 mins to complete. How long will it take you to achieve $1,000. I guess never.
Imagine spending the whole day doing surveys (or tasks) which make you only $10, do you think this is a good opportunity or rather a good job? You can make much more money being employed in the fast food restaurant then doing these tasks. Making money online is not easy but making money with Inbox Dollars is never seemingly possible. If you really want to know how to make real money (sustainable income), then you should check it out here.
I guess the reason that you were introduced to Inbox Dollars is because you want to generate income online and to be financially free, but I can honestly tell you that Inbox Dollars is not the answer. With the time you spend on Inbox Dollars as a full-time job, I would rather you spend it on building a business that will generate constant and substantial income month after month.
How do you make money from Inbox Dollars?
---
There are several ways you can make money with Inbox Dollars, either directly or indirectly. If you decide to only do task within Inbox Dollars, you need to earn at least $30 (Take note that there are limited task you can do and you probably won't generate enough to cash out). If you select the gaming avenue, you will be directed to a third party website called (GSN Cash Games).
The Inbox Dollars Games
In the games section (GSN Cash Games), you will be able to earn reward points in exchange for things like Amazon, Walmart, target gift cards. For 65,000 reward points, you can exchange for $100 Amazon gift card, 69,300 for $100 Walmart gift card (as described in the picture on the right). However, the sad truth is that as a free player in GSN Games, your can hold up to a maximum of 12,500 reward points which means you can't exchange for anything.
In order to hold unlimited amount of reward points, you need pay $20 to upgrade to "Cash Competitor". In this way, you are forced to upgrade to a cash competitor if you ever want to make money playing games.
Please beware of the terms and condition in GSN Cash Games website. Under the clause 2.15 Account Maintenance Fee, you will be charged $3.50 in the event that your account is inactive for 6 consecutive months. Please also read clause 2.16 and 2.17 so you fully understand what you are getting into.
These are the main reasons people claim Inbox Dollars as a scam but in fact it is all stated in the terms and conditions which honestly speaking is not favourable to you.
The Inbox Dollars trial offers
You really have to be careful here especially when you are giving out your credit card information to join free trials. Each free trial will earn you some credits but you must remember to cancel your free trial when it expires if not you will be charged automatically. I would suggest that you read the terms and condition before you join any free trial.
Let me further explain what Inbox Dollars is all about. As a new member in Inbox Dollars, you will be introduced to brands ("Companies") like Netflix, Groupon and many more. How Inbox Dollars make money is when these companies engages Inbox Dollars to advertise their products or services to people like you and me when we sign up to Inbox Dollars.
The only way these Companies will make money is when you actually buy products or services from them. By just trying their product or services, the Companies do not make money. The real reason or purpose for you to join Inbox Dollars is not to make money from it but to spend money in it (in the eyes of Inbox Dollars).
Through Referrals
As you refer your friends to join Inbox Dollars, you will be able to earn 10% of qualified earnings. Basically for every $30 your friend/referral make, you will $3. But keep in mind that it is really hard to make $30 in Inbox Dollars, is it really worth your time referring your friends and family to join?
My Sincere Advice to You
---
My honest opinion on Inbox Dollars is that it is not a good way for you to make money online. Though you may get some cash out of it, you will need to slog like crazy to make that money. With the same effort you put in Inbox Dollars, I am sure you that you can build a successful online business that can generate sustainable income for a lifetime.
But be warned that nothing in life is guaranteed, success is not possible without hard work, dedication, commitment and persistence. It is up to you to make things happen. I would like to help, but I can only help those who help themselves. So if you are ready to receive my advise and help, you may check out my #1 online business training course to get started.