Is Surge365 a Scam? – Updated Surge365 Review
Welcome to my daring and brutally honest Surge365 Travel Club review!
With widespread fraudulent investment schemes and online scams on the Internet today, doing thorough research about a business opportunity before joining is the best thing to do.
I can guess that you coming here means you are interested in Surge365 and you want to know if this Multi-Level Marketing (MLM) company is worth your time and investment.
If that is the case, then this article is just for you!
I've done an extensive research about Surge365 and found some interesting facts…
One of which is Surge365's direct link to a similar travel-related pyramid scheme way back in 2008. Now, you could be wondering…
"Is Surge365 a scam?", "Can you really make money from it"?
Let's check it out…
Review Summary
Name: Surge365
Owners: Scott Tomer, Lloyd "Coach" Tomer, and Chris Cokley
Price: $19.95 – $63.54 monthly (with a $499 one-time fee)
Recommended? No. Check this out instead.
Income Opportunity Rating:
What is Surge365?
In a nutshell, Surge365 appears to be an Multi Level Marketing (MLM) company in the travel niche. Much like…
On its official website, Surge365 claims that its mission is to let people travel more, earn more and save more.
For your reference, this is how Surge365 promotes its business opportunity…
Company and Founders
The Surge365 website has almost all the information you could hope for to learn about the company.
The company's key personalities are:
Scott Tomer (Surge365 CEO), 
Lloyd "Coach" Tomer (Surge365 Chief Visionary Officer), and
Chris Cokley (Surge365 President).
About the company's history, a simple WhoIs search gave me this result.
This reflects the fact that Surge365 has been operating since 2014 until today.
However, on a more serious matter…
Did you know that the key personalities of Surge365 are the same people who were behind the Your Travel Biz (YTB) pyramid scheme?
YTB is an MLM company which is also operating in the travel industry. It was sued by a California Attorney General in 2008 and went bankrupt in 2013. But more on that in a moment.
Surge365 Products
This company has no retailable products that you can sell.
When you become a member of Surge365, the only thing you can promote is the membership packages alone.
This means that to make money with Surge365, you have no choice but to recruit and bring in people to the system.
This is a major red flag!
How Does Surge365 Work?
According to its official website, when you become a member of Surge365, you will be able to enjoy cheaper travel and vacation rates compared to booking them from other popular online travel sites.
Furthermore, and perhaps this is the reason why many people are interested in joining Surge365 is that, the company also offer its members a lucrative compensation plan. 
Depending on your subscription, you can "potentially" earn unlimited $1,000 and $10,000 cash bonuses by recruiting people. You can also qualify for travel and car incentives!
Too good to be true? You be the judge! 
Below is a video by the company's CEO Scott Tomer that explains the Surge365 Compensation Plan.
Cost To Join Surge365
At the time I am writing this Surge365 review, the company only offers two membership options on its website.
You can either subscribe to become a Surge365 Vortex Platinum Member or as a Surge365 Business Associate.
Surge365 Vortex Platinum Membership
This will cost you a one-time fee of $499 and a recurring monthly fee of $63.54.
Surge365 Business Associate (SBA)
This is a lower cost Surge365 membership option that will cost you a $19.95 monthly fee.
You can learn more about Surge365 membership options here.
While You're Here: Check Out My #1 Online Business Recommendation
Good Things About Surge365
As much as I want to be fair to Surge365, I cannot point out any good thing about this company.
When it comes to its services:
There are plenty of other reputable companies that provide better and cheaper travel packages than Surge365.
And when it comes to the business model:
Surge365 is nothing like how it is being marketed to the public. It is even ripe with red flags!
If you join Surge365, chances are you're getting yourself involved in a pyramid scheme, and you could face serious consequences.
Surge365 Red Flags
On this part of this brutally honest Surge365 Travel Club Review, allow me to point out the things that could be an issue if you join this company.
#1 No Real Products
The first red flag about Surge365 is the company's failure to present a real product line.
The FTC clearly states that for any company to be considered as a legit multi-level marketing business…
It must be able to provide its members with a tangible product line that the members could potentially earn profits from. The Surge365 clearly has none.
#2 Surge365 Is All About Recruitment
With no real products to sell, the Surge365 members have no choice but to recruit people to join the company, convince them to buy a membership package, so they (distributors) can earn commissions.
This is how the FTC and other authorities defines a pyramid scheme.
If you are unfamiliar with these things, I feel that this article will teach you how to spot a pyramid scheme from miles away.
#3 A Pyramid Scheme Reboot
There are substantial proofs suggesting that Surge365 is just another attempt of the previous Your Travel Biz owners to victimize more people.
California Attorney General Jerry Brown sued YTB or Your Travel Biz and accused it of being a pyramid scheme in 2008. 
#4 Surge365's Deceitful MBG
One of my biggest concern for anyone who plans to take part in Surge365 is the company's deceitful Money Back Guarantee policy.
It turns out that although you will be promised 1-year money back guarantee for your investments, it will only be granted if you pass the requirements.
This is a serious concern because this did not just happen to one or two people!
So if you are eager to join Surge365 because someone told you that it is and i quote a "risk-free investment to earn a lot of money"…
Then you should think again.
Here are more complaints on Surge365's Money Back Guarantee policy on BBB.
#5 Surge365 is Not Accredited By BBB
If you are one of the people who hold high regard on a company's Better Business Bureau rating…
Then you might frown upon the fact that Surge365 is not accredited by this agency.
It also has a B- rating, and although it earned an average of 4.5 stars on customer reviews, those were likely from its affiliates.
While You're Still Here: Check Out My #1 Online Business Recommendation
Is Surge365 A Scam
As you might have already guessed by the tone of this Surge365 Travel Club Review…
I have reasons to believe that Surge365 is a pyramid scheme and another scam just like Your Travel Biz.
As I have shared with you earlier, Surge365 is most likely just a remake of the YTB after it went bankrupt in 2013.
Should You Join Surge365
As much as do not want to tarnish any good reputation that Surge365 have, I advise anyone to stay away from this business opportunity.
Surge365 operates a very risky business model and has a sketchy compensation plan that is used by pyramid schemes.
Related: If Surge365 Is Not The Business Opportunity You Were Hoping For, Take A Look At This Instead!
My Humble Advice
If you are truly serious about making money online, there is one program that I can highly recommend.
This online business program has changed the lives of many people already, and unlike Surge365, this is a 100% legit online business opportunity.
Furthermore…
You can start this business immediately as a complete beginner and still get a good chance of making a full-time income at home.
If you do this right, you may even be able to finally quit your 9-5 job while earning a 6-figure income or more!
But perhaps the best part about this online business program is that you can get started for free!
Final Words
Thank you for taking the time to read this Surge365 Travel Club Review.
I sincerely hope that this has been useful for you by providing you the information that you were looking for about Surge365.
If you think it worthy, please do share this article to the people you know so they too could benefit from this.
Meanwhile, if there are things that you want to share about Surge365, any further questions or reaction to this article, you can utilize the Comment Section below.
Until here, and I wish you all the best in your future endeavors.
Your pal,
Jay
FREE COACHING PROGRAM
TURN YOUR PASSION INTO A SIX FIGURE ONLINE BUSINESS
Finally! A Proven Step-by-step Method To Earn A Six Figure Income Online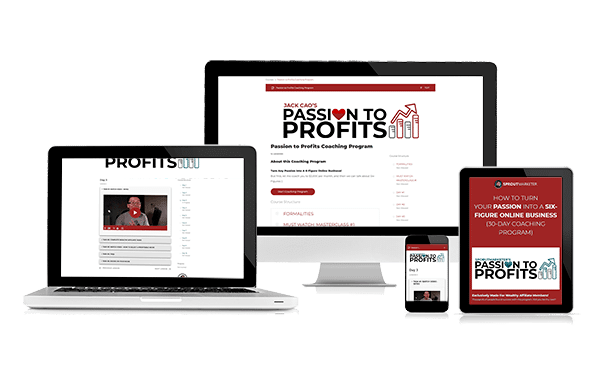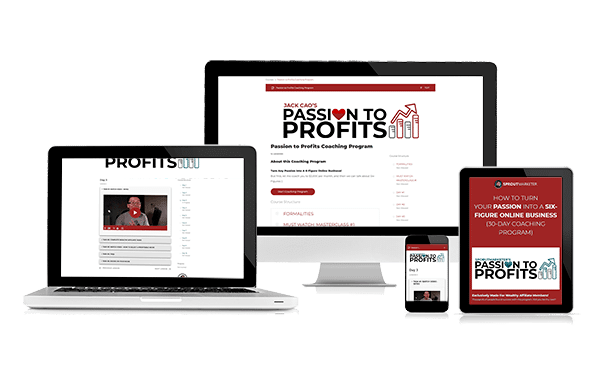 Claim Your Free 10 Day Passion to Profits Course…