Padlock Income Scam – Why I refuse to spam
Name: Padlock Income
Website:  padlockincome.com
Founder: Fabio Galdi
Income Opportunity rating: 1 / 5 Stars
#1 Recommended Online Business Training with Proof: Click Here
---
If you know the founder's history like I do, you'll probably not want to be involved in this program.
Before Padlock Income, Jeremy Rush created a program called Guaranteed Sign Ups System, which is now closed due to unpopular demand.
The thing is, Guaranteed Sign Ups System (GSUS) was built earn the trust of those who wants to make money online, and it resembles a pyramid scheme because it has no real product offering.
The people who trusted Jeremy Rush were shattered when GSUS was shut down abruptly and they were hurt through that process.
This comment below was during the period when GSUS was still alive: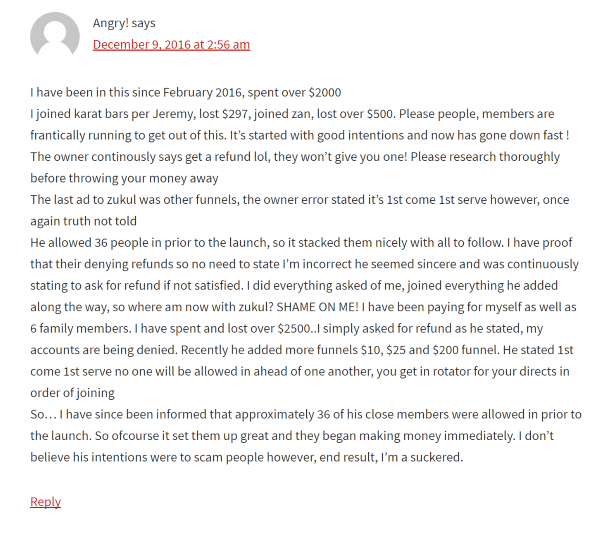 Coincidentally, when you talk about the refund policy, Padlock Income doesn't have one.
Take a look at this:
When you clicked on the "Refund Policy", it brings you back to your dashboard.
So, be really careful when you purchase anything through this program.
This program has led me and thousands of people make a Life Changing income online. Find out how you can too!
If I guess correctly, the setup of Padlock Income is similar to GSUS.
GSUS was basically a sales funnel to promote Jeremy's other product called Zukul, an Online Business Tool provider.
As I've mentioned in the review of GSUS, any beginner who joined the program wouldn't know what and how to use those tools.
Many people just purchased Zukul's products and many other products just because Jeremy Rush told them to.
Those people were not educated on how those products can add value to their online business, let alone knowing how to use them.
Alright, enough of Jeremy's past, let's see what he is up to now with this Padlock Income.
What is Padlock Income?
---
There are basically 12 levels or "Padlocks" in the Padlock Income.
The first level is free to join, and in order to upgrade to Level 2, you have to have 10 direct referrals and pay $20 for the upgrade.
I'm pretty sure that as you progress to the different levels in the program, you will be shoved with upsells upon upsells.
Once you get into the first level, you will tasked to watch a video in order to progress to the next step.
What astounded me is the tasks that the program asks you to do.
If you are totally new to the make money online scene, you will be in for a ride.
To put it simply, you are required to join 30 "Make Money Online" Facebook Groups and post something like:
Jeremy advises that you should post on a daily basis on these groups.
If you don't know what a spammer is, this program definitely makes you one.
I'll be very honest with you, these "make money online" Facebook Groups love hyped programs but the people in it never really buy into any offers.
Yes, you can definitely get someone to sign up to a "Free" membership with Padlock Income, but when it comes to paying for something, the majority will turn away.
Let's be honest, do you think this program will pay you commission if nobody is buying anything from the program?
I doubt Jeremy Rush is that generous.
There's simply no value to the first level of membership other than teaching you how to spam Facebook Groups with its advertisements.
FACEBOOK UPDATE JANUARY 2018: The Facebook algorithm change in January 2018 definitely wipes out spammers across the board. I hardly see any of "Jeremy Rush's" advertisements on my Facebook news feed. I generally see them everyday before the algorithm change.
Why won't Padlock Income work long term?
---
Just imagine hundreds or thousands of people spamming the same advertisements over and over again in the same Facebook groups that Padlock Income recommends.
Those early joiners of Padlock Income, who were in those Facebook Groups, would have already joined the program to be the next spammer, and for those who repeatedly see the same advertisements will find it extremely annoying.
According to the law of diminishing, given that everything remains the same, It won't be long till Jeremy shuts down Padlock Income and move on to yet another "new turnkey program".
Just a quick advice to you if you are new to the make money online industry.
If something sounds too good to be true, it probably is.
I think Padlock income is coming to an end. Let's see what's Jeremy Rush's next move…
This program has led me and thousands of people make a Life Changing income online. Find out how you can too!
What is in the Padlock Income Membership?
---
Now, let's dive right into the program to see what it actually offers.
Once you are in the Padlock Income system, you'll need to watch this video:
To unlock the second Padlock, you'll have to personally recruit 10 new members to the program, and you'll have to pay $20.
Also, in one of the steps in the first Padlock, you'll be introduced to purchase Solo Ads from Igor Kheifets.
To put it simple, when you buy Solo Ads, you are paying a so called "guru" to send your advertisements to people in the guru's email list.
Now, something interesting I've found about Igor Kheifets you should know about:
Something you don't know is that if you ever purchase Solo Ads from Igor Kheifets, Jeremy Rush makes a commission.
Now back to the Padlock Income system.
As far as I know there isn't anyone who've unlocked the 3rd Padlock.
And even if someone does, I predict that they will be introduced to Zukul to buy their products before they can unlock the next padlock for more upsells. This is quite similar to Jeremy's previous "turnkey program – Guaranteed Sign Ups System".
If you ask why I didn't go through all the steps before I write this review, it is because I couldn't put myself to go through all the steps to be a spammer and to waste hard earned money on low quality products that Jeremy recommends.
This program has led me and thousands of people make a Life Changing income online. Find out how you can too!
Padlock Income Training?
---
Check out this video…
Now, my question is, what value are you providing to the Facebook groups and what is your intention? If you genuinely want to create a viral chat, I think you've achieved your objective, but if your intention is to promote Padlock Income, I don't see that there is a connection.
Here are some other training videos that you'll get within the free membership:
I honestly do not see any value in those videos because it doesn't give you any knowledge that you can use to make money online, moreover, the length of the videos is extremely long.
Jeremy is also cashing in on the Bitcoin trend, now that Bitcoin is breaking new highs everyday (date of this writing 12 December 2017).
Jeremy wants to teach you how to invest in Bitcoin and earn lots of money.
I'll like to challenge Jeremy as to how much he actually knows about Bitcoin.
You see, it's really easy to get someone to trust you just because you have some results through sheer luck, and also because that somebody is interested in making money with Bitcoin.
Jeremy is utilizing the bitcoin trend to get you to join Padlock Income, and I am sure one of those Padlocks will have his training program that will cost you a fortune.
This program has led me and thousands of people make a Life Changing income online. Find out how you can too!
My Sincere Advice to You
---
I have nothing against Jeremy Rush, but it's just that all the programs he has set up till now doesn't provide any value and will not bring anyone anywhere.
You'll most likely lose money trying to unlock more Padlocks in the system.
Just take a look at what you are tasked to do in the first level of the system, it teaches you how to be a spammer.
I strongly oppose to this kind of strategy, because this shouldn't be the way you start an online business.
You see, I've been in the make money online industry for quite a while now, and I do have a proper track record of what I do:
Making money online is not as easy as Jeremy says it is.
It is through hard work, determination, persistence, and a little bit of luck.
I've shared my story of how I made my money online in the track records above.
If you are serious about building an online business that can generate passive income, I highly suggest that you check out this program.
This was the program that has taught me everything I need to know about making money online, and it is the program that has gotten me all the results that I've shown.
Thank you for reading this review!
I hope that I have provided you enough information for you to make an informed decision.
If you find this review helpful, please, help to share it by clicking on the social media buttons.
If you wish to discuss more about Padlock Income, please, feel free to leave a comment below.
Your pal,
Jack