The Wealth Network Review – I got Scammed!?
Name: The Wealth NetworkWebsite:  www.thewealthnetwork.com
Income Opportunity rating: 2 / 5 Stars
#1 Recommended Online Business Training with Proof: Click Here
"The Wealth Network is not a scam, but it is dishonoring its refund policy and there are some issues that I think you should be aware of before you join."
So, you are introduced to The Wealth Network and you wanted to know if this is a legitimate opportunity for you to make money online.
You've come to the right place, because in this review, I'm going to share with you everything you need to know to make an informed decision.
I've done a detailed research on this program.
I've even bought the Platinum membership to do this review, so you don't have to spend your money if you don't feel it is the right program after reading this review.
The Wealth Network Scam – It's difficult to get a refund!
I've bought the program to see if it is worth the money, and if I didn't like the program, I will ask for a refund, and that's what I did (not saying that this program is not worthy, please read the full review below).
However, I've encountered some issues when I was asking a refund. For your quick information, I've gotten the refund after several probes. You can read the story below.
What I hate most is that they kept closing tickets without offering any value or solution. So, I opened another ticket:
Yet again they closed the ticket without solving anything.
They've provided a link as you can see above, and it sends me to this:
A day later I checked the same link, and there's no change, checked my email, and I didn't get email from an advisor.
My main concern was that I am not willing to pay the recurring membership fees, and there's no easy way that I can cancel my membership other than contacting the support.
I resort to contacting my credit card company.
So, please beware of this program.
A Legitimate Online Business Platform that helped thousands, including me, achieve Financial Freedom. Click here!
Don't worry, I won't Rant, I am still objective…
Fine, I've lost money, but don't worry, I'll still give you an objective review instead of ranting.
To start off, I'll give you my overall opinion about the program, and then I'll go into the details.
To be honest, I was enthusiastic about this program when I first came across it.
It does seem like a good program to dive into, plus I could sign up as an affiliate for free and promote it to you.
However, after signing up and going through the program in-depth, I have mixed feelings about the program. I'll tell you more below.
But, to justify if The Wealth Network is a scam, I would say that it is not, but I'm second guessing because they are are not honoring the refund policy.
An Online University that taught me how to earn a living online and fire my boss. Interested?
What is The Wealth Network?
The Wealth Network (TWN) is a learning platform which teaches you how to set up an e-commerce business even if you don't have anything to sell.
There are basically two core courses within the membership.
The E-Commerce course which consists of (1) the Amazon Training Module and the EBAY Training Module, and (2) the Blogging course by itself.
The Amazon Training consist of 10 lessons for the Gold Membership (approximately 75 mins worth of video training) and an additional of 10 lessons for the Platinum Membership (approximately 69 mins worth of video training).
In short, The Amazon training teaches you about Retail Arbitrage.
The EBAY training consist of 7 lessons for the Gold Membership (approximately 55 mins worth of video training) and additional 5 lessons for the Platinum Membership (approximately 39 mins worth of video training).
In short, The EBAY training teaches you about Drop Shipping.
The Blogging training consist of 8 lessons for the Gold Membership (approximately 61 mins worth of video training) and additional of 3 lessons for the Platinum Membership (approximately 61 mins worth of video training).
In short, The Blogging course teaches you how to be a blogger.
Why I have mixed feelings about TWN?
Before I join TWN, I was already acquainted with the concept of Drop shipping and retail arbitrage.
That's all thanks to the research for the other reviews like DS Domination and Infinii.
DS Domination and Infinii are both learning platforms that teaches Drop shipping and retail arbitrage, much like TWN.
In fact, the founders of TWN were once top affiliates of DS Domination and Infinii, so you can expect that the knowledge that you get from TWN are rather similar to DS Domination and Infinii.
Honestly, the reason I join the program was because I was attracted to the e-commerce training. I thought I was going to learn something new.
If you have read both my reviews on DS Domination and Infinii, you would know that I am not a big fan of drop shipping (1) or retail arbitrage (1).
Retail Arbitrage has moderate to high risk with little return, and drop shipping requires a lot of hard work but small returns as well.
I am an affiliate marketer, and I like the concept of affiliate marketing because of the low risk and high return in a long run.
That's my personal opinion.
For what it's worth, there are people who do make money from Drop Shipping and Retail Arbitrage, so I can't say that drop shipping and retail arbitrage doesn't work.
Now to the blogging course…
As I dive deeper into the blogging course, I realize that Jesse Singh (one of the founders of TWN) is teaching a grey hat strategy to get Google ranking.
While the strategy still works today, I would say that it is a matter of time before Google plunge the loophole, and anyone using the strategy will be penalized.
I am a big follower of the search engine updates, and I disapprove grey and black hat strategies because it is just not sustainable in the long run.
In my opinion, I wouldn't recommend TWN to you because I know that there are better opportunities.
Why I am not a fan of Retail Arbitrage and Drop Shipping?
Reason 1: Too Many People using the Same Strategy
It's a cut throat business.
Imagine thousands upon thousands of people using the same strategy to source for products to profit from.
Listing the same type of products on Amazon or EBAY and the only criteria that determines the sale is the price.
You'll start slashing the price just to make the sale, and before you know it, your profit is all eaten up.
Reason 2: Fees, Fees and Fess
Not only you have to worry about the selling price, the fees (from Amazon or EBAY) can get a huge chunk out of your profit margin.
If you are not careful, you can make a loss instead of profiting from it.
Reason 3: It's a Too Manual
Here's what you basically need to do if you are a drop shipper (this was shared on the Infinii review):
1. You have to source the item2. List the item on eBay or Bonanza and wait for the sale3. Get the shipping address of your buyer4. Purchase the item from the supplier (like Amazon, overstock, Walmart, wayfair, etc.)5. Input the shipping address of your buyer6. Copy the mail tracking details7. Getting back to eBay to inform you buyer of the tracking details
Plus, managing refunds (if any) are tedious and unrewarding.
You can't just take a 2 weeks vacation and let your drop shipping business run on its own. Your business reputation will be tarnished if orders are left unfulfilled, and nobody will trust you as a seller anymore.
Honestly, drop shipping works if you are selling unique products.
Now, if you are operating a retail arbitrage business, the process is a little simpler and more automated with the involvement of "Fulfillment by Amazon (FBA)", but you'll have to take the initial risk to purchase the items as your inventory.
Reason 4: Lots of work with Small Return
You are doing all the work I've mentioned above for how much? $5, $10, $40 of profit?
Retail arbitraging and drop shipping is a full-time business.
You really have to spend a lot of time in order to earn a substantial income.
When you stop working, your income stops.
That's why I prefer Affiliate Marketing because everything is automated and all the effort you've done is accumulative.
You'll still earn a decent income even if you do not work for months (that's given if you've set up your business properly).
An Affiliate Marketing Course that allowed me to Fire my Boss and work online Full-Time!
Reason 5: EBAY is Dying
Well, I don't know how true it is…
In the articles written by "the Tech Reader" and "Time" you'll see why the Ebay is dying.
Here's a quote from "Time.com":
Parsing e-commerce sales is still a matter of guessing at a fragmented market, but here's the bottom line for eBay: It's not just that auctions aren't popular now, it's more that eBay's transition to regular e-commerce has hit a wall. Its Web site redesign is already dated. It's struggling to stay high in Google searches. Many of its most trusted sellers can also be found on other sites, like Amazon. eBay is just one of many shingles they hang out these days.
The Course Breakdown
Now, let's dive right into the courses…
The Amazon Module
In here, you'll learn about Retail Arbitrage.
The first lesson will give you an introduction of Fulfillment by Amazon (FBA).
The goal of FBA is to make the life of the retailers much easier by handling the logistics and shipment for the retailers.
This will reduce the cost of the operation significantly for the retailers because they don't need to worry about the logistics, storage space, employees, etc.
All they need is to pay a small fee to Amazon.
Lessons 2 to 5 will walk you through the process of setting up an FBA account, protecting your account, and an introduction on what you need for your Retail Arbitrage business.
Lessons 6 through 9, you'll learn the nitty gritty of retail arbitraging.
You must be wondering what has FBA got to do with you? You have no products to sell, right?
You'll learn how to source for profitable products, purchase them and ship them to the nearest Amazon's warehouse for storage.
Then you'll list your products on Amazon and wait for the sale to happen.
There's a risk involved because not all products will be sold, and if you are not careful, you'll make a loss by selling the products below your cost price (that's if the product is not popular).
So, careful research and calculation is required if you want to be successful with this business.
The knowledge that you'll gain from the Amazon Module and the EBAY module will not give you an edge on your competitors, however, the Profit Spy may provide you with the edge.
Profit Spy is basically an internal system that sources out profitable products for you, but you have to read the fine print carefully (In the red box above). The Profit Spy is only available for TWN's Platinum membership.
An Affiliate Marketing Course that allowed me to Fire my Boss and work online Full-Time!
Why I am not a Big Fan of the Grey Hat strategy taught in TWN's Blogging Course?
The blogging course is lead by Jesse Singh, who is the owner of several affiliate sites like marketingxtreme.net and hotmlmcompanies.com. These websites use the same grey hat strategy that is taught in the TWN platinum membership.
The grey hat strategy is called "Private Blog Network (PBN)".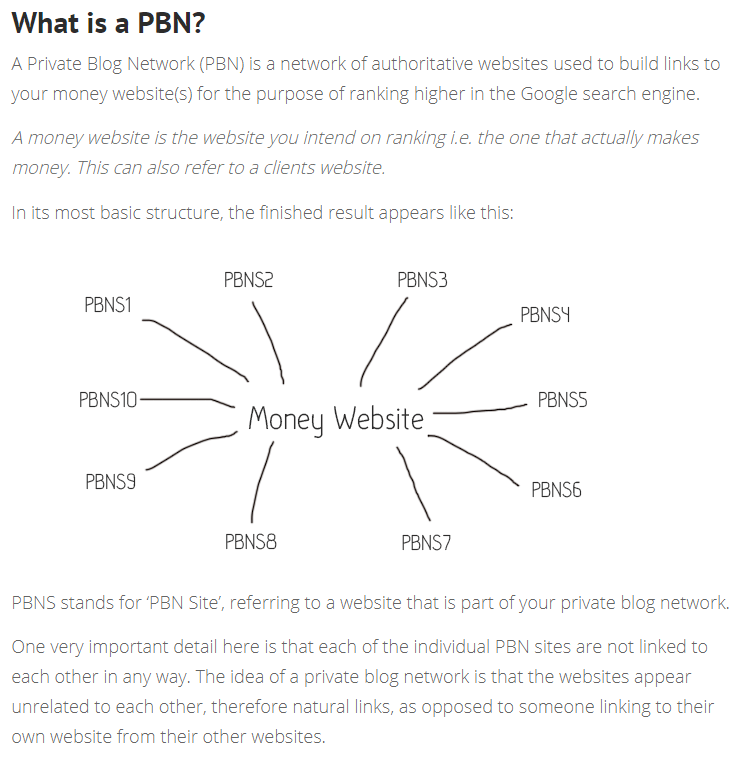 Source: lionzeal.com
In 2014, after the introduction of Google Panda, Blogs that use PBN to "trick" Google, gets what they deserve (being penalized).
Just imagine trying so hard to build your website to find it being penalized by Google because of a strategy Google do not recognize.
Your business dies in days after Google cuts you off from its search engine.
Well, Jesse Singh was one step ahead of Google at the point of Google Panda, and he still uses the PBN strategy in disguise.
"If you think you are smart, someone else is smarter", that's what I always believe in.
It won't be long till Google realizes this loophole.
A Course that teaches you how to rank your website on Google the proper way. Interested?
How much does it cost to join TWN?
Gold Membership – $49.99 per month
Platinum Membership – $149.99 per month
My Sincere Advice to You
As you may probably know, I can easily earn a commission from TWN by putting a good word about the program just to get you to sign up.
But, I just couldn't do it because I don't particularly like what is taught in there, and I know that there are better opportunities out there.
Plus, I just couldn't stand products that do not honor their refund policy. I just want to post this image again:
Honestly, there are other business opportunities that are better than this.
I'd highly suggest that you check out this program because thousands of individuals, including me, have made a significant income online with its help and guidance.
It is the same program that taught me how to earn a living online and fire my boss.
Thank you for reading this review! I hope that I have provided you with all the information you need to make a decision.
If you find this review helpful, please, help to share it by clicking on the social media buttons.
If you wish to discuss more about TWN, please, feel free to leave a comment below.
Your pal,
Jack