Global Dream Network is a Scam and Pyramid Scheme!
Global Dream Network appears to be a new multi-level marketing company based in South Africa. Many people in that area are saying good things about this company. That nothing is wrong about a "peer to peer" cash gifts.
Unfortunately, this is not entirely true!
Please refer to the images below.
As you can see, this system used by most peer to peer gifting clubs like Global Dream Network is illegal.
​This is how a pyramid scheme works and only the people at the top will benefit from this scheme.
What's worse is that you could face a jail time or pay a huge fine by joining and promoting this kind of companies!
My heart goes out to all the members of GDN who are hoping this is a legit way to make money. I have no intentions of ruining your company reputation but I only speak the truth.
For your convenience, you can learn about the legalities of cash gifting by reading this article.
In addition to the things above, I also found more proofs that Global Dream Network is not what it seems.
The things I found led me to believe that the rumors of a Global Dream Network scam is true!
On this Global Dream Network review…
I will share with you why this company is not a legit MLM company but a chain-recruitment program and a pyramid scheme.
I will provide proofs like the ones I presented at the beginning of this article and discuss them in details.
As a bonus, I will also share with you an alternative online business program where you can possibly earn a full-time income at home.
You can probably quit your 9-5 job if you do things right.
Review Summary
Name: Global Dream Network
Owner: Undisclosed
Price: Free??? Not really! Read below why.
Global Dream Network Business Opportunity Rating:
Global Dream Network Product Rating:
FOR BUSINESS OPPORTUNITY SEEKERS
Before we proceed, allow me to take this opportunity to make it clear that I do not hate nor am I promoting Global Dream Network.
I wrote this Global Dream Network review for the sole purpose of exposing the truth about this business opportunity so you can decide whether you should join in or stay away from it.
Now I understand that my opinions might be different from yours.
So if at any point you want to share your thoughts about anything on this review, feel free to do so in the Comment Section below.
What Is Global Dream Network
As I mentioned earlier, the Global Dream Network, aka GDN, is a new company that appears to be in the multi-level marketing (MLM) industry.
How new? On its official Facebook page, the company recently celebrated its fourth month last May of 2019.
I want to learn more about the company to clear the initial suspicions I have about it, so I did an extensive research about Global Dream Network.
Well, I did find what I was looking for, and I will tell you more about it below. For now, let's learn more about the company.
On its official website, there is nothing you can find about the people behind GDN and where it is based. 
However, I was able to find a lead that suggest Global Dream Network is based in Johannesburg Area, South Africa.
I also did a WhoIs search, and it appears that the information on its Facebook page is accurate. The domain for Global Dream Network is registered in January of 2019.
As for the people behind this company, there is one name that keeps coming up on video presentations about GDN. Someone called Akim Sibande.
Although I was not able to confirm whether Akim Sibande is the founder of Global Dream Network, it is clear that he has direct ties with the company.
Global Dream Network Products
I have watched four different video presentations by Akim about GDN but never did he mentioned any company product on any of them.
On each video, he spends at least 15 minutes in mind setting before he explains the company's compensation plan.
But not a single product nor any background info about the company.
Click Here: How To Earn A Full-Time Income At Home After Quitting Your Job
Is It Free To Join Global Dream Network
Global Dream Network insists that it is FREE to join into their system. However, they require a "donation" from you to activate your account. 
No donation, no join.
The funny thing is not only that you need to deposit your donation into local bank accounts, but the company also set a specific amount of donation.
You must donate R350 (~$24) so you will become a member of Global Dream Network.
This is funny because the last time I checked…
A donation is a form of gift or charity. Donations are an act of kindness where you extend help to other people. You shouldn't be forced to give a specific amount when you donate.
When you are required a specific amount of money for something, that is not a donation but a payment, a fee.
Well, I found out why GDN requires a specific amount of donation from members. I will discuss more about it below.
How Much Can You Earn With Global Dream Network
Okay, this is where things get really interesting. I can see why there are already rumors of Global Dream Network scam considering it is a new company.
If you can recall, you will not get any products in exchange for your membership fee – no form of ROI whatsoever. You will, however, be given access to your own GDN account but that's about it.
The R350 (~$24) you are going to pay when you join in Global Dream Network will go to your direct sponsor.
Global Dream Network Compensation Plan
Global Dream Network uses a combination of different MLM compensation plans on top of the Gift slash Donation compensation plan; one of them is the Binary.
Once you become a member by paying the R350, you will have a chance to make that money back by recruiting two people under you. 
Each person you recruit will pay you R350 so that you can earn R700 for your first level.
If you want to qualify to earn for your second level, you will have to upgrade your membership status.
Account Upgrades
There are specific additional fees that you must pay to qualify to earn on the deeper levels. The amount ranges from R600 (~$41) to R2,000 (~$137), and you must pay these upgrades so you can earn money up to your fourth generation of recruits.
For the second until the fourth level, Global Dream Network uses a Pass-up MLM compensation plan.
If you manage to fill up your genealogy up to the fourth level, you will earn a total of R38,800 (~$2,650) from your R350 (~$24) initial investment.
However, this completes the entire compensation plan, and your income has reached its limit.
This means that you can only earn a little over $2.5K on each of your investment, unlike the alternative business program I will share with you in a moment.
Maximum Accounts
For you to continue earning with Global Dream Network, you must create a brand new account.
You will need to pay the R350 again and repeat the whole process once more, recruiting more people to fill up your genealogy to the fourth level.
Furthermore, the Global Dream Network does not indicate how many accounts you can create. This could mean that if you have more money to invest, the more accounts you can register into the company – which by the way is another red flag.
This is probably what the company means with "maximum is unlimited." Once you maxed out the four levels of one account, you can register new accounts to continue earning.
Good Things About Global Dream Network
I have nothing against MLM companies, but I cannot say any good thing about GDN. Maybe because it is not a legit MLM company but a pyramid scheme.
I will tell you why below.
While You're Here: You Can Take A Look At My #1 Online Business Recommendation
The Ugly Truth About Global Dream Network
To better understand the reason regarding the rumors of Global Dream Network scam going on, allow me to discuss the issues about this company.
These will also explain why I think that GDN is a pyramid scheme.
#1 Plethora Of Undisclosed Information
One thing that makes a company trustworthy and not "scammy" is public transparency.
Not only Global Dream Network fails in that department, but you can also find a lot of inconsistencies on its website.
For starters, GDN did not reveal the personalities behind the program. I also have to conduct my own research to find out what the R currency stands for.
It turns out that R is for ZAR or South African Rand.
The entire website could also use a lot of work. There are some misspelled words, and the sentences are incoherent that it is more confusing than informative.
The company also claims that it is free to join their system. This is false! You will need to pay roughly 24 USD to get in, which brings us to the next issue.
#2 It Is Not Free
Members of GDN will argue that this is not a payment but a donation. Again I will emphasize that donations do not require a fixed price. A donation is an act of kindness, like giving a gift.
When you are forced to give a certain amount rather than your free will, you are making a payment. You are paying the price and in this case, a membership fee.
Donations do not have to be even money at all. If it is true that you can join in Global Dream Network for free and all you need to do is donate…
Then you should be able to become a member by donating your old clothes, old books, and other things. That is how real donation works.
#3 Investment With No Products
I say investment because Global Dream Network insists that it is not a company, nor a business, nor a corporation.
However, anyone who can read between the lines will realize that this a chain-recruitment program, a pyramid scheme.
That statement is merely slapped in the company's web page hoping to divert the attention of authorities.
#4 A Pyramid Scheme!
Finally, if you are wondering why rumors of Global Dream Network scams are going on, it's because GDN probably is!
The FTC clearly states that when your income from an investment program relies on recruitment instead of product sales (which GDN has none), you are involved in a pyramid scheme.
Basically, you will earn money with Global Dream Network because people are paying membership fees to become part of the entire scheme. There are no selling of products in this company.
All your income will come from the new people at the bottom of the pyramid paying the R350 to join the program, hoping to make more money from other people below them.



That's true! Global Dream Network is all about recruitment!



Right again! The only way you can earn money from GDN is if you recruit people to join the company and pay money to placed in a genealogy under you.
Should You Join Global Dream Network
As much as I don't want to ruin a company's reputation and break the hearts of the people who are hoping for the best, I must fulfill my job to expose the truth.
Do not join Global Dream Network because it is a pyramid scheme.
If you are not familiar with this term, then I have an article that will teach you on how to spot a pyramid scheme.
Pyramid schemes are illegal, and severe consequences await anyone who will be caught taking part in its operation. No manga manga!
Related: If Global Dream Network Is Not The Opportunity You Are Hoping For, Check This Out!
My Humble Advice
For starters, I advice that you contact the authorities and verify the legality of GDN in your country.
Base on the facts I shared on this article, Global Dream Network is a scam and you should stay away from it.
Once again, you can read this article about illegal cash gifts to better understand why.
Global Dream Network Alternative
If Global Dream Network turns out to be not the business opportunity that you are hoping for, then what now?
Well, for starters, you can take a look at the program I was telling you about.
This program will allow you to make money online without needing to recruit tons of people and getting involved in a pyramid scheme.
If you do this right, you might be able to quit your 9-5 job anytime soon!
The best thing about this business program is, you can really get started for free!
One more thing, whether you join an MLM company or start your own business, make sure that you are doing something that you are truly passionate about.
Final Words
Thank you for taking the time to read this Global Dream Network review. I am hoping that you found the answers that you were looking for.
Feel free to share this article if you find it worthy.
Meanwhile, if you have any information about a Global Dream Network scam that you want to share with our readers, feel free to utilize the Comment Section below.
Until here, and I wish you all the best in your future endeavors.
Your pal,
Jay
FREE COACHING PROGRAM
TURN YOUR PASSION INTO A SIX FIGURE ONLINE BUSINESS
Finally! A Proven Step-by-step Method To Earn A Six Figure Income Online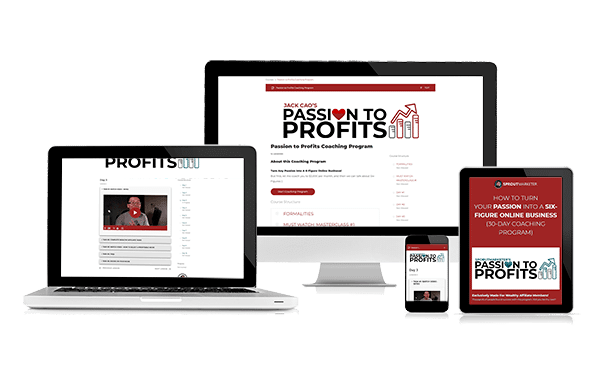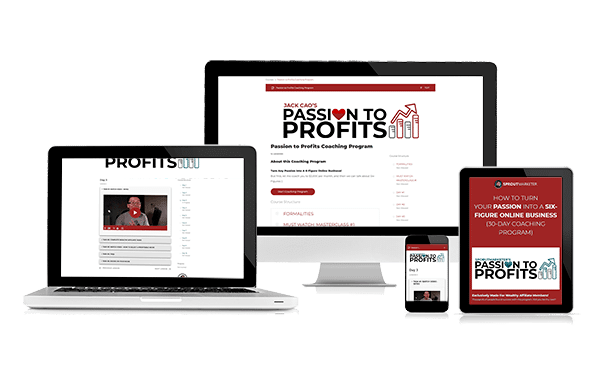 Claim Your Free 10 Day Passion to Profits Course…