Is Verified Profits a Scam? – Yet another One Click Wonder System
Name:  Verified Profits or Millionaire Blueprint
Website:  www.millionairesblueprint.co
Price: Fund a minimum of $250
Owners: Daniel Walker and Simon Young or Walter Carter?
Bare Naked Scam rating: 5 Thumbs Down
The Most trustworthy Investment/trading Social Network: Etoro
The Most trustworthy Online Business Training Course: Click here
---
Remember just last week I have exposed a program called Free Money System?
Today, I am going to expose Verified Profits, a program which is very similar to Free Money System, and I am almost certain that they are in the same family.
The reason is simple, the back end of Verified Profits is Millionaires Blueprint, similar to Free Money System.
You see, new programs like this are popping up everyday, and there is no way that we can keep track of it.
All of these programs promise to make you a millionaire overnight, but if you could take a step back and rationalize if this kind of bold statement holds any truth, you would have figured out that they are just a bunch of lies.
Why should you trust my words right? Well, you don't have to… I am only sharing what I thought you should know, and give my honest opinion, the rest is up to you to decide.
My first caution to you is that all these front-end sales websites that eventually lead you to fund a trading account and to get an "Automated Trading software", are all scams.
And, here is why…
Click here if you really want to learn how to Trade
OR
Click here if you really want to learn how to build an Online Business
Exposed #1: Risk Free Opportunity?
---
I have been told that Verified Profits is a risk free opportunity because I will be given a FREE system that supposedly make me millions of dollars.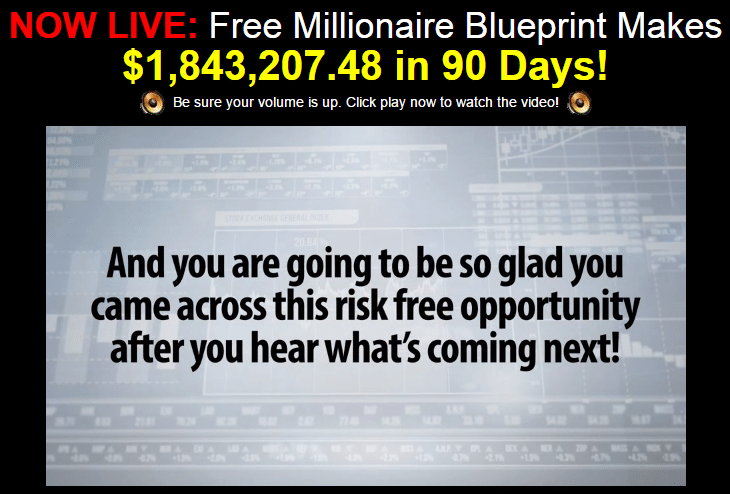 If it is risk free, why do they have a risk disclosure statement like this:


Furthermore, you must know that in order get the "Automated Trading System" from Verified Profits, you have to open and fund a minimum of $250 into the account of a broker recommended by Verified Profits.
I will explain why they are forcing you to fund your account in a moments time.
Exposed #2: Fake Testimonials
---
Getting a testimonial is unlike the old days where there must be a true experience.
Nowadays, you can buy a testimonial for $5 and you can tell the testimonial-giver whatever you want them to say, and they will do it without any questions. Just like in the case of Verified Profits:
In the Verified Profits video, it showed proof of the three beta testers who have made a fortune through the Verified Profits system.
The first beta tester whom you see in the image above have made claims that the system works, but why is he providing video testimonial service for $5 on Fiverr.com if he is already rich?
These testimonial-givers are basically actors who would say just anything you want them to say without the care of ethicacy.
It is also mentioned in the "Disclosure Statement" of the Verified Profits/Millionaire Blueprint:

Actors huh! Entertainment purpose huh! The creators of Verified Profits/Millionaire Blueprint is taking you as a fool.
In the introductory video, it clearly relays the message that you can be really rich by using their system, and now they tell you that those are lies?
It is ridiculous and not acceptable! I would urge you to re-consider if you are thinking of joining this program.
Still want to make money online? Let me show you the best way to do it. Click here
OR
Still want to trade? Find out the BEST place to Learn Trading. Click here
Exposed #3: What exactly the Verified Profits system do?
---
So we were told that the system automatically converts US Dollar to British Pound to Japanese Yen and back to US Dollar and wala, you make money from thin air. This method is basically called "Arbitraging".
From my knowledge as a trader myself, Arbitration carries certain level of risk.
You have to be quick to spot the different currency quotes for opportunities and you have to react in time to profit from it.
These kind of opportunities can come and go in milliseconds. If you are too slow to act, you will lose money.
To be honest, these kind of Arbitration systems that can spot opportunities are mainly used by banks as it cost millions of dollars to develop.
These programs will never be used by an individual because the systems are too complicated to be used.
You see, if you read my article on Free Money System, you will notice that the "Millionaire Blueprint" is all about Binary Options, and in the Verified Profits' "Millionaire Blueprint" it is about arbitration. It is flipping its words like a roti-prata if you know what it is.
From what I know, you will be getting a sub-par system from Verified Profits that tracks outdated market price quotes and this causes serious danger to your financial wealth.
Exposed #4: Who is the real owner of Verified Profits?
There is just no way you can identify who the real owner of the program is.
In the website verifiedprofits.org, the owners of the program are Daniel Walker and Simon Young, and when you click through its link and be redirected to Millionaire Blueprint, the owner is Walter Green.
My hunch is that they are just fake names. I mean, how can you trust a system where you do not know who the creator is and that it lies to you from the very beginning.
If you are serious about your financial future, and you want to make money online, I would suggest that you avoid this program and check out my personal recommendation.
My Sincere Advice to You
---
In this world, there is no such thing as a "done-for-you" system that can generate massive cash for you without any knowledge or hard work.
If such a system does exist, you will never be able to get hold of it because it will lose its exclusivity.
Verified Profits or Millionaire Blueprint is not a program that you would like to be involved with. It will only create more troubles for you if you signed up for it.
So where do you go from here?
What alternate options do you have to make money? My first question to you is, what is your passion? If your passion is trading, but you do not have any knowledge or experience, I would highly suggest that you start from Etoro.
However, if your passion is sports, movies, healthy living, etc… I know a way that you can turn your passion into a lucrative business. You may check out my this program to find out more.
Thank you so much for your time! I invite you to share your thoughts and opinion on Verified Profits, and if you have any questions, please, feel free to leave a comment below.
I will try my best to reply you as quickly as possible. If you find my article helpful, please share it with your friends and family by clicking on the social media buttons (Facebook, Twitter, Google Plus) below.
Your pal,
Jack