Online Sales Pro Scam – Junk Info Alert!!!
Name: Online Sales Pro
Website: www.onlinesalespro.com
Price: $37/mth, $97/mth or $997/Yr
Owners: Vincent Ortega Jr.
Income Opportunity Rating: 1.5 / 5 Stars
#1 Recommended Online Business Training with Proof: Click Here
---
Have you heard of the Internet Lifestyle Network? If you have, I am pretty sure you wouldn't want to be involved with Online Sales Pro (OSP).
And if you have not heard of the program, then you need to know the facts before you join Online Sales Pro.
I am sure you are enticed by the sales video which looks like this:
To be honest, nothing comes out great when a program is flashing all those shiny objects to entice you to join the program.
It proves one thing, there is not much value to the program, and I'll prove it to you in this review.
What you need to know is that thousands of people have trusted their time and money to Vincent Ortega's past program, Internet Lifestyle Network, but were all left with nothing after its business shuts down.
Back in 2014, when Internet Lifestyle Network was still alive, I got into the program and realize that all the training materials are worthless, and it is the same with Online Sales Pro.
Once again, I've tried and tested another program created by Vincent Ortega Jr., and I will share with you what's in it, and why the program is teaching you all the wrong things about Internet Marketing.
Don't get me wrong, I was having an open mind when joining Online Sales Pro, and I was hoping that I will learn something new.
Learn how to be a true Internet Marketer and Grow your Online Business
Online Sales Pro is teaching you all the wrong things!
---
As an Internet Marketer myself, I am embarrassed to even point out all the wrong things that these so called "experts" are teaching.
Let see…

The above is a screenshot from one of the lessons in Online Sales Pro.
What do you understand from the sentence above?
To me, it means that you have to pay money to earn money online…
You see, I have been in the Internet Marketing industry for quite a while now, and I have never spent a single dime in my 3 years of career to acquire more customers, and I still make a decent amount of money per month.
So, what are they trying to say? Am I only having a scheme? Is my business not a business?
I tried figuring out what they are trying to say in all these videos, and I realize that all these "knowledge" that they are passing on to you, are sales pitch that will make you want to spend money on advertisements to acquire more customers (for a faster success), which conveniently, Online Sales Pro provides that service, it's called "Royalty Clicks".
What is Royalty Clicks?
---
It is simply a traffic package where you pay Online Sales Pro the money for them to drive traffic to your sales campaigns. Sales Campaigns that you set up to promote Online Sales Pro.
I'll point out the obvious why it is not worth your money in these traffic packages, but before that, let's see the cost of these packages:
Well, I am not sure about you, but with these monies or maybe much lesser, I can get myself true Internet Marketing knowledge that will boost my business to the next level.
Let me ask you a question, if you have a business and you want to get the word out to promote your business, you would spend money on advertising or other means to reach out to your customers right?
But, Online Sales Pro did it differently. They have a business, and they want to get the maximum reach to customers like you and me, but instead of spending their money on advertisements, they are asking their customers to pay them money to promote their business.
Does it make sense to you? So let me ask you, why are you paying Online Sales Pro to promote their business?
Let me share more with you why I think they are teaching all the wrong things…
Let me share with you what exactly Online Sales Pro says about free traffic (i.e. Ranking on Google).
They said they have tried it for years and didn't make a success through free traffic.
Well, I am not sure about you, but when someone tells you that they are an expert in the Internet Marketing space, but they do not actually understand or have the real experience  of getting rankings on search engines, they are not an expert.
You see, the basic knowledge of Internet Marketing starts with the understanding of different online marketing platforms (Facebook, Twitter, Linkedin, including the search engine).
If you ask any REAL Internet Marketers, they will tell you that they have thousands of their content being ranked on the first page of Google.
So what makes Vincent Ortega Jr. and their team? Are they an expert in the field? I'll let you decide…
Honestly, if you are new to online business, you would have trust whatever that they say, because you have absolutely no clue on what is right and what is wrong.
Learn How to Build an Online Business with the Right People and at the Right Place. Click here!
Online Sales Pro is capitalizing on the concept of making fast money, instead of teaching you what the real deal is, which is being self-sufficient and independent.
What I mean is that you can build an online business from scratch without having any support.
What happens if Online Sales Pro closes down tomorrow? Will you still be able to create an online business without their system? (Given the track record of Vincent Ortega Jr., there is a possibility of that happening)
Online Sales Pro's Social Media Guides (Does it belong to Online Sales Pro?)
---
If you click on any one of the social media marketing guides above, you would see something like this: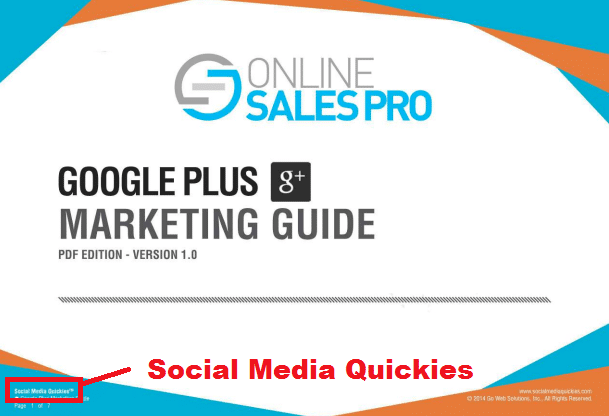 At the bottom of the page, you will see "Social Media Quickies".
I've done a google search on that term and you will find this:
Looks familiar? What's more, if you check out the terms and conditions of Social Media Quickies, you will see this:
Do Online Sales Pro obtained any permission to put their name to the marketing guides and share them to you? Well, I am not sure about that.
But, one thing I know for sure is that Online Sales Pro does not have any valuable knowledge that they can pass on to you. They only know the best way for you to promote their business.
The real cost of Online Sales Pro. Isn't it $37/month?
---
Right after you've signed up to the Online Sales Pro, you will see the video below where it will get you to upgrade to an annual plan ($297 for a full year of membership):

On top of that, to unlock everything within the Online Sales Pro, you have to upgrade to the Online Sales Pro MVP membership which cost $97/month or $997/year. Let's see what MVP is all about:
Are you willing to pay $997 so that you can create a personal profile (the "MVP") to sell your other affiliate programs?
I'll be honest with you, the online store that you see in the video above does not convert, because there is no relevance to the person viewing it.
I personally do not see that need the MVP membership, and certainly will not agree to pay a huge sum of money to create a simple personalized affiliate profile.
The Value of Online Sales Pro…
---
In my opinion, I do not see any value to it,except for having a nice looking sales funnel to promote Online Sales Pro.
I do not get much knowledge of Internet Marketing, other than setting up the OSP Sales Funnel and paying money to get traffic to those funnels.
Here's what you are missing, the true knowledge and psychology of creating those sales campaigns, and a chance to learn how to set up your own online business that allows you to promote anything you want.
A true Internet Marketer has a methodological way to craft marketing campaigns in any kinds of niche.
In Online Sales Pro, you are only taught how to set up sales campaign that appeals to the make money online niche, and without having to know why it is set up that way.
Step-By-Step to Learn How to be a True Internet Marketer
My Sincere Advice to You
---
I'll be honest with you, I joined the program with an open mind and I was hoping that I could really get some value in return for my money, but unfortunately, what I've got are "useless/junk" knowledge.
I do not see a reason for anyone who are serious about their financial future to join OSP because you can't get anything out of it.
Sure, you may argue that you can get commissions out of it, but what I meant was, if OSP ever closes down, what will you be left with.
I've tried and tested so many programs, but I've learned so much from only a few.
People who are serious about making money online will find this program invaluable. My footsteps in the Internet Marketing/Online Business field started with the program as well.
I hope this article has shed some light for you on what you should expect when finding a legitimate Online Business. If it did help you, please, help to share this with your friends and family by click on the social media buttons (Facebook, Twitter, Google Plus) below.
Leave me a comment if you would like to discuss more.
Your pal,
Jack