What is Internet Lifestyle Network – Another Multi-Level Marketing Company that sells you junk
Name: Internet Lifestyle Network
Website(s): www.internetlifestylenetwork.com
Price: $37/mth, $97/mth & More upsells
Owners: Vincent Ortega Jr. and Mark Hoverson
Income Opportunity Rating: 1.5 / 5 Stars
#1 Recommended Online Business Training with Proof: Click Here
You are too late! Internet Lifestyle Network is dead! The new spin-off is called "Online Sales Pro"
What is Internet Lifestyle Network?
---
As much as they want to hide their agenda, a sniff at it and I know it is a pyramid scheme. See, I know what some people might think, Internet Lifestyle Network is not a pyramid scheme, it has products like a blogging system and courses.
While I agree that the Internet Lifestyle Network's product are its courses, on the flip side, the courses are all about teaching you how to refer other people to join Internet lifestyle Network. How different can it be from a ponsi scheme?
One more thing you can get from joining ILN is the "mindset changing courses". Almost 3/4 of the entire Internet Lifestyle Network course revolves around changing your mindset.
If you had join as many Multi-Level Marketing companies like I did, you will probably understand that these mindset courses are worthless for anyone who are unwilling to change.
A strong and positive mindset starts within and no course can change you unless you are willing to change yourself. If you are those kind of stubborn people, I would urge you not to join Internet Lifestyle Network. (I am not saying you should join if you are willing to change. Lol!)
The premise of Internet Lifestyle Network revolves around forwarding emails, posting affiliate links and connecting with people on facebook, creating your own video and uploading it on youtube to promote Internet Lifestyle Network.
Although the Facebook strategies are easy to follow, it has no value in terms of your knowledge. These strategies are typical and can be found anywhere on the internet, they are no secret and are widely used.
Discover the world of Affiliate Marketing and learn how you can build a successful online business. Click here!
Your experience on the Internet Lifestyle Network's Landing Page
---
When you first visit the landing page of Internet Lifestyle Network, you will be conned to sit through a 20 minutes video presentation by Vincent Ortega Jr (the co-founder) to find out what it is all about. After the 20 minutes video, you probably still can't get the entire picture of Internet Lifestyle network.
You will most probably only get that you have to pay $37/mth to join the program, then ILN will send you an email for forwarding to your personal email list. Further to that, you will get a guarantee that Internet Lifestyle Network will pay you $100 if you do not make $20 in 30 days. BEWARE: It just seem too good to be true.
It sounds really easy but note that there will be consequences doing this. You will start to lose your friends and their trust as you will be introducing them to junk.On top of that, there are many upsells after the $37 is paid.
The Upsells – Similar characteristics to every scams
---
What you didn't know from the first introduction video is that you will be probed with 3 upsells before you can start on your Apprentice membership level training.
There are a total of 4 Membership Levels:
Apprentice Members – $37/mth
Professional Members – $97/mth
Executive Members – $997 One time
Total Lifestyle Alliance – $2,000 down payment & $250/mth for 48 months
The First UPSELL is the Professional Members Level. Vincent Ortega will share with you the benefits of upgrading to the Professional Members level and he will convince you that since you are putting in effort to promote ILN anyway, why not rip the full benefit of it.
Just be aware that Vincent Ortega will preach that each upsell is better than the previous.
The Second UPSELL is the Executive Members. Another mindset changing course and you also get some cheap travel deals by a company called Global Resource Network. Not worth the money at all!
The Third UPSELL. After upgrading to the Executive Members level, you will be introduced to Total Lifestyle Alliance (TLA) which is an association of ILN.
Totally do not understand what TLA is, all I know is that I have to pay so much more to make more money and TLA guarantees to return $10,000 to me if I follow the steps and did not make $10,000 in 12 months.
Which means to say I have to wait for 12 months to get my probable refund. (ILN mentions that I can only get the $10,000 if I follow all the steps and persist on for a year. IT'S A TRICK PEOPLE! DON"T FALL FOR IT!
In general, Internet Lifestyle Network is a Multi-Level Marketing Company. If you have paid only for the Apprentice Members level, you can only earn commission for that level.
Which means to say, if you referred someone to Internet Lifestyle Network and that someone purchase all four levels of the program, you can only receive a commission for the Apprentice Members level. – It s*cks, I know.
Basically, you are forced to purchase all the membership levels to enjoy the full benefits. Thank you so much for looking out for my interest and helping me Vincent Ortega, I am $21,429 more broke than I am now in 48 Months.
This is such a ridiculous sum after you do the math. It is a total rip-off!
Be an Online Entrepreneur Now! Turn your passion into profits. Click here!
The Internet Lifestyle Network affiliate program Compensation Plan
---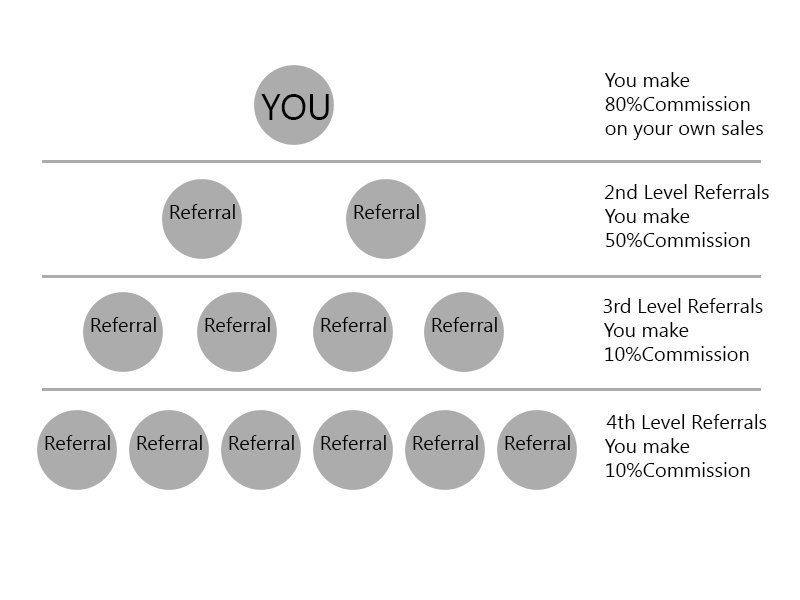 The picture above is for illustrative purpose only. You will get 80% commission on your personal referrals, 50% commission on your 2nd level referrals (meaning people whom you referred who made commission), 10% commission for the 3rd and 4th level of referrals. Anything below that level will be sucked up by your downlines and Internet Lifestyle Network.
What is in the Internet Lifestyle Network?
---
One big problem with the lessons in the program are that they are too lengthy and boring. There are so much talking and do not really have much substance and useful materials.
The Apprentice Members level which cost $37/mth teaches very basic Facebook affiliate marketing strategy. I'm trying to keep this review short so I'll only be discussing on a selected few lessons.
Course 1: Speed Wealth System Fast Profit Formula
Lesson 3: 6-Figure Earner's Daily Facebook Playbook
This is a 2 hours long webinar video which teaches nothing much about affiliate marketing. All it teaches is posting links on Facebook.
Once you are a member of Internet Lifestyle network, you will be provided with a Facebook affiliate link. Copy that link and start posting (Spamming) it on your Facebook wall and everywhere else.
This link will direct any potential viewers to a Facebook group created by two members of Internet Lifestyle Network. Once  any viewer joins the group, he/she will see post of other members of Internet Lifestyle Network (Almost all posts are about how "Great" ILN is).
There will be steps in the Facebook group that will lead viewers to join ILN. (See picture on the right. Click to enlarge)
Once anyone joins ILN, you will get a commission. It is simple as that. But on the flip side of it, you will start to lose many friends as you are spamming their walls and "hard-selling" them.
Lesson 4: 6-Figure + Speed Wealth Thoughts
Another 2 and a half hours webinar video that has a lot of talking but very little education. OMG! I sat through the entire video and I almost wanted to kill myself.
This video is more about instilling a positive mindset in you. It is just another typical MLM "YOU CAN DO IT", "EVERYTHING IS POSSIBLE IF YOU JUST BELIEVE" kind of video (Not the best I've seen anyway).
The first quarter of the video is about Mark Hoverson's (Co-founder) life before he became successful. How he turn from rag to riches and what was the mindset he had.
For me, this video is just a waste of my time, it doesn't give you any action plan, no exact steps for beginners to follow. It only teaches you to read a motivational book called "Secrets of the Millionaire Mind by T.Harv Lker" to keep your spirits up.
Course 2: The Famous Viral 5 ILN Lifestyle Formula
Lesson 2: Create your "Amazing" Blog
This 29 Minutes video on creating a blog  do not teach you about creating content, getting free traffic, getting rankings, etc. It only teaches you how to create the blog. THAT'S ALL! There are so much you need to know about running a successful blog or website.
To Learn how to blog, you are required to join the Professional Members Level and this is not a good thing. Being an affiliate marketer revolves around building a blog, without a blog you are just like fighting a war without any bullet. So basically you are being forced to upgrade to the Professional Members Level.
Moreover, the ILN blogging platform generates a "done for you" blog with a blog address like "yourdomainname.internetlifestylenetwork.com". If you want to do something else with the blog or change your blog name, you have to upgrade to the professional members level as well.
MORE UPSELLS! You will need to pay somewhere around $195 to $495 for customized backgrounds and banners. THIS IS CRAZY!!!
Building a Website is easy (you do not need to pay more than $50 to set one up) but running a profitable website is hard. If you need guidance on building a successful website, I would recommend you to a well thought out course for beginners (Even if you have zero knowledge).  You can read my #1 recommended Affiliate Marketing Course and opportunity.
To sum it all up
For your $37/mth, you get practically zero knowledge and a blogging platform.
A waste of my precious time! A bunch of long draggy videos with a lot of talking but very little education. It is really difficult to focus through the videos as most of the time the speakers do not tell you what exactly you need to know, they beat around the bush A LOT.
For a 2 hours video created by the owners (Vincent Ortega and Mark Hoverson), you can expect 1 hour and 45 minutes of chit chatting, talking about their lives, how they made the big bucks, what mindset you need to have and tonnes of Bulls***.
All I can say about ILN is "Avoid at all cost!". Heed my advice, proceed to read my #1 recommended affiliate marketing course and check it out. You've got nothing to lose and lots to gain there.
If you have any thoughts on Internet Lifestyle Network, I welcome you to share it with me. Leave a comment below and I will respond to you. Thank you so much for reading Internet Lifestyle Network review.
Your pal,
Jack