No Website Millionaire – Why I think its not worth your time and $$$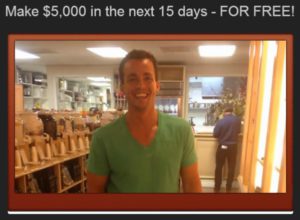 Name:  No Website Millionaire
Website:  www.nowebsitemillionaire.com
Price: $47 + Many upsells
Owners: Travis Stephenson
Income Opportunity rating: 1 / 5 Stars
#1 Recommended Online Business Training with Proof: Click Here
No Website Millionaire – Why I think it is not worth your time and $$$
---
Travis Stephenson (Owner of No Website Millionaire) wants to bet with you that you are going to make money instantly after watching his No Website Millionaire introduction video. How about me betting with you that you won't make money instantly, I'll bet $100, call? Well…. I don't want to win your money on this because I know this is your hard earned money but I am going to tell you why I am so confident on my bet.
Before I get deep into my review, I just want to clarify some doubts of whether you can make money online without a website. Yes, you certainly can!  But, will you be a millionaire going through the No Website Millionaire program? Well, I doubt it.
I am not here to stop you from buying No Website Millionaire but rather to share my experience with you on this product. You see, I am not those people who will pass judgement on a product without actually trying it. I literally spent hours going through the entire program to see if its worth your time and money. So here I am giving you my honest and sincerest review on No Website Millionaire.
Look below, there's something very interesting that I want to share with you. I am always thrilled to engage services of Fiverr.com because you can get almost anything done for just $5, so by chance, I saw this person promoting his video testimonial service for just $5.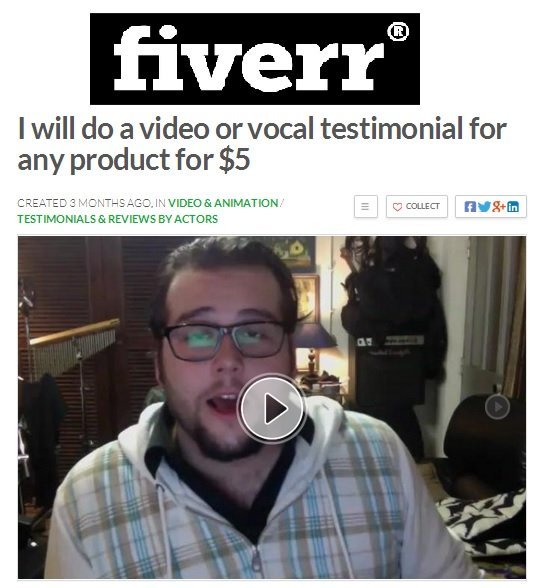 Do he look familiar to you? Isn't he the same guy who claimed he made $10,300 with No Website Millionaire? So why is he promoting his low cost ($5) services when he is making so much money with No Website Millionaire? Just a thought for you.
So…. can you really trust Travis? Do his "amazing" No Website Millionaire system really work? Well, despite the fact that the production of this program is of low quality, there are several good ways to drive traffic. Let us take a peep into what No Website Millionaire got to offer.
Be an online entrepreneur NOW! Learn how to turn your passion into profits! Click here.
Are you getting your money's worth?
---
Right after you paid $47 for the program, there are 2 steps for you act upon. Step 1, pay $197 one-time payment to get access to Travis's campaigns that show you what income streams to tap into. Step 2, pay another $297 one-time so Travis will use his automated traffic system that he have "developed" to generate traffic for you.
Well I do not know how far you are in terms of your education on making money online but one thing for sure is you need traffic to generate money. However, let me tell you that the "automated traffic system" that Travis claimed to have developed, isn't developed by him. Don't listen to his bullsh*t.
The Automated Traffic System is developed by this guy name Anthony Morrison and worst of all you have to pay another $47 for it. The money that you have spent on No Website Millionaire do not cover this for you.
Slowly stripping and unveiling No Website Millionaire
---
For $47, you will get access to 3 video lessons which is 27 minutes and 28 seconds long and that's it.
Video 1: Activating your commission platform
The first video lesson is all about signing up with a product call Speed Wealth System which is a product of Internet Lifestyle Network, a MLM company that supposedly teach you how to do affiliate marketing. If you want to know what exactly Internet Lifestyle Network is, read my review here.
But to sum it all up, I personally had signed up and gone through the courses offered in Internet Lifestyle Network and my experience with it was not pleasant. The video lessons are usually long and do not provide any valuable information. Basically, it is not a product that anyone should promote to being with.
What you do not know is that Travis makes money off you when you join Internet Lifestyle Network through the link that he had provided you in No Website Millionaire. You get 7 days free trial to internet Lifestyle Network and after that you need to pay $37/mth for the basic membership, for which Travis will make $20 commission.
I don't get this part because instead of giving more value to you for your money's worth on No Website Millionaire, Travis is actually profiting from you indirectly. To me this is just shady.
Video 2: Getting Traffic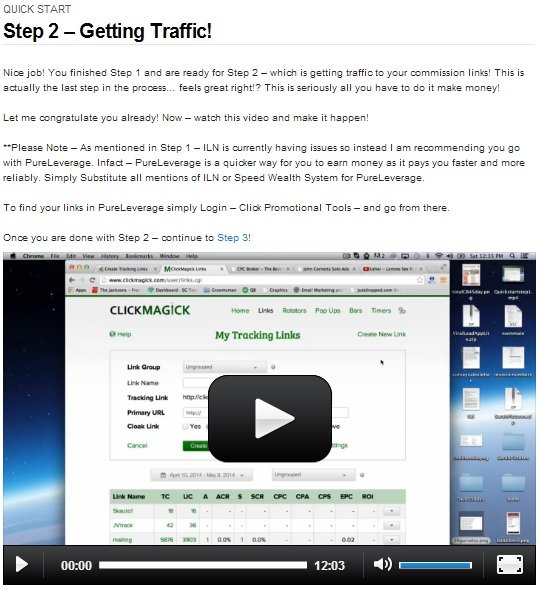 Again, like I said, Travis is profiting from you in No Website Millionaire, he introduces you to a few traffic generating sources (solo ads), provides you with a few links and once you click on those links and pay money to buy those traffic that Travis recommended, he makes a commission.
Don't get me wrong, those traffic generating resources that Travis introduce are good ways to generate targeted traffic. I personally use solo ads to drive traffic to my website and they work great.
But to profit from you again in this manner, is absolutely unacceptable to me (my personal opinion).
Video 3: Watch your inbox for commission
Step by Step, Travis is making absolute commission from your hard earned money. This video introduces you to this automated traffic system (created by Anthony Morrison) as I've mentioned above which you got to pay more money for it.
To me, it seems like Travis is using No Website Millionaire as a platform to generate more money for himself instead looking after your interest (Learning how to actually make money online).
And there you have it! Your $47's worth of education. Worth it or not, you be the judge of it.
I believe you are looking for an honest way to make money online. Start your online business now! Click here.
Going deeper, Stripping off No Website Millionaire! Woohoo! Sexy! Nice!
---
This part of the program, "Bigger Commission" as Travis calls it, requires you to pay $197 for the upgrade, like I first mentioned to you above. This upgrade package of No Website Millionaire consist of 7 steps that you have to follow. This 7 step video series is about an hour and 30 Minutes long.
For the sake of keeping this review short, I will only discuss on the things you need to know about No Website Millionaire instead of describing what each video is all about.
Upgrade Series: Bigger Commission (Step 1)
This step requires you to sign up to an auto-responder (GetResponse), if you have heard of this email marketing system, great, because GetResponse is a reliable email marketing system that helps you send automatic emails to your subscribers.
However, like I said again, and I'm getting tired saying this, Travis is making commission from your purchase to GetResponse. You see, each step you take in No Website Millionaire requires you to pay more money for additional services which you do not know if it is necessary.
Upgrade Series: Bigger Commission (Step 2)
Heard of LeadPages? This is the premise to the entire idea of making money without having a website and hence the name No Website Millionaire. You sign up with LeadPages, create a capture page to capture people's email.
This step teaches you how to integrate GetResponse and LeadPages. Let me break this down for you, the entire process thus far, you sign up with Speed Wealth System, purchase traffic from solo ads, drive traffic to your Leadpages (Capture Page), capture email from GetResponse, and then send email to those people who have not sign up with Speed Wealth System and get them to join the Speed Wealth System.
Sounds easy? Yes it is! But it doesn't come cheap. I estimated that you will need to spend close to or more than a thousand dollars doing just the above.
Upgrade Series: Bigger Commission (the remaining stuff)
Basically, the remaining stuff in No Website Millionaire are not worth talking about because it is all about teaching you how to use GetResponse and LeadPages. You can get this information directly from the source (GetResponse & LeadPages) when you sign up to them. They have a even more comprehensive course than what Travis is teaching you.
One more thing, by "bigger commission" it means upgrading your membership in Speed Wealth System (Internet Lifestyle Network).
Basically, you get $20 for each person you refer to Speed Wealth System, but in order to get more commission, you have to pay more money. Let me show you below the cost for upgrading to the full membership of Speed Wealth System:
There are a total of 4 Membership Levels of Speed Wealth System (Internet Lifestyle Network):
Apprentice Members – $37/mth
Professional Members – $97/mth
Executive Members – $997 One time
Total Lifestyle Alliance – $2,000 down payment & $250/mth for 48 months
Woah! You get what I mean? To earn commission from Apprentice Membership, you have to be a member of Apprentice Membership. To earn commission from Professional Membership, you have to be a member of Professional Membership.
This vicious cycle of upgrades will cause you to go broke before you even start making a single penny.
My Sincere Advice to you
---
Well, you have come so far down this review and I believe you are still looking for a way to learn how to make money online, so I just want to give you my 2 cents advice. Weigh the pros and cons of No Website Millionaire and decide for yourself if it is really worth your time and money going through the program.
So where do you go from here if you decide not to buy No Website Millionaire? I would suggest that you read my #1 Recommended online entrepreneur course review. This is the place where I get tonnes of useful and valuable online business lessons. Don't worry, this link will not direct you to any sales pages. It will only direct you to my review. If it directs you to any sales pages, please come back here and scream at me (Literally), just post your comment below.
If you find my review useful, please help to share it with your friends and family by clicking on the social media buttons below. Sharing is caring. If you would like to discuss more on No Website Millionaire, I invite you to leave a comment below and I am more than happy to discuss this with you.
Your pal,
Jack