National Consumer Panel Review – Worth Sharing Your Shopping Data?
"Get paid for your weekly Grocery Shopping!"
And that's what National Consumer Panel (NCP) is all about. They pay you just for sharing your shopping activities.
Plus, they will also provide you with the scanner to scan your receipts. Isn't that awesome?
But, here's the catch!
It is not easy to qualify as a NCP member, you have to match the household demographics they are looking for.
And, it is not easy to benefit from this program. It will probably take you months before you are able to exchange for a gift card.
So, I'm sorry to dash your hope if you are looking for a quick and easy way to earn money with NCP.
If you are looking for a way to earn a full-time income online, you may want to check this out.
How I Fired M​​y Boss and Still Earn a Full-Time Income. Here's How You Can Too!
Review Summary
Name: National Consumer Panel
Founders: IRi & Nielsen
Price:​​​​ Free
​Recommended? No. Check this out instead.
Income Opportunity Rating:
Summary: National Consumer Panel also known as NCP, is a joint venture by IRi and Nielsen.
If you are familiar with Nielsen, they are the ones who puts 5 x $1 bills in your mail in exchange for insights about your TV watching habits.
These two companies are the leading consumer insight providers in the United States, and they have been around for a very long time.
NCP gathers shopping data from their panel members to help companies develop and improve their businesses.
In order to gather the data needed, NCP members are given a scanning device (or they can use a smartphone app) to scan all of their shopping receipts. They may even get a chance to complete surveys regarding their purchases.
Members are compensated with points for completing the tasks, which they can redeem through different redemption options.
Recommended? No! Because, it is tough to join, and you can't earn much. I'll discuss more below!
How Does National Consumer Panel Work?
Can Anyone Become a Panel Member?
National Consumer Panel members are reserved for the U.S. citizens.
But, even with a U.S. citizenship, you are not guaranteed a spot in the NCP.
It really depends on the requirements of the NCP, which they will not disclose to you.
You just have to fill out the information on their website, and they will determine if you are the right person for their membership.
This exclusivity makes the membership enticing. Don't you think that the feeling of becoming a NCP member is like winning a lottery?
Though it is tough to join the membership, it doesn't mean that you should stop trying. It's free to try anyway. You just have to be at least 18 years old.
If you qualify for the membership, an email invitation will be sent to you to setup your member account.
Following to that, a free scanning device will be mailed to your address immediately if you qualify for it. Otherwise, you can install a NCPMobile app where it does the exact thing (scanning).
Note: this free scanning device is not your property, and it belongs to the NCP. If you are not a NCP member anymore (or as they determine), you'll need to return the device to them.
Start an Online Business Based on Your Passion that Generates a Full-Time Passive Income. Click Here to Learn more!
How to Earn Points with National Consumer Panel?
#1 Scanning Your Shopping Receipts
As I have mentioned above, NCP will provide you with the barcode scanner to get started.
It is either the barcode scanner device, or they will give you access to the NCPMobile app (for android and iOS) where does the same thing.
These days, everyone should have a smartphone on hand, and the NCPMobile app is definitely a better option in my opinion (because it is more convenient and has no legal obligation – returning the device later on).
Anyway, to submit your shopping data to NCP, you have to scan your shopping receipts with the device or app.
On top of that, you have to manually input data like the quantity, the price, etc.
Imagine having to do this over hundreds of items you've purchased every week. Some people complaint that it is really time consuming.
The data you've entered needs to be transmitted to NCP at the end of every week, and points will be credited to your account where you can use it to exchange for gifts.
#2 Complete a Simple Survey
NCP will use your demographic information and the shopping data you've provided to decide which surveys you qualify for.
For this reason, members will most likely be able to complete the surveys without being screened out (kicked out of the survey halfway through). This happens with many survey sites.
However, survey opportunities are occasional. So do not bang your hopes on this.
#3 Bonus Points Rewarded
NCP offers a bonus to all of the active and old panel members.
The company will increase your potential earnings based on the number of hours you have spent to scan barcodes and answer surveys.
And aside from that, you'll also earn bonus points on your birthday and on your anniversary in the platform:
birthday = 250 bonus points
3-month anniversary in the platform = 1,500 bonus points
6-month anniversary in the platform = 1,000 bonus points
1-year anniversary in the platform = 1,000 bonus points
What to Redeem with Your Points?
Unfortunately, NCP doesn't offer an option to convert your points into cash or be paid through PayPal.
However, you can choose to redeem your points as a gift card, merchandise, or a charity donation as long as you've already earned a minimum of 8,000 points.
You'll automatically get entries into sweepstakes if you are an active panel member. Here's how much you can possibly win:
Weekly Sweepstakes (50 winners each week) = $25
Monthly Sweepstakes (30 winners each month) = $200
Super Scanner Quarterly Sweepstakes (20 winners each quarter) = $500
Cash Giveaway Quarterly Sweepstakes (1 winner each quarter) = $20,000
Panelists Of The Year Annual Sweepstakes (10 winners each year) = $500
Why Don't I Recommend NCP?
Even though NCP seemed to be great, I don't recommend it because of these reasons…
#1 Hard to Qualify
As you already know, NCP is strict in terms of accepting panel members.
It doesn't matter what skills you have or what ethnic group you belong to. As long as you do not meet their criteria, you will not be accepted.
Well, it doesn't hurt to give it a try. You'd never know if you will be accepted.
#2 You Might Run Out of Patience!
You are supposed to get paid for scanning your shopping receipts.
If you have not done this before, you may find this a tedious task.
Imagine having to scan all of the grocery items you've bought over the week. I can assume that it is more than 90 items.
Plus, you'd have to manually input data like the quantity and price.
If you are slow at it, it might take you hours to scan and input data for all the items.
​Start an Online Business Based on Your Passion that Generates a Full-Time Passive Income. Click Here to Learn more!
#3 Little to No Rewards
Despite the time consuming work, NCP rewards you with meager points.
Some members even complained that it almost took them more than a month to accumulate enough points for the minimum threshold.
Just take this as an example, you'd be spending an average of 2 hours per week to scan all of your shopping items. That'll be 8 hours of work, and this may accumulate enough points to exchange for a $10 gift card.
Is this worth your time and effort? I'll let you decide. Honestly, it may be more fulfilling if you start your own online business.
#4 There's NO WAY to Directly Redeem Cash
NCP doesn't offer you a way to turn your points into cash.
Though there is the sweepstakes, but winning it is pure luck.
If you are looking to earn cash instead of getting rewarded through gifts, then NCP may not be the right fit for you.
#5 FAULTY Barcode Scanners?!
Some of the users had the same problem with NPC!
They received a FAULTY barcode scanner.
And did you know what it did to them? These faulty barcode scanners wasted their time.
Here's an example from the user who reviewed NPC…
#6 NCP "Threatens" You to Return the Scanner
This is the reason why I said using the NCPMobile app is much better.
Because there is a legal obligation to return the scanning device if you are not a member anymore, or if they deem that you are not active.
There are already so many complaints about this, and it doesn't matter what story or alibi you have, as long as you do not submit any shopping data for a week…
You risk getting notifications from them to return the device.
And, if you failed to do so, you may be slapped with legal notices. But sometimes, you still get the legal notices even if you've returned the device.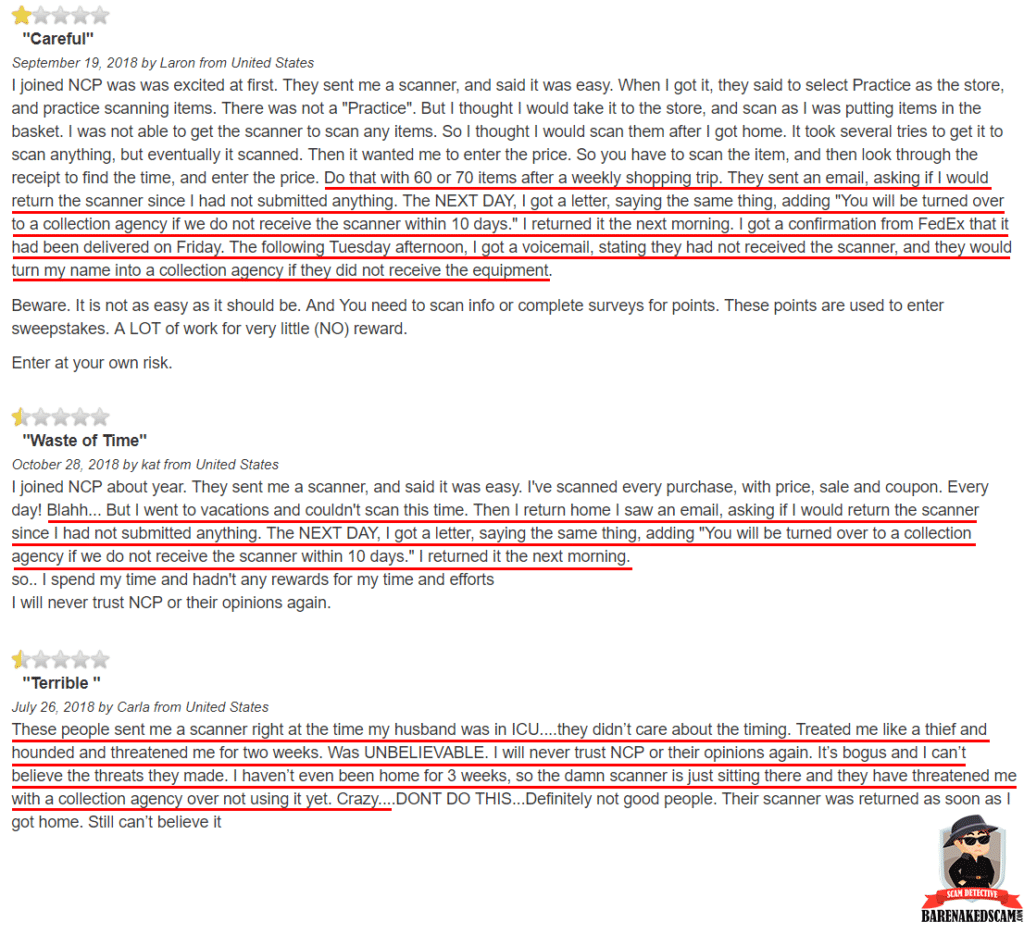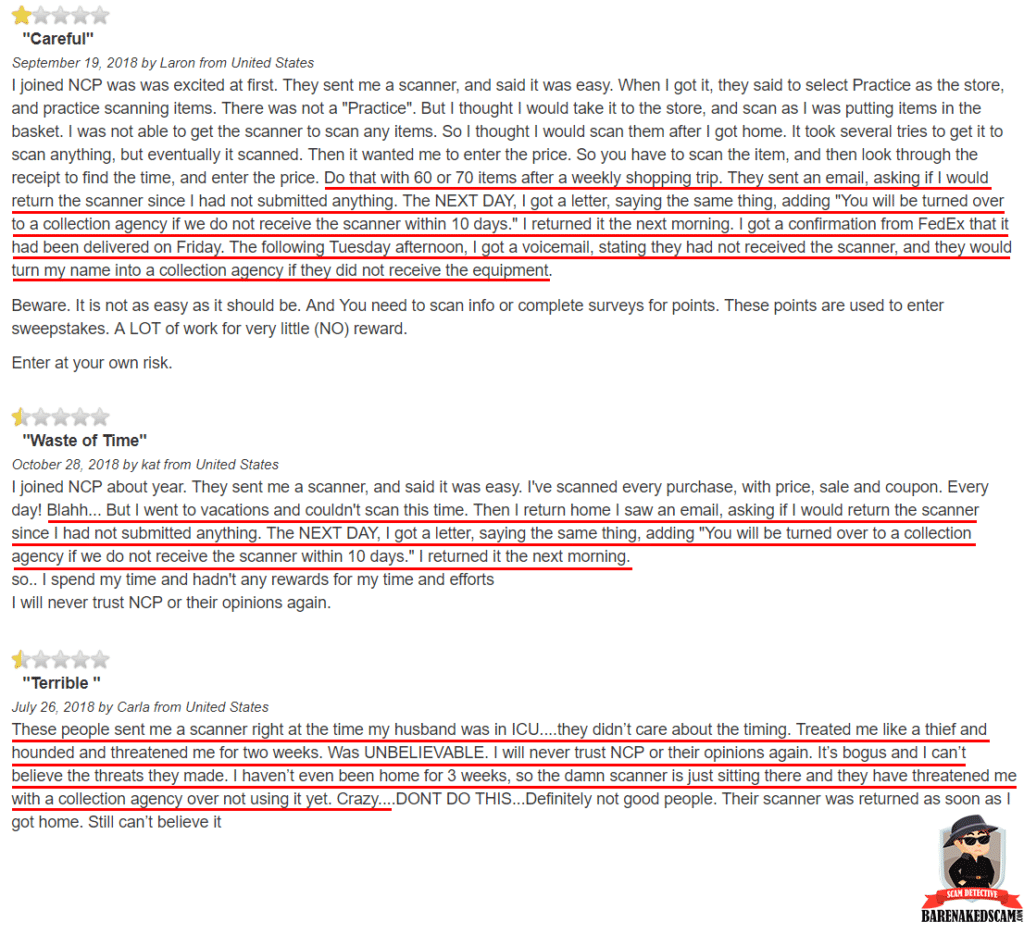 Source: Survey Police
​This Program is Responsible for Thousands of Online Success Stories. Click Here to Find Out Why!​
My Sincere Advice to You
In my opinion, National Consumer Panel is legitimate, because members really do get rewarded.
However, I wouldn't recommend it because you'll be spending a lot of your precious time for small rewards.
As well as the many reasons I've shared above.
Your time could have been used for something more worthwhile, like starting a passion based business that could potentially replace your current income.
If you are still looking for a way to earn more money online, I would recommend that you check out this program.
This is the program that helped thousands of individuals, like you and me, to become successful online. If you are interested, here's my success story.
Thank you for reading this NCP review!
I hope that I've provided you with sufficient information.
If you are or were a NCP member, I'd like to hear from you about your experience. Please leave a comment below.
And, if you found this review helpful, please share it! It might help someone who is looking for this information.
Your friend,
​Jack