Is Market Buster a Scam? – Find out the truth here
Name:  Market Buster
Website:  www.market-buster.com
Price: $250 min deposit
Owner: Ethan Taylor
Bare Naked Scam rating: 5 Thumbs Down
The Most trustworthy Investment Social Network: Etoro
The Most trustworthy Online Business Training Course: Click here
---
How would you like to make upwards of $2,000 a day without having to do any work?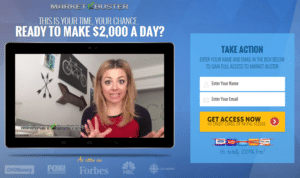 That's what the Market Buster App promises, an abundance of wealth and the key to your financial freedom. Clearly, it's another scam that you should keep your distance from.
Market Buster is yet another binary trading software that claims to send thousands of dollars to your bank account every single day without fail. In fact, it claims to have an 88% success rate (which is impossible)!
If you are considering joining this program, I suggest that you change your mind, it's another scam and you will likely not be able to receive a refund. Of course you're probably wondering why I think it's a scam, and that's where this review comes into the picture.
You should be aware of the fact that most products that are caked with a thick layer of hype and time-sensitive offers are almost always scams. Most scammers are not as creative as you might think and continue to make the same scams under different names.
Once you learn how to spot the red-flags navigating the marketplace will be safe and you'll avoid throwing money down the drain.
With that in mind, let's continue with the review.
For Aspiring Traders: Minimise your risk of losing in trades. Click here to learn!
OR
For People who want to make money online without risk. Click here!
How does it work?
---
Market Buster uses binary signals to let users know when is the best time to open or close a trade. The App is supposed to be a secret algorithm that detects when the value of a trade will increase or decrease, it's kind of like predicting the future.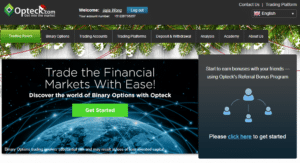 At least, that's what the program promises. All you have to do is sign-up and click the "On" button and let the algorithm work for you!
Unfortunately, it's never that simple.
New members are redirected to Opteck, a lesser-known trading company. I did a little bit of research about this company and I did not find many positive reviews, it has a bad rating and I don't recommend it.
An Opteck account manager will call you and encourage you to deposit $250 which is the minimum required amount. Then you'll be able to download the app and start trading as you please.
It's important to understand that Market Buster in itself is nothing more than a gateway to Opteck. It's simply an affiliate website for Opteck, nothing more. The app that is advertised is actually Opteck's app – it has nothing to do with Market Buster.
So, in reality, Ethan Taylor didn't invent anything besides an affiliate website. I don't doubt that he makes a decent amount of money from the website, a lot of people fall for these scams. If you determine someone's success by how much money they make online, then Ethan Taylor is quite successful.
But you can't scam people forever; eventually it catches up to you. It also seems like the website is a copy-and-paste template.
Learn how to Trade like a Pro. Find out how!
First Impressions…
---
When checking out the website for the first time, I noticed a few red-flags.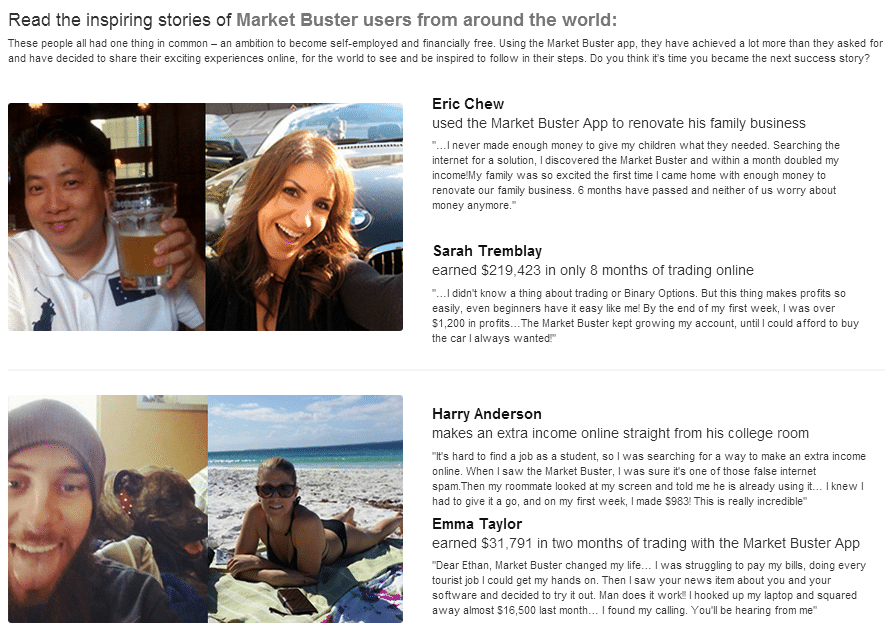 For starters, there's a lot of hype and false promises. The sales video is full of the usual false promises and the exact details are kept hidden. It's all about what you can do with more money and no actual details about how the program works.
The claim to make $2,000 a day with absolutely no work is a big red flag. The testimonials also look suspiciously fake, I couldn't find the actors this time, but it doesn't take much to create a video testimonial, anyone can do it.
Also, the "As Seen On…" endorsement is fabricated, I checked to see if this product was mentioned on any of the websites it claims it was and it was not mentioned at all. It doesn't come as a surprise!
On top of that, the sales video is hosted on YouTube. You think someone who's making millions of dollars could afford to host their own videos but I guess not.
Let's also not forget that Ethan Taylor is a fake name.
Oh, and it's also not 100% free. It costs $250 and that's even mentioned in the video after he says it's totally free.
I also thought it was rather ironic how at the end of the sales video the speaker goes on about how much he hates people who make false promises (and he even includes videos of some products I wrote about) even though his website is an exact replica of the one's he says he hates.
For Aspiring Traders: Minimise your risk of losing in trades. Click here to learn!
OR
For People who want to make money online without risk. Click here!
But What if I want to Trade?
---
Some products can scare people aware from trading online. However, the truth is that trading is still a legitimate way to make money and invest in the future.
But anyone who claims that you'll make thousands of dollars in a couple of hours with no experience is a complete liar. You'll need to train first and learn all the ins and outs, and even that does not guarantee success!
On the other hand, if I had to point you in a direction, I would suggest that you check out Etoro, a Social Trading Platform where you can mingle around many successful traders and copy their trades.
Honestly, it's one of the best trading course that I checked out.
The best place to learn how to Trade. Click here!
What if I Don't want to Trade?
---
The truth is that there are hundreds of different ways to make money online and one path might not be suitable for everyone, everyone is drawn to different things. I also recommend affiliate marketing to anyone who wants to create stable online income but doesn't want to take the risk of binary trading!
This program is my favorite online business training course because it takes members by the hand and walks them through the whole process. The best part is that it's also full of members who are dedicated to supporting one another!
So, remember that Market Buster is a scam, and try to avoid products that have the same red-flags!
Your pal,
Jack