Is iMarketsLive a Scam? – A double-edged sword
Name: iMarketsLive
Website: imarketslive.com
Price: $195 for the first month and $145 from the 2nd month onward
Owners: Christopher Terry
Income Opportunity Rating: 1.5 / 5 Stars
#1 Recommended Online Business Training with Proof: Click Here
---
If you are interested to learn how to trade, or you want to make money trading from the comfort of your home, or you just want to make money without doing much work, iMarketsLive might be something that interests you.
But, the big question is, is iMarketsLive a scam? Is it legitimate? Does it really work? These are the questions I believe you will be interested to know, and I'll answer them in this review.
Founded by Christopher Terry in 2013, who has both the experience in Multi-Level Marketing (Network Marketing) and trading, he has developed a program which supposedly aids you financially without you doing much of the work.
This can be done by investing a huge pot of money (a minimum of $5,000) into one of their services called FXSignalLive, where your live trading account will automatically mimic the actions of the iMarketsLive's traders. While doing so, you are actually putting your faith into the iMarketsLive traders, and you are paying a huge premium for it.
One thing for sure, no one has ever beaten the market consistently, you may have a winning streak, but there will be days where you made losses.
I have personally trusted this kind of automated trading services, and I've invested $10,000 initially and made almost $8,000 in profits in 3 months. That's almost a 80% return, but it all went south nearing the 6th month. There are definitely risks involved and if you do not have such risk appetite, I would suggest that you re-consider trading at all. There are much better make money online from home opportunities.
This program has led me and more than a thousand people make a Life Changing income online. Find out how you can too!
Did Christopher Terry make his $80 Million Fortune from Trading?
---
Christopher Terry has claimed to make his fortune (approximately $80 Million) from trading, but did he really made his entire fortune from trading?
What I believe is that most of his fortune was made when he was a distributor of Amway and Zeek Rewards (here's an interview with Chris Terry where he talks about how well he has done with Amway).
Christopher Terry might be a good trader, but we can't be sure that he made his entire fortune from trading.
Honestly, if he was such a great trader who made millions, he would have been featured on news channels like Fox, NBC, etc, like Timothy Sykes did.
But, I have done a lot of investigative work on Christopher Terry and couldn't find a slightest hint of his track record in trading.
All I found was this article which claims that he has been featured in some derivative trading magazine without any proof to back up the claim.
There was also a complaint about Chris Terry from an ex-distributor on how he was kicked out of the iMarketsLive business gratuitously.
Will a true trader join iMarketsLive (IML)?
---
When you are a novice trader, you might find iMarketsLive's offer a catch. That's before you find other platforms which offer the same kind of service, but at a much cheaper price.
Chris Terry has said to partner with Scott Carney, a well known Harmonic Trader, to construct the "IML Harmonic Patterns Scanner", however, if you dig deeper, you will find that Scott Carney's Harmonic Patterns Scanner called "Formation Seeker" is priced much lower than the IML Harmonic Patterns Scanner.
Why go to the student (iMarketsLive) at a higher price ($195 for the first month and $145 from the 2nd month onward) when you can seek the master (Scott Carney's Formation Seeker) at a much lower price ($99/month), right? This is just my opinion, and by the way I am not an affiliate of Formation Seeker.
Some people might argue that iMarketsLive has much more than just the IML Harmonic Patterns Scanner. It has the "Live Trading Room", "Trading Education", and the "FXSignalsLive".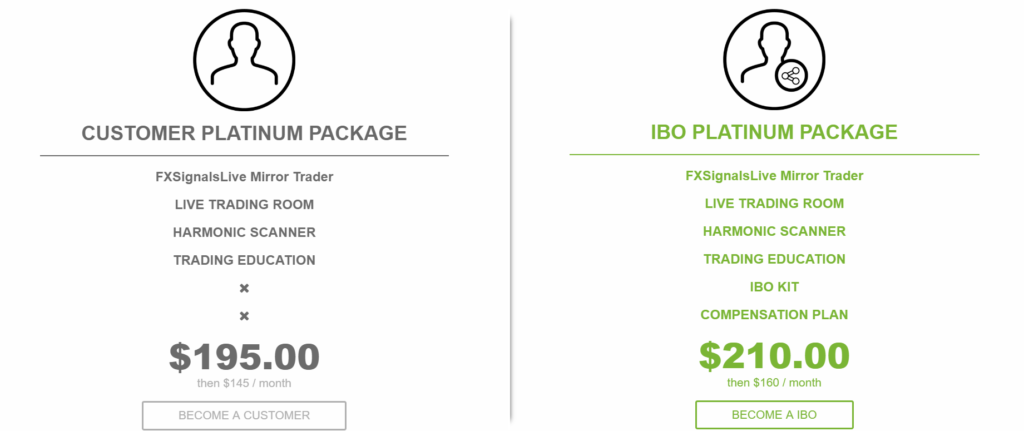 If you compare iMarketsLive and Formation Seeker side by side, the only thing missing from the Formation Seeker is the system that automatically mimics another trader's trade. But, wouldn't a true trader want to trade on their own?
Furthermore, if you want to mimic other people's trade, you need to know the track record of that person. Do you know the track record of the traders in iMarketsLive?
Honestly, I would rather bet on someone who has a great track record, and you can easily find good traders in platforms like eToro.
eToro is a social trading platform where you can also automatically mimic other people's trades. The difference that sets eToro apart from iMarketsLive is the publicly disclosed track record of each of the traders in eToro, you can easily filter the good traders from the bad ones.
What's more? It's totally FREE to join. There are no monthly fee at all! You can learn more about eToro here.
iMarketsLive is designed for people who care less about trading, and who wants focus on building the MLM side of the business. In my opinion, a true trader will not join iMarketsLive.
The REAL Business of iMarketsLive. Not Trading…
---
Trading is not its main business, the real money is made from the Multi-Level Marketing (MLM) side of the company.
The compensation plan of iMarketsLive is attractive, and it does look like a great opportunity to join, but the truth is, 95% of its distributors fail in the business and I'll tell you why below.
Before that, let's take a look the compensation plan of iMarketsLive:
https://youtu.be/mHfm-DtTc1M
When you become an Independent Business Owner (IBO) or in short a distributor, you will only be given an IBO kit and very little education on how to promote or market the iMarketsLive business.
Your marketing education will depend very much on the people who introduced you to the business. If you join the wrong team, you will most likely fail.
I believe you might have been to a iMarketsLive group meeting or a seminar, and that's why you are here searching for answers. Bringing people to these kind of meetings is exactly what you are taught to do when you join as a distributor.
The problem with that is (1) the meetings are usually hyphy, and gives people the pretense that making money with iMarketsLive is easy (You can check out the hyphy video below), (2) not everyone has the appetite for success, out of 100 people whom you have contacted, maybe only 20 will be interested in the offer, but only 3 may purchase the product and 1 may join as a distributor. As we know, we need a constant flow of distributors in order to create a thriving business. So, where do you find your leads when you've run out of it? (3) You are a salesperson who promotes a dream. Promoting the over-priced product is hard enough, promoting a dream to be financially free is way difficult, believe me. If you are in this business, you need to know how to sell. So, are you ready to start selling?
https://www.youtube.com/watch?v=za3tUUoj2iQ
Find out how you can build a successful online business here!
My Sincere Advice to You
---
The iMarketsLive is not created for traders or aspiring traders, it is created for people who wants to build a network marketing business.
People from the network marketing business knows that the real money is made from the compensation plan and not trading.
A true trader wouldn't join the iMarketsLive, because they wouldn't be bothered about building "downlines".
This business opportunity is not for people who are risk adverse, and who do not wish to be a salesperson. Trading is high risk in nature, and putting your trust on traders who do not have a track record (the iMarketsLive traders) is dangerous.
If you have the risk appetite, and you want to find and mimic the trades of successful traders with track record, you should get started here.
But, if trading is not for you, and being a salesperson is not for you as well, but you would still like to make money from the comfort of your home, then I would suggest that you check out this program. You can learn how to set this business up step-by-step by following this program.
Thank you for your time for reading this review!
If you find this review helpful, please, feel free to share it with your friends and family by clicking on the social media buttons (Facebook, Twitter, Google Plus). If you would like to discuss more on iMarketsLive, you may leave a comment at the end of this page.
Your pal,
Jack