Wake Up Now Scam – Keep Your Distance
Name:  Wake Up Now
Website:  www.wakeupnow.com
Price: It's free to create an account but you can't really do anything until you purchase a product or service.
Owner(s): Jason Elrod, Kirby Cochran, Philip Polich
Income Opportunity rating: 2.5 / 5 Stars
#1 Recommended Online Business Training with Proof: Click Here
What is Wake Up Now?
---
Wake Up Now is a web based company that claims to be dedicated to providing people with a wide range of economical services and products.
Within the members area you'll have access to a platform called The Hub which is essentially a collection of cheap services and products. The twist is that members have the opportunity to work as affiliates for all of these products which means there's potential to make some cash.
Currently, there are five exclusive products but there are a handful of sponsored products and services as well. The following are the five Wake Up Now products: Awake (energy drink), Vacation Club (travel deals), TaxBot (software for tax management), and WunProtect (security software).
The founders of Wake Up Now claim to depend on word-of-mouth marketing for their business. In other words, it's another business that has to rely on affiliate income in order to stay afloat.
The problem with this approach is that members who don't understand the fundamental principles of affiliate marketing will spam affiliate links to the previously mentioned products wherever possible.
They'll do their best to jam these products down the throats of anyone who is unlucky enough to make contact with them. We all know that one guy who always throws his links around with hopes of creating a fortune but in reality ends up on the spam list of all his friends.
Discover the world of Affiliate Marketing and learn how you can build a successful online business. Click here!
Is Wake Up Now a Scam?
---
The problem with Wake Up Now is that it's products don't really solve a problem. What value do these products really have? Do we really need a new energy drink? Aren't there already thousands of cheap travel deals online?
These products don't really offer much value to the general public. Not to mention the prices are quite steep.
For instance, The Travel Hub which is supposed to link members to the best travel deals online has three monthly subscription memberships: WUN Gold ($64), Explore Pack ($150), and WUN Platinum ($99).
It's free to make an account. That's right.
I actually created an account and I was expecting to have my email address flooded with spam messages but that didn't happen. Instead, I was presented with this nice little message:
"In order to become qualified, you need to achieve 90 Volume through product sales or purchases…"
What that means is that I'll have to purchase one of the products to become qualified to work as an affiliate or to simply use the service. But it's a little bit funny because right beneath that message is another message which says…
"No Purchase Required"
So in order to become qualified I need to purchase a product but no purchase is required. That's a little strange. There's another button next to the QUALIFY button which is conveniently grayed out but clickable. The button takes you to a sign-up page that requires an "Enroller Username" and "Sponsor Username" which need to be filled out in order to complete the sign-up form.
I didn't proceed past that point but I have done a great deal of research and it's quite clear that this company is just another attempt to scam the gullible people of the internet. It's completely pointless to pay a monthly fee for some cheap travel deals.
Be careful. The Wake Up Now scam has burned a lot of people.
Can You Make Money With Wake Up Now?
---
It's possible but there's an extremely small chance that you'll make anything worthwhile. The company surrounds the affiliate program in a lot of hype and makes it sound like the absolute best affiliate program on the internet.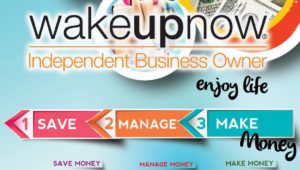 The reality of the situation is that an incredibly small percentage of affiliates are capable of securing some sales and generating some income. Most people don't want these products. We already established earlier that these products are not unique or special and just plain expensive.
So we know that people don't really need or want these products. We also know that in order to become an affiliate we'll have to sign-up for a subscription plan and become qualified. In order to become qualified we'll have to purchase products until our accounts have a Volume of 90 which costs about $150 a month.
I don't really see the point in paying to become an affiliate for products that aren't useful and that people don't even want. You should also keep in mind that you'll be selling monthly subscriptions. These aren't one-time payment products.
The Compensation Plan:
---
Wake Up Now has a basic compensation plan based on different levels and in order to move up levels you'll have to reach certain requirements. There are also different bonuses for reaching certain levels.
The first level is called Qualified IBO which requires 90 Volume a month. There are no bonuses to being a Qualified IBO but if you recruit three more Qualified IBO members then you'll reach the level called Director 3.
When people reach the Director 3 level they'll receive a $100 bonus on a monthly basis. In order to continue to increase your rank and receive more bonuses you'll have to continue to recruit members. Currently the highest rank possible is called Founder 7 which requires a Group Volume of 80,000 and opens access to a $10,000 monthly bonus.
It's important to remember that there have been a lot of cases where members never received the amount that they thought they would.
Be an Online Entrepreneur NOW! Turn your passion into profits. Click here!
I Do Like One Thing About Wake Up Now…
---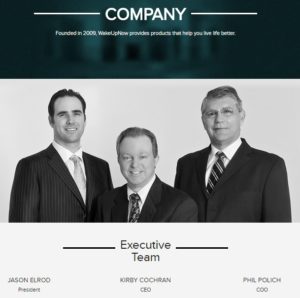 I like the company's website. It's well designed and contains a lot of information about the company which makes it easier for people to understand the idea behind the business. You can also view all of the founders on the website. They're names and pictures are all out there for everyone to see. It's clear that the founders aren't trying to hide their faces from the public.
Most people who are only interested in quick cash don't share their real names and pictures with the internet.
Wake Up Now Final Glance:
---
I wouldn't say that the company is a complete scam. It might be surrounded in a cloud of hype and it might not be the most useful business out there but at least it's an actual business. You can even purchase stocks and shares.
But I do think there are much better services and affiliate programs out there. The company should work on creating more value through their products because – honestly – the products don't provide much value to customers.
I don't recommend this product because I don't like the fact that you have to pay more than $100 to start working as an affiliate. I also don't like the fact that the products are all practically useless. Seriously, nobody needs a new Anti-Virus!
If you manage to jump through all the hoops in order to become an affiliate, remember that you'll have to spread the lies in order to convince other people to subscribe under your name. It's one of the best ways to convince all of your friends to block you from social media. It's quite difficult to promote something that you know doesn't work.
It seems like a decent system at a glance and I'm sure if the products had a bit more value it would be a legitimate business idea. But, at the moment, that's not the case.
If I know that a product is legitimate and works, I'll share it with my friends, but if I know that it doesn't work, I'm not going to share it with my friends. I'm not that desperate for cash. I don't need to lie to everyone that I talk with to make some extra cash.
My Sincere Advice to You
If you still are still looking for a way to make money online but you do not know where to start, I will suggest you check out my #1 recommended online business training center. Every successful online entrepreneur started somewhere, let this be the stepping stone to your success.
Thank you and I appreciate your time for reading my review. If you have any thoughts that you would like to share on Wake Up Now, please feel free to leave a comment below. I will be more than glad to discuss this with you. If you find my article helpful, please help to share by click the social media buttons below.
Your pal,
Jack