Is Niche Profit Classroom a scam?
Name:  Niche Profit Classroom
Website:  www.nicheprofitclassroom.com
Price: $1 trial for 14 days + upsells
Owner: Adam Short
Income Opportunity Rating: 3 / 5 Stars
#1 Recommended Online Business Training with Proof: Click Here
---
As the name suggest, Niche Profit Classroom teaches you how to profit from Niche Markets. From selecting a niche market to creating a website to generating income. This program provides valuable information for you to kick start your journey to your online business.
Founded by Adam Short in 2003, it has since upgraded to a newer version in 2015, Niche Profit Classroom 5.0. While I did not experience the previous versions, I can only base my review on the newest. After going through the NPC training program in length, I was impressed by the way this program is laid out and how Adam Short is a straight forward, no-nonsense presenter.
One thing I like about this program against many others is the "no hype" policy surrounding the program. Unlike other programs where they claim that you can make thousands of dollars in the next few days, Adam short was upfront about the income disclaimer.
Join Niche Profit Classroom Now
I am confident that Niche Profit Classroom (NPC) is not a scam, however, there are several issues in the program that I disapprove. But before I share them with you, I would like you to know that I am an experienced Internet Marketer who knows a thing or two about making money online. The things that I am about to share with you are based on my personal experience and opinion in the program.
My sole purpose here is to provide you with enough information so you can make an informed decision. Without further ado, lets dive into the Niche Profit Classroom 5.0 program.
The upsells
---
Upon entering your credit card information to join NPC ($1 trial for 14 days and thereafter $67/mth), you will be introduced to 3 upsells:
10 Niche Packs ($247 one-time payment) >> Downsell to 5 Niche Packs ($97 one-time payment)
Link tracks Package ($67 one-time payment)
Outsourcing Training ($67 one-time payment)
The Niche Packs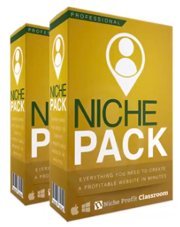 Though I am supportive of NPC, I am not overly excited about its upsells. If you are not familiar with what Niche Packs are, they are basically "done-for-you" businesses for you to upload to your website. The payment system, sales page and etc (i.e. the things you need in an online business) are all setup and ready to be "plugged in".
While it sound simple, the ugly truth is that these Niche Packs are Private Labelled Right products (mostly pre-written e-books), in other words, they are created by someone who have sold their rights to the products for a profit. These private labelled Rights products have several flaws embedded  in them:
Information are outdated – Depending on date of published of the e-book, if it was published in 2003, you can be sure that the information in the e-book are outdated. PLR products will not be updated because the owner of the product have released his rights for a profit and there are no sense for the creator to update them.
PLR Products are classified as duplicate contents by Search Engines – People who tries to get PLR products ranked on search engines will realize that their PLR products do not rank well. In other words, the PLR product will never be found on the search engines. This is due to the update on the search engine's algorithm that penalizes duplicate contents.
Your customers may have already bought the same product from a different person. Because of the nature of PLR products (being customisable and can be rebranded as your own), your customer may not realize that they have bought the same product from a different seller.
I am sure you can still make money with PLR products because there are other traffic methods other than search engines, but I am just looking out for you and your customer's interest. You do not want your customer to penalize you for selling them outdated products or products which they have already bought.
The Best Work from home program!!! Click Here!!!
Link Track Package
This upsell puts much emphasis on social backlinks. It says the greater number of backlinks from social websites to your site, the higher your site rankings will be on search engines.
While it is true that Search Engines do put priority on social backlinks, this method will soon by outdated. You can take a look at this video below by Matt Cutts, the lead engineer of Google who will share with you the future of backlinks:
Moreover, if you want to use the methods in Link Track Package for your PLR sites, the chances of your PLR site getting ranked on search engines even with tonnes of social backlink is close to zero.
If you want to use the methods in Link Track Package, it would be advisable to create your own contents rather than using PLR contents.
Outsourcing Training
If you are not familiar with creating your own content and you are clueless of the happenings in your selected niche then you will need this outsourcing training. It will teach you how to find the right person to build your website or product  and how to manage your outsourcee.
I would not recommend this upgrade to beginners because I know how hard it is to engage someone to do things to your requirements. Especially when it comes to your own business, if you are still new to the make money online industry, you would not know what you need to expect from your outsourcee.
What is in the Niche Profit Classroom training?
---
There are two different paths you can choose in NPC, the affiliate marketing way or the product creation way. Personally, I prefer the affiliate marketing way because it is simple and easy to get started. However, the NPC  is geared more towards the product creation path but nonetheless, most of the training are still valid for both Affiliate Marketing and Product Creation.
Being an experience online marketer, I still do not gasps the concept of creating and selling my own product, if you are a beginner I would suggest you follow the Affiliate Marketing path. But I will be honest that though NPC provides top notch product creation course, it is not the best course for Affiliate Marketing.
If you want to pursue the path of Affiliate Marketing, which is the path I am in, I would suggest you check out my #1 Recommended Affiliate Marketing Course.
Now back to NPC, you can take a look at the content page below:
The main focus in the NPC training is the "Website launch" (Almost 3 hours of Video Training) and "getting Traffic" (Almost 6 hours of Video Training). If you follow the course closely, I am sure you will be able to get your online business up and running.
Tools and Support
---
Tools – Content Generator
This is quite a useful tool I would say because with a simple click, you will be able to access  related information with regards to the keyword that you are searching for.  Please note that you should not copy the information provided by the tool as those are contents from other people's website and you will be penalized for content duplication.
You should use this tool to help create your own unique contents.
Tools – Email Campaign Creator
If you want to write persuasive emails that sell, this tool will guide you towards that. Take a look at the picture below:
on the left, you can see a few guidelines for you to follow and on the right you will see an example for you to follow. This tool is a great tool for beginners who want to craft their emails for their business.
Support
One pitfall of this program is its support. I've sent several support tickets but I have not received any reply. Support is one of the most important artibute in any products. Imagine you are a beginner and you did not understand some parts of the program and you needed clarity but there are no response from the support. It will be a frastrating moment for you. I really hope Adam Short will do something about the support of NPC.
Immense yourself to a world of Affiliate Marketing. Click Here!
My Sincere Advice to You
---
Niche Profit Website is definitely not a scam. Click here to join Niche Profit Classroom. There are pros and cons to this program, I would say that it is on the positive note.  However, I would suggest that you do not use the PLR products to protect your interest as well as your customers. Creating your own content will be the key to your success.
The training in NPC is geared towards product creation, it gives top notch training for that purpose, however when it comes to Affiliate Marketing, it is not the best and definitely do not worth its cost. For a much lower cost, you will be able to get much more as compared to NPC. I would suggest that if you wish to be an Affiliate Marketer, which is the path I recommend, you should check out my #1 Recommend Affiliate Marketing Course.
As always, I welcome you to share your opinion on Niche Profit Classroom, all you need to do is leave a comment below. If my article gives you enough information to make an informed decision, please help to share it by clicking the social media buttons below.
Your pal,
Jack