MLM Recruit On Demand Review – Best Lead Generation Program for Network Marketers?
Prior to writing this MLM Recruit On Demand review, I have written a lot of reviews as a scam buster here in Bare Naked Scam.
However, there are only a few lead generation programs and systems I can recall giving a rating of 5/5 stars.
First is the Elite Marketing Pro which contains the famous Attraction Marketing Formula. Then there's My Lead System Pro among a few others. 
The MLM Recruit On Demand is a close runner up that dances around the 3.5 – 4 stars.
MLM Recruit On Demand Review Summary
Owner: Ryan Gunness
Price: $15 – $125 (One-time)            Upsell $37 – $97
Bare Naked Scam Rating:
Recommended?Yes but I would recommend this instead
You might have heard some people who argue that MLMrod (MLM Recruit On Demand) is one of the best lead generation programs for network marketers.
On the other hand, you might have also encountered other people who are saying otherwise.
More importantly…
Is MLMrod a scam?
Either way, after reading this review, you can decide for yourself whether MLMrod is among the best lead generation programs today – or not.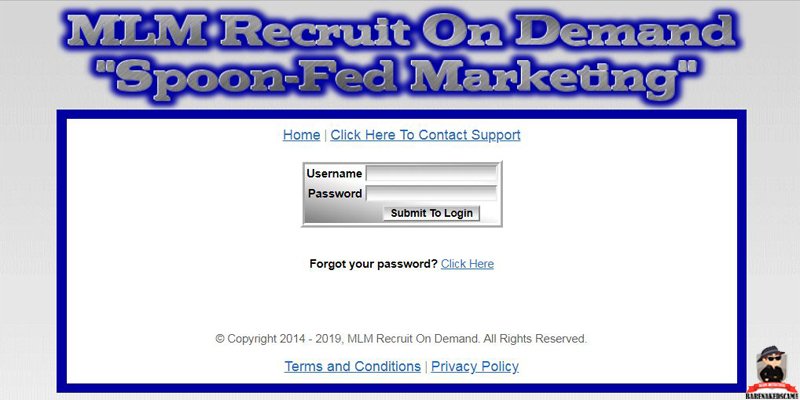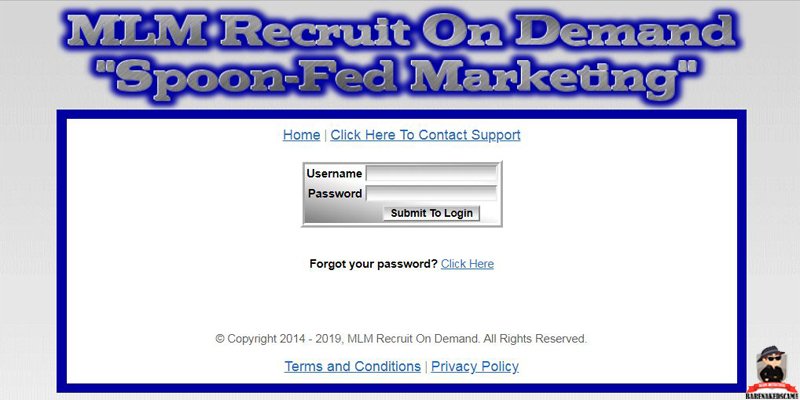 MLM Recruit On Demand
In a nutshell, MLM Recruit On Demand (www.mlmrecruitondemand.com) is a lead generation and training program.
MLMrod is geared to help entrepreneurs in the multi-level marketing industry by providing  them with a proven and tested system to get unlimited leads for their business.
On their website, MLMrod claims that they have a sure-fire proven system that provides you with a "guaranteed" 3 – 5 prospects every day. 
What's even intriguing is that MLMrod claims that these prospects will be the one reaching out to you, eager to learn about your business.
Now, isn't that every online entrepreneur and network marketer's dream?
The Founder
The man behind MLM Recruit On Demand is Ryan Gunness, a veteran in the MLM industry.
In his story, Ryan mentioned that just like most of the network marketers today, he too struggled in his previous company.
Fortunately, everything changed for him right after he met his mentor. This man taught him the ropes on how to be successful in the MLM industry.
His mentor somehow provided him with a success formula; a program that he followed and implemented within the next 30 days.
Ryan used the strategy taught by his mentor and within a month, he managed to earn his first $10K in his business.
This particular "proven and tested" strategy among other effective lead generation tools is what you can expect to learn within the MLMrod.
Easy Way To Earn a Full Time Income At Home
5 Top Things You Should Know About MLM Recruit On Demand
"How to Have 3-5 New People Looking At Your Home Business Every Day!"
This is the thing that MLMrod boast on their website and on their lead capture pages.
But before we move on to the hairy details, allow me first to highlight the 5 things you should know about this lead generation system for network marketers.
MLM Recruit On Demand is a kind of lead generation program and system that comes with "Do It Yourself" and "Done-For-You" services.
Although they mentioned a "FREE Approach" option, it does not mean that you do not have to put out a little investment. To get started with MLMrod, one has to pay a one-time of $15.
The MLMrod system is designed to work perfectly with anyone in network marketing business. Specifically those who are willing to get behind the phone and interact (talk) with their prospects. 
The MLM Recruit On Demand System simplifies the entire process of "lead scraping" and made it possible for anyone to use this type of strategy. Lead Scraping is a lead generation strategy where a program utilizes a system that collects contact information of individuals on the Internet.
MLMrod is very clear on their website that all sales made through their website are considered final. They do not offer any refunds to their members for membership and service fees of any kind.
Now without further ado, let's see what's the deal with this lead generation system by Ryan Gunness and…
How Does It Work?
By joining the MLM Recruit On Demand program, you will be provided with specific tools, training programs, and resources.
As a member, you will be guaranteed 3 – 5 phone calls every day. These will be prospects who are highly interested/curious about the business opportunity that you offer.
The system design is heavily inclined to helping network marketers build their business. However, MLMrod can also provide useful business resources to  Internet and affiliate marketers. 
In fact, any individual who needs referrals for entrepreneur type work and opportunities can benefit from this lead generation system.
In order to accomplish this…
MLMrod offers two kinds of membership options (there are actually 3 programs levels which I discussed more below) to its members. 
The first kind of program is the so-called "Do It Yourself" (P1 and P2) program where you will be given a single activity to do each day.
The second kind of membership option is a suite of "Done-For-You" (P3) tools and systems. On this membership option, all you have to do is answer the phone calls from the new leads that are pouring in.
The MLMrod system will do everything for you automatically e.g marketing, lead generation, etc.
Here's the catch…
On their official website, MLM Recruit On Demand declares with confidence that they deliver guaranteed results.
Regardless of whether you choose the DIY or the DFY program, you will get a minimum of 100 phone calls each month from interested prospects.
MLMrod Lead Generation Programs
P1 – MLMrod Basic
To get started with this program, you need to pay a one-time $15. This is one of the Do It Yourself programs; the so-called "Free Approach". 
P1 will give you access to the full MLMrod system and tools so you can get your first batch of network marketing leads.
You will be guided through a simple 1-hour daily activity that will give you the promised minimum of 3-5 new prospects, "GUARANTEED".  Well, at least that's what they keep saying on their website.
An email auto-responder also comes with the P1 program.
To summarize, these are the thing's included in the MLMrod Basic package.
A minimum of 100 leads/month
Tools to get unlimited network marketing leads FOR LIFE
Full access to proven marketing scripts
A web-based contact manager specifically designed for prospecting
Your own personal auto-responder
A set of Done For You follow up messages
Full access to MLMrod's library of training resources such as videos etc
A resource area where you can find affordable otherwise free tools to help you build your network marketing business
You get a special discount for all DFY MLMrod marketing services
Lifetime access to MLMrod's affiliate program where you can earn by promoting their training, programs, and services
As a P1 subscriber, you will never be asked to pay another fee in order to use any of MLMrod's tools or to access their training programs in the future.
Unless you wanted an upgrade, which brings us to the next item on the list.
P2 – MLMrod Pro
This is the simple one-time upgrade for people who have subscribed to the P1 program (by paying the $15 fee) and wanted to get more.
This is optional but if you so desired for an upgrade, you will need to pay an additional one-time $125 dollars to avail the P2 system.
By upgrading to the P2 program…
You will be able to double your prospect leads every day
Double the number of leads going into your email auto-responder
Guarantees that you will get a minimum of 200 leads per month!
P3 –  MLMrod Advanced
This level requires you paying a monthly fee of $97.
While P1 and P2 are Do It Yourself programs, P3 is a paid service where MLMrod do all the work for you.
A P3 member does not need to do all the grunt work required for the P1 and P2.
All you need to do is sit back and answer all the incoming prospect calls. The P3 system will find the leads and send them directly to you every day.
MLMrod claims that subscribing to P1, P2 or P3 will guarantee you a minimum of 100 calls all coming from interested prospects.
Now some of you might be wondering…
Apart from your own network marketing sales, how can you earn money with MLM Recruit On Demand?
Here's your answer.
The MLM Recruit On Demand Affiliate Program
In addition to the tools and resources you get to enjoy by becoming a member, you can also earn commission from their affiliate program.
As a lifetime member, you will have the ability to leverage their affiliate program and earn commissions.
The system is set up so you can earn a 100% commission for every P1 referrals that you make.
That means, you are entitled to make $15 every time a person you referred will become a P1 member too. On the other hand, if someone you refer upgrades to the P2 program, that's a $100 commission for you!
The MLMrod affiliate program's commissions will be paid directly to you at the time of each purchase. 
NOTE:
No commissions will be rewarded for every P3 referrals.
The MLM Recruit On Demand Incentives
Apart from the P1, P2, and P3, there is another system that you can use to grow your business with MLMrod. This is a separate optional system where you can refer your leads in to, the MLMrod Incentives Program.
The MLMrod Incentives program is a system specially designed to cater the people in your leads who are currently not yet ready to take part with the business opportunity that you offer.
FACT:Not all people from the leads provided by the MLMrod programs would join your network marketing business. I mean if they all do, then good for you!
But if we are to be 100% honest here…
A huge percentage of your leads and prospects might not join your business. This is where the MLMrod Incentive program kicks in.
How does the MLMrod Incentive System Work?
This system will use 5 different marketing approaches that will present your business once again to your uninterested leads, in exchange for offering them a FREE $50 gift card.
The only way for your leads to get the $50 gift card incentive is by watching a video clip or listening to an audio file that markets your network marketing business.
Is there a Free Trial Period?
If you are unsure whether this program would be helpful for your business, you can give it a trial run by paying $7 for 1 week. After the first 7 days, you can choose to continue using this program by paying $37 per month.
Paying the monthly fee of $37 opens up new perks for you. The monthly subscription will give you access to an unlimited amount of $50 gift cards that you can give away to your prospects.
IMPORTANT NOTE
If you manage to refer 3 people who will subscribe to this program, you can get the MLM Recruit On Demand Incentive system for FREE.
As long as 3 people that you refer remains active, you get the incentive program for free.
Flipping the Coin
At this moment, you might already have an idea why many people, including me, would put MLMrod on the same pedestal as the Attraction Marketing Formula.
Just like the latter, MLM Recruit On Demand offers a suite of proven and tested systems that will help any network marketer (both newbie and veteran) succeed in this industry.
But before you decide to buy the P1, P2 or P3, allow me to share some of the crucial issues I believe that I must point out on this MLMrod review.
#1 LEAD SCRAPING
I have mentioned earlier (5 Top Things You Should Know About MLM Recruit On Demand) that the MLMrod is using the process of "lead scraping". 
Although there is merit for this kind of approach, my only concern is that the quality of leads that you can get from the system that scrapes contact information all over the Internet is questionable.
Yes you might get 3 -5 calls every day (guaranteed) but won't most of these calls would be inquiries?
These calls would probably be from people that might have fallen from the gimmicks and flashy marketing strategy MLMrod uses to capture their attention.
However, it doesn't mean that these people are "ready buyers". 
Rather than answering your phone 3 -5 times every day, talking to people who you then have to convince why it is such a good idea to be part of your network marketing business…
Isn't it better to get calls from leads who are actually ready to be part of your team?
If you prefer getting the latter kind of leads and prospects, then I recommend this program instead.
#2 FLAWED LEAD GENERATION SYSTEM??
MLMrod is a popular lead generation system, especially among network marketers.
Now, as there might be thousands of MLMrod members registered on the same programs (P1 – P3), it won't be surprising if a single lead is being shared by multiple members. Right?
As MLMrod did not specify that you will get a totally "unique" set of 100 leads per month, imagine how bad would it be when one person receives multiple emails from different MLMrod members.
Worst case, spam emails!
And because every MLMrod member would be given access to the same list of marketing scripts, once those scripts have been widely used, it would have minimal to no impact on other prospects who might have heard it before.
Rather than stoking your prospects interests, some of those script would just be annoying to them.
#3 ANSWER YOUR PHONE!
One more thing and I want to pose this as a question. 
Which would you prefer…
A system that gets you answering phone calls from uncertain prospects or 
A system that directly introduces your leads into an online sales funnel where all their possible questions about your network marketing business would be thoroughly provided to them?
Don't get me wrong…
Having a guaranteed source of leads is great and kudos to MLMrod for accomplishing just that. 
But there are countless lead generation systems and programs in the market today that will provide you with high-quality leads in a much efficient way.
You don't even need to personally interact with them!
Looking For A Hassle Free Program To Earn Money Online? 
MLMrod's Pros and Cons
Before I end this MLM Recruit On Demand Review, here are the pros and cons list to better guide you on the next course of action to take.
PROS
MROD is designed to "complement" your existing business (if you already have one)
Low-Cost Lead Generation System
Get as many leads as you want
Opportunity to earn affiliate program commissions
Get a second chance to promote your business with the MLMrod Incentives program
Ample training and business resources
Excellent customer support
CONS
There is actually no FREE option to get started
Expect a lot of wrong and old contact numbers in your leads
Leads/prospects would be shared among members
You have to get behind the phone and talk to your prospects
My Sincere Advice To You
I can honestly say that MLM Recruit On Demand offers a suite of impressive tools. It is a lead generation system that has been proven to work on many network marketers in recent years.
MLMrod has also been useful to affiliate marketers and other Internet entrepreneurs as well.
However…
I must point out is that in order for this system to work for your business…
You absolutely need to interact with people through phone or social networks.
Even if you opt for the paid services provided by the MLM Recruit On Demand, you still need to entertain the leads that the system sends your way.
You literally need to answer calls.
But what happens if the situation does not allow you to answer your phone? 
I know this might cause some issues to other entrepreneurs. Some might not enjoy the idea of having to talk to 3 -5 (or more if you choose to upgrade your level) prospects every day while others might find this process a hassle.
This is especially true to individuals who would rather use this time to address other areas of their business, or for individuals who have more than one primary businesses to run.
Earn Full Time Income Online, HASSLE-FREE!!
My #1 MLM Recruit On Demand Alternative
If you like the system that the MLM Recruit On Demand offers but shares the same concerns with the things I mentioned above, then I recommend this amazing lead generation system instead.
I do hope you find the things you learned on this MLM Recruit On Demand review useful. If you know someone who might benefit from this, please share this to them.
Until next time. I wish you the best of luck and success in the future.
Your pal,
Jay
Do you have anything to add on this MLM Recruit On Demand Review?
Did you know something about MLMrod that I didn't happen to mention here?
Please share your thoughts and personal experiences with this lead generation system on the Comment Section below.