Jobs Across the World – Finding a Job across the world really that simple?
Name: Jobs Across the World
Website:  www.jobsaworld.com
Founder: Unknown
Bare Naked Scam rating: 4 Thumbs Down
#1 Recommended Online Business Training with Proof: Click Here
---
Nowadays, huge and popular companies get the services of job placement agencies to screen and interview the most suitable applicant for them.
There are so many recruitment agencies that go around searching for the finest candidate, or sometimes their next "victim".
I will be doing a thorough review about a job placement platform called Jobs Across the World.
You might have come across this agency in different social media sites. But how sure are you that this is legit or a scam?
Don't worry because I will tell you everything you need to know so that you can make the right decision whether you must sign up for this company or not.
What is Jobs Across the World?
---
Jobs Across the World is a platform where employers can view your resume and see if you have the skills and qualifications they are looking for.
According to their website, they will match your CV to available job openings in different parts of the world.
This will make it easier for applicants who would like to work overseas because no matter where they are, Jobs Across the World will help them land their dream job in their dream country.
But this sounds too good to be true, and for me, this is a real red flag.
Keep in mind that scammers usually entice their prey with different offers that they could not resist.
Upon checking their website, there was really nothing that I found. All you can see in their website interface was a brief introduction about what their company does.
It says there that they are a modern online platform where they help people find jobs abroad and that employers can view their profile.
They also take pride in sending e-mails about the latest job openings once you sign up on their website. You can check out their website through this link.
In my opinion, there is nothing special about their services. There are other reputable sites (like Linkedin) wherein you can make your own profile for free, browse for jobs and wait for an employer to call you. So why not just use these popular websites?
This program has led me and thousands of people make a Life Changing income online. Find out how you can too!
Something Fishy… Hopefully Jobs Across the World can clear this up…
---
Red Flag 1: Automated Answering Machines…
I also tried looking for the people behind this company on their website, but there was nothing that I found except for their contact number and their address.
Their address is in the United Kingdom. I also tried calling their contact number which has the area code of London which is +44.
I was able to confirm that it was really their contact number, but it was only a machine that answered my call.
You may argue that I called them at off working hours, but my call to them was at 2.30pm (London Time).
Red Flag 2: Are their customer reviews credible?
On their website, you will also find their "feedbacks" from their clients.
According to these clients, they found their dream jobs abroad with the help of Jobs Across the World in just a few days.
Wow! So, if you come from a different country and you got an offer from another country, do you really get your working visa in a span of a few days?
Not unless you hold a strong passport that will make the visa requirements lighter for you. But I still doubt it.
You must also remember the fact that reviews coming from their website may not be credible, and so you need to look for other reviews on other websites.
Red Flag 3: Sales call or an interview?
It was hard searching for a review about this company, but then I came across their Facebook page. Here is the link.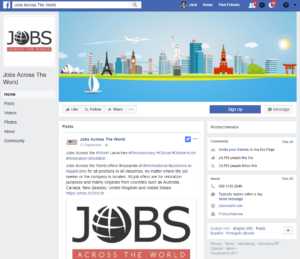 When I read in the comments, it seems that a lot of people are interested to avail of their services.
I found one comment from this Facebook user who told her experience with this company.
According to her, she received a phone call from one of the tele-marketers of Jobs Across the World and asked her about her monthly salary.
According to the agent, she needed to screen her financial capability if she could afford their services.
When she answered "Tell me how much is your service fee and I will tell you if I can afford it", the lady on the other line hung up and wished her luck.
On their website, there was something stated there that in order to include your CV in their database, you need to pay a certain amount but did not say how much.
We received feedback from other people who were also called by this company's agent, and according to them, the amount you need to pay is $890.
This $890 includes different sponsorship on hotels and airfares.
As far as I know, you will only pay an agency once they've got everything ready for you- your job and working visa. Why would you pay this huge amount of money just to post your CV on a website when you can search for jobs online for free?
Red Flag 4: Why are they Down-selling their Services?
I'd got a big tip from a prospective client of Jobs Across the World, and I quote here:
She said something along the lines of, "I realize $890 SEEMS like a lot, but with all these benefits and sponsorships, it's really worth it." She even tried to appeal to my fears and desires. "You are serious about traveling the world, aren't you? Don't you want to land your dream job for a company that will sponsor you? Sponsorships are so rare these days, and you'd me missing out on a ONCE IN A LIFETIME opportunity." Etc., etc.

 

It was clear to me then that she probably works on commission. She was so pushy and she would not take no for an answer.

 

I declined again, so she responded by asking me what was holding me back. I ended up creating fake financial troubles so that she'd piss off and leave me alone.

 

"Let me see if I can talk to our financial department to see if could help you." She put me on hold for another 30 seconds, and came back with even more good news! I can pay two monthly-installments of $435! She said she understood my dilemma, and wanted to do anything she could to help.

 

I said no again. To which she responded by telling me that, if I turn away now, I would be missing out on so many great opportunities because of how volatile the job market is, and that she could not guarantee that this offer would still be available for me in the future. Even though, she had originally told me that there were many, MANY, opportunities available in all the countries I wanted to go to.

 

And then suddenly, the price conveniently lowered AGAIN to $200 to activate my account, in five monthly-installments. "This is the lowest I'm allowed to go." Why wasn't I put on hold this time? I told her politely that I wasn't ready to commit at this time and that I had heaps of credit card debt I needed to focus on paying off. Thankfully, she finally gave up after that.

 

What was funny about this experience was that she was basically claiming that I'd be guaranteed a sponsored job in my chosen career field, even though she knew nothing about my prior job experience, or if I was even remotely qualified for what I wanted. You would think that a legit company that wants to represent me or help me find work would ask questions about whether or not I've ever been fired or arrested or something.

 

I immediately looked up the website for scam reviews right after, but found none. I would hope that this wasn't a scam, since I willingly gave them some of my banking information. I was hoping that maybe you could get to the bottom of this.

 

Thanks again for reading my email, and exposing these "companies" for the frauds that they are.

 

Best regards,

 

K
And, here's a screenshot of that email:
This program has led me and thousands of people make a Life Changing income online. Find out how you can too!
Well, I was just thinking, if someone got employed successfully, shouldn't the company pay Jobs Across the World, rather than the other way around?
Why are their services so expensive, why are their services charged to the prospective employees, and why are they down-selling their services? These are the questions I would like Jobs Across the World to answer.
Further Digging…
---
I also found a website wherein I was able to check whether the website is a scam or not. Here's the link.
Through this website, I found out that their website www.jobsaworld.com was created more than a year ago.
This also explains why you can't find reviews about it because the company itself is still new.
The website is owned by a man named David Smith. It also seems that this company is related to another organization called Jobs Moving Forward Limited.
This website is located in the United Kingdom but it seems that it shares the same server and is related to other websites in the United States and Germany.
My Honest Opinion
---
There is nothing wrong in getting the services of a recruitment agency, but if a certain agency guarantees you a job without first screening your qualifications and skills, this is certainly a red flag.
Some agencies may require a "membership fee", but $890 is too much and you are not even sure if you are guaranteed a job at the end of the day.
So might as well go to other reputable recruitment agencies.
Jobs Across the World is still a new company and still has so much to prove.
I believe that there is a high risk if you try this company. You must also keep in mind that your personal details and account details are very important. Do not just give them away because you might be a victim of identity theft and phishing.
You might want to earn more by working abroad, but this platform may not be a good solution for you.
As you may know, I review many online job or business opportunities, and I hardly find any legitimate ones.
If you have an open mind and want to know how thousands of people (including me) make a full-time income from the comfort of your home, you can check this out.
Wishing you all the best in whatever decision you'll make, and thank you for reading this review!
I hope that I was able to help you make the right decision on whether or not to use this service.
If you find this review helpful, please, feel free to share it by clicking on the social media buttons.
If you'd like to discuss more on Jobs Across the World, please, feel free to leave a comment below.
Your pal,
Jack