Is Jeunesse Global a Scam? – 7 Truths behind the Hype!
"What if you could look younger, feel younger, and live younger? Well. Now you can". That's what Jeunesse claims.
On top of that, the company promises that you can earn money and build a profitable business through selling their products.
Isn't it awesome that you can look young and be rich at the same time?
Hold on a minute! "If it is too good to be true, it probably is", right? Then questions like, "Is Jeunesse Global a Scam?", "is it a pyramid scheme?", and everything negative starts pouring in.
Now, before you join the company, we want to enlighten you with the information on whether or not the company's business and its products are the right fit for you in this Jeunesse global review.
1. What is Jeunesse Global?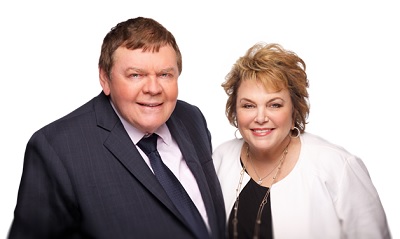 Jeunesse Global is a Multi-Level Marketing (MLM) company founded by husband and wife, Randy Ray and Wendy Lewis in September 2009.
The company offers anti-aging products and an opportunity for average Joe and Jane to achieve the life that you want through selling their products.
Jeunesse Global became one of the most talked about Multi-Level Marketing (MLM) companies in the anti-aging industry.
In 2015, in just 6 years, the company reached $1 billion in annual sales. The company boasts to have one of the most impressive compensation plans, product innovation, and wide support from its global members. 
It strategically acquired 2 other network marketing companies called MonaVie and Mynt. 
As of 2021, the company generated $8 billion in cumulative global sales. The company is now operating in many countries around the globe. The company is currently based in Florida, USA.
2. Are Jeunesse Products Good?
Jeunesse Global promotes its products for the sole purpose of making you look younger. Of course, most of us want to keep that youthful-looking appearance and that's where the company comes in.
Jeunesse Global offers Youth Enhancement System (YES) which is basically a collection of beauty and wellness products designed and formulated to help you look young, feel young, and live young. They claim that YES is backed up by scientific evidence and cutting-edge technologies in the field of beauty and wellness.
To look young and beautiful with Jeunesse, you need to purchase and use a full range of products that comprise their Youth Enhancement System. These are:
Luminesce ($48.95 to $151.95): Anti-aging skincare line that restores vitality and radiance to your skin
Instantly Ageless ($52.95): A powerful anti-wrinkle micro cream to quickly reduce the signs of aging.
Reserve ($151.95): A fruit blend full of antioxidants to supercharge your internal systems. A pack a day helps you maintain a healthier immune system, make you feel younger, and live longer-so they say.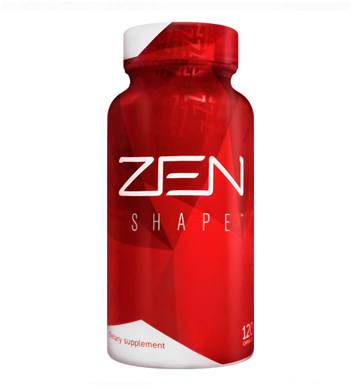 Zen ($23.95 to $52.95): A drink mix or dietary supplement to help you achieve your weight management goals.
Nevo ($52.95): A powder energy drink mix to boost your energy to help you start the day right.
AM and PM Essentials ($151.95): One pill in the morning and one in the evening to help you fight aging and help in the proper functioning of the body.
Finiti ($156.95): Pills that contain natural ingredients formulated to support your body's health.
M1nd ($151.95): Gel packs that contain Cera-Q which supports memory and recollection
Along with the YES products, Jeunesse Global also offers other health related supplements and products. Here is their complete product catalog.
However, as appealing as their product sounds, all of their promoted products have not been evaluated by the FDA.
This means that their products are not proven to diagnose, treat, cure or prevent any type of disease.
You might be wondering why MLM companies could sell products without FDA approval.
For your information, FDA allows any manufacturer or distributor to market any form of dietary supplement or healthcare product as long as they use ingredients that are already present in the food supply and not chemically altered.
Despite that, some distributors took it too far by promoting unrealistic promises that Jeunesse products would be 100% effective for anyone.
We've done research and found customers regretting trying Jeunesse products.
In Quora, we've read a customer stating that she spent $2000 on Jeunesse products and got a lot of pimples. The same thing happen to all her friends to who she referred the products.
Meanwhile, in Trustpilot, most of the reviews that I read were positive. Many customers claimed that their products were indeed effective. However, I found some people posting negative comments about their products.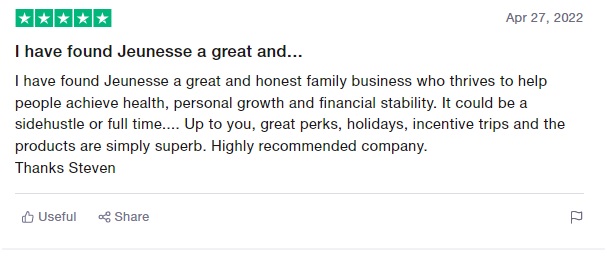 With this mix of Jeunesse Global Products reviews, it implies that there is no guarantee that Jeunesse products will work.
Hence, we will advise trying their product first. But it is still better to consult with a doctor, pharmacist, dermatologist, or other health professionals before trying their products, in case there are any complications.
And if you already tried Jeunesse products, please tell us about your experience in the comment section. We would deeply appreciate it.
3. Is Jeunesse a Pyramid Scheme?
With all the hype surrounding Jeunesse Global, the dominant question will be if they are a legitimate MLM company or an illegal pyramid scheme.
Before we move ahead, let's understand what a pyramid scheme is…
To simplify, a pyramid scheme is a recruitment drive. Members recruit other members on the basis that they can earn money from a "business opportunity".
And, new recruits will recruit their friends and family members on the same basis. The company sells products of little to no retail value at all in attempt to cloak the scheme. They sell products only to its recruited members.
Many have accused Jeunesse of running a Pyramid scheme. The huge number of lawsuits involving the company was a factor in these claims.
Jeunesse Global Lawsuit
Let us summarize all the lawsuits involving the company.
Back in 2015, Jeunesse Global received a complaint letter from TINA.org due to deceptive income claims from the company and its distributors. Another issue raised was the unsubstantiated health claims that Jeunesse products could cure cancer and other major diseases. Since then, the company has included an income disclosure on its website.
In July 2016, James Aboltin, a former distributor, filed a lawsuit against the company for operating an illegal pyramid scheme. Aboltin claimed that he was misled by the company offering a legitimate way to earn money. This resulted in loss of money which he claimed the company's unfairness and fraudulent business practices. In January 2019, the court approved a private settlement agreement between the two parties.
In December 2016, another lawsuit was filed against the company for allegedly operating a pyramid scheme. Mellin Tsai and Alyssia Hogue stated that they did not make any money at all as distributors as promised by the company despite their devoted time and efforts. In May 2017, the case was voluntarily dismissed without any disclosed reasons.
In October 2017, another Class Action lawsuit from former distributors was issued for Jeunesse Global Pyramid Scheme. The lawsuit also stated Jeunesse illegal money laundering practices, tax evasion, and uncompensated work. In December of the same year, the lawsuit was dismissed for undisclosed reasons.
In August 2018, another lawsuit was against Jeunesse from one of its former distributors, Helen Xiong. Xiong also alleged the company to be operating under a pyramid scheme by focusing more on recruitment instead of selling products. In July 2019, the lawsuit was dismissed.
In 2021, the Direct Selling Self-Regulatory Council (DSSRC) closes an investigation with regards to earning claims about its business opportunity having the ability to $100,000 a month for an average person. Facebook posts and YouTube videos with such claims have been removed by the company.
Despite all the lawsuits involving the company, we don't think they are operating a pyramid scheme.
Jeunesse and its products have their merits, and many people overlooked this fact. We've seen Jeunesse customers, who are not distributors, experiencing positive results after using the products.
And, we've also sat in meetings where Jeunesse distributors were solely focused on selling the products, not the recruitment part.
Although we wouldn't dismiss the fact that the company has gotten lots of class action lawsuits.
This is the fault of the many distributors as well as the company's management for not managing their distributors well.
We totally understand those people who filed the lawsuits because they were brought into the business for the wrong reasons.
But, to claim the entire company as a pyramid scheme and a fraud, is uncalled for.
In our point of view, Jeunesse Global is not a scam nor a pyramid scheme. It is the rotten few who spoiled the bunch.
4. Jeunesse Global Compensation Plan
Jeunesse Global's compensation plan can be pretty complicated for first-timers.
So, we will do our best to summarize it for you.
First, some of the key terms.
GROUP VOLUME (GV): Group Volume is the volume that is generated through sales in your two teams
COMMISSIONABLE VOLUME (CV): the volume or points assigned to each Jeunesse products. The commissions you will earn is based on the accumulation of these points.
If you want to be a distributor, you need to accumulate 100 CVs as an associate within a month in your first years.
And if you want to reach the Executive Rank, you need to be an active distributor and have at least one personally enrolled distributor under your team. Reaching Executive Rank entitles you to additional commissions.
Jeunesse Global follows a basic binary model in its compensation plan which means that you need have personally enrolled distributors on both the right and left leg to qualify for commissions.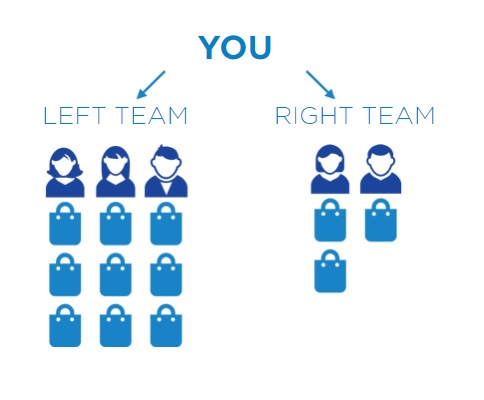 In your team, you need to have at least 600 Group Volume (GV) on one leg and 300 GV on the other leg. Once your team achieves this, you will be qualified for "Team Commission" worth $35 which is also called a "cycle bonus"
Every time a member of your Team sells a product, those sales generate Group Volume (GV) for you
$35 per week isn't that much but you can repeatedly earn this every time your team accumulates the 600/300 GV.
Aside from the Team Commissions or Cycle bonus, Jeunesse also offers five other ways to earn money in their business. I will summarize it for you.
Customer profit: it is the profit you will earn for reselling their products
Retail sales bonus: You can earn a bonus from $25 to 250 for the first product you sell to each online customer and to each personally enrolled distributor.
Matching bonus: You will get matching bonus as you level up in the rankings. This is the reward you get for building and training your downlines.
Customer Acquisition Incentive: You can get this incentive if you are able to sell products to more customers. Your matching bonus will increase from 20% to 25% once you successfully sell products to 5 registered customers in one month. It can increase up to 30% when you sold products to 10 registered customers in one month.
Diamond bonus pool: When you reached the rank of Diamond Director or higher, you will earn 3% of Jeunesse Global CV per quarter.
So, that's the summary. We wouldn't bother you with the boring specifics and qualifications. Just like any other MLMs, the more products you and your team sold, the more money you will earn.
Click here for more details about the compensation plan.
Jeunesse Travel: The company also offers top sellers with travel rewards which are either the Sales Incentive Trips, Emerald Experience or the Diamond Discovery.
Sales Incentive Trips: the company offers this incentive to any qualified distributors. To be qualified, you need to accumulate enough travel points, cycle bonus and reach the rank of Ruby Director or above.
Emerald Experience: If you reached the rank of Emerald Director, you can have the opportunity for a one-time trip to Maui, Hawaii.
Diamond Discovery: If you achieved the Diamond Director rank, your will get the experience to travel to the most prestigious and exotic destinations in the world.
For complete details on the Jeunesse Travel incentives, click here.
5. Cost to join Jeunesse Global
To join Jeunesse, you need to pay $29.95 to be an associate. Being an Associate entitles you to purchase products at wholesale prices and earns commissions from reselling them to your customers.
Aside from the signup fee, you need to purchase any of their Starter Kits. The Starter Kits range from 273.45 to $2499.95. The features and price of the kits depend on your country you live in.
The Starter Kits are composed of some Jeunesse products with additional retail sales bonuses. Each Starter Kit corresponds to a certain CV. Of course, the higher the price of the Starter Kit you avail, the more CV you accumulate.
6. How difficult it is to succeed?
The company's 2022 income disclosure statement revealed that 24.25% of their US distributor did not earn any commissions at all. That number was lower compared to other MLM companies I know.
Meanwhile, more than 66% of their distributors earned more than $245 for an entire year.
66.12% earned more than $245 — and the rest made less;
20.75 % earned more than $4,350; and
3.74% earned more than $82,000.
The top 1% earners took an average of 8 years to reach that level.
As you can see in the data above, very few distributors earn a significant amount of money after joining the company. Just like any other MLM business, finding success in Jeunesse comes with a lot of challenges. The challenges to success can be any of the following.
Running out of leads
Here's a scenario:
Your sponsor said: Create a list of people you know who wants to look younger

In your mind: Duh! That's everyone on my contact list!

You said: No problem!

Your sponsor said: Then, segment the list of people whom you think might have the entrepreneurial spirit.

In your mind: Hmm… I can think of a few! There's my best friend and a group of friends whom I usually share my business ideas with.

You said: Easy peasy!
The action begins…
You started combing through your list, and out of 10 people, 3 are willing to meet up with you.

And, after sitting through a sales pitch, which was supposed to be a friendly meet-up…

1 person decides to buy the products from you. If you are lucky that person may become a distributor in your team.

Now, let's say that you called 300 people…

And, 90 people agreed to meet up with you.

Out of the 90 people, 30 became your customers…

10 of them eventually become a part of your team of distributors.

Now, the dropout rate of distributors is around 90% (because most people quit when they don't see any results).

This means that you'll probably be left with 1 loyal distributor.

Where do you go from there? How do you grow your business if there's no one else that you can contact? Do you ask your friends for referrals? Start buying leads from unverified sources? Canvassing on the streets?
 Chasing the wrong leads.
Did you experience becoming a member of the No Friends Club? Well, I did.
The feeling when your friends intentionally avoid your calls and start ignoring you after many tries of following them up to join your team.
Now, here's the problem…
Even though you might think that the products are amazing…
And, no one will be "stupid" enough to pass up on this awesome business opportunity.
You might be in for a shock!
Because not everyone thinks like you. Not everyone has the entrepreneurial spirit like you. Not everyone will have the same product experience.
And generally, people resist change.
Even if something is so obvious, people will still say no, because most people are conditioned that way.
Stop chasing your friends and family members.
They are the least likely people who will grow your business empire (that's unless you are born in a family of entrepreneurs).
If you want to succeed with Jeunesse Global, you have to attract the right people to your organization.
People who…
Wants to see you succeed and want to succeed themselves;
Have big followings
Are already entrepreneurs
Knows how to build businesses
Are receptive to the idea of network marketing
But, the BIG question is, how are you able to attract these people?
Again, this can be achieved with Attraction Marketing.
The "Blind leading the blind" effect
Because there is such a low success rate in Jeunesse Global, the chances of you having a successful mentor are super low.
Most likely, your sponsor is someone who is new to the business, like yourself.
And, they are taught the same marketing methods that their preceding sponsors use.
But, none of them have achieved any results, they are just using the same old methods passed down from generation after generation of distributors.
That caused the "Blind Leading the Blind" effect.
To be successful in Jeunesse…
You need to have a successful mentor to guide you. Someone who has "been there and done that" so that they can pave the way for you.
The Jeunesse Global business opportunity is not an easy task. You have to learn how to find the right leads, craft the perfect sales pitch, deliver the pitch with flare, and be consistent throughout all meetings.
And, without a successful mentor, it is almost impossible to do the things I've just mentioned.
That you don't need a successful Jeunesse mentor to coach you, and still become successful.
And, at the same time, you can lead your future team of distributors through the same path as you did.
Yes, such a mentorship program exists, and it is created and managed by a group of successful network marketers who've recruited thousands of people online.
And, they are the people who've built 6 to 8-figure incomes with their network marketing business.
If you want to get coached by these people, you can check it out here.
Can't Get Passed the Emotional Stress
Many distributors came into this business with an employee mindset. They expect to be paid for the hours that they've put in.
And, when things don't go the way they expect, they cry foul.
Honestly, starting a Jeunesse business is like starting any kind of businesses. There is no guarantee of success, and you could end up losing valuable time and money.
If you are serious about becoming successful (doesn't matter if it is Jeunesse or any other business), you need to condition your mind towards entrepreneurship.
Entrepreneurship is the complete opposite of employment.
There is no guaranteed income;
You have to put in tons of work (maybe even longer than your normal working hours);
You have to constantly upgrade yourself and evolve; and
You have no one else to blame but yourself if failure precedes.
So, if you intend to "be your own boss", you now know what to expect.
7. Pros and Cons
Pros: Why you should join Jeunesse Global
1. The company offers many ways to earn money
If you play by the rules and dedicate enough time, effort and resources, you can earn a decent amount of money from the company.
2. The company amass billions in sales in its early years
That achievement alone proves the leadership ability of the top executives in the company.
3. The company operates in 88+ countries worldwide
This means that your pool of potential customers are far and wide.
4. You are entitled to a 100% refund
Within the first 30 days, if you find that the Jeunesse business opportunity is not the right fit for you, you can get a 100% refund.
It's rare to get a "risk-free" business opportunity (maybe the only thing you lose is time). And, if you quit within the first year, you can get up to a 90% refund if the products are unopened and can still be marketed.
Cons: Why you should NOT join Jeunesse Global
1. Bad press: Multiple allegations of Jenuesse running a pyramid scheme
A series of class action lawsuits against the company blemished its reputation.
2. Complicated compensation plan
When it is difficult to understand, it is difficult to find success with it because you don't know where to focus to get the most out of the business.
3. Products are not FDA Approved
No matter the awesomeness the products, they can never be marketed to cure or treat any diseases.
Jeunesse products can only be sold as health supplements, but there is a sea of health supplements on the market. What makes Jeunesse products so special?
Potential customers will justify that, and until you can have an adequate answer, there is no reason you should join.
4. Expensive products
If you are buying the products just for yourself, you may not feel the pinch, but if you are buying for your family's consumption, it is unsustainable.
Verdict: Is Jeunesse a scam?
Though there are many allegations pointing towards Jeunesse running a pyramid scheme, there are merits to the products that proves the opposite. So no, Jeunesse is NOT a scam.
Having said that, the majority of its distributors do not make a lot of money. Only about 3% of them make a sustainable full-time income, and it took them an average of 8 years to achieve that.
If you are serious about being successful with Jeunesse…
We highly suggest that you start learning how to leverage on social media platforms, like Facebook groups, Tiktok, or Instagram to find high-quality prospects. You can check out this attraction marketing bootcamp to get mentored.
But, what if Jeunesse is not the right business for you?
The premise of being rejected or joining the "NFL (No Friends League)" makes people uncomfortable, and if you are one of them, here's an alternative for you.
It is a training program that has helped thousands of people to earn a full-time semi-passive income online. Best of all, you can get started for free.
Anyways, we hope to have provided you with sufficient information to aid with your decision. Wishing you all the best in your endeavors.
Feel free to leave a comment below if you would like to share your point of view on Jeunesse Global.