Gold Digger Trade Scam – It Digs Gold out of YOU!!!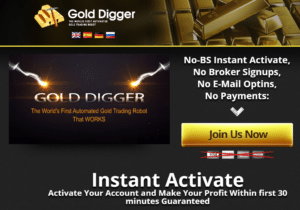 Name:  Gold Digger Trade
Website:  golddigger.trade
Price: Minimum Deposit: $250
Type: Auto Trading System
Bare Naked Scam rating: 5 Thumbs Down
The Most trustworthy Investment Social Network: Etoro
The Most trustworthy Online Business Training Course: Click here
---
In case you are new here, let me mention a few points that we discussed in the articles to get you up to speed.
For starters, we review a lot of binary trading opportunities and most of them are scams, clones of one another with different names and different graphics.
These scams operate on the same foundation: lure people in with promises of extreme wealth without having to lift a finger. It's the same hook that a lot of scams use and when you find a sales page with this hook I can guarantee the product will be a scam.
Gold Digger Trade is another one of these products. It has all the classic red-flags and I could immediately tell that it was a scam… and my research confirmed my suspicions.
These binary trading scams are all the same, they promise an unlimited amount of wealth for a small investment, a small deposit in their favorite broker. Once the deposit is verified you'll be able to access their "amazing" system that they promise will send thousands of dollars – even millions – into your bank account without you having to lift a finger.
I'm sure you have seen these advertisements!
Well… it's all a scam. Their system simply does not work. It's funny because there are so many of these scams and all of them promise that their system is "unique" and "never seen before" except it's the exact bot that all the scams use.
So, don't fall for it!
Learn how to Trade Adversely. Protect and Grow your wealth with Trading. Click here to find out more!
Why Should you take my word for it?
---
I'll first say that I could've written a positive review and promote Gold Digger Trade, and make lots of money with it. The very reason that I created BareNakedScam is so that I can expose all the Online Opportunities that are not worth your time, effort and money, hence, it will go against my conscience to promote Gold Digger Trade to you.
I, too, was a victim of these scams and have spent thousands of dollars trusting these "Systems" or "Gurus" that promises heaven, but delivered hell. Luckily for you, I have scoured through the internet and found a few amazing online opportunities that are worth your attention. You may check them out here.
The Gold Digger Trade Scam
---
The Gold Digger Trade scam is a classic example of a binary trading scam, but re-done with a new name and some new graphics. At least this website doesn't make you blindly enter your contact details for a free wealth program. They make it clear that you have to sign-up with a broker and they even recommend their broker right on the main page.
I did a little research, and their recommended broker is one of the worst trading companies out there. I found so many complaints… it was difficult to find anything positive about the company!
Their recommended broker is Binary Book.
What is Binary Book?
---
Binary Book is a trading platform that is supposed to be based in The United Kingdom, there's an office address and phone numbers listed online.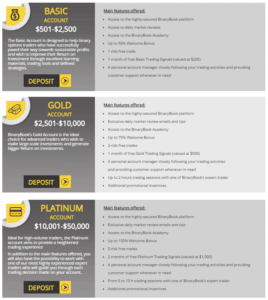 It looks legitimate… at least, on paper. Well, it's pretty easy to find out if this address exists, so I did a quick search in Google… and guess what I found?
A fancy luxurious office building with Lamborghinis parked outside? Unfortunately, that's not what I found. But I did find something interesting; a company called Small Firms Services. Guess what services this company provides? Mail Box rentals.
I'm serious.
The registered "office" address for Binary Book is a rented mailbox.
So the company promises unlimited wealth, exclusive software that will generate billions of dollars on auto-pilot… but they can't afford an office? That's seems a bit fishy!
Let's not forget that there are 37 one star reviews on Site Jabber for this company and most of the complaints involve being unable to withdraw funds or losing cash. It's really not a good idea to sign-up for a company that has such a bad track record and it seems like they're doing nothing to address these complaints.
Gold Digger Trade sends people to this program through an affiliate link and the people behind Gold Digger Trade earn a commission whenever someone creates an account with Binary Book and deposit funds. They're making money off of you!
That's how most of these scams work, they're designed to send people to an affiliate offer, even if they have to use all sorts of unethical claims and false promises to encourage people to click the link.
Thankfully, it's pretty easy to spot these scams, but a lot of people still get burnt every day because they don't know how to spot internet scams (that's where this website comes into the picture).
So what can you do now?
---
I actually think trading is a cool way to make money online, but it's a bit risky and you have to realize that you're bound to lose cash, especially at the beginning!
If you are truly interested in Trading and you want to make it your career, I suggest that your journey with Etoro. If is one of my favorite trading course and community, because it has a massive training center, an awesome community, and excellent customer support. Check out Etoro here.
Alternatively, if you are afraid of taking risk, and you want to supplement your income, then I highly recommend getting into affiliate marketing because it's one of the easiest ways to make cash online, there's no need to create a product or anything like that.
The best and most stable way to make money as an affiliate marketer is to create a niche specific website… and this program will show you exactly how to do that. But… it's not just a program, it's an entire platform full of members that are more than happy to support one another… and let's not forget about all the cool marketing tools!
The best part by far is that there's a free trial. You can create a free account and check out the platform while you make up your mind. It's really cool and I have been using it for a few years now!
I hope to see you in the member's area!
Remember, Gold Digger Trade is a scam, and avoid it at all costs!