What is Fizzle.co? – The Truth Exposed!!!
Name: Fizzle
Website: Fizzle.co
Price: 14 days FREE Trial & $35/mth thereafter
Owners: Corbett Barr, Chase Reeves & Caleb Wojcik
Bare Naked Scam Rating: 5 Thumbs Up
---
Thanks to a member at Wealthy Affiliate, I was introduced to Fizzle.co. For years, I've been searching for a program that is as good as Wealthy Affiliate, and I finally found it.
Fizzle is an amazing program that teaches you how to set up an online business from scratch, much like Wealthy Affiliate. The main difference is that Fizzle focuses on a general online business start up, while Wealthy Affiliate focuses on Affiliate Marketing.
Both programs have their pros and cons, but in this review, I will focus on Fizzle and share with you everything you need to know to make an informed decision. One thing for sure, Fizzle is not a scam.
A Sneak Peek into Fizzle
---
If you have not seen the introduction video of Fizzle, you should take a look here. The owners of Fizzle come with vast knowledge and experience in the online marketing world. Everything you need to know about starting an online business, be it a brick and mortar business that needs an online presence, to creating your very own digital product, to affiliate marketing, Fizzle gives you the blueprint for you to find your success.
In each course, you will be provided with an action plan and a checklist to help you apply the learning. What is knowledge when you do not apply it right?
The biggest tip to succeed with Fizzle is to follow the courses closely and take action, and even if you do not see results at the beginning, you should go back to the courses and start over again, because you might have missed something.
Here is how Fizzle is structured:
The Fizzle Course: 3 Phases split in 9 Stages
Forum: Where Fizzle members can get their questions answered
Founders' Stories: Where you can watch exclusive interviews with successful online entrepreneurs
Weekly Podcast: Where you get the latest updates, knowledge and tips
The Fizzle Course: 3 Phases split in 9 Stages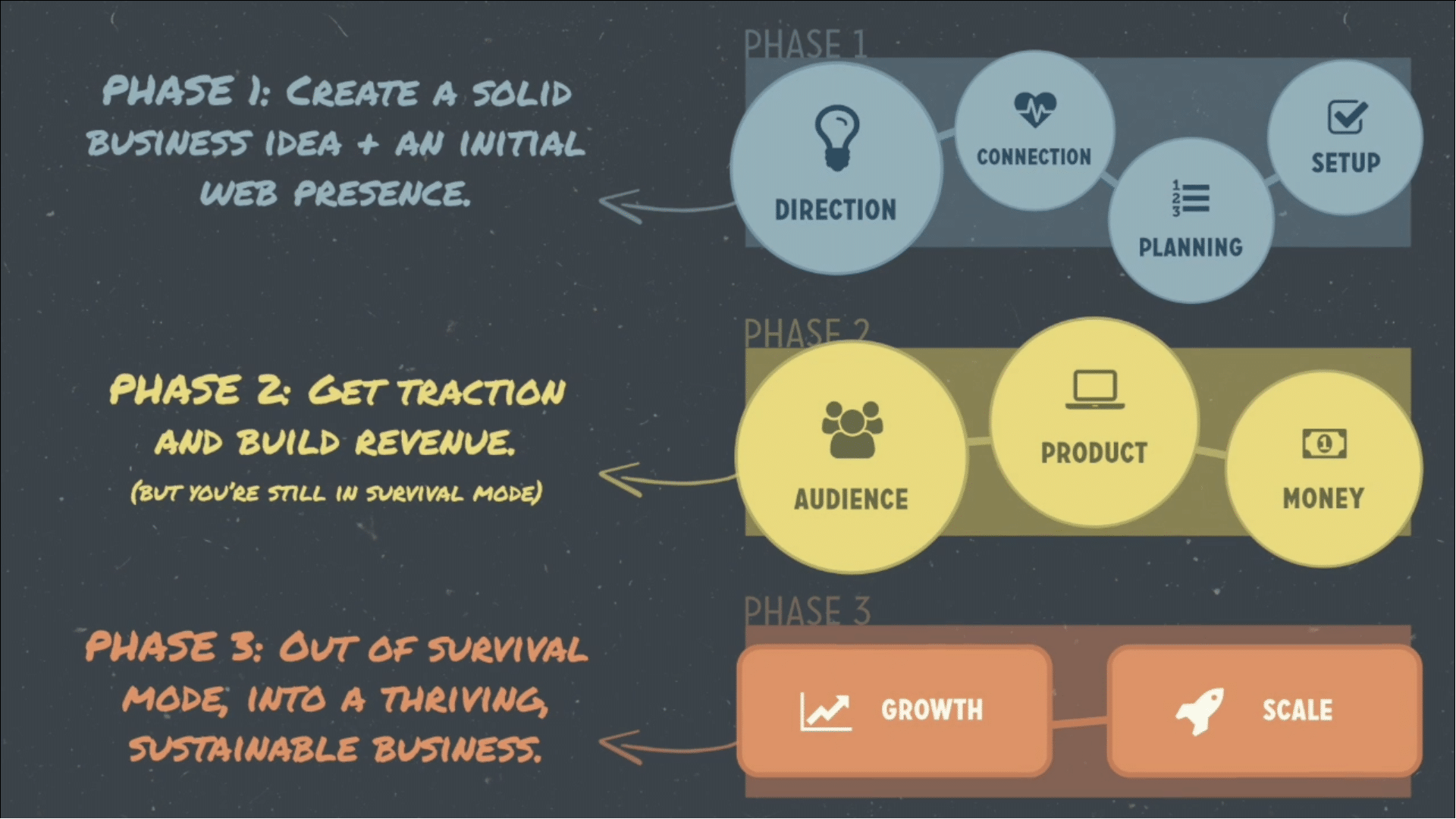 Everyone has different starting points in Fizzle. There are people who join Fizzle without a hint of knowledge on Online Business, there are people who already know what kind of business they want to start, and there are people who join Fizzle with an operating business but are looking for ways to grow their business. Fizzle caters for all backgrounds.
Phase 1 consist of 4 Stages:
Direction
Connection
Planning
Setup
If you do not have any knowledge on how to setup an online business, this will be your starting Phase.
It will guide you through step-by-step on how to build a solid foundation for your online business. However, these courses are not those that will grab you by the hand and tell what to click in order to build your website, if you want those types of courses, you should check out Wealthy Affiliate.
Fizzle provides you with the knowledge for you to generate your own ideas to implement them into your business.
Phase 2 consist of 3 Stages:
Audience
Product
Money
If you already have an idea of what business you would like to start, then this will be your starting point.
In this phase, you will be taught how to generate traffic, create engaging and effective content, video production, installing Google Analytic, create your product and launching it. In general, this phase will help you get your product or services in front of your target audiences.
I thoroughly love the knowledge I am getting in this phase. I am sure it will help you propel their business to the next level.
Phase 3 consist of 2 Stages:
Growth
Scale
This Phase is for people who already have a business, and are thinking of ways to grow and expand their business. If you are in this phase, I would first like to congratulate you because I am sure you are already making great success with your online business.
Online businesses are much like any other brick and mortar businesses. Once you have a successful system in place, the only thing you have to do to grow your business is to scale it, for example "Subway – Eat Fresh" expands their business by selling their franchise in order to reach more customers. In terms of your online business, once you are making sales and have a good conversion (Prospective customers that becomes a customer), the only thing you need to do is to generate even more traffic to your website.
You will be the good hands of Fizzle which will show you the way to grow your business.
The Fizzle Forum
---
It looks like this:
It is an active forum where you will be able to get your puzzling questions answered. This forum is participated by many successful online business entrepreneurs, and I am sure that they can guide you through whatever confusions you have with your online business.
Click here to claim your 5 Weeks Free Trial!
Founders Stories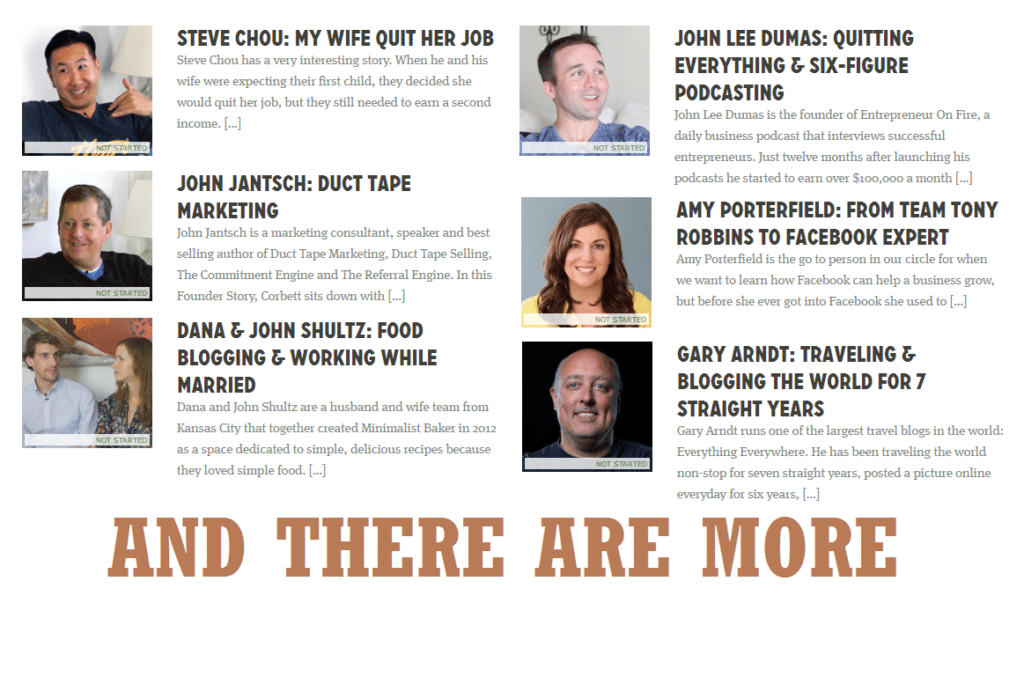 Get exclusive interviews with many successful online entrepreneurs. The key to success is to make as many mistakes as you can, and these people have made those mistakes so that you do not have to make them. This will help you propel your business to the next level at a faster pace.
In these interviews, you will be able to learn the similar traits of these successful people and what makes them special in their own field. The great thing about these interviews is that they do not focus on success stories, but rather, they focus on failure and the difficulties faced by these successful entrepreneurs.
In my personal opinion, I feel that this provides the greatest value in the program.
Fizzle Friday: The Podcasts
---
So many topics are covered in the Fizzle Podcasts and the best thing is, it is FREE.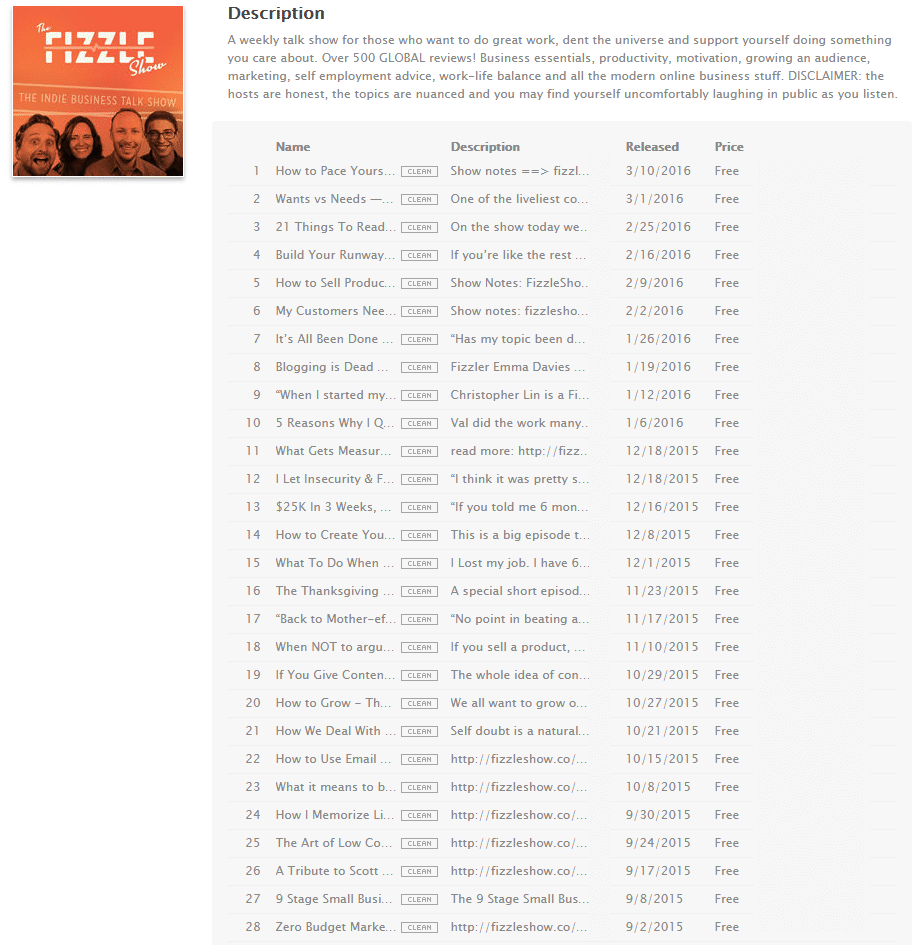 There are definitely lots of insights you can get with these podcasts. Check out the podcasts here.
How to Make Money with Fizzle?
---
More than just a program that teaches online business, you can actually make money with it. When you join Fizzle, you automatically become a Fizzle Affiliate. You will be provided with a unique Fizzle Affiliate Link, and if you successfully referred 9 individuals who signed up with Fizzle, your monthly membership fee of $35 will be waived.
On top of that, you will get 2 big rewards. First, you get a one-on-one coaching session with the Fizzle Team member of your choice. Second, you will be paid a 20% commission on your 10th referral onwards.
Click here to claim your 5 Weeks Free Trial!
My Sincere Advice to You
---
Fizzle is a good program to join if you are looking for ways to start an online business. If you have read my other reviews, you would know that I rarely give a good rating to a program, and when I do give a good rating, you would know that the program is of good substance.
I am sure that you can gain lots of ideas, knowledge and experience if you follow through with the Fizzle courses. Personally, I have benefited from the courses and am developing a new business venture with my new found knowledge. I will be sure to update you if my business venture becomes successful.
Feel free to leave a comment below if you wish to discuss with me on Fizzle. If you find my article helpful, please help to share it with you friends and family by clicking on the social media buttons (Facebook, Twitter, Google Plus).
Your pal,
Jack